Sometimes I feel like I'd love my head if it wasn't attached. It can be really difficult remembering everything when I'm running a small business and I have a family. Often, I'll have to make a list of all the things I need to accomplish and mark them off as I get them done. A wedding can be the same way. There are hundreds of things that need to be done, and brides will usually forget at least one thing. I thought it would be helpful if we shared the #1 Thing Brides Forget.
#1 Thing Brides Forget
Plan Ahead
Plan ahead when it comes to the cake/desserts!  I cannot tell you how many last minute bookings we get, especially at the busiest times of the year.  We always try to accommodate the couples as best as we can but sometimes we aren't able to do everything they want due to the timeframe of when they book.  
Planning ahead ensures the couples get EXACTLY what they dream of, along with giving us plenty of time to work our magic. All around it's less stress for the couple and less stress for our team!  This really can apply to any vendor the couples choose to work with!
Rick's Bakery
weddings@ricksbakery.com
479-856-6607
****I think this is great wedding advice in general. Don't wait too long to book anything. The longer you wait, the more likely you will have trouble getting what you want.****
Relax and Enjoy the Day
RELAX and just take it all in!! The stress of the day can easily overwhelm everyone involved, especially the bride and groom!  Go into your wedding knowing that it likely won't be perfect, or exactly how you had imagined it…and that is OKAY! If it rains, it rains…and that will be the special memory (while maybe not the one you had dreamed of) you will have for the rest of your life.  So just make the very best of it. Why be upset and pout about something you can't control or change. Go with it, enjoy the day and make the very best of it…because at the end of the day you accomplished the most important thing, you said "I do."
Brian and Todd Rudisill
tarudisill@yahoo.com
479-200-1313
http://djgrooveproductions.com/
Eat!
Brides often forget to eat! And it's SO important to eat and stay hydrated during the day! Also, choosing a person, preferably that isn't family, as a point of contact in case something happens. This is especially useful if you don't have a planner.
Tanya Castella

Instagram: @social.icing.nwa
Facebook: @social.icing.nwa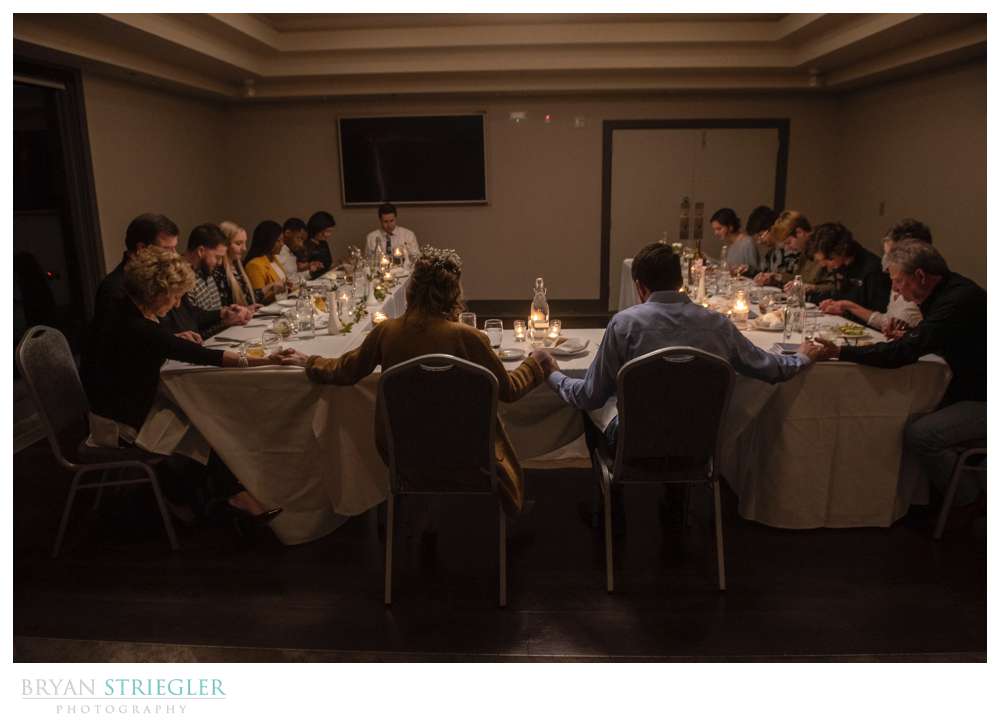 Keep the Guests Entertained
We see the guest experience overlooked often. As brides plan, they meticulously plan the ceremony, the music, the timing, who stands where, and every detail of the cake. They often forget what the guests will experience during all the different parts of a wedding. A good example is between the ceremony and reception when most close family members and the wedding party are taking photos. The remaining guests have idle time. Plan for appetizers, a lovely cocktail hour with yard games and a band playing or have a photo booth take center stage to keep guests entertained.
Another chance to make an impression is upon arrival. It never fails that some guests will arrive early and some late. Set up a mingle area with light snacks, beverages and coffee in advance of the ceremony for guests to get acquainted before the ceremony begins. One fun idea is to provide guests with a customizable name tag or sticker. Guests add their first name and how they know the couple such as "Molly- Bride's friend since 1st grade" or "Jeff- Groom's cubicle neighbor". Hire a calligrapher or a person in the party with great handwriting to script the names ensuring they are legible and consistent. These are sure to be conversation starters all night. Don't forget to plan music for this time as well.

theorchardnwa@gmail.com
479.531.8773
Preserve the Bouquet
One thing that I see couples forgetting to do is plan for the preservation of the bouquet.  Not every couple wants or needs this, but for those that do, this needs to be considered BEFORE the wedding day. Time after time, I get questions about how to preserve the bouquet on the wedding day or the day after.
For fresh flowers to be preserved correctly, they need to be cared for during the wedding and shipped within 48 hours.  This is not something that can be done last minute!  Of course, there are other alternatives like having a painting or photography made of the bouquet.  But these also need some planning–like making sure your photographer gets a good shot of just the bouquet!
Althea
althea@roseofsharonar.com
https://www.roseofsharon-eventflorist.com/
Photos of Your Guests
The wedding day is going to go by so quickly. Before you know it, the night will be over, and most likely, you won't have a chance to see or talk to every guest. You want to make sure you remember all the wonderful people that showed up.
There are several different ways to capture all of those guests. Yes, your photographer will capture people throughout the day, but unless you do it in a controlled way, you won't get everyone. The first way is to have your photographer take photos of the people at each table during the reception. The bride and groom could go around and be in each photo or just get the guests. The second way is to do a giant group shot. This can be done right after the ceremony or later in the night.
Another great way to capture the majority of the guests is with a photo booth. You can have the DJ make an announcement and most guests will go and take a photo at some point throughout the night. You'll still miss a few people, but it will be fun, and you'll get photos of your guests at the same time.
Conclusion
You're going to forget something, but hopefully, these ideas will help you remember some of the more important things brides don't consider. In the end, forgetting something isn't going to ruin the day. You will be married and that's what really matters.