Summer is the perfect time for weddings! Whether you are a couple, family member or friend of the bride and groom, summer weddings provide endless opportunities to have fun in the sun. Many couples want their wedding day to be memorable but not so much that they spend all of their money on it; this means that there are plenty of creative ways you can make your wedding more affordable without sacrificing style and quality. This blog post includes 11 Summer Wedding Ideas that will help make your big day perfect.
Tips for the Perfect Summer Wedding
I was born in June, so I grew up having summer birthday parties around the pool. It's no surprise that I've always loved Summer and ended up getting married in July.
Summer is such a wonderful time, and it is perfect for weddings! Summer weddings have that special feel of freedom with kids not having school, vacations, and of course, the 4th of July. You don't have that feeling in other months.
These Summer wedding ideas are meant to take the feeling of freedom and fun and merge them with your style to create a perfect wedding. This could be things like creative signature cocktails, special surprises like an ice cream truck, or a wedding reception out by the pool.
Choose a wedding date in the summer
One of the first things you'll want to do is carefully pick the date for your summer wedding. There are some issues that you will have to deal with that only happen in summer.
One, you'll want to make sure all of your important people can come and aren't on vacation or involved in some other activity like baseball tournaments. This can be a bit tricky, but you can do it. The best way is to start the planning early. Send over some possible dates to your closest friends and family a year in advance. This way, they can tell you about unavailable dates or adjust their plans to fit your wedding.
Second, you don't want to pick a wedding date in the hottest part of the summer. Warm weather is fine, but you don't want your guests and wedding cake melting. If you aren't planning an outdoor wedding, this won't be a big problem, but that will limit what you and your guests can do.
Summer Wedding Themes
I feel like I say this all the time, but I love wedding themes! A wedding theme makes the wedding more interesting, connects everything together, and isn't that common. A bride and groom will pick a color scheme of course, but not many go with a wedding theme.
What are good summer wedding themes?
Summer is the perfect time to get married, and there are many great themes that can be used for a wedding.
Tangaroa – This one has a tropical feel. You could get married on the beach, with palm trees and an ocean backdrop.
Nautical – Sailboats are often seen around water this time of year! A nautical themed wedding would be perfect for any bride or groom who is into sailing or fishing. If you have friends who have a boat, you could use that for photos or the ceremony!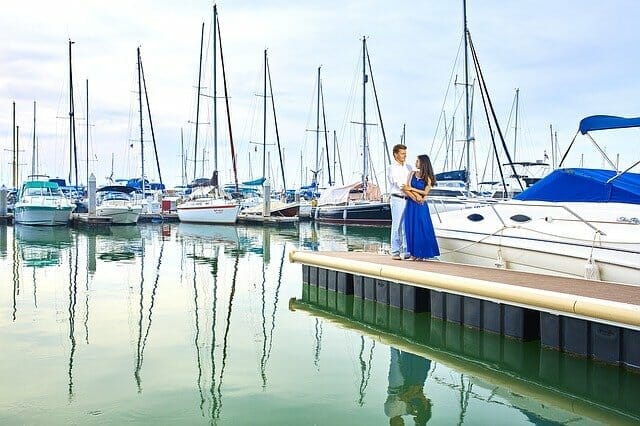 Pool Party – For me, Summer was always about the pool. For this wedding them, you could choose to have the wedding ceremony near a pool or just have the reception out by the pool. It would be a more relaxed theme, but imagine how much fun everyone would have.
Summer Camp– For this theme, you could have all of your guests wear t-shirts with the camp name on them. You could also use a cabin as the venue for both ceremony and reception or just choose to have it in a tent by the lake.
4th of July– Merica! Fireworks! Watermelon! This theme would be perfect for those who love the Fourth of July and want to celebrate it with family and friends. You could also have a patriotic cake or even incorporate different songs like "Yankee Doodle Dandy" into your ceremony music!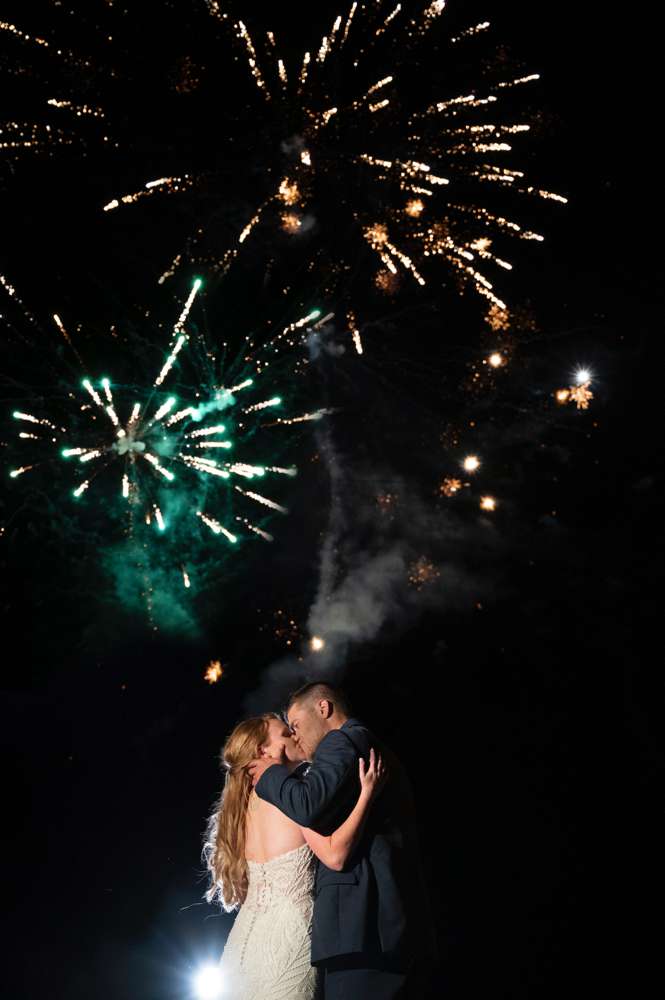 Picnic– Since Covid started, many brides and grooms have chosen to go for smaller, more intimate weddings. A picnic wedding could be an elopement with just the bride and groom or you could invite people and everyone have their own picnic.
Ice Cream Social– Wedding cakes are awesome, but I also love ice cream! You could have an ice cream station or maybe have someone making floats. This will definitely keep guests happy and cool!
Finding the Perfect Wedding Venue for a Summer Wedding
All of these Summer Wedding Ideas are great, but what if your wedding venue doesn't have what you need or won't allow certain things?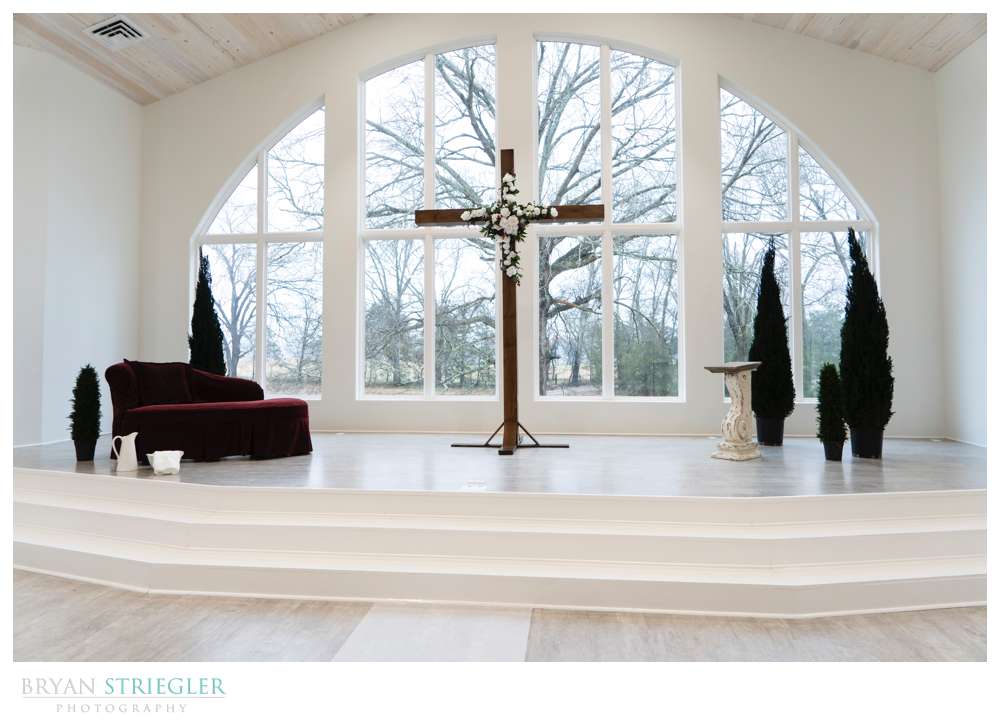 Planning a wedding can be difficult because it's hard to know what to do first. Normally, people pick the wedding venue before they do anything else. I still think this is one of the first things you should do, but you need to make sure the venue will help you create the summer wedding you want.
Here are some things to consider. Do they allow you to bring in alcohol or create your own drinks or do you have to use them and their limited options? Do they have an outdoor and indoor area so people can go in to avoid the heat? Are you allowed to decorate?
Summer Wedding Colors
What are the best colors for a summer wedding?
When it comes to what color is best for a summer wedding, it really depends on the theme of the wedding. Some popular colors for a summer wedding are blue, green, gold, and silver.
Now, you can start looking at different color options. You could go for something like navy and yellow for an outdoor beach theme, or ivory with gold accents for an elegant garden party.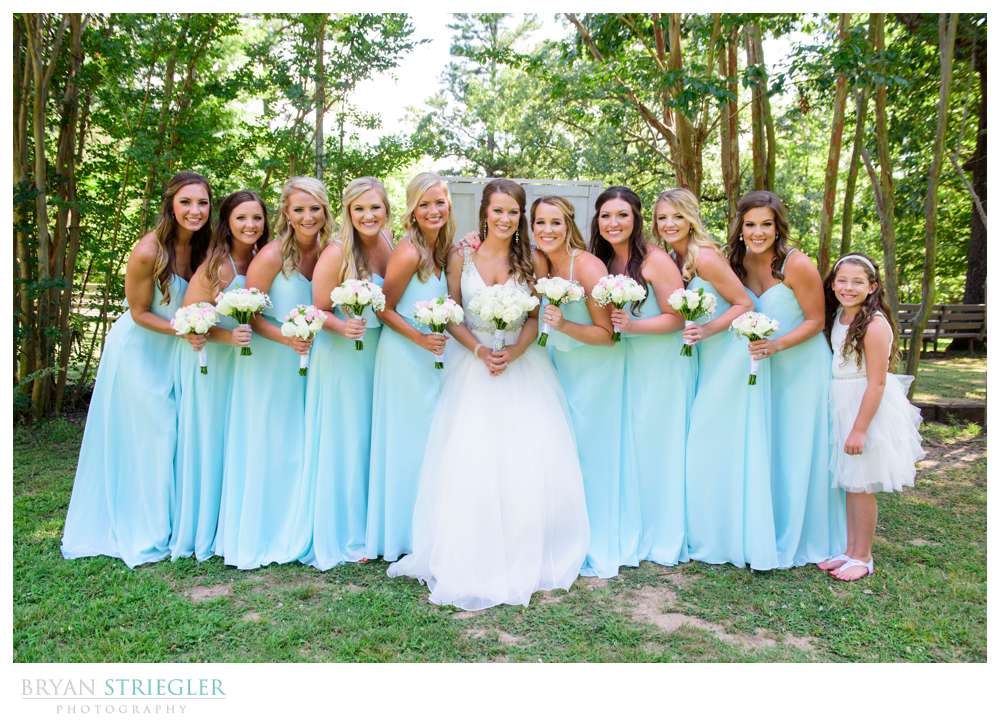 Here are some other popular color palette ideas.
Muted Hues of Pink
Simple Pastels
Tropical Brights
Pops of Blue
Ombré Brights
Nautical Prep
Beach Wedding Chic
Retro Tropics
What color is best for your bridesmaids?
Your wedding colors will affect your decorations and it will also limit what your bridesmaids can wear. There are a few things to consider when choose a color for their dresses.
First, do they have any preference? Depending on their skin color and complexion, certain colors might work better than others.
Second, think about the temperature. Darker colors are going to absorb the heat and make them feel hotter. You also want to be careful with some shades because they might show sweat more than others.
Summer Wedding Decorations
Let's get decorating! You've got your theme and your colors. Now you can go to town and start coming up with some amazing decorations.
As you go, keep in mind a few things. What does the venue allow you to do? You don't want to break any rules. How many decorations do you need? Decorations add to the beauty, but too much can be distracting or look cluttered. Also, think about your guests and their experience. You don't want so much that they can't fit on the dance floor or there is no room for seating.
Here are some fun ideas you might want to use, but feel free to come up with other ideas that fit.
Camp-Inspired Seating
Angular Ceremony Arch
Tent With String Lights
Lantern Walkway
Statement Draping
Nautical Pieces like anchors
Seashells
Create an Interest Seating Chart Display
Seating charts are a great way to help people find where they are sitting. They don't have to be boring though!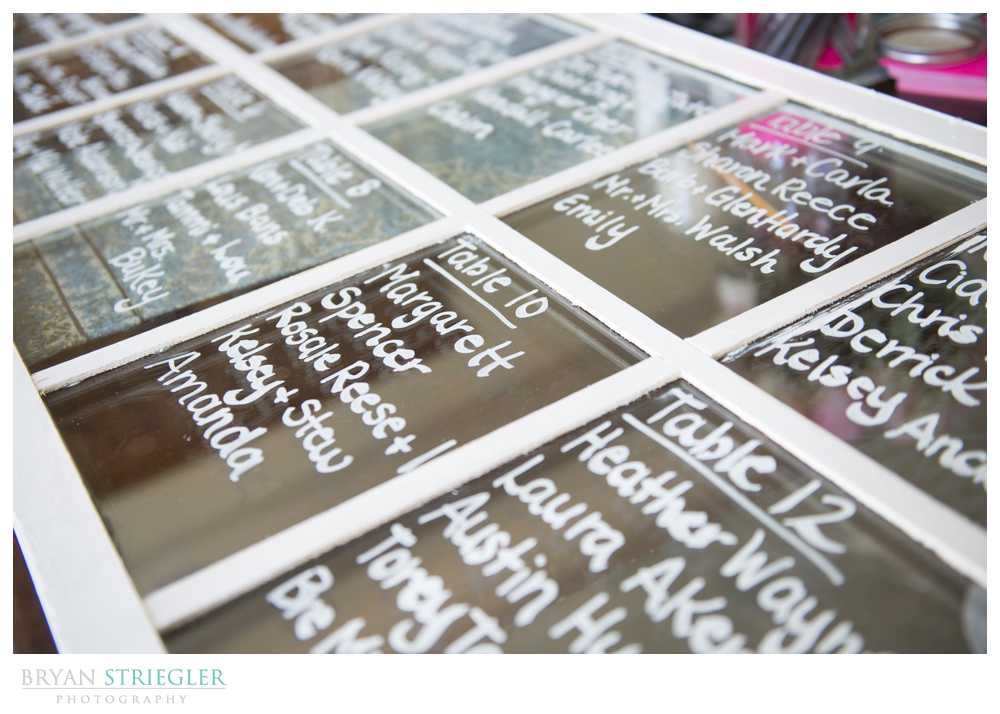 Find ways to make your seating chart fit in with everything else. You might play around with the colors, fonts, or the material. Some fun summer wedding ideas could be an ice cream cup, fans, miniature pool decorations, or little sailboats.
Decorate With Fresh Fruit
Besides the pool, my favorite summer thing is fruit. We always had watermelon, but we also ate plenty of blueberries and strawberries. This is the time of year for fruit, so it will be cheaper and fresher, and it could be a great way to add some edible decorations.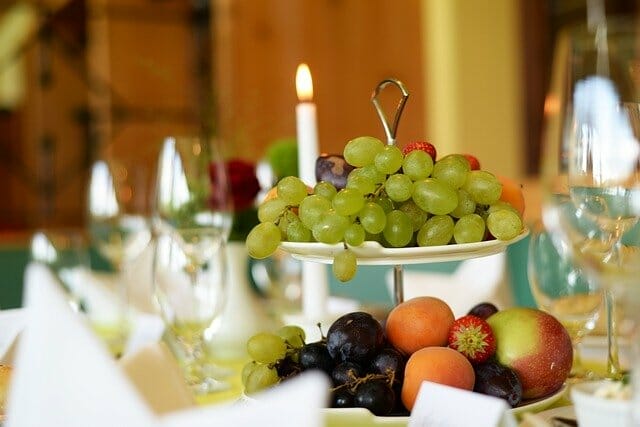 This could be something you do just for the cocktail hour or you can make it part of your decorations for the reception. Be careful, though. The longer you keep these out the more likely they are to get warm or attract bugs.
Summer Wedding Fashion Ideas
What you wear to a summer wedding will be drastically different than what you wear to a winter wedding. Depending on the venue and time of day, you may need to consider packing for a variety of different events. Summer weddings often have both an indoor ceremony followed by an outdoor reception with warm temperatures and bright sunshine when it's not evening.
You'll want to consider the clothing of multiple people when planning. Consider your wedding dress, the bridesmaids' dresses, the guys, and the guests. Most of those you will have control over, but for the guests, you can make suggestions and also create an environment that will keep them comfortable.
Pick Colored Suits for the Guys
The thought of wearing a suit in the summer heat might be pretty overwhelming, but it can be an option without drowning in sweat.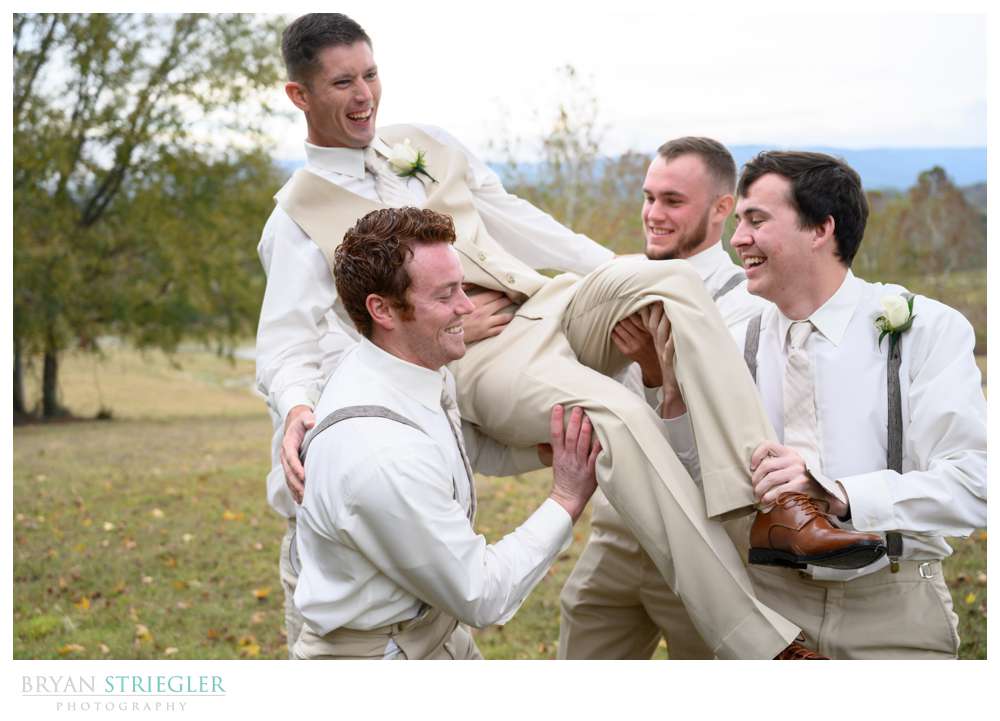 Lighter and brighter colors such as cream, green, yellow and duck egg blue can look smart in summer and will not absorb the heat. Also, look at lighter materials or ditch the jacket.
Choose Airy Fabrics for Everyone
We all sweat, but that's not the look you want for your big day and wedding photos. Choose a lighter material that is going to breath more and your wedding party will thank you. Also, feel free to ditch the jackets or even go for dresses that are a bit shorter.
Provide Parasols
If you are not having a rustic wedding or country wedding, parasols could add a nice touch. Even better, guests can use them to block the sun and summertime heat. As an added bonus, they can take the parasols home as a gift.
Looking for more wedding fashion ideas? Here are some fun ideas.
Floral Accessories
Monochrome Wedding Party
Plunging Back Wedding Dress
Colorful Suit Jacket
Champagne Bridesmaid Dresses
Muted Neutrals
Airy Fabrics
Corresponding Colors
Play Games
Summer is all about having fun, and you want to keep your guests entertained. Many people will choose to do a cocktail hour. Drinks are always good, but I also suggest adding plenty of games for everyone to play.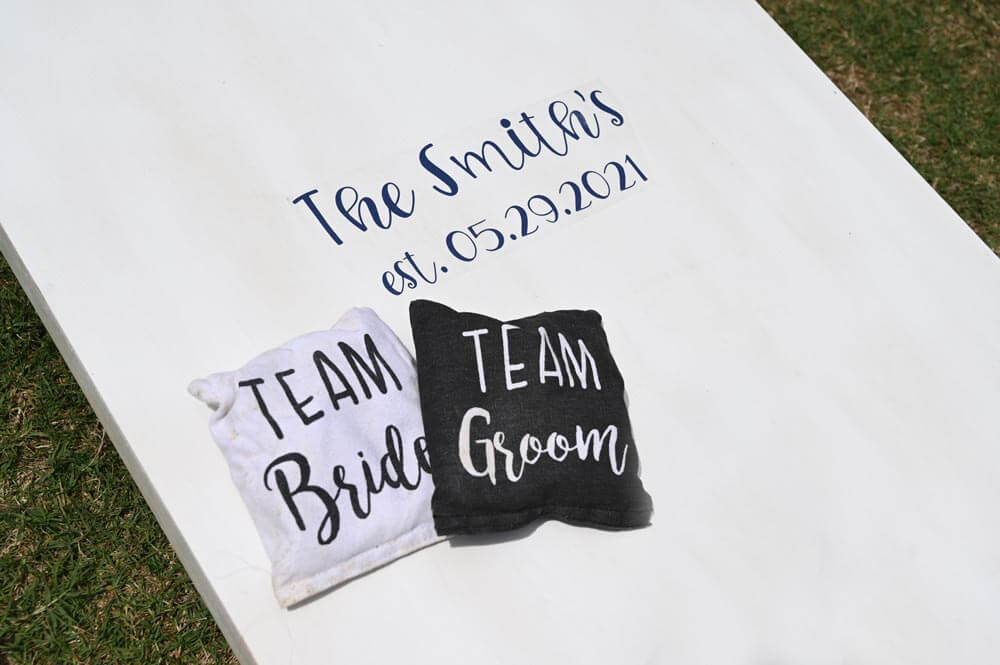 Some wedding venues will provide games, but I love it when a bride or groom will have a special game they personally love.
The most common games are corn hole or bocce ball. You can add your name and wedding date to the board, so when you play it later, you'll remember your wedding day.
Don't forget about the kids. Some of them will be able to play the adult games, but find something for the little ones to do. You can have coloring books, bubbles, games like Connect 4, or other crafts.
Summer Wedding Food and Drink Ideas
I recently wrote about December weddings, and for that month, weddings would have warm food like hot chocolate or s'more. It's the opposite for summer weddings. You will want to serve light, refreshing food that work well with the warm weather.
Have Watermelon or Fruit Snacks
I already mentioned the idea of having fruit as part of your decorations, but you can also use fruits for snacks.
Have it for the wedding party as they get ready. Serve it before the ceremony to help people stay cool during an outdoor wedding. Of course, you can have it be part of your cocktail hour.
I'd suggest having a variety of options, so everyone can find something they like. Also, some people have allergies to certain fruits, so they can still find something to eat.
Serve Seafood
For those seafood lovers, summer can be the perfect season for fresh seafood. This is especially a great idea if you are going for the nautical or beach wedding. You can get fresh oysters, crab, or different types of fish.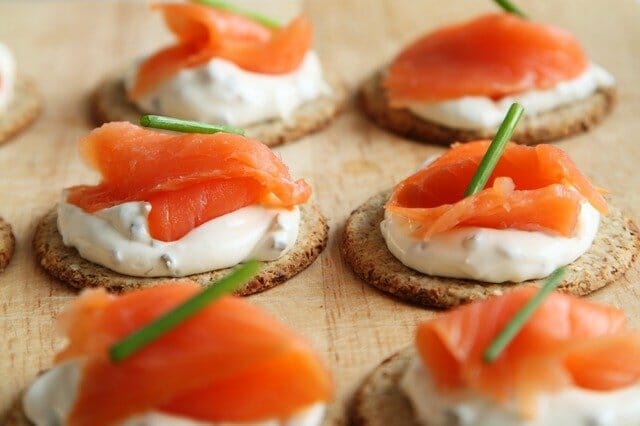 If you love seafood but don't think it will fit with your wedding guests or wedding, that doesn't mean you can't have it. Serve it at the rehearsal dinner!
Customize Signature Cocktails
What's your favorite summer drink? Do you love to sit by the pool with a beer or a frozen margarita? Your alcohol is another chance to make your summer wedding special and throw in a bit of your personality.
Offer the normal alcoholic drinks, but then throw in a signature cocktail. Make it something fun and different. You can make something with mint or berries or maybe even make something like a mudslide.
Cool Cups
If you're going to give out some special drinks, don't you think your wedding guests need something special to put them in?
This is another chance to show off your theme. If you are going with a pool theme, get some floating cups for beer. Going more tropical? How about using real pineapples full of booze?
Ice Cream
Over the past few summers, I have seen the bride and groom serve ice cream, and I love the idea! I've seen an ice cream truck, a small cart, or just large tubs.
Ice cream is the perfect way to deal with the summer heat. Again, you can serve this at different times throughout the day. I really doubt anyone will complain about having a nice scoop of ice cream before the ceremony.
These are just a few of the great summer wedding ideas for your food. Down below are a few other options as well.
Açai Treats
Fresh Fruit Tarts
American Flag Wedding Cake
Lemonade Stand
Ombré Cake
Fresh Seafood
Family-Style Backyard BBQ
Wedding Cake With Fresh Greenery
Summer Wedding Flower Ideas
When you are picking your wedding flowers, you really need to consider the time of year. Certain flowers will be in bloom and others will be very hard to find.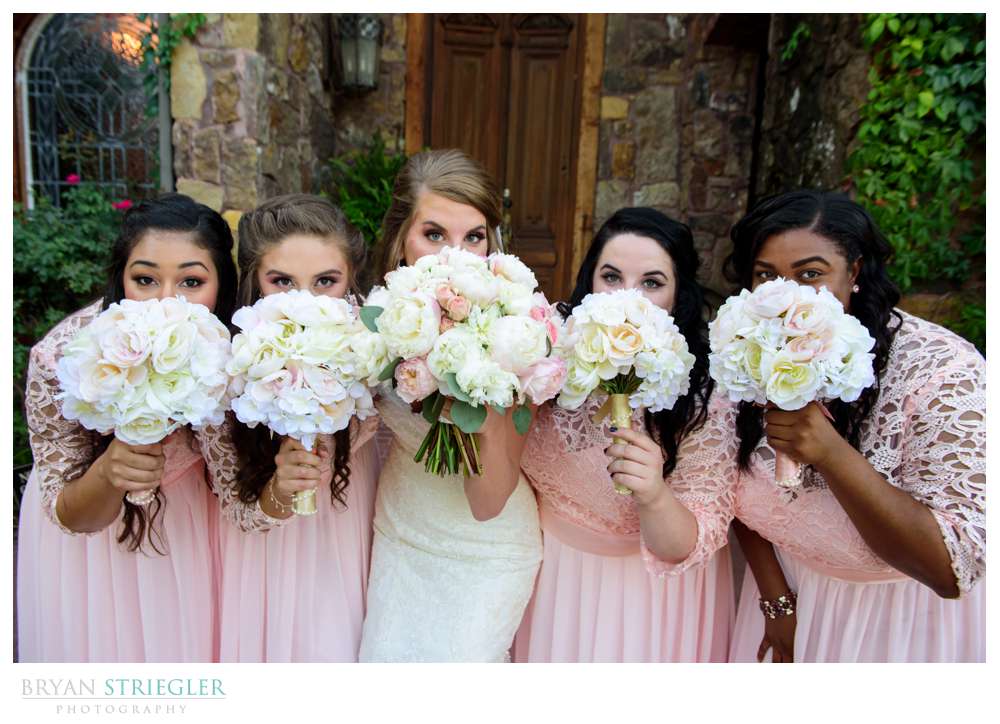 The heat also tends to destroy some flowers more than others. You will either want a flower that can handle the heat or find a way to keep them inside and cool.
What are the best summer wedding flowers?
There's no real way to say what is best, but some flowers work better in the summer than others. Some summer flowers are the pretty daisies and tiger lilies or sunflowers.
Take a look at a few of these other ideas for summer wedding flowers.
Cottagecore Wildflowers
Bright Yellow Blooms
Monochrome Bouquet
Pastel Centerpieces
Whimsical Statement Installations
Handheld Sunflowers
Tropical Blooms
Flowering Sweetheart Table
Dried Florals
Custom Greenery Wall
Wedding Favors
Most couples will choose to give their guests some sort of gift. We've already mentioned a few things you could give like the parasol, but there are so many other options.
What to give as wedding favors for a summer wedding?
First, start by thinking about your guests, your theme, and your own personality. Is there anything that connects all of those? I believe wedding favors have a much bigger impact when they are something special and personalized.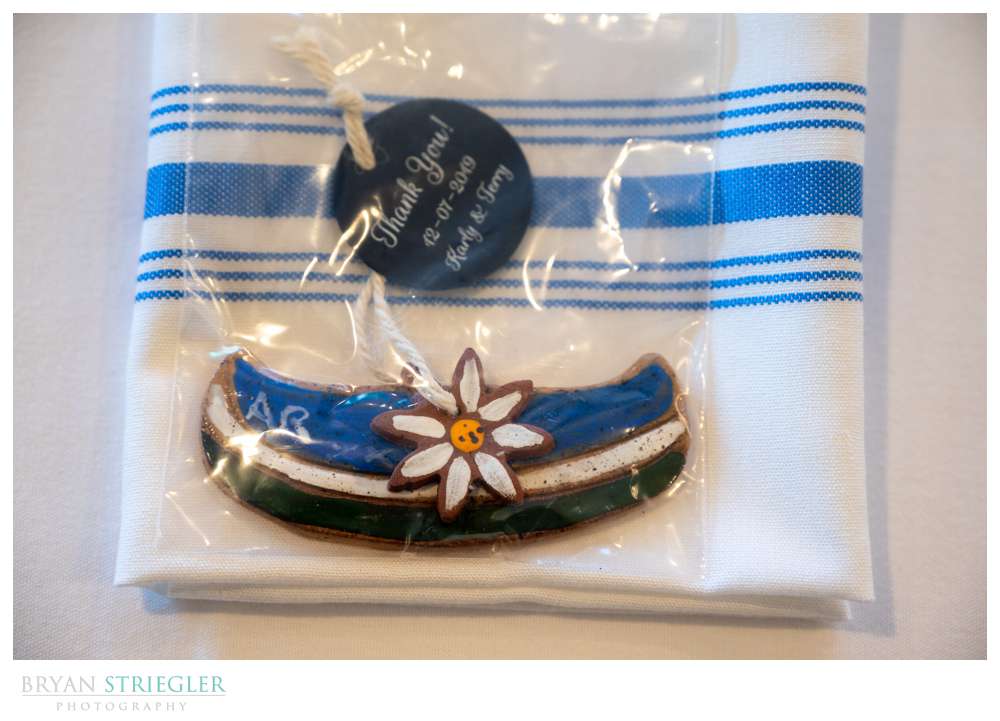 Some possible wedding favors for a summer wedding include sunflower seeds, beach balls, sunglasses, seashells, a flask or mug, and cigars.
Make Welcome Bags
Another great gift is to make each guest a welcome bag. Most likely, you will only do this for a destination wedding or smaller wedding because of how much will be involved.
In your welcome bag, include all the little things that you think your guests will need to be comfortable and have a good time. Fill it with essentials like Advil, Band-Aids, sunscreen, water, and bug repellent.
Summer Wedding Exit Ideas
How will your big day end? Hopefully you will have a fun way for the guests and you to end the night. The most common wedding exit is the sparkler exit. You can do this, of course, but maybe you want to do something different.
Fireworks Wedding Exits
Since it will be a summer wedding, maybe you can find some other form of fireworks to use. You could get those little confetti poppers, fire off some fountains or maybe go big with mortar shells. Lately, I've even seen people bring in professional pyrotechnics.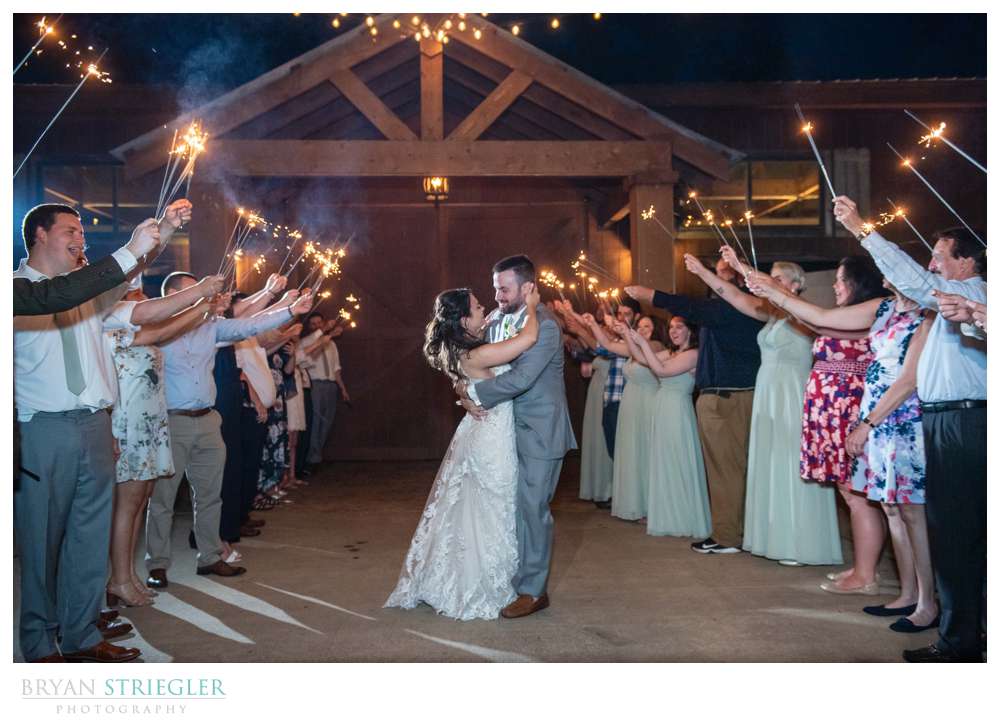 One thing to think about with the fireworks is the lighting. In summer, it doesn't get dark until much later. You probably won't be able to do an exit with fireworks or sparklers until 9:30 or 10.
Other Summer Wedding Exit Ideas
I've seen some other great exits throughout the years. You can use glow sticks, bubbles, ribbon wands, Chinese lanterns, or even light sabers! Really, you can do about anything you want. Just make sure it's safe, your venue allows it, and everyone can be involved.
What are some unexpected things that may come up for a summer wedding?
Every season is different and with that comes different things you have to deal with.
Some unexpected things that may come up for a summer wedding could be the weather, holidays, and different cultures.
Dealing with Hot Temperatures
Pretty much everywhere in America has a hot summer. Some places will be milder than others, but in general, heat is a big issue for summer weddings.
We've already talked about a few things you can do like selecting clothing that is going to be cooler, but there are many other ideas as well. You can keep your guests cool by providing big electric fans, little paper ones, or using a tent for shade.
It's also smart to choose a start time later in the day. The longer you wait in the evening, the cooler it will get.
Consider Humidity-Proof Hairstyles
Besides feeling miserable, heat can also kill your hair. You could go for braided, pulling the hair to the side of the neck and face, or put it all up.
Party by the Pool
I've yet to be part of one, but a poolside wedding would be awesome. The pool could be solely for the wedding reception or possibly the ceremony as well. Depending on how big it is, the guests could even be floating in the pool during the ceremony. Either way, this will be a fun way for everyone to cool off.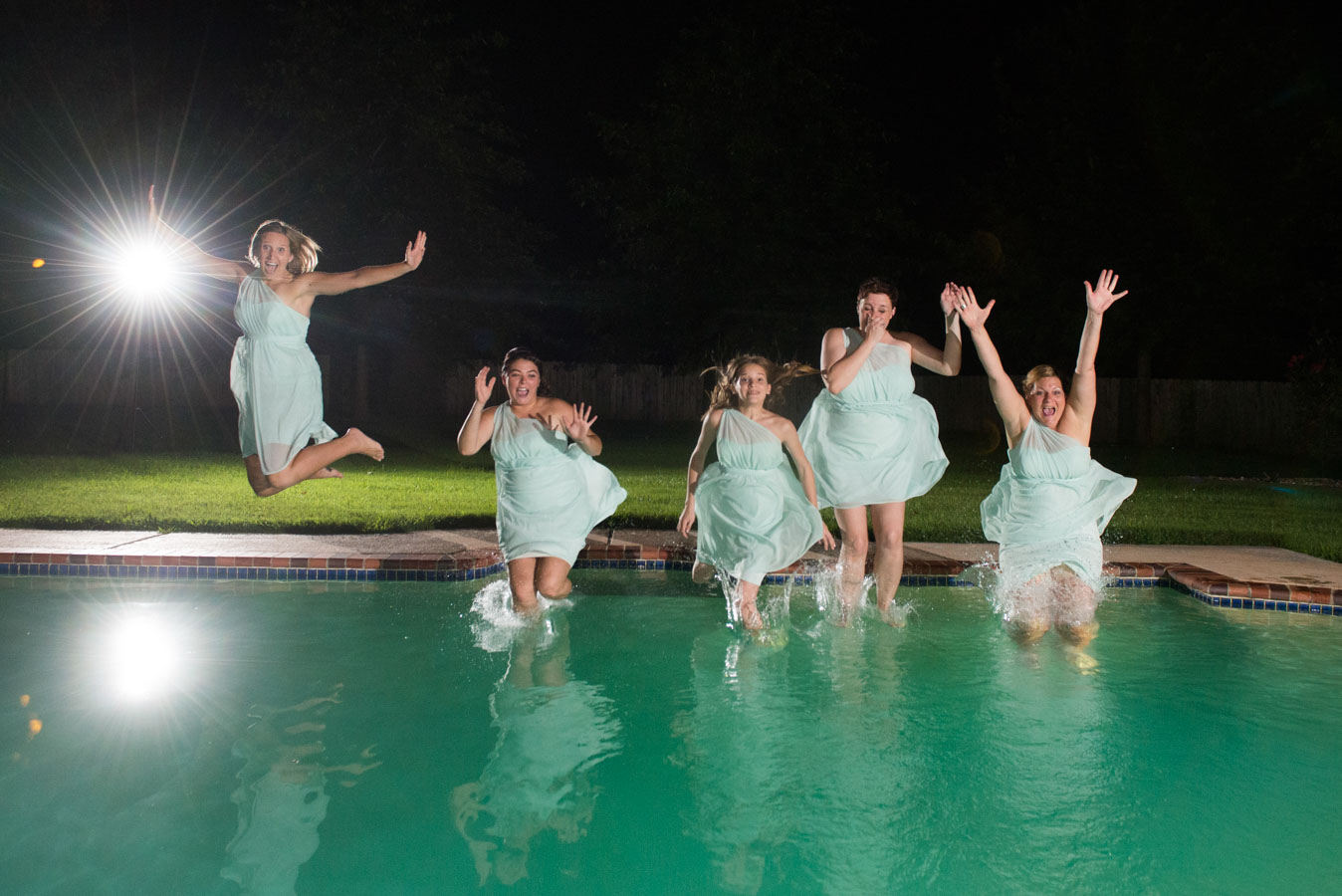 Dealing with Bugs
I hate bugs and I imagine everyone else feels the same way. Another issue with a summer wedding, especially an outdoor wedding, is that you will have to deal with bugs.
Think about your guests and make sure to have enough bug spray for everyone. You can put it in their welcome bag or have them out for the ceremony. Put them either in the seats or right next to the guests book where everyone will see it.
It's also important to let everyone know in advance that your wedding will be outdoors. Some people have severe bug allergies and will need to be prepared.
Enjoying Your Summer Wedding
Summer weddings are all about friends, family, and having the time of your life. They're not about stress or keeping up with societal expectations. Sure you can have a traditional wedding if that's what you want but there are so many other great ideas for summer weddings too! We hope this blog post has given you some inspiration to plan the perfect event for your loved ones. Remember to enjoy yourself and let us know how we can help make your dreams come true!