12 Unique Ideas for Your Perfect Wedding Reception
If you're getting married, then you'll want to find the perfect wedding reception ideas for your big day. One of the most important aspects of a wedding is what happens after it's all over – after all, that's when everyone gets to enjoy themselves! A good party will make sure your guests have an unforgettable evening and gives them great memories of their time with you. With so many options out there, choosing just one can be difficult; luckily for you we've put together this list of 12 ideas for your perfect wedding reception!
Wedding Reception Ideas
Below I've listed some of my favorite unique wedding reception ideas. Again, these are unique, and that means they won't be for everyone. If you don't want a traditional wedding reception or if you just want to throw in something a little different, there are some great ideas that will make your guests and family have a great time, and make your overall wedding day a success.
How long is the average wedding reception?
For the guests, the wedding reception will be the majority of the day. The ceremony might be 30 minutes to an hour, but the rest of the night is the wedding reception.
Wedding receptions can last anywhere from 2 hours to 4, which gives you plenty of time to do all of these wonderful ideas. That means you have time to dance, eat and drink, play games, and plenty of other activities.
1. Cocktail Hour and Drinks
For most wedding receptions, it all starts with the cocktail hour. The bride and groom are off taking photos, and you need to give your guests something to do. Usually during the cocktail hour, guests mingle around, have some drinks and eat some small food.
So, all of this sounds really normal, so how can you make your cocktail hour unique and fun? Why not create your own signature cocktail? Regular drinks are all good, but think how much fun it will be if everyone gets to try a drink that was made just for you.
There are a few different ways you can go about making your own signature cocktail. One, use a drink you already love and just make a few tweaks. You can add a splash of something else or maybe something like food coloring to make it pop. Two, talk to your bartender and come up with some ideas. They are professionals, so they can take your suggestions and come up with something special.
Now that you have a signature drink idea, take a step further. Give it a really special name that relates to the couple, your personalities, or maybe the theme of the wedding. Last, do something fun with the presentation. Use special cups, throw in something like an umbrella, or maybe a super cool straw!
Fun Activities
Weddings are meant to be fun, and you've got to give your guests something to do. The most common thing at a wedding reception is dancing. What if you have a bunch of people that don't enjoy that or it's not their style? A variety of activities gives every guest a way to enjoy the night.
How many activities should my wedding reception have?
Options are good, but too many options can cause a problem. For every activity, that requires space, money, and planning. I've found that 1 or 2 major activities or 3 to 4 smaller activities work well.
Bouncy House
Anytime we go to a party or event for the kids, I pray that there is a bouncy house! The kids love it, keeps them in one area, and wears them out.
Over the years, we've rented bouncy houses for several birthday parties. The great thing is you can find them relatively cheap. I think we spent maybe $200, and they even came and set it up.
Before you rent a bouncy house, talk to your venue. They might not have the space for it, or they might not allow it due to insurance reasons. It can get pretty crazy in there, so someone might get injured.
If you do get a bouncy house, make sure you follow the rules as far as setting it up and the number of people. That means you'll probably have to have someone monitoring the situation throughout the wedding reception.
Games and prizes
I'll do about anything to win a game, especially if there are prizes involved. I still love going to Chuck E. Cheese or Lokomotion and seeing how many tickets I can get.
You can do the same with your wedding reception! Put together certain games or competition and give out prizes to the winners. You could do a ticket system where they can cash out at the end of the night or you could give prizes for individual competitions.
The game ideas are endless, but you could do a dance competition, limbo, Bingo, a scavenger hunt, or trivia about the bride and groom. This is guaranteed to get people out of their chairs and on the dance floor or interacting with other guests.
Murder Mystery/escape room
Over the past 5-8 years, people have started wanting more interactive activities for dates or a night out. Hosting a Murder Mystery or going to an Escape Room have become extremely popular.
It would require a lot of work, but you could do this for your wedding. Depending on the size of the wedding and your guests, you could make the whole wedding reception a Murder Mystery. Don't kill someone important, maybe a worker. Instead of the normal seating chart, you can give everyone characters. Right after dinner, the game starts. To end the night, instead of doing an exit, you could reveal the killer!
An escape room would be a fun addition as well. You could set up one room of the venue to be the escape room. I bet you could hire a company to come in and set it up. Then, groups can sign up for a time slot to tackle the escape room.
Photo Booth
Everyone has heard of a photo booth at this point. I'd say about 50% of all weddings have a photo booth. They are relatively cheap, tons of fun, and people get photos to remember the night.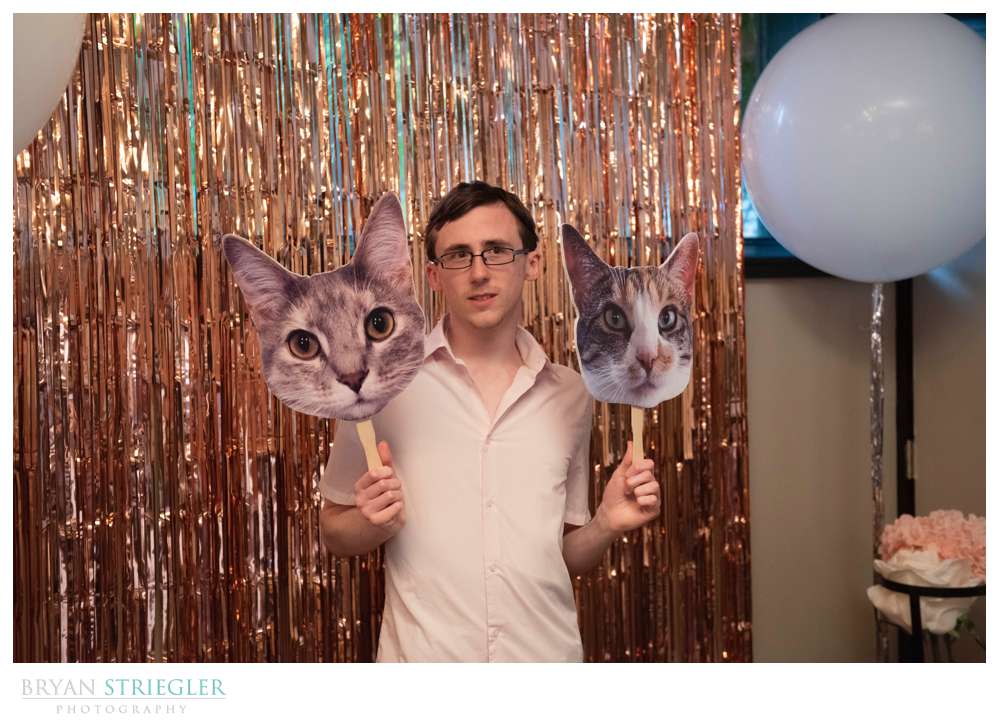 Is there a way to make a photo booth unique? One way is to bring unique props. I've seen people make their own cardboard cutouts of their pets or their friends. Another way is to turn it into a video booth instead of a photo booth. I've seen slow motion booths and ones that create Boomarangs. Then, guests can download it later.
Decorations and D
écor
I love seeing all the different ways wedding planners can decorate a space, but after a while, it seems like everything has already been done. Below, I've got some interesting decor ideas.
Unique Centerpieces
One place that you can decorate that guests are sure to see is the centerpieces. They will be sitting at the tables for a good chunk of the night, so it would be nearly impossible to miss.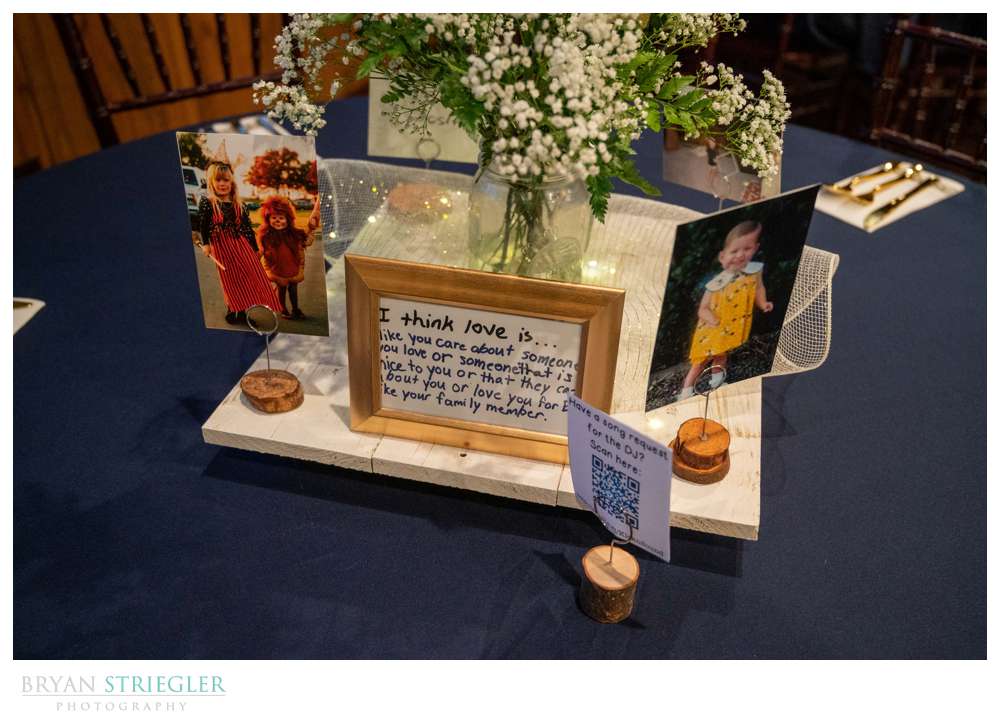 Flowers are wonderful and can add a nice touch of beauty, but that's what everyone does. Think outside the box. You could find some vintage pieces the line up with your theme. I've seen centerpieces made from older books or old clocks. One teacher had all of her students write responses about love and used those at each table. I loved that one! If you are a foody, how about an edible centerpiece?
Check out this post about choosing the perfect centerpiece to get more unique ideas but also tips on what you should and shouldn't do.
Photos of Guests
Another great way to decorate is to connect your wedding day to those attending. How awesome would it be to walk into the wedding reception and see photos of everyone?
There are different ways of doing this. You could have a wall completely devoted to photos of your guests, have them in frames and on display all over, or maybe have wedding albums from a few family members out. I know I would love looking at all of these photos and I don't even know the people in them.
Letters
I already mentioned decorating with the notes from the students, but think how much more it would mean if you had full letters that you could show off?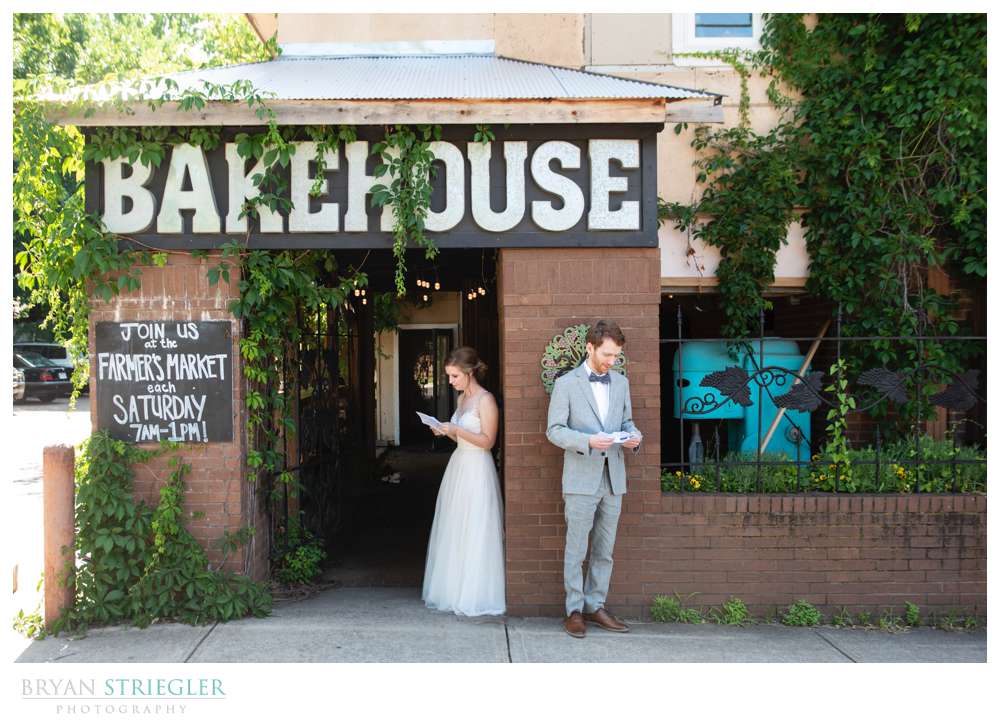 Not many people write letters any more these days, but maybe you are that special couple that did. It could be an email as well, but the point is it's a long, written response to your love.
Another idea is to have key guests write letters to the couple beforehand. Then, it would be surprise for the couple.
I've also seen the bride and groom write personalized letters to every single guest! Wow! The letters were left at their place setting, so they found it when they sat down.
Table Names
Most of the time, tables have nothing on them or just simple numbers. If you plan on assigning seats, make it fun. Give each table a fun party name that relates to the people sitting there. Take a step further and decorate that table where the details fit the name. You could do different sports teams, TV shows, or a characteristic they all share.
Entertainment and Dancing
It sure seems like 90% of the wedding reception is dancing. There's nothing wrong with that, but let's take it up a notch!
Live Band
DJ's are awesome, don't get me wrong. They help make announcements, pick great songs, and get people on the dance floor. It's just not the same as a live band. A live band brings a different energy to the wedding reception, especially if it's someone well known.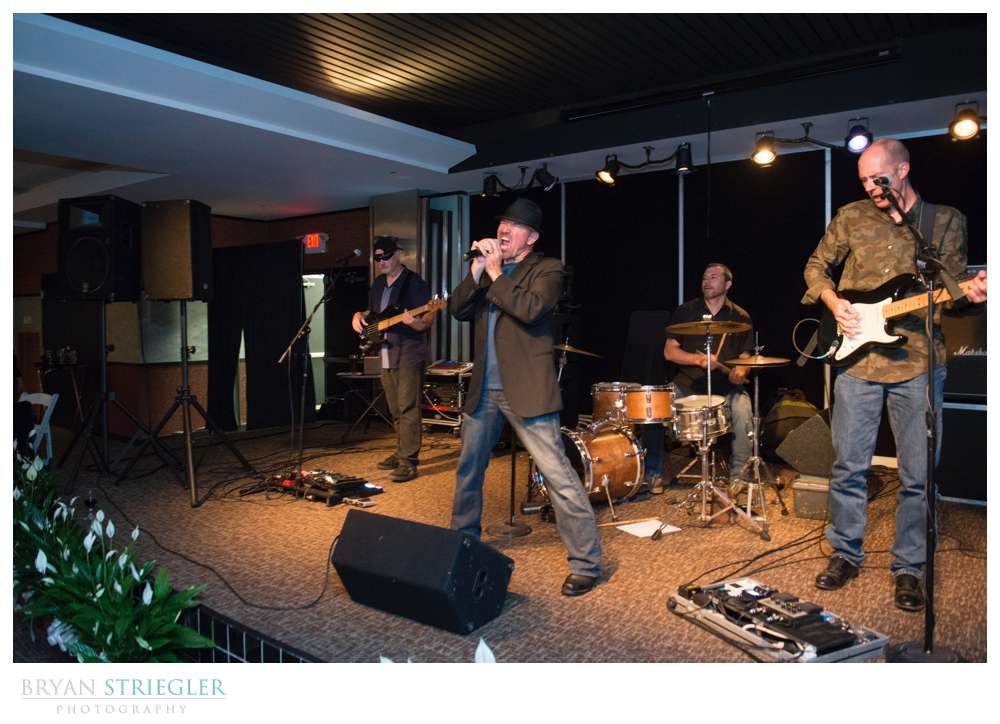 Light up Dance floor
Does anyone place Dance, Dance, Revolution these days? If you don't remember it, basically you have a special floor that lights up and you have to step on certain spaces at the right time.
I don't think you can do that for your dance floor, but I have seen a special dance floor that actually lights up and changes with the music. I'm not going to lie, the weird light coming from below can cause some issues with photos, but a good photographer can deal with it. Besides that, it will create a dance experience that no one else has.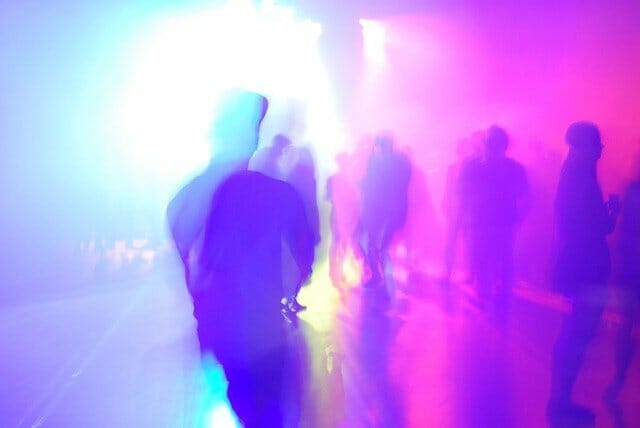 Big Screens
Many venues have TV's spread around, but few couples really take advantage of it. There are plenty of creative ideas that involve big screens.
Secret Slideshow
I've seen slideshows at wedding receptions or wedding ceremonies, but the couple usually put it together. I like the idea of a secret slideshow.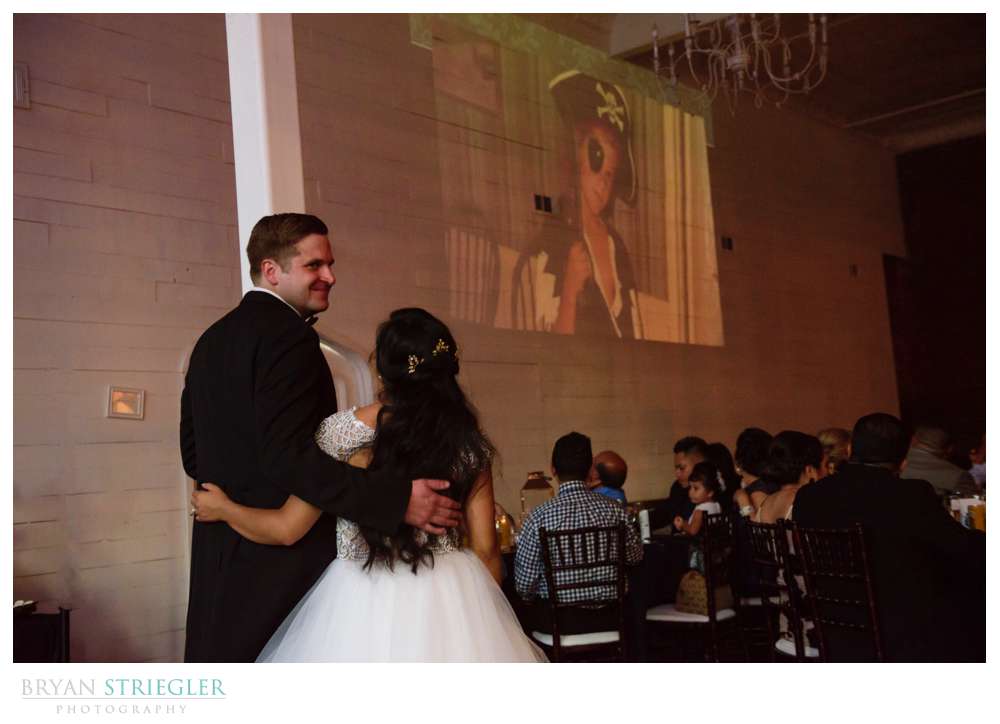 At some point in the wedding reception, everyone would sit down together and watch it. It could be photos of the couple or maybe every guest and family member submitted one or two photos.
It would only take 5-8 minutes but what a wonderful way to incorporate everyone and make memories.
Photo stream from guests and hashtag
Similar to the secret slideshow, you can have an ongoing slideshow through the night. The big difference is that it only uses photos that people take that day.
There are different companies and software that can do it. In general, you set it up beforehand and let everyone know. It could be an app they have to download or a hashtag to use. Then as they take pictures they are added to the slideshow.
Day of Photo or Video
Over the years I've gotten faster at editing photos and video. Right now, I think I can finish 100 photos in maybe 25 minutes or a 1 minute video teaser in 30 minutes.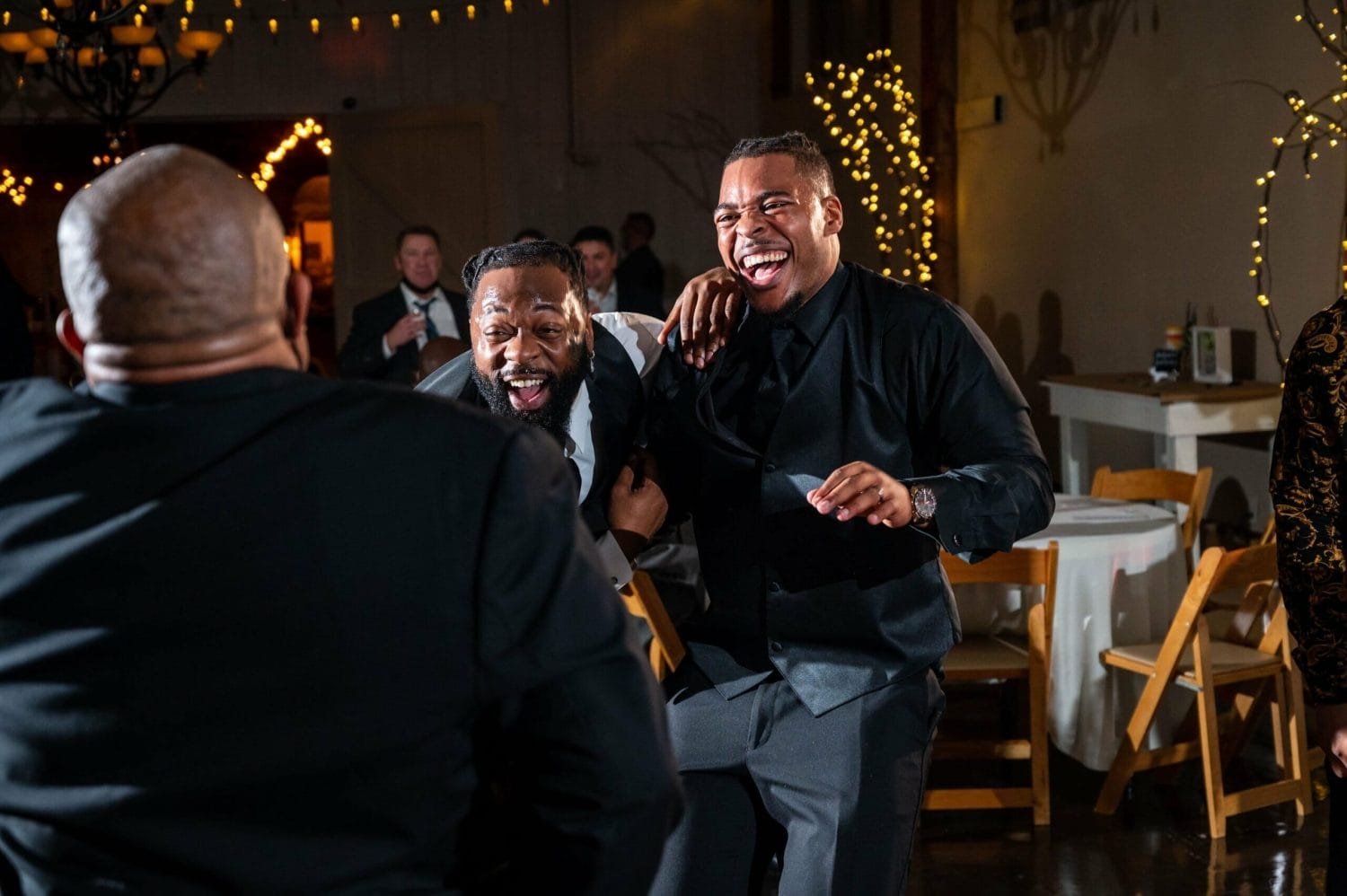 Some photographers and videographers will now offer a same day edit. That means, they will have something ready to view by the end of the wedding reception. It probably won't be a complete product, but it would be a nice summary of the day.
Special Desserts for Wedding Receptions
Traditionally, a white wedding cake is served and I love it. I could eat cake every day until I died from a health related issue. You can still have your traditional wedding cake, but that might not be for everyone. Here are some ways to spice up your wedding desserts.
Candy Bar
A nice addition is to have a candy bar. Take a table and several different containers and fill them with your favorite types of candy. I'd suggest you get a variety so everyone can find something. Then, gets some bags or little boxes that people can scoop their own mixture into.
Ice cream bar
An ice cream bar would be similar. There would be different types of ice cream and toppings and you make your own creation. The only issues with both of these would be how you serve them. Would you allow people to serve themselves or would you need someone there helping each person?
Decorate mini cakes
Several years ago, I got interested in decorating cakes. My aunt always did it, so I thought it would be fun. Unfortunately, I didn't get very far.
If you like crafts or want something interact, have your guests decorate their own mini cakes. Instead of buying a large cake, you would have smaller pieces made without icing. Then, each guest can have their own special dessert made in their style.
Guest Made Treats
Does your family have any desserts that you make over and over again? I think there are lots of grandmas that would welcome the idea of baking and bringing their specialty to the wedding reception.
Have Fun With Cake Toppers
Back in the day (wow, I sound old), brides and grooms were very limited on what they could use as a cake topper. Now, with Etsy and the internet, you can find about anything you want to stick on the top of your wedding cake. If it's not already made, people can use 3D printers to bring your dreams to life.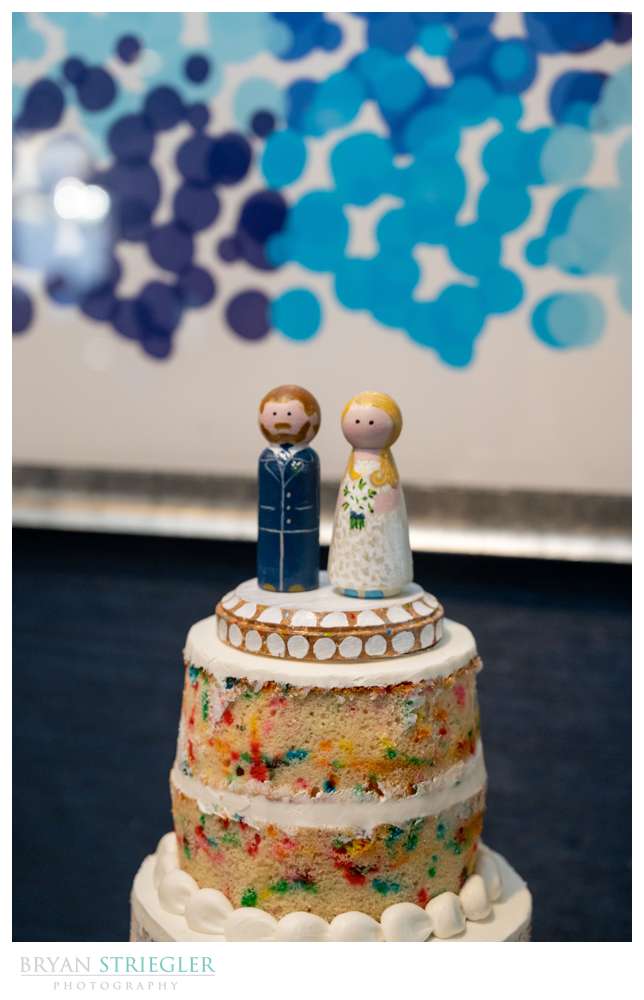 This really is a great opportunity to show off your personality or connect with your wedding theme. I've seen Star Wars, bicycles, Razorbacks (Go Arkansas!), and cake toppers that looked like the couple and their dog!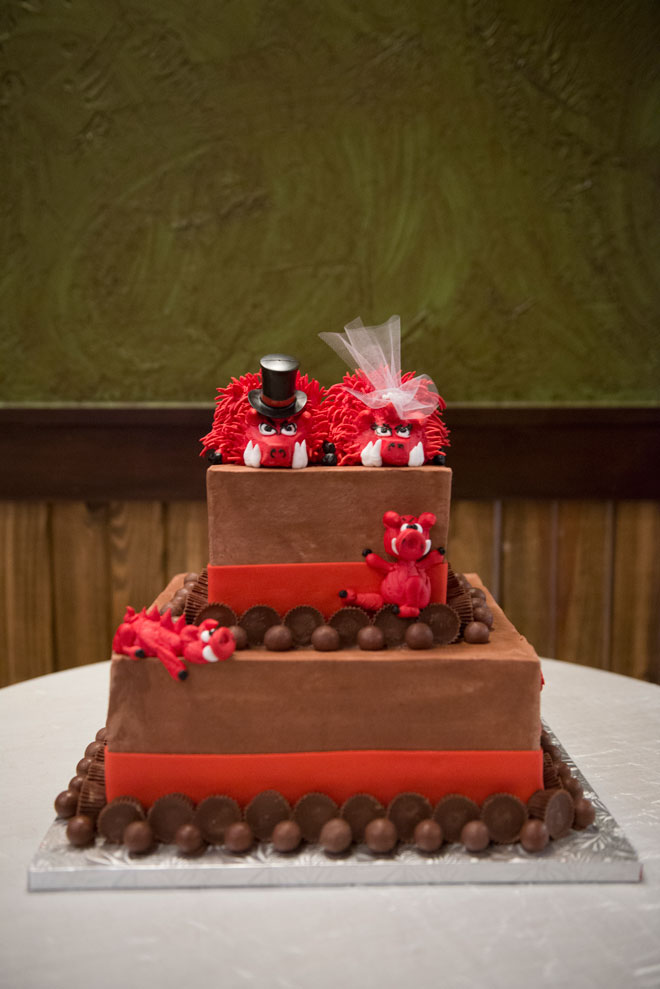 Alternatives to Traditions
Weddings are full of all types of traditions like cake cutting, the garter and bouquet toss, and a first dance. There's nothing wrong with any of these traditions, but feel free to take some of this inspiration and come up with your own way of doing things.
Anniversary Dance
Lately, most weddings have been doing an anniversary dance. All the couples come out on the floor and the DJ announces an amount of time. Only the couples that have been married that long stay on the floor. Eventually, you end up with the couple that has been married the longest.
For a fun twist, give the winners your flowers instead of doing the bouquet toss.
Shoe Game
Another popular game is the shoe game. The couples sit back to back and have a shoe in each hand (one theirs and one of spouse). Someone asks a question and each person raises the shoe of the person that they think is the right answer.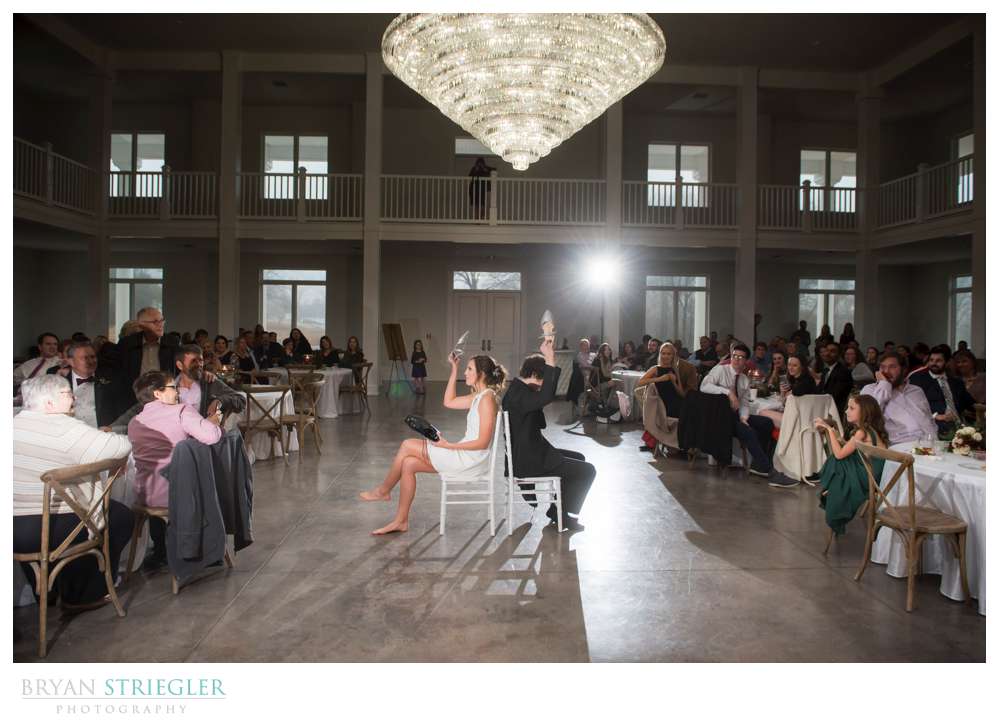 Line Dancing
At a reason wedding, I got to see real line dancing. The couple brought in their teacher, so all the guests were able to quickly figure out the different steps. With as much as some people like these coordinated dances (Electric Slide), this will be a big hit.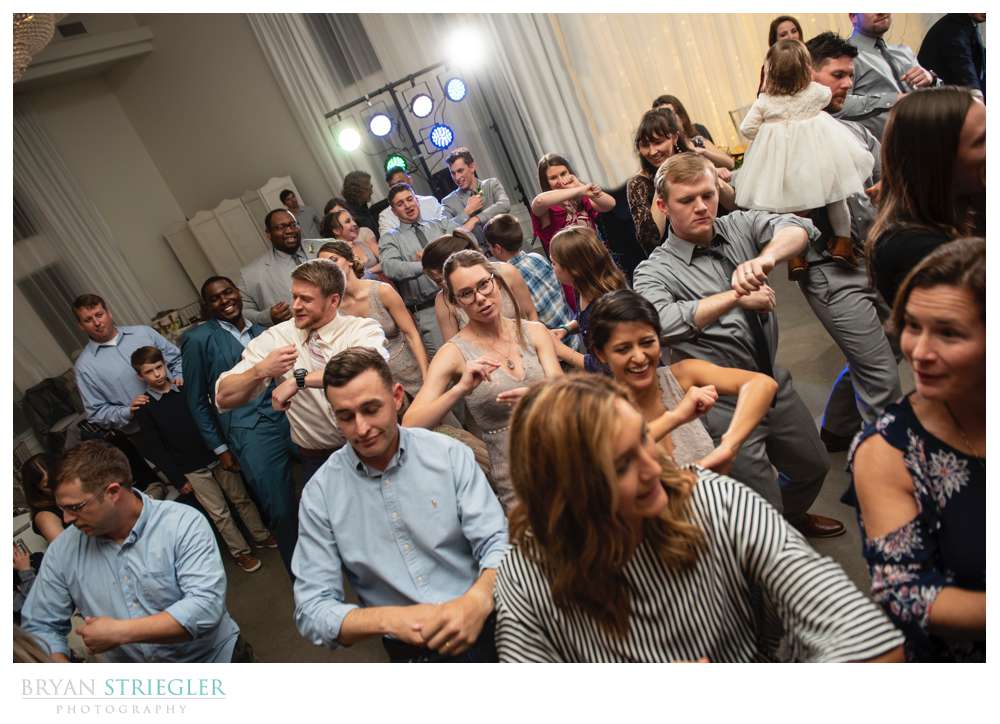 Performances
Why not stand out from the crowd and wow your guests with a surprise performance? There are lots of different options, but I promise you, whatever you choose, everyone will love it!
Groomsmen and Groom Dance
Typically, guys don't love dancing, especially in front of a crowd. Imagine how much fun and how hilarious it would be if the groom and all the groomsmen came out and performed a special dance for the bride.
Flash mob
Flash mobs have been around for a long time, but it seems like they aren't nearly as popular. It's time to bring them back!
Most of the time, this is a surprise to the bride and groom, so that means someone else has to take charge. This could be something the wedding party takes charge of or someone in the family.
The real difficulty is practicing. The people involved might be spread out, which means they can't meet in person. Choose a common dance that they can find online, so that everyone can practice at their own pace.
Special Song
At least four times now, I have seen the groom perform a special song. Once, he secretly learned to play the guitar. Another time, the groom recorded a song and it was played during their first dance. The other time, the groom joined the live band for a song.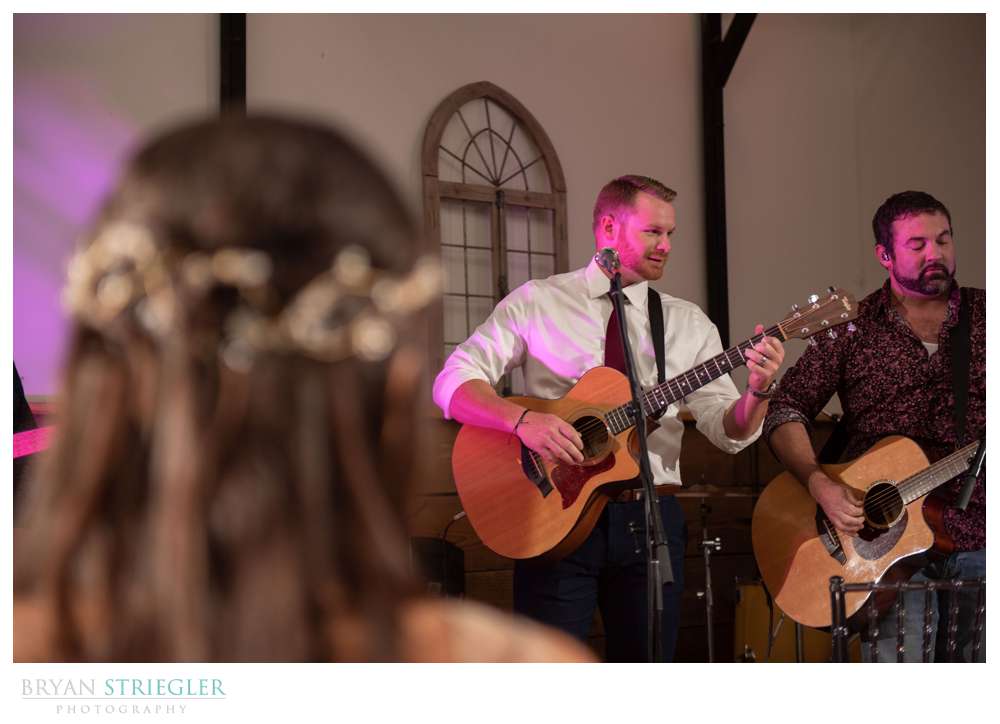 Gifts and Wedding Favors
Are you wondering how you can surprise your wedding guests and friends and family? One of my favorite ideas is through gifts and wedding favors. It's a great way for the bride and groom to say thank you and to make everyone feel special.
I've seen all types of wedding favors. Sometimes they are cute and neat, but most of the time, I imagine they keep them for a maybe a week and then trash them. How about giving your guests something they will actually use and enjoy?
Guests Take Home Flowers
Do you know how much gets wasted at a wedding? At the end of the wedding day, the clean up crew will throw so much away. One way to get the most from your money is to let guests take the flowers home. The greenery will be a nice reminder of the fun they had at your wedding.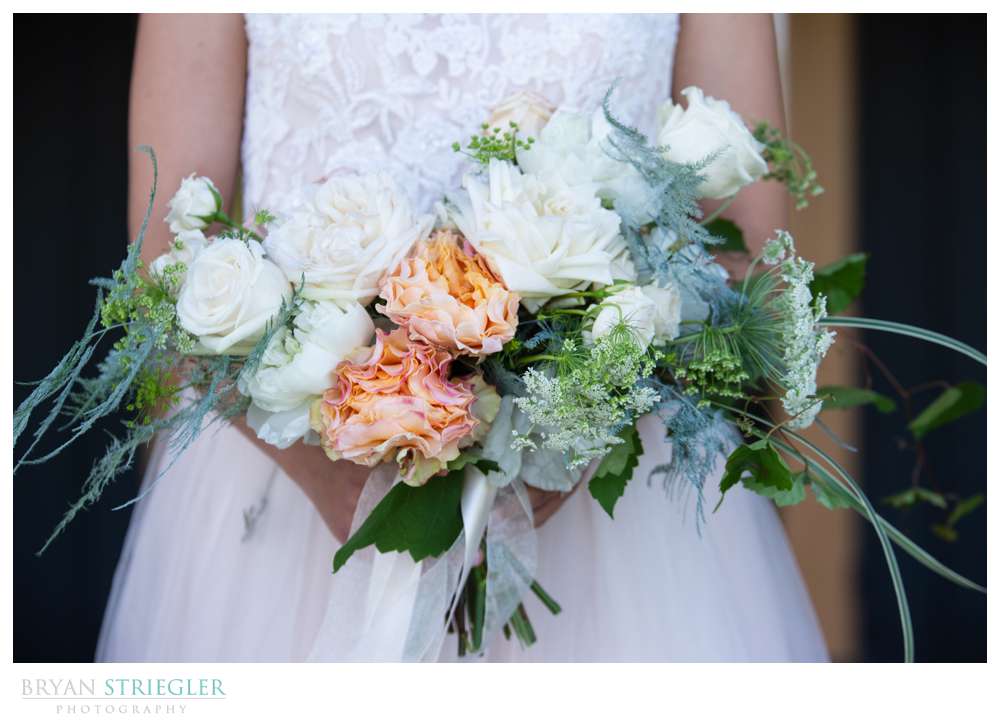 Caricature
Have you ever done a caricature drawing at an amusement park? I haven't but I always imagined it would be exciting sitting there and not knowing what to expect until the drawing was flipped around.
You can hire your own caricature artist for your wedding reception. Guests and family members can get in line and walk away with funny picture to keep at home.
Personalized Gift
In 2020, we saw most people move to micro weddings, and many people are continuing that trend. With smaller guest lists, you can really personalize your gifts.
Once you have your list, start brainstorming for each person. What do they like? What are their hobbies? You won't be able to spend tons on each person, but the fact that you took the time to think about each person will be remembered.
Wedding Exit
The wedding exit is the end of a wonderful day, and you want it to be fun and memorable experience. If you want to learn all that's involved in a wedding exit, read this post.
Secret Send off
Secrets are exciting. No one is going to be surprised by a sparkler exit. What if you planned an exit and the couple didn't know what was coming? They would open those doors and totally be surprised.
Helicopter
Cars are fun. Helicopters are better. I've only done two helicopter exits and both were amazing. Depending on the size of the helicopter and the wedding party, it might just be the bride and groom or you can fit a few others.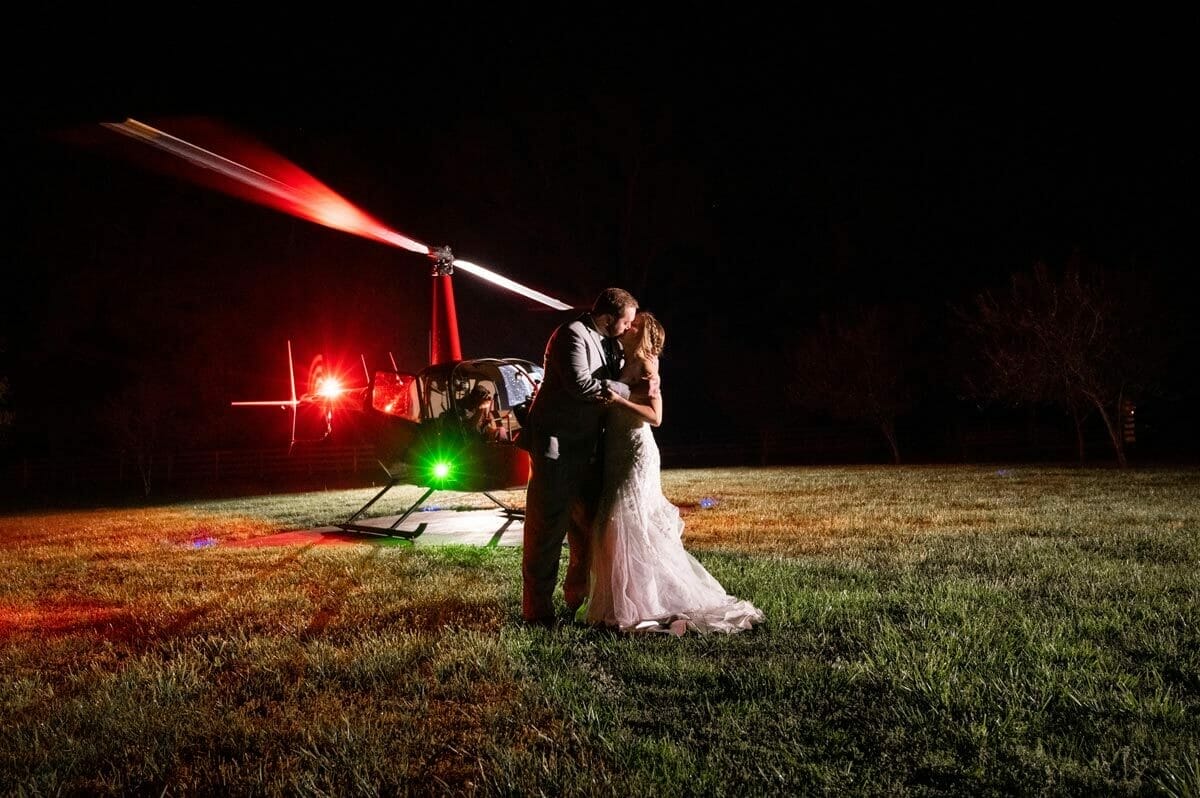 Should you use the Reception Ideas?
Whether it's wedding ideas for receptions or weddings ideas for any part of your wedding, make sure it's something you really want to do. There's no point in doing something because everyone else is doing it or if it's more trouble than it's worth. The same goes with all these unique wedding reception ideas. Don't do them just to be unique. Make sure it fits and will make the perfect wedding reception!