I am an unorganized mess. I've always been this way. If you had looked at my binders in school, you would have just seen a giant chunk of papers. I'd always just throw them in there. Now, with that said, my lack of organization has never really hurt me. I've always been able to find things and take care of business, but it has made my life a bit more difficult. Several years ago I decided to focus on customer support through better business management. The solution to my mess, 17hats. This 17hats review for photographers will cover what the product is and my experiences with it.
What is 17hats?
First of all, let's look at what 17hats is. 17hats is a website based organizational tool for businesses. It is not tailored just for photographers, so it really will work for most business. I would say, though, that it's aimed more for smaller businesses than giant corporations. 17hats aims to do what the name says. It takes all the different hats that we wear as business owners and takes over. It's there to make our life simpler, and from my experience so far, it has.
What Can It Do?
This program has a lot it can do. Basically, it covers all the things on the business side that you might hire individuals to do if you were a larger company. You can create different projects, clients, and workflows to keep you organized, and you can put important events on your calendar so you don't forget. You can automate an email series, send invoices and contracts, collect payments, track time spent on a project, and so much more!
Overview of 17hats Features
17hats is a great value for the money with all the features and workflow management. I'm going to do my best to cover the majority of the features or at least the ones that would be beneficial to a photographer.
Leads
It all starts with leads! 17hats can help in multiple ways with bringing in leads, gathering and storing information about each lead, and converting to customers.
17hats lets you make multiple lead capture forms. I've only used them on a website, but there might be other places you can put them like an email. You can customize each form to ask only the questions you want, the information is automatically put into the contact, you can start a workflow (we will talk more about this later), and you can even get a text as soon as someone fills it out!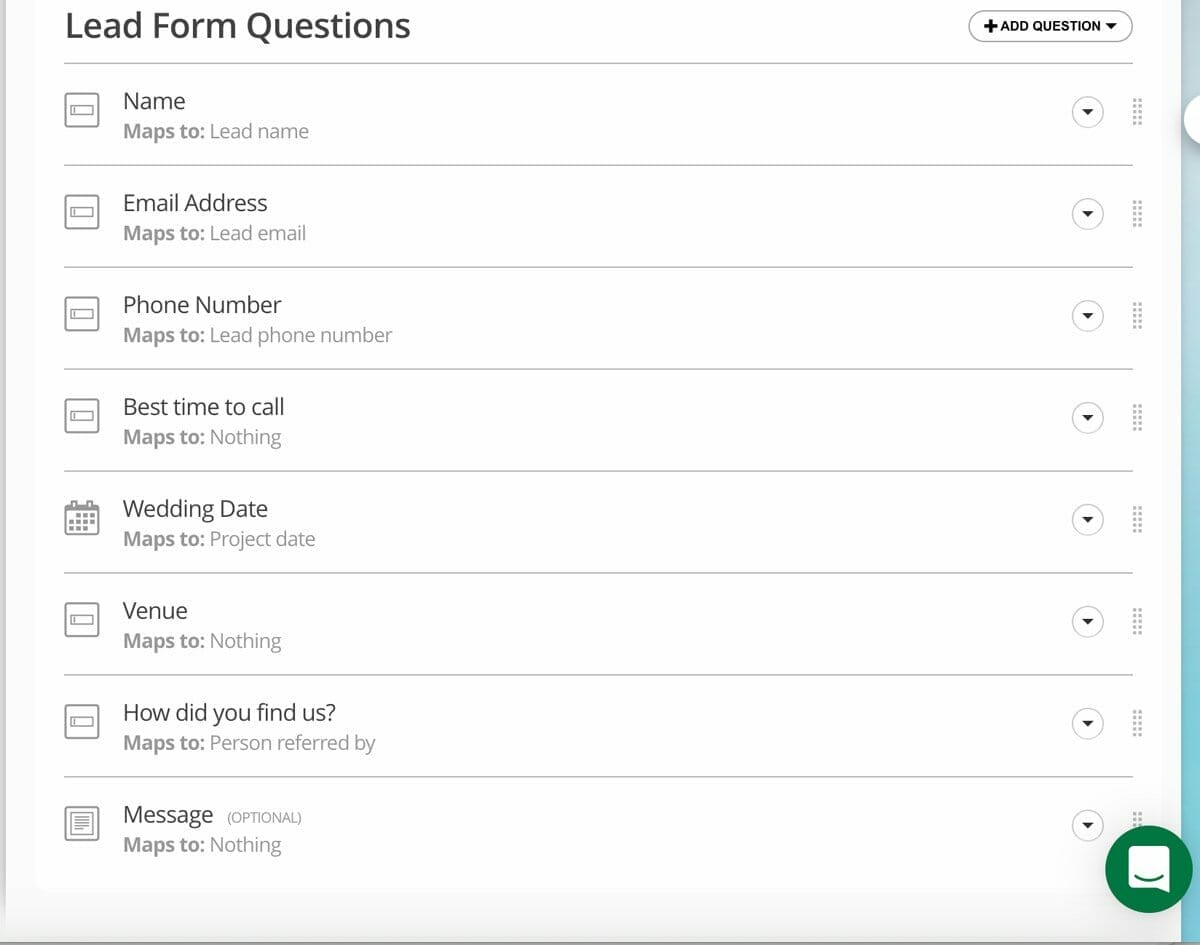 One cool tip is to create multiple lead capture forms for your website. They can look exactly the same, but name them based on the page. This way, you will be able to tell where most people fill out the form. If the majority of the people fill it out on your home page vs your contact page, you'll know that the contact page isn't working well or not necessary.
What if you you get leads in other ways? No problem. You can manually add them and label them as a "hot lead" and do all the other things you could with a lead capture form.
With wedding photography, sometimes I'll talk to people a few weeks or even a month before they book. It can be hard to remember every single possible new client. Luckily, 17hats makes it easy to track your leads.
On the main panel, there is a section for leads. When you go there, you can easily see your lists of leads and where they came from.
Workflows and Automation
One of the toughest things about being a small business owner is finding time to do everything and keeping track of what needs to be done. 17hats makes that easy with Workflows and automates some of the repetitive tasks.
A Workflow is a set of steps in a process. Many of the things can be set to automatically happen like send emails and invoices. This saves a ton of time. Other things will need to be done manually.
As you create a Workflow, you can divide it up into different phases. For me, this could be something like pre-shoot, shoot, and post-shoot. You don't have to add phases but it keeps things organized.
To-Do lists
As you use a Workflow, items get added to your To-Do List. It's a great place to quickly see what all you need to do. The items are listed in order of when things were due, so you can knock out the past due items first.
Beside each item, there is a little box you can check off. That way, when you finish a task, you simply check it and it's gone! Easy!
There are a few other nice little things about the To-Do lists. You can also organize items with different lists, and assign tasks to different users if you are a photography studio. If you need to add something manually, you can do it as well.
Questionnaires
One tool I find myself using over and over again is questionnaires. I have them in almost all of my Workflows. It's a great way to gather information about leads or current clients. My favorite way to use them is to find out about the personality of a couple before a shoot. I ask random things like favorite movies and candy. It gives us something to talk about during a shoot.
Emails
One of the best things you can do with new leads or with customers is to keep in touch and be helpful. I've found that creating an email series really builds trust.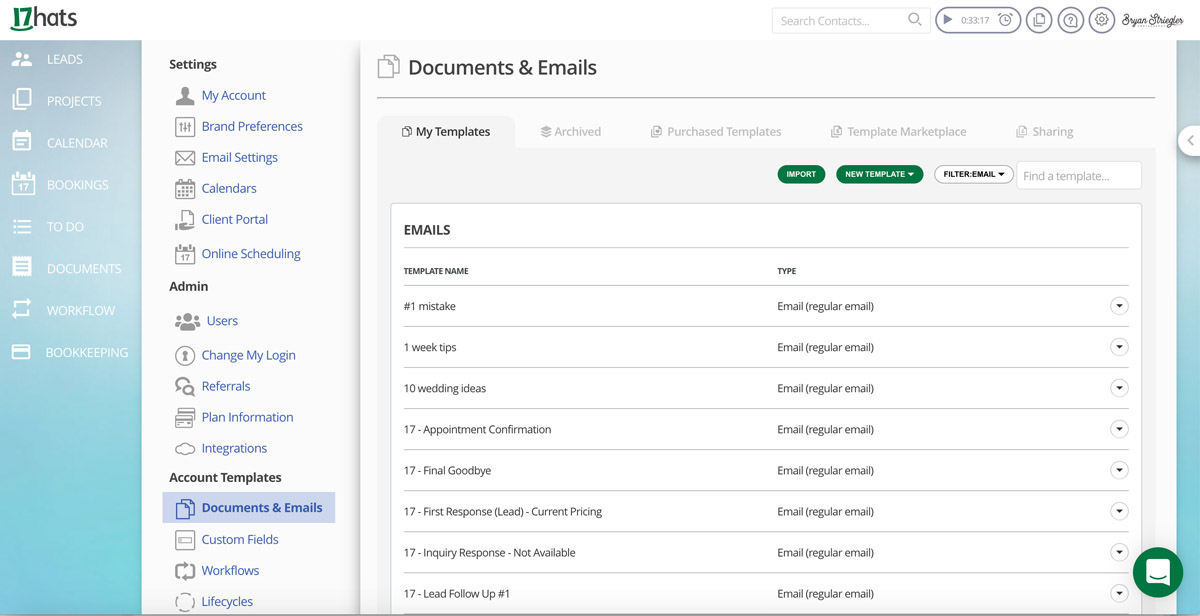 The real struggle is sending out these emails. When you have multiple people, it's almost impossible to keep up with everyone and send those emails out manually.
17hats lets you send emails, and makes the process easy! You can create all your emails and then use them over and over again in Workflows. I have an email series for leads, engagement sessions, high school seniors, and several other things.
Creating Documents: quotes, invoices, contracts
I'm not an expert at creating nice looking documents, so 17hats is a lifesaver. There are multiple documents you can create right inside 17 hats, and they look professional and you can customize them to fit your brand.
The ones I use the most are contracts and invoices, but you can also send over quotes to potential customers. One nice added feature with the invoices is that if they pay through it, that info will be added to the contact and your book keeping automatically.
With the contracts, make sure to run everything through a lawyer. There are some provided by 17hats, and I've found others through PPA, but they might not apply to your state or situation.
Time tracking
Depending on if you are a studio or your type of photography business, you might need to keep track of how long something takes. It could be that you are charging a client by the hour or you want to see how long it takes to edit a shoot. 17hats has a built in timer feature for this.
I've only used the timer a few times when I was shooting some product photography, but it was very helpful. When you start a new timer, you can choose a project, client, and the type of work and hourly rate. From there, you turn it on and off with a play button. When you're done, it calculates the cost for you.
Calendar and Scheduling
Some photographers book over 30 sessions a month. Since I'm a wedding photographer, I might do 3 weddings and 6 engagement sessions in a month, and I still forget when things are happening. My calendar is what keeps it all together, and it connects directly to 17hats.
Inside 17hats, you have a tab called Calendar. It shows you all of your To-Do items, events, and anything else you want to add. You can make different calendars so things are color coded. I have one that's for tasks and another that's for shoots, so I can easily see the difference.
You can connect your 17hats calendar with other calendars you are currently using. There are a few ways to do it. You can either use 17hats as your main calendar or set your other calendar (iCal for me) as your main one. For me, I imported my 17hats calendar into iCal, so I can see all of it easily on my computer and phone. You can do it the other way around, but I've had some issues in the past with the 17hats calendar updating the events added on iCal.
Another amazing feature that 17hats offers is scheduling. Whether you are doing mini sessions or want a customer to be able to sign up for a phone call, scheduling makes it easier. You create a schedule, pick the time slots, and then send out a link. People can pick their day and time and even pay through it.
Bookkeeping
Math is not my thing, and I imagine most photographers feel the same way. We are about creating, not fiddling with numbers. 17hats has book keeping built in and is very user friendly for those that are mathematically challenged like myself. This has been a great money management solution for me.
The first step is connecting any accounts that you use for your photography business for paying or accepting payments. If you can't connect or would rather do things manually, you can always add each expense or income as it happens. It's much easier, though, if you connect your accounts. This way, each transaction coming in automatically.
Once transactions are in, you can change them in a few ways. You can change the name, categorize, split into multiple transactions, or delete.
Can 17hats replace QuickBooks? From what I've seen, it does the same things Quickbooks Online does without having to leave 17hats or pay extra. Some might like Quickbooks Online better, but for me, I'm sticking with 17hats.
Accept Payments
How are you currently accepting payment? One feature that I've mentioned a few times already is the ability to accept online payments. This is so helpful! Instead of having to do things in different places, you can keep it all in 17hats. Once you send an invoice, they can pay and it gets tracked in 17hats.
17hats offers integrations with most major providers like Apple Pay, PayPal, Google Analytics, Stripe etc., so a customer will have multiple options.
Templates
I hope all of this sounds awesome and sounds like the perfect management software for your photography business, but I know it can also sound overwhelming. Making all of those emails, contracts, and workflows will take a lot of time and effort.
The good news is that 17hats provides several templates for you to get started. They have basic emails for shoot reminders and payments, and a few basic questionnaires, quotes, and contracts.
If none of those work, you can visit the Template Marketplace where you can purchase templates for all types of things.
What integrations are available for 17hats?
17hats is where you will spend most of your time for business management, but there are some other pieces of software you might want to use as well. 17hats can integrate with certain types of software, which means you can do even more!
Right now there are 8 software options you can integrate. Greetabl allows you to automatically send gifts to clients, Zoom lets you schedule online meetings, and there are several options for ordering things like albums and prints through Fundy or Shootproof. Besides that, you can connect to Zapier, which opens up all types of options. For example. I have a Zap made that lets me send text messages automatically when certain things happen.
How to Use 17hats
One big problem with many types of software or a platform is they are limited on the system you can use them on. I'm a Mac guy, and I know there have been plenty of times things were only for Windows (boo!).
17hats has two options. It is a web based platform, and it also has an app that is available on Apple and Android. This means basically everyone can use it, everywhere. When I'm at home, I use the web. When I'm out and about, I use the app.
How Much Does 17hats Cost?
I'm sure plenty of you are wanting to learn about 17hats pricing structure. Right now there are 3 tiers, $13, $25, and $50 a month.
Basically the big difference from tier to tier is how many you get of certain things like documents or lead capture forms. There are a few missing features in the lowest tier like advanced workflows and some integrations.
There is a way to use 17hats for free. They have a free version that might be good for some a certain type of small business, but it appears to be pretty limited. With all the tiers, you can get a free trial to create three projects. The best part is you don't even have to put in a credit card to try it out!
The Good
Overall, I love 17hats and it has helped me manage my small business and provide better customer support. It has all the features I need from lead generation, client management, to bookkeeping.
I love how it keeps me on track and allows me to automate the majority of my work. I can get distracted easily, but 17hats allows me to see where I am in any project and provide the kind of service my couples deserve. It has saved me countless hours by sending out pre-made emails to customers. This CRM has great value for the money and has improved my business.
I also want to mention that the customer support has been awesome. Any time I had a question, it was answered quickly and resolved my issue.
The Not Great
There really isn't much that I don't like about 17hats. I think the biggest struggle is the initial setup and figuring things out. Creating all of your documents and workflows takes time. Yes, you can purchase some, but not everyone wants to spend more money. It would be nice if there was a way users could share all the templates for free.
I think learning a new software is confusing for everyone at first. You don't know where to start or where things are located. I think 17hats ranks pretty high for ease of use once you get the hang of it. They also provide a live demo, so someone can walk you through all the features.
My Go to Business Management Software
If you are currently struggling with keeping track of everything and you feel like you are juggling it all by yourself, 17hats could be the software solution for your business. It has all the tools you need and is user friendly. Right now, they are having a 50% off sale (https://referrals.17hats.com/card/bdtnrxhfrg), so it would be the perfect time to jump in! If you have any questions, feel free to reach out.