Weddings are always a happy occasion. As a photographer, this means that it's both a challenging and fulfilling task to capture the event exactly how the couple envisage. You'll have to be creative with your shots and work out the best angles to get those magical moments on camera — and drones are one way to do just that.
4 Things to Know When Using Drone Footage for Wedding Shoots




Luckily, drones have become more available and more affordable in recent years. According to a 
Business Insider report
, fierce competition from manufacturers has driven the prices down — so now is a great time to invest in a drone. But before heading out with your drone for a wedding shoot, here are a few considerations you'll need to consider
Obey local regulations
Every drone pilot must be compliant with the Federal Aviation Administration's 

(FAA) various regulations for operators
. Unlike with recreational fliers, those using drones for commercial purposes need to pass an FAA examination and receive a Part 107 certification. This ensures you're familiar with the basic rules for piloting an unmanned aerial vehicle, like keeping the elevation below 400 feet, or not flying your machine directly over groups of people. Aside from these requirements, you will also need to check with the venue coordinator, as some locations don't allow the use of drones for filming.
Mind the noise
Drones create quite a bit of noise, so use them sparingly — or not at all — during the ceremony, to avoid intruding on an intimate moment. After all, there's nothing worse than loud humming interrupting the happy couple's "I do's."
Rather than capturing intimate moments, drones are better suited to recording the sprawling scenery of the event. If it's a destination wedding, for example, try to get a bird's eye view of the venue as guests start coming in. For close-up shots that highlight emotion, stick to a good old camera. This way, you get to film the day without becoming a nuisance.
Choose the right drone
Drones come in different varieties, each with their own advantages when it comes to shooting. As a commercial drone user, you'll likely get the most out of the more expensive drones on the market. Since you're filming a once-in-a-lifetime event, be sure not to skimp on your gear. The selection of drones on Adorama highlights the superb features you can get from most high-end drones. For heavy-duty filming, the DJI Mavic Air 2 is perfect as it can capture slow-motion 1080p videos at 240 fps — allowing you to shoot panoramas and photos in gorgeous high resolution. On the other hand, those who value stability and easy navigation will find a good match in the EVO II PRO Drone, which uses AI machine learning and 12 computer vision sensors to move omnidirectionally for smoother video capturing.
Have a back-up plan in case of bad weather
A light drizzle and mild winds probably won't destroy your drone, but it will definitely affect the quality of your footage. If the weather is bad, just ditch the drone entirely as it can become a safety hazard for everyone attending the wedding. However, be sure to have a back-up plan, so your clients aren't left empty-handed.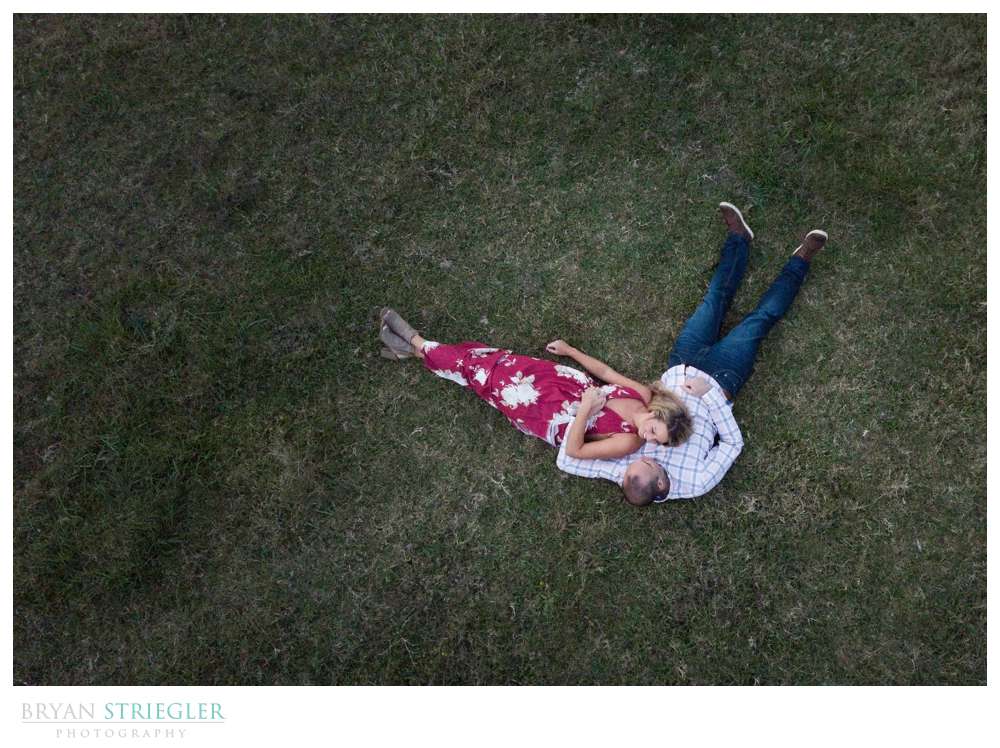 For instance, our feature on 'Setting Up a Photobooth at a Wedding' details how such an attraction can be a viable option to entertain guests. It's a great way to loosen up and break the ice at a formal event. Plus, everyone gets to bring home a memento.

Alternatively, you can also opt to crank up the quality of your camera shots by using gimbals. According to Capture Guide's recommendations for gimbals, these tools let you capture smooth and cinematic shots by stabilizing the motion of your camera. Drones like the Moza Air 2 provide the best value for money as they offer excellent stabilization, a wide range of options for direct control, and 16 hours of battery life. This ensures you have a back-up for your drone in case of inclement weather.

Drone footage will only become more popular as couples start to explore more creative ways of spicing up their wedding album. As such, it's important to keep the above points in mind if you plan to use a drone for a wedding shoot.