Truthfully, I am happy to photograph a wedding any chance I get. I love weddings that much. You could tell me you were getting married in the wilderness or in a crowded restaurant, and I would still be giddy about being there. With that said, there are some wedding venues that really stick out and help create a wonderful wedding experience. One wedding venue in Northwest Arkansas that has been great over the years is The Stone Chapel at Matt Lane Farm. If you haven't had a chance to get out there, these 5 Amazing Things about The Stone Chapel at Matt Lane Farm will give you a feel for what it's like.
1. Ceremony Options
The first thing to look at with a wedding venue should always be the actual buildings. That's the main feature of a venue, so it should be up there in importance. The Stone Chapel is a beautiful building that offers lots of space and many other things for the wedding ceremony.
Outside, you also have another area that can be used for a wedding ceremony. It similar to the chapel in that it is made of stone, but it's not as large. It's enough space for the wedding party and officiant, and the guests are seated below.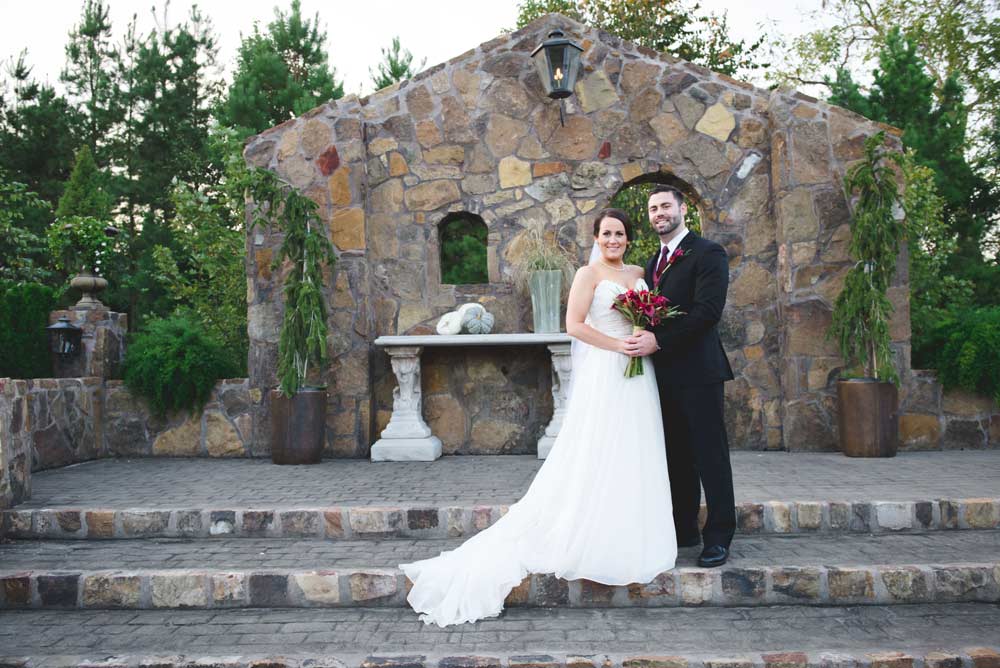 The great thing about these two options is that it gives couples a choice. Most will go for the look of the Stone Chapel, but some like the idea of an outdoor wedding ceremony. For those that choose the outdoors, they will also have the Stone Chapel as a backup. Not every wedding venue has these two options, so I love the peace of mind it gives my couples.
2. Bridal room and Groom's quarters
Too often, I find myself having to travel from one location to another. The bride might be getting ready at one location, and the groom is getting ready at another, and then we all have to travel to where the wedding ceremony is. All that travel takes time. I like it much more when everything can be done in one space.
The Stone Chapel has rooms for both the girls and the guys to get ready. This means no traveling. All I have to do is walk 20 yards from one room to another. This makes communication much easier and we save so much time.
The other great thing about these rooms is the space. It's not a tiny little closet. The bridal suite is a large open room where the girls can easily do makeup, get ready, and just hang out without tripping over each other. The groom's quarters aren't as large, but there are two rooms, so the guys can spread out.
One other great thing about these rooms is there are multiple doors. I know that sounds like a really weird thing to care about, but it's important. A lot of times, I have to keep the groom from seeing the bride, and the guys don't' want to feel trapped. There are two back doors, so the guys can go outside without having to worry about running into the girls. The same is true for the girls' side.
3. Lots of Land and Different Backdrops
As a photographer, space and backgrounds are extremely important to me. I can make photos in basically every situation, but it's nice to have something beautiful to work with.
The Stone Chapel at Matt Lane Farm is located out in the country and has so much space! It would take probably 15 minutes or more drive around all of it. That means there is room people to be doing thing in multiple spots at the same time. The girls could be doing photos out in front of the chapel while the guys are somewhere else.
Space is also important to the wedding guests. They don't have to worry about parking or being crowded. Everyone can feel comfortable and have a good time.
The first thing you'll notice when you enter the area is the long stretch of road with all the tress. It is one of the best spots for photos I've seen. The trees provide shade from the sun and create a beautiful arch over the couple. Besides that, you have all these fields to work with and the front of the chapel.
4. Wedding Reception Area
The wedding ceremony is only a small part of the day. A good portion of the day (and when most of the fun happens) is the reception. Some wedding venues use the same space for the ceremony and the reception. There is nothing wrong with that, but it does mean the space will have to be changed from the ceremony to the reception. The Stone Chapel has a separate large building and space for the reception, and it is wonderful!
The reception hall is a long rectangular room and has everything you could need. There is space to fit a few hundred people, a separate kitchen for the caterer, and still, room left over for a dance floor.
Outside, there's even more. There's an area right outside that's roughly a 20×20 space. I've seen it used as a hang out area for cocktail hour or a dance floor. Right above that is a covered seating area and a spot for a bartender.
5. Constantly Improving
I've said this about a few other wedding venues, but the thing that sticks out the most about a venue is whether they are willing to improve. Are they stuck in their ways or are they always looking to create a better experience for their couples and guests?
The Stone Chapel is one of those wedding venues this is improving and changing. Since it opened, they have built the outdoor ceremony site, enclosed the reception area, and updated the outdoor patio.
Those are only the things I've noticed. I'm sure they have done so many more things that I'm not even aware of, and I bet they have even more planned for the future.
5 Amazing Things about The Stone Chapel at Matt Lane Farm
I've got several weddings coming up at The Stone Chapel at Matt Lane Farm, and I can't wait. I know it's going to be a wonderful experience for myself and for all the wedding guests. It always is! If you're looking for a wedding venue in Northwest Arkansas check out the Stone Chapel. There's a reason why they are one of the top wedding venues around.