Over the past 10 years of photographing weddings, the majority of them have been what I'd consider traditional weddings. That means it took place in a church or venue, there were a few hundred people there, and you did all of the traditions like cutting the cake and first dances. There have always been people that wanted to do something different, and now elopement weddings are becoming more popular throughout the country. Elopements are not for everyone, so here are 5 reasons to have an elopement wedding. 
5 Reasons to Have an Elopement Wedding
1. Don't like Traditions
Sometimes I wonder why we do the things we do. I know there was some reason long ago that made sense, but I don't know how much it actually applies today. I think there are a lot of people that feel the same way, and they might choose to elope.
You could just decide to not do the traditional things at your wedding, but if you don't like anything about a traditional wedding, it would be a better idea to go do your own thing. It's your wedding, so you might as well choose something you want to do.
2. Don't Want a Large Crowd
Most weddings have anywhere from 100-400 people. That's a lot of people and not everyone wants to be around that many people. I know when I was younger, I didn't like being in front of crowds of people. Being up on stage, reciting vows, and kissing in front of a crowd, might be too much for some people.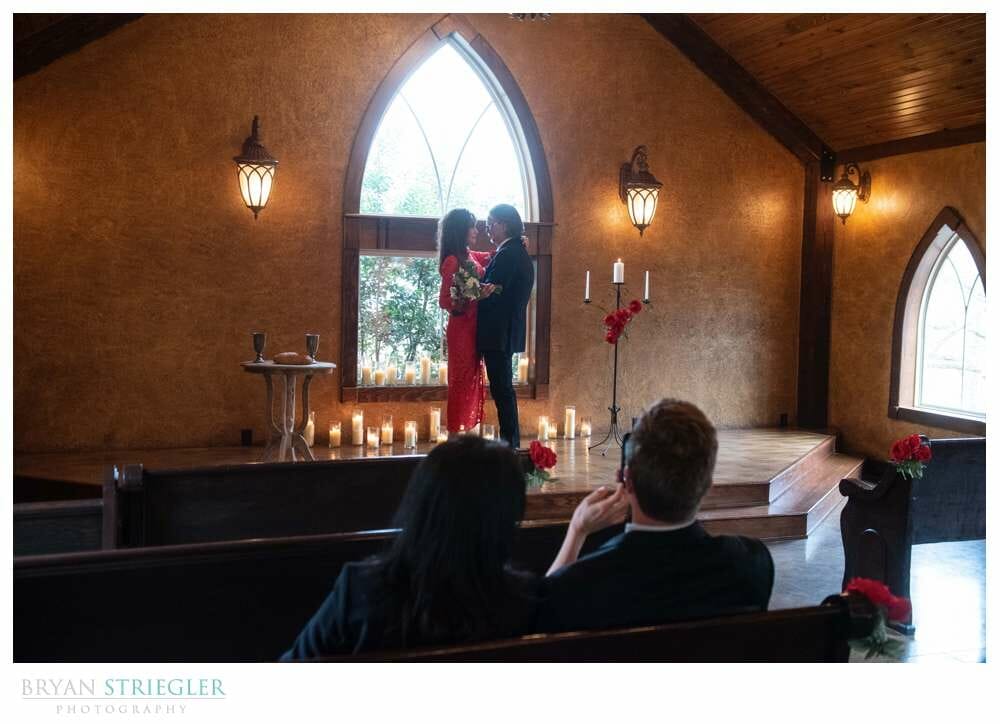 There have also been situations where families and friends could make things difficult. In one situation, the bride was local and had a ton of guests, while the groom's family was really far away. This would create a wedding dominated by guests from one side while the other had hardly anyone. The other problem is choosing who to invite. If the numbers are too high, you're left choosing who can come and who can't, which can cause some major problems.
3. Like adventure
Are you super adventurous and love going to fun and interesting places? Then an elopement wedding might be perfect for you. Traditional weddings are usually stuck at churches or venues. With an elopement wedding, you can go wherever you want! That means you could go to a remote place in the woods, a famous attraction like Niagra Falls, or any place in the world.
4. Don't want to wait
It seems like most couples book me at least a year before their wedding, and sometimes it's even longer. There's a lot to do to plan a wedding, so it makes sense that they have that amount of time.
That's a long time to wait, and not every couple wants to wait for over a year. The good thing about elopement weddings is you don't have to wait! Depending on how adventurous you are, you could make a plan, book things, and get married within a week if you really wanted!
5. Want Less Stress
Traditional weddings are stressful! You have to plan so much, book vendors, figure out who to invite and not invite, and do all of this has to be done in a certain timeline. The biggest reason people elope is to have all the stress!
Every elopement wedding is different, but in general, elopements don't require as much work and planning. You usually don't have to book as many things, make as many choices, invite as many people, or spend as much time doing any of this.
What's more stressful than money? Out of all the stresses of a wedding, money has to be the biggest one. Every decision about the wedding revolves around money. Elopement weddings can be so much cheaper, which means less stress! You don't have to pay thousands of dollars for a venue, food and alcohol, or even an expensive dress if you don't want to. The most expensive thing might be airfare or a photographer, but still, you're probably saving $10,000 or more!
Is an Elopement Wedding Right for You?
Just like traditional weddings aren't right for everyone, elopement weddings are right for everyone as well. Before you make a decision and jump in a plane to Italy, make sure you talk to your fiance, and other people that are important to you. The wedding is about you, but running off without talking to your mother can have some major emotional consequences. Look at the 5 reasons to have an elopement wedding above and make sure it's what you really want to do. If it's a big, enthusiastic yes, check out these places to elope in Arkansas and feel free to reach out with any questions!