We've all seen the traditional posed wedding party photos, everyone standing straight, bridesmaids with their bouquets held neatly in front of them. These images look good and are a great way to show off the people you and your partner have chosen to stand beside you on your wedding day, but maybe you want something a little different—a chance to show off everyone's personalities.
Wedding party photos don't have to be predictable and dull, but you also don't have to scour Pinterest for new ideas. There are fun, simple ways to allow every groomsman and bridesmaid to express themselves while still ending up with photos you'll love and cherish for years to come!
8 Fun Poses for the Wedding Party
One thing to note is that the number of your wedding party will affect what you can and can't do. Some of these poses require an even number of people and would look off center. If your wedding party is only 2 or 4 people in total, some poses might not work either.
Capture kiss reactions
A great way to let your wedding party goof off a little bit is to share a quick kiss with your partner with your bridesmaids and groomsmen in the background. I tell them I'm going to have to couple kiss and you guys can react and whatever way you want. It just gives people a chance to get to be funny and stupid and do whatever they want. Their expressions will give you something to laugh at and enjoy when you look at the photos later!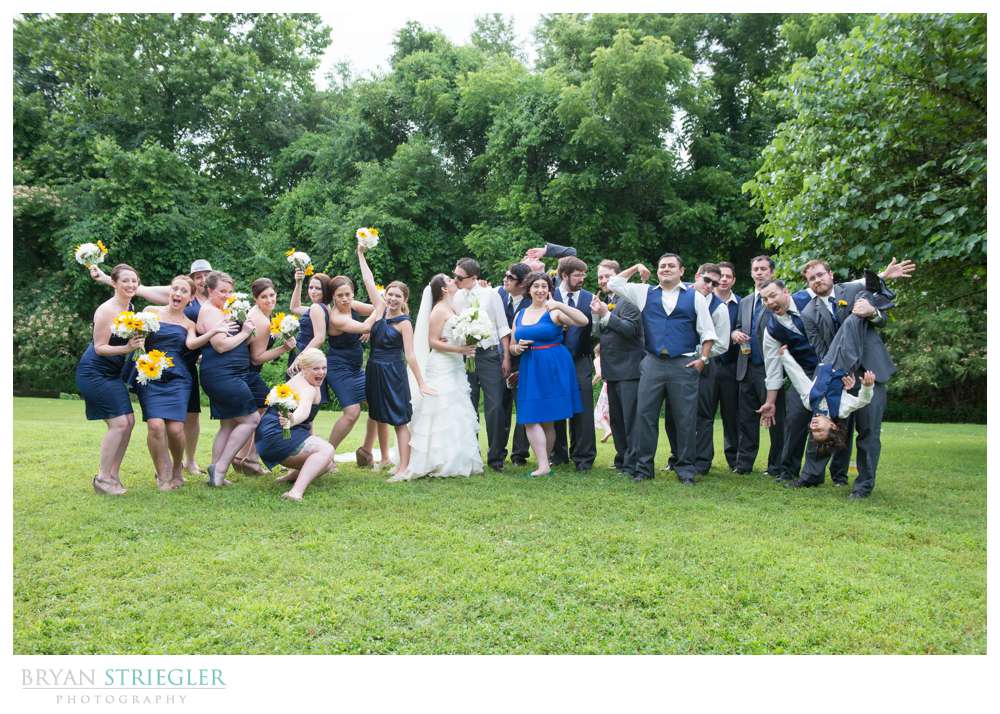 Flying V
If any of y'all are Mighty Ducks fans, you know what the Flying V is. Have your wedding party form an upside-down V while you and your partner stand in the middle. Then tell everyone to celebrate! From dancing to yells to big grins, this pose gives your photographer a chance to capture everyone's joy on your big day. You can also do this with just the guys or just the girls.
Show off in sunglasses
Want to look like the coolest wedding party? Have everyone put on a pair of shades and channel their inner celebrity. That includes you too! Everyone looks cooler in sunglasses.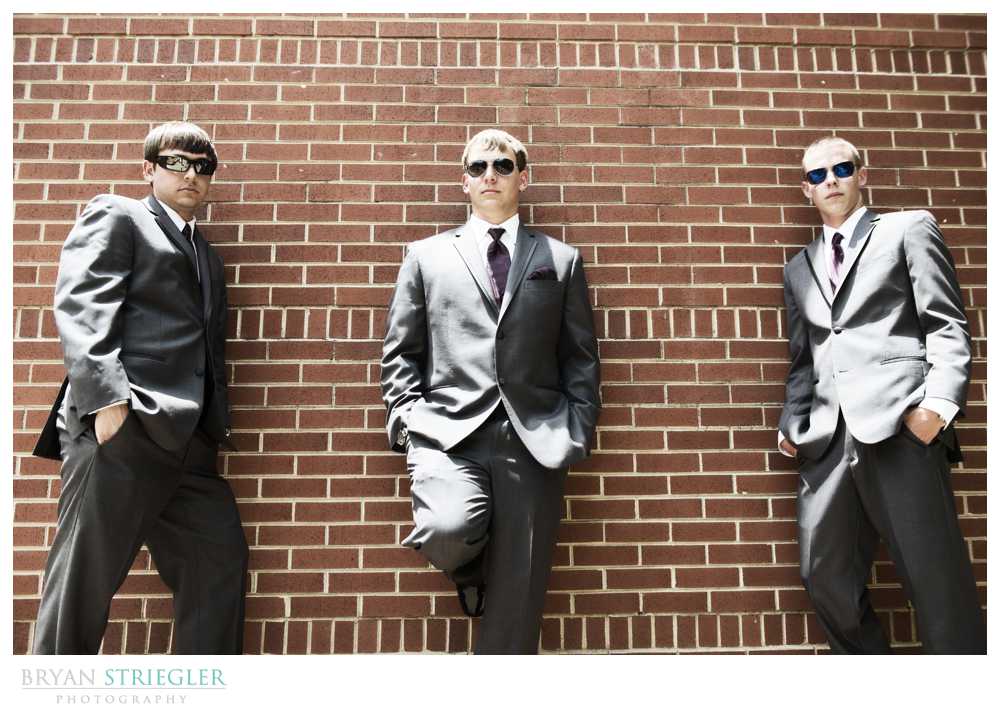 What if someone forget their sunglasses? That's ok. A little Photoshop magic can fix it. Do one photo and then let that person borrow a pair and do another. It's pretty easy to blend those two together.
Start a tug of war
This idea is perfect for the more playful couple. You and your partner stand in the middle embracing while your bridesmaids and groomsmen jokingly try to pull you apart. Just be careful and make sure no one takes it too far. I'd hate for someone to fall and get dirty or someone get seriously hurt.
Jump for joy
Weddings are all about celebrating! Go for a classic jump pose by attempting to have everyone leap into the air at the same time. While you may not get it perfect, the results will still be super fun!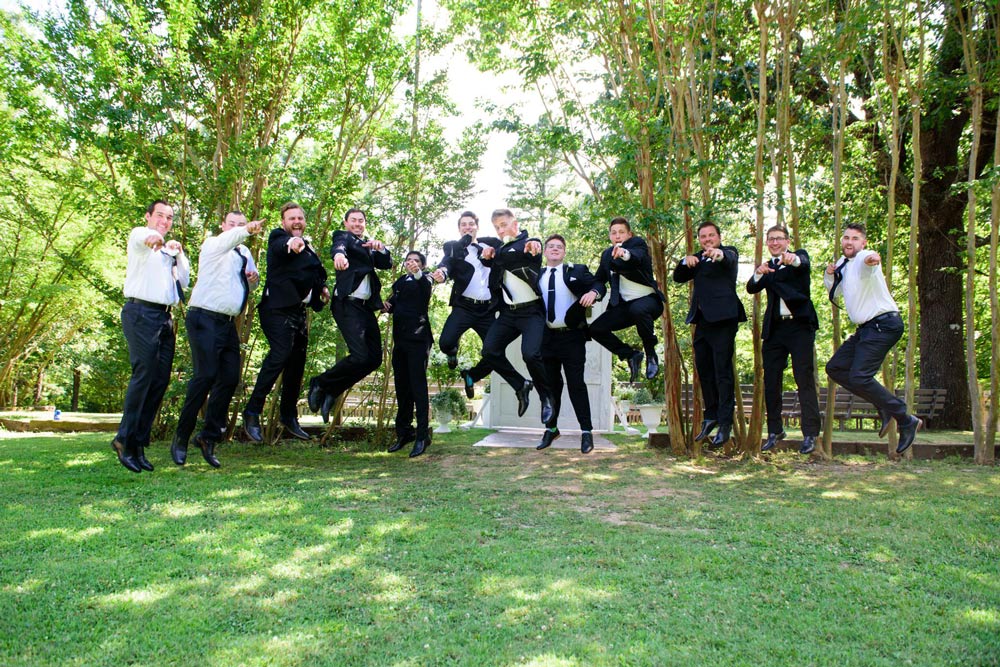 For the best results, do a countdown where everyone bends at the same time and jumps on go. For example, 3, 2, 1 (squat), go (jump).
Spell out your name
If you and your partner will share the same last name, enlist your wedding party to stand behind the two of you while you kiss, holding up letters that spell out your new name. If you want to get really creative and you have sparklers, you can do this at night with a long exposure shot.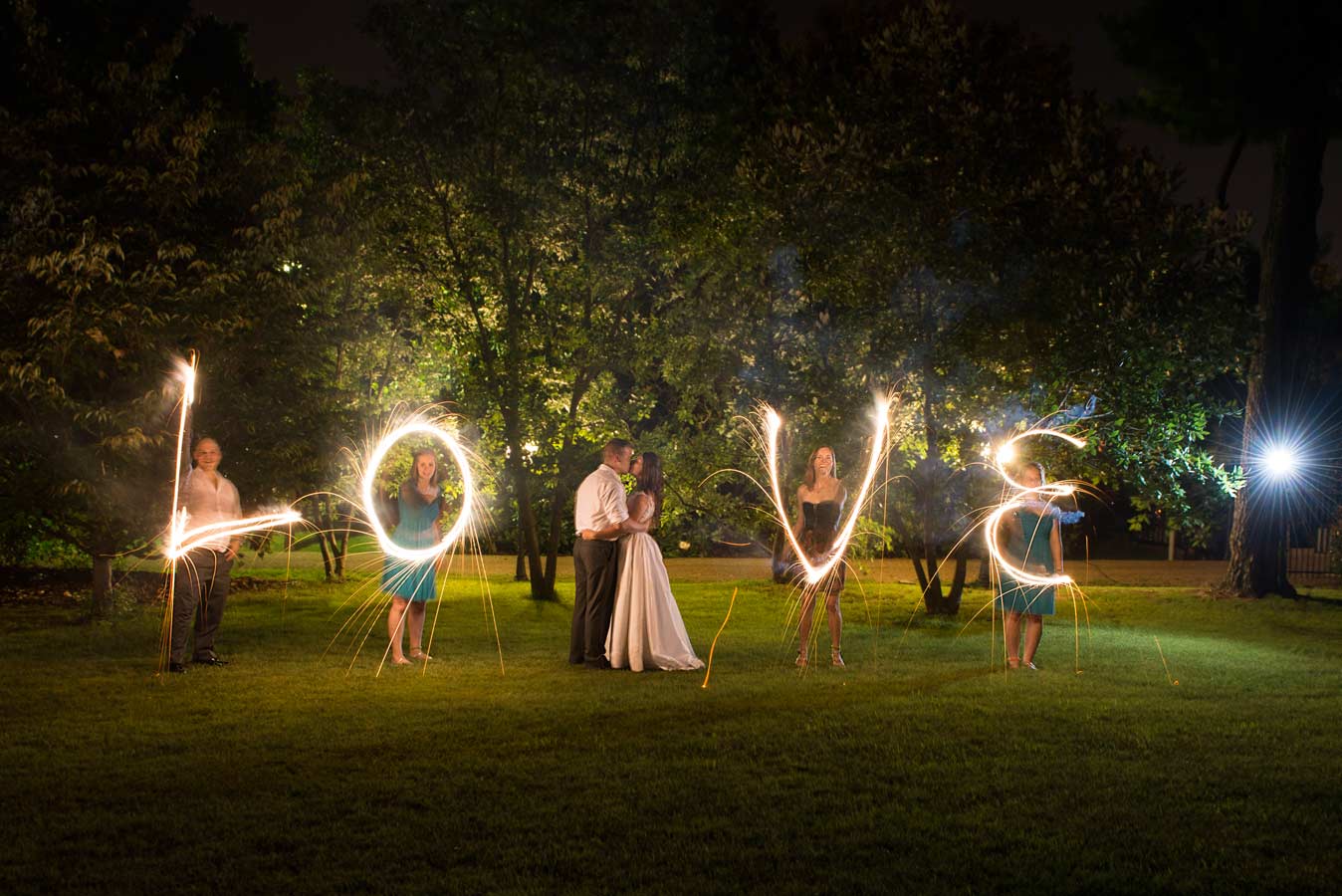 Pair up
Have each bridesmaid and groomsman pair up and capture a shot of everyone with their partners, including you with your soon-to-be-spouse. If you have an uneven number, change pairs into groups of three.
After you do a normal photo, have each pair come up with something fun to do with each other. They could high-five, do Charlie's Angels, or any other fun thing.
Pick Up
Another really popular one is having the bride or groom get picked up. The groomsmen pick up the bride and hold her, but then it's also super funny when the girls try to pick up the groom .I've yet to have anyone fall but the reactions on his face and the reactions on the girl's faces as they try and lift him up is always hilarious.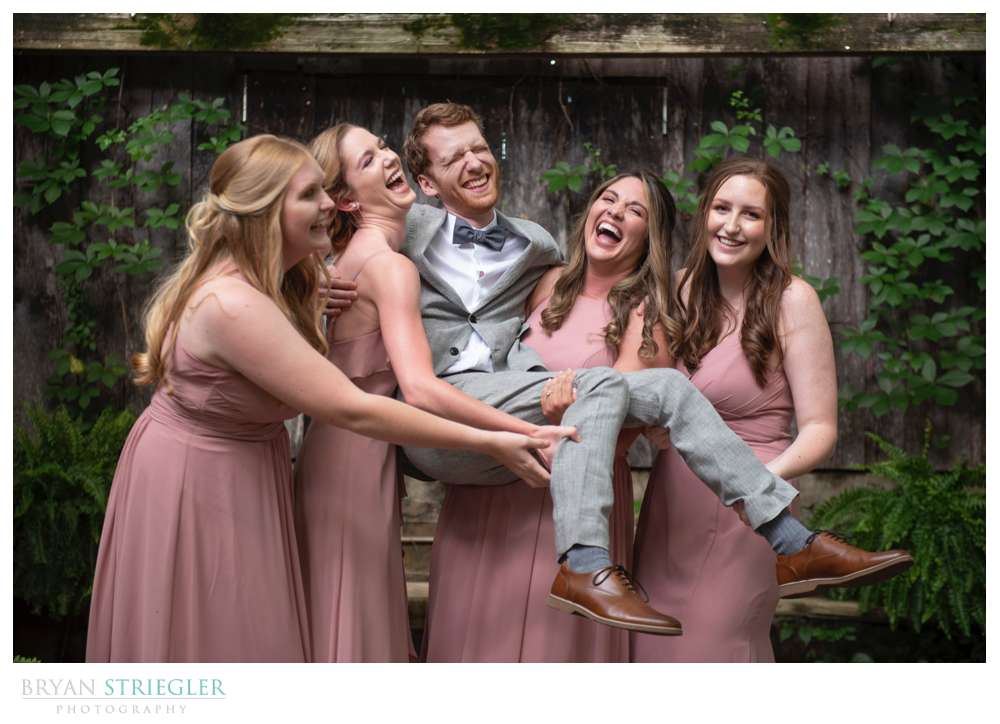 Know your group
A big part of this is knowing your wedding party. Are they going to enjoy doing these poses or totally hate it? If it's not their thing, do one pose and move on. You don't want to force them into a bunch of things they don't want to do. I've found, though, that most wedding parties are excited to interact and be goofy. Feel free to use any of the 8 Fun Poses for the Wedding Party or come up with your own. Also, make sure to check out these other fun things to do with the wedding party.