The first look is not only about those really beautiful pictures. It is about you having a moment with the person you love just before the wedding ceremony. It is special and private. But what if you do not want to ruin the surprise? You do not have to fret about what to do. There are so many ideas for alternatives to a first look that you can do without seeing each other. The best part is that they are just as romantic and special as the traditional first look.
Alternatives to a First Look
Hold hands
The feel of your hands touching each other is very intimate. You are assured that you are ready to commit to a life together. Guess what? You do not have to look at each other to hold hands. Stand behind a door. Stay on either sides of a wall. Reach out and hold hands. Try not to get too emotional and cry!
Blindfolds
This is basically a cheat. You get to "see" each other but not get to see how the other looks like. With blindfolds, navigating your way to the love of your life might be hard. Get a friend to guide you to each other.
With this one, you can either choose to blindfold both of you or just the groom. Either way, it's a great way to be close to each other without seeing each other.
Back to back
Another way to is to talk and touch each other while you stand back to back. It is still very intimate and no one spoils the surprise. You can talk, laugh and cry without even looking at each other.
Send a note
Handwritten letters are romantic. They are even more romantic when you receive them on the morning of the wedding. Instead of a first look, write notes to each other. It does not have to be an artsy love poem. A simple and sincere declaration of everything you both feel is sure to bring tears to your eyes.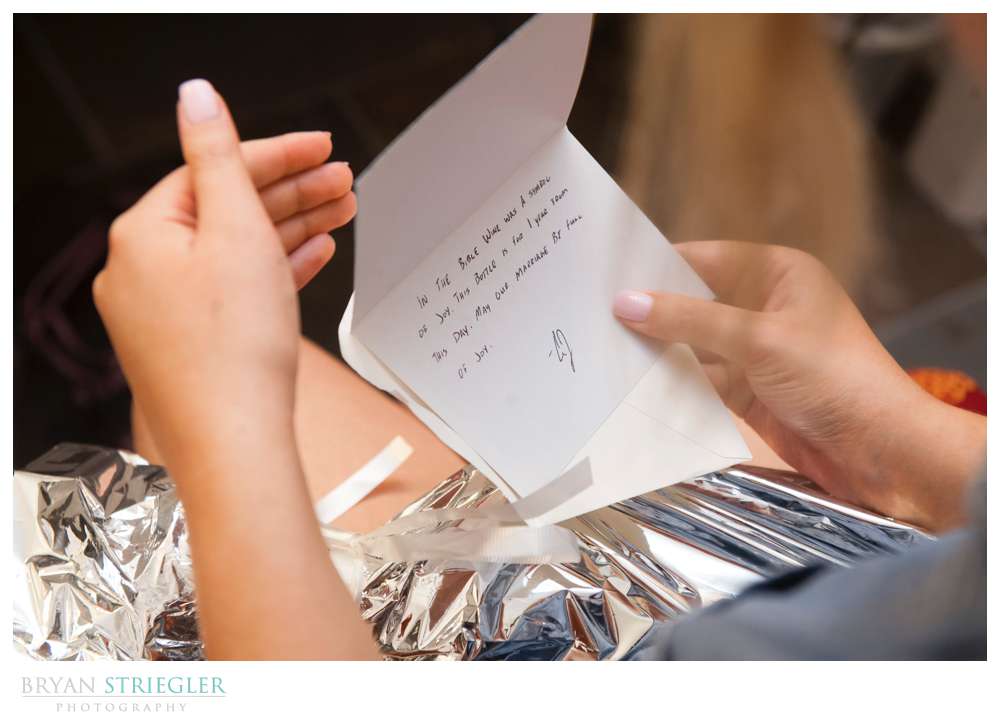 A Serenade
Do you know the best thing about a love song? You do not necessarily have to sing it while staring into each other's eyes. In a dark room or outside without facing each other, serenading is a beautiful way to spend the moments before your wedding together. Try to hold back those tears.
A first prayer
As a couple, if you share a particular faith, you can say a prayer together. It is extra special when you both share a prayer before you commit to each other at the altar. Doing so with your eyes closed works perfecting to avoid a first look or any of the options above.
Reading your vows
If you have written your vows yourselves, reading it to each other when alone is much more intimate than doing so in front of witnesses. You will feel less anxiety and be able to express just how you feel as your read the words to each other. In this situation, you'll need to be back to back or around a corner.
A small gift
Sending a gifts to each other on the wedding morning is a sure tear jerker. Everyone loves a gift, so getting something right before the ceremony will even be better. Make sure it's something really deep and meaningful. Not only that, gifts can come with short letters of love.
First Look Alternatives
A first look is so popular because it creates a special moment between the bride and groom. Any of the options above will also create a special moment, so don't feel like you have to do a traditional first look. Whatever alternative you choose, remember to enjoy every moment with each other before the ceremony