Every year is different in my world. Some years one month is super busy and the next year I don't have a single wedding that month. In general, June hasn't been a super busy month for me. Not this year! I think I ended up shooting 6 June weddings! I know that's crazy. They were all great weddings, but Carly and Steve's was really a blast! It had a wonderful venue, a hilarious bridal party, some suspense, and most importantly, a couple super in love.
An Awesome June Wedding: Carly & Steve
After doing the detail shots, I normally hang out with the guys while the girls finish makeup and what not. The Barn at the Springs has a room just devoted for the guys, so I started in there. I did the traditional groom getting ready pics, but then I wanted to do something different.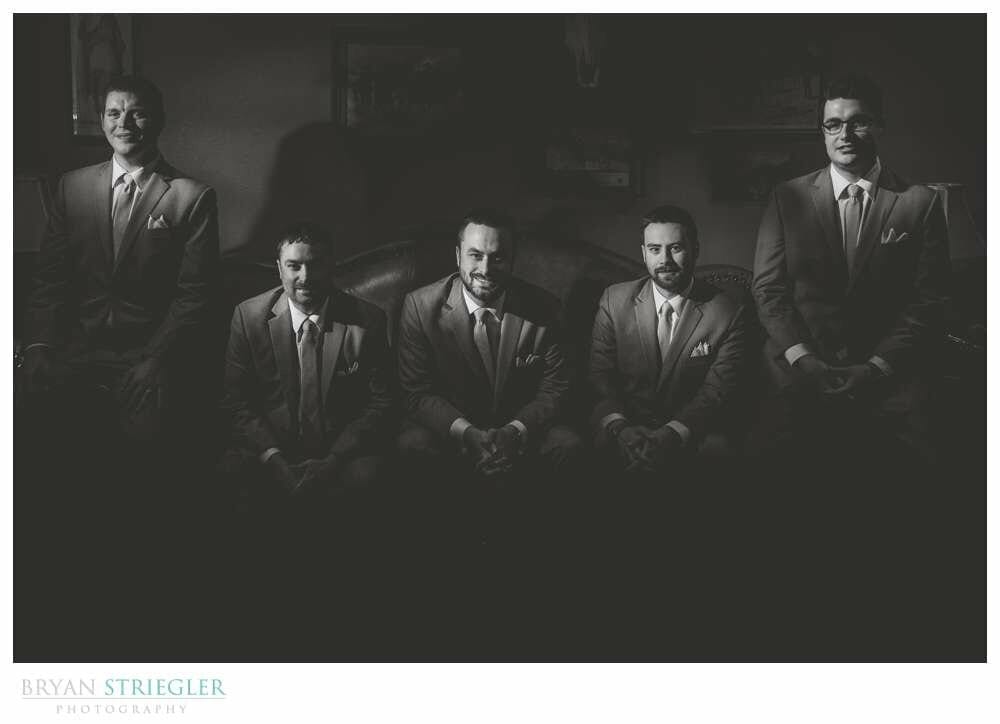 I decided to make a composite of all of the guys. Basically, I had all the guys sitting on the couch, and then I lit them individually with a flash, took a picture, and then moved to the next person. Later, I put them all together in Photoshop. The really tough part of this was getting everyone in the shot. I ended up having to climb into a clothes cabinet to make it work. I'm sure it was pretty funny to watch.
That was a bunch of fun, so it was time for something more emotional. I had Steve stand out in front of the venue, and then Carly came out for the first look. It's always so much fun to be there to see that reaction. Pure gold! Right after, we shot a few quick portraits and started prepping for the ceremony.
This is where things got interesting. About an hour before the ceremony, it started raining, which was weird because the sun was out. Luckily for all of us, Carly and Steve didn't freak out. They talked it out, checked out the radar, and waited. While all this was going on, I decided to distract them with a few more portraits. Might as well do something productive.
It stopped raining about 25 minutes before the ceremony, and let me tell you, it was so awesome watching everyone pull together. Friends, family, and the venue owners went to work getting outside ready.
Another storm was coming in, so everyone made a quick dash to get the ceremony done. I've never seen a wedding party come down the aisle so quickly. The ceremony couldn't have lasted more than 15 minutes, and right when they kissed, it started to sprinkle again. It's so crazy how that timing worked out.
The rest of the night was a blur of dancing and laughing, but what really stuck out to me was the creative portraits we got to do. I always try to create something different and unique for my couples. Sometimes they are open to it, and sometimes they aren't. I was thrilled when Carly and Steve enthusiastically said yes!
We did several really cool things. We did a shot in front of the venue doors, we played with sparklers, and we even pulled out some champagne and made a mess. Loved it!
Yes, yes, yes! What a great wedding! I really hope it was everything Carly and Steve wanted because I know it was the perfect day for me. I got to hang out with relaxed but fun people, see real emotions, and create super interesting photos!