Adventure time! I've been sharing all of these bridal shoots I've been doing lately, and I've gone to some really beautiful and interesting places like Petit Jean state park for Sarah's bridals or Legacy Acres for Lindsey's bridals. These were awesome shoots, but they were relatively easy to do. Jules' bridals at Devil's Den was more of a challenge.
Bridal Portrait at Devil's Den
I've wanted to do an epic shoot at Devil's Den for a long time. I went out there once for Jessica's engagements, but we really didn't adventure too far. My main goal has always been to get some epic shots out on the bluff. It's the location that everyone uses, but I wanted to put my own spin on it.
The challenge in the bluff is getting there. It's about a mile hike on a trail. Normally, that wouldn't be very challenging, but it's a little harder when you've got a bride in her dress and me carrying all the gear. Most of the trail was pretty open and laid out, but we did have to walk uphill on the way there. I think in all, it was about an hour walking.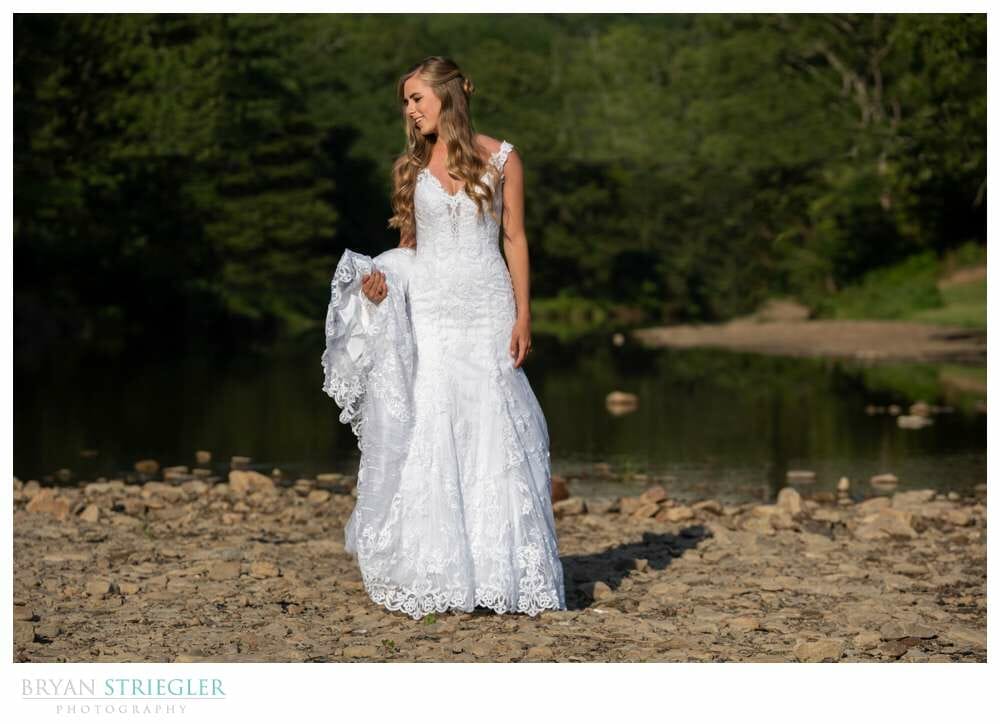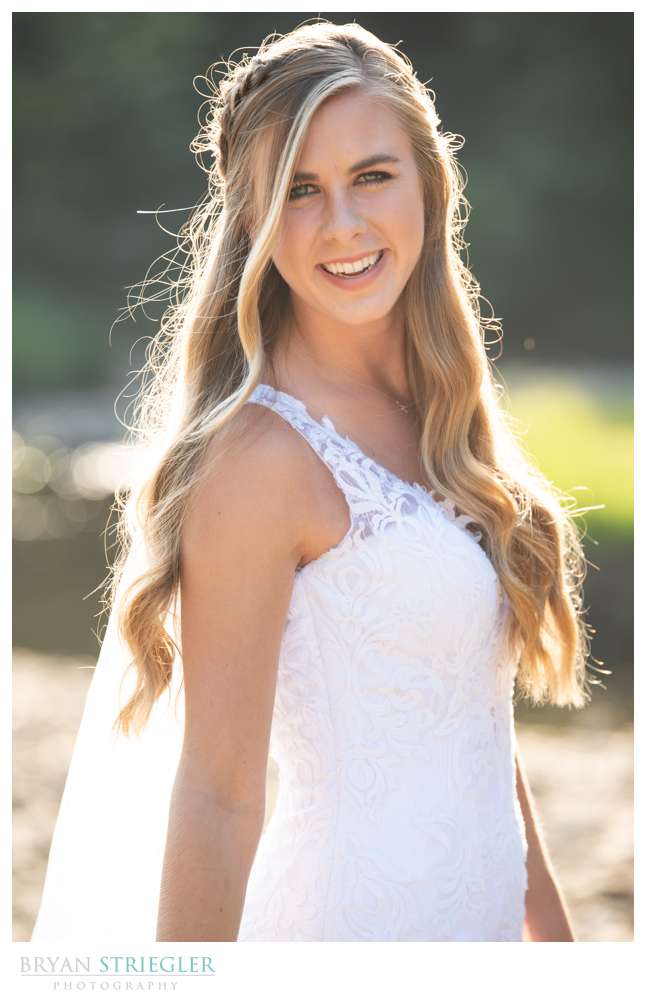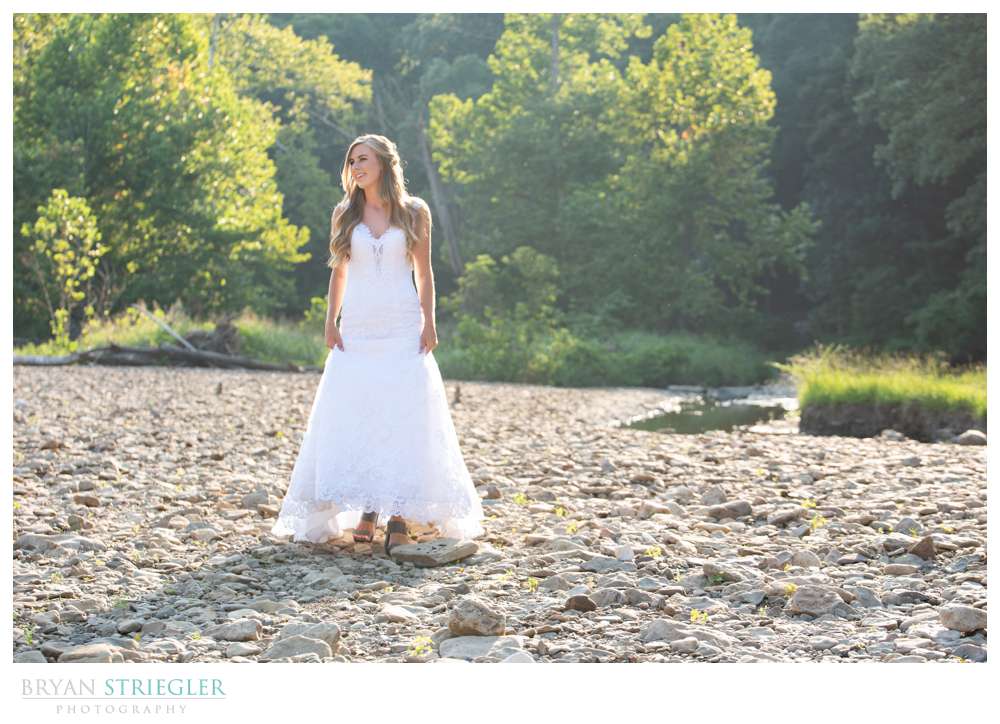 We started out our journey down on the rock in the creek bed. The sun was coming in pretty hard, but I really wanted to have the water behind her. To make it work, Jules couldn't really look at me because the sun would be right in her eyes. It still worked out. Then, we flip-flopped sides and I had the sun behind her. The background still looked great and the light was much nicer on her face.
After that, we headed over to the trail. Of course, I got distracted and saw two other really nice spots where we parked, so we ended up detouring there for about 10 minutes. It was another rock bed, but this time, the sun was on the opposite side, so I could get the water and have her looking up. Then, there was just this other open spot among some trees. The light was flowing through it, and it was just beautiful.
The real adventure began! We started hiking up the trail, and basically, I'd stop us if I saw anything interesting. We hit a few spots, but my main goal was to get to the bluff with enough time and light to get back down.
The bluff was as beautiful and awesome as I expected. Where you first enter, there is a large open space that looked over the valley. We did a few things here including tossing her veil. The really crazy spot was about 25 yards away. It's a much smaller space, but it juts out further, and you're able to get a side view of it. Jules is much more adventurous than me. She was perfectly fine being out towards the ledge and even standing on a rock.
I knew I wanted something a little darker and dramatic, but getting a light into place was a challenge.  The ground was uneven and the tree branches were pretty thick. Luckily, Jules brought her mother along, so she was able to stand there and hold the light for me. After a few shots, she even held the veil for us.
We managed to get back to our vehicles right as the sun was going down. I'm really glad we left when we did or we would have been walking down those trails in complete darkness. Walking with equipment is difficult, but it would have been ten times worse doing it in the dark.
So, we ended up meeting up again the next day to do a quick shoot. Why you might ask? Well, the wonderful Rose of Sharon hooked me up with a gorgeous bouquet, and I managed to forget it. Devil's Den is roughly 40 minutes from Fayetteville, so I couldn't go back and get it. I know, silly me. We were able to find a nice trail, though, and these photos turned out awesome as well.
This was one great adventure. I got to take photos in a place I've been dreaming about for a long time, I met two lovely people, and we got some exercise in as well! I'm sure there are several other spots out at Devil's Den that are perfect for photos. Hopefully, in the near future, I get to go on another adventure.