Life has been so exciting lately. I had a small break in weddings for the month of July, so I decided to try to fit in as many bridal shoots as possible. I think I've done around 7 of these over the past two months. It's been awesome. I've gotten to meet new people and work in places I've always wanted to go. About a month ago, I traveled to Central Arkansas. While I was there, I did a session at the amazing Legacy Acres, and then I did Sarah's bridals at Petit Jean state park. 
Bridals at Petit Jean State Park
To find all of the brides, I put out a Facebook post asking for volunteers. The response was overwhelming. I think I ended up with 60 people, so I had to narrow it down. Well, life never ceases to surprise me. I'm sure I've said it before, but I used to be a teacher. Turns out one of the brides was related to a former student from my time back in Mayflower. Her sister was one of the best students I had, so I knew Sarah would be a great person as well.
I let Sarah pick out our spot since I didn't know Central Arkansas very well. She picked Petit Jean park, and it is one of the most beautiful places I've been to! At the entrance, there are rows and rows of these skinny, tall trees. I would have loved to do something there, but it was filled with campers. Then, there were all these rock formations throughout. So crazy!
Sarah knew some great places along the trail to go. We started off in this path between two giant rocks. I really liked how high they were and all the angles really framed Sarah.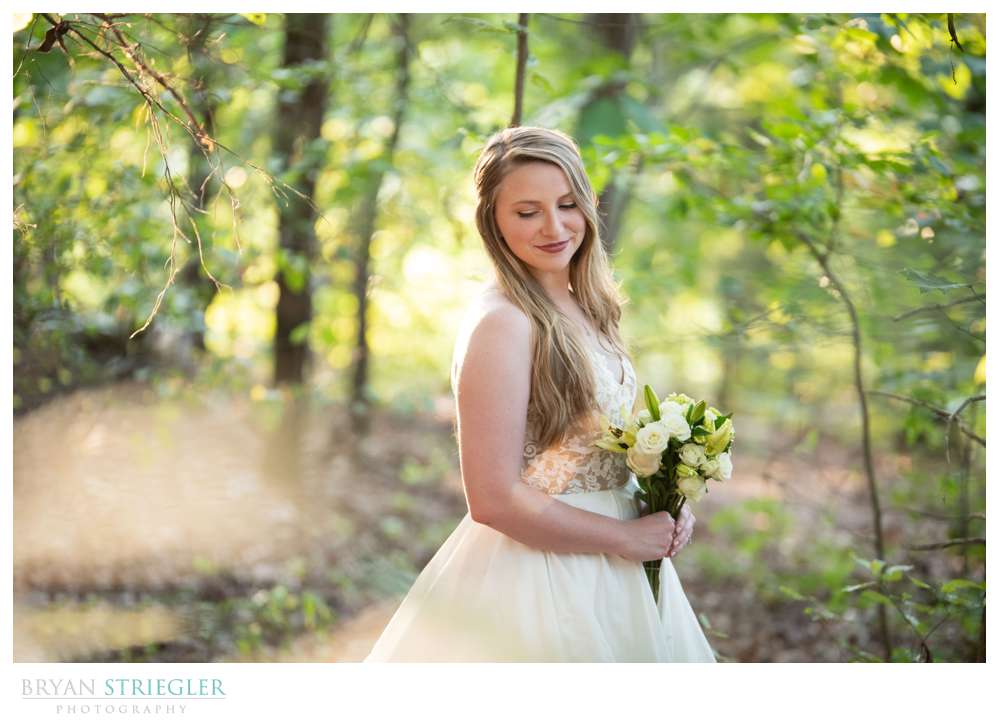 Next, I found some light coming through the trees in a few different places. One was in the middle of the woods, so that was a bit of a struggle, but we managed to get there after I ran through about 20 spider webs.
After a little bit of walking, we made it to the opposite side of where we started. On this side of the rocks, I had Sarah sit on this large stone and the gap between the big rocks lined up perfectly behind her.
My favorite spot by far was on top of some of those rock formations. It was a challenge getting up there with all of my equipment, but some nice people were there to take my gear from me, so I could climb. Once we were up there, it's like we were transported to a completely different state. Sarah mentioned it looked like somewhere out west, and I totally agree. We had all of the rocks and then we could just see for miles into the forest.
On our way out, Sarah found another overlook. At this point, it was getting dark, but we still managed to get some cool shots.
Sarah is just as wonderful as I imagined she would be. She was full of smiles, easy going, and ready to do whatever. I'm so glad I traveled to Central Arkansas for these shoots. NWA has hundreds of great spots for photos, but I loved doing bridals at Petit Jean state park.