I meet people all the time, and because I've lived in Fayetteville pretty much my whole life, I feel like I know a lot of people around here. It's always interesting to see who I keep up with over the years (or who even remembers me). Well, way back in college, like 13 years ago, I took a volleyball class and met Bailey. She was quite the player. A few days ago, I got to shoot her Downtown Springdale Engagement Photos!
Downtown Springdale Engagement Photos: Bailey and Jeremy
I've been friends with Bailey on Facebook, and I had seen her post things throughout the years, like we all do. From what I remembered of her and college and what I saw online, she always seemed like an extremely kind person. That's why I was so excited for her when I saw she was engaged. It always makes me feel good to see people find love that deserve it. Anyway, I ended up reaching out to her, and after a few conversations, we were set for me to photographer her wedding.
So, I've talked up Bailey, but I've said nothing about the guy she's marrying. His name is Jeremy, and interesting enough, I've got connections to him as well. Like I said, I've lived here a long time, so it seems like I'm connected to everyone. Jeremy is into Crossfit, and he used to work out at the same gym as my brother and also bought supplements from him at YTFS. Jeremy is a really fun guy to talk to. He's been around this area most of his life as well, so he's got some good stories and knows people.
We had planned this engagement session awhile back, but the weather had different plans. The day of it was all raining and gross. I guess we could have gone ahead and done that, but who wants rainy photos? We decided to postpone things and pray for better weather.
Well, the weather was the complete opposite on the real engagement session. It was super sunny and warm. We met up in downtown Springdale. Man, has that placed changed. I hadn't been there in a few years, and before, it looked really old and run down. Now, new businesses have come in, and things are alive and fun. I imagine in a few years, it will really be thriving.
Throughout the entire shoot, we mainly stuck to one street in downtown Springdale. We walked down Emma and found several different spots right off it. The first stop was the old Core building. It had a deck and some lights still hanging up, so it was easy to use. From there, I found this interesting light in an alley. There was a strong shadow line going diagonally, so I thought that would be fun. Then, we did some walking photos and ended up finding this other awesome wall. I don't know the backstory, but we could still see where it was painted arcade. I love arcades, so this brought up all kind of memories and conversation.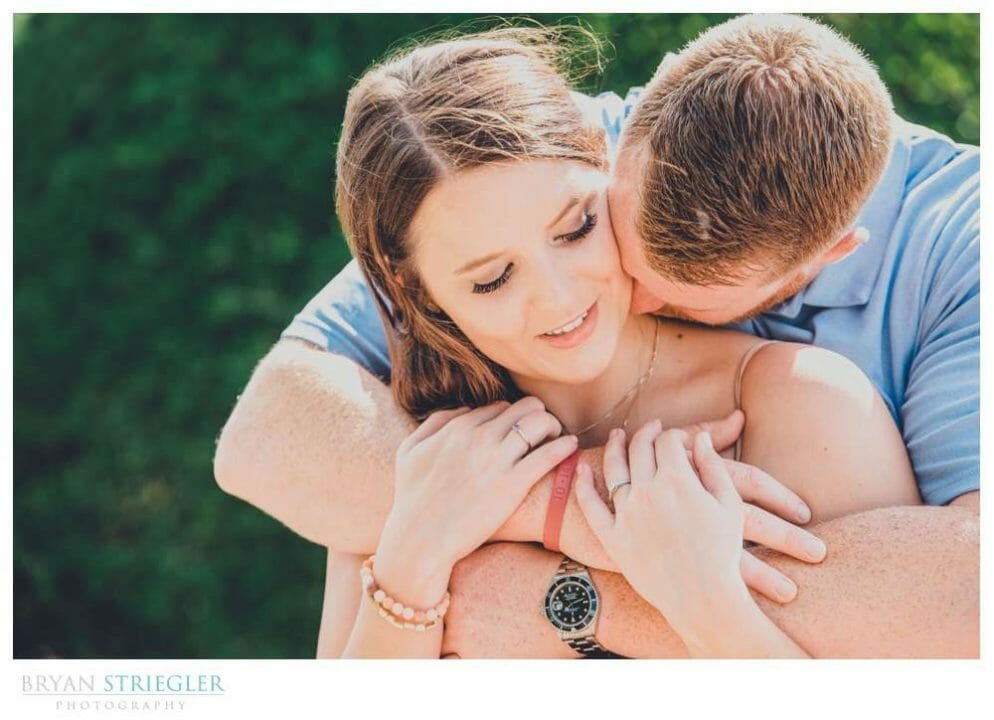 Bailey and Jeremy's wedding isn't that far away, and I'm really excited. We'll be hanging out at Sassafras, so that's always a beautiful place. I imagine Jeremey's friends are going to be a bit rambunctious, so that always makes my day a blast. All that, and I'm just really happy to see Bailey find the perfect guy. Can't wait!