Wow, I can't believe I forgot to share this amazing bridal session. It had super unique locations for bridal portraits When you blog as much as I do, sometimes you miss something and you don't realize it for a while. Anyway, I was about to share Emily and Denny's wedding and that's when I realized I missed out on this and their engagement session. Here it is! Better late than never!
Emily's Unique Locations for Bridal Portraits
As I mentioned in their engagement session, I've known Emily for several years, and she is just awesome. I was so excited when she reached out to me about her wedding. I knew it would be an amazing wedding, and I'd enjoy working with her. Little did I know how much of a model she was. She has got the eyes and the look down, and she killed her bridal session!
Emily had a very unique idea for her bridal portraits. She chose two locations I had never been before, and I thought they made very cool backdrops. First, we started at Westwood Gardens in Fayetteville. Westwood Gardens has all types of plants and these big buildings, so it was not my typical location. We got some fun shots with the plants, but my favorite shot was outside of one of the buildings.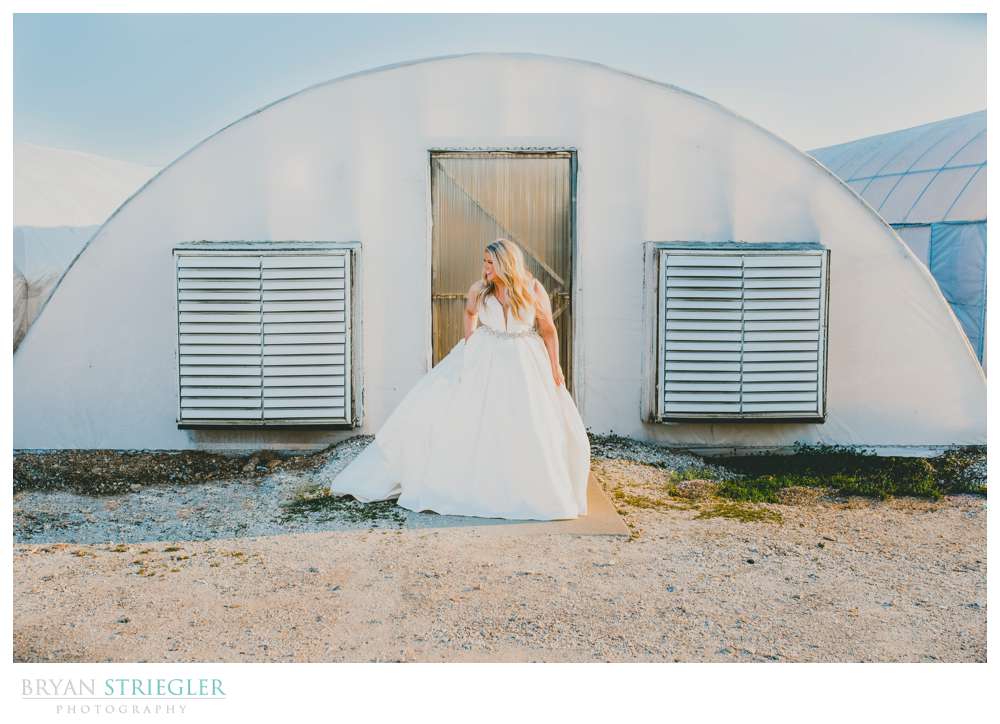 The other very unique location was behind some new apartments in Fayetteville. There are these murals painted on the walls. We ended up using a bright pattern, which I think was the right choice. A lot of the other walls had like people and things on it.
The other location was one of the more popular spots around here, the Maude wall, but Emily still made it her own. We used some of the brighter colors of the wall, but my favorite turned out to be the white. With everything being white, Emily's face and expression really stuck out.
I can't believe I didn't write about Emily's session earlier. Emily would have looked beautiful anywhere we did these, but these Unique Locations for Bridal Portraits really made a difference. It's reminded me that there are a lot of options out there, and many of the places aren't made for portraits but are great options. Now I've got to go out there and see what other locations I can use!