Growing up, I never traveled much. My families idea of a vacation was to go to Branson, which is two hours away. Today, I haven't changed much. I don't venture too far away from home. Lately, I've been expanding, though, and looking to travel more for weddings. I reached out to some people, and a few weeks ago, I did engagement photos in downtown Kansas City.
Engagement Photos in Downtown Kansas City
I've always really liked Kansas City despite only going there a few times in my life. It's a big city, but it feels nice and fun, unlike other big cities around here. Honestly, it reminds me of Northwest Arkansas. I was super pumped to meet up with Dakota and Zach and shoot their engagement photos.
They gave me tons of options for where we could go. I looked at all of them, but the one that stuck out the most had these big fountains that shot up in the air and lit up. My mind exploded with creative possibilities.
These fountains were located in the a pretty popular area. There was Union Station, the WWI Museum, and a ton of other buildings I didn't know. So, the sad news is the fountains were on, probably because of the cold, but we still made some great shots.
When I met Dakota and Zach, I knew I was going to have fun. They were both laid back but super happy people. We started talking and it came so naturally. I did what I always do: talk about tv shows and movies. Turns out, they (at least Zach) appreciate the same time of humor.
We met up on this long strip of grass in front of the WWI Museum, and right when we did, something weird happened. A gaggle of motorcycle riders came pouring in and revved their engines and proceed to circle and park. I still don't know what they were doing, but it gave us something else to talk about.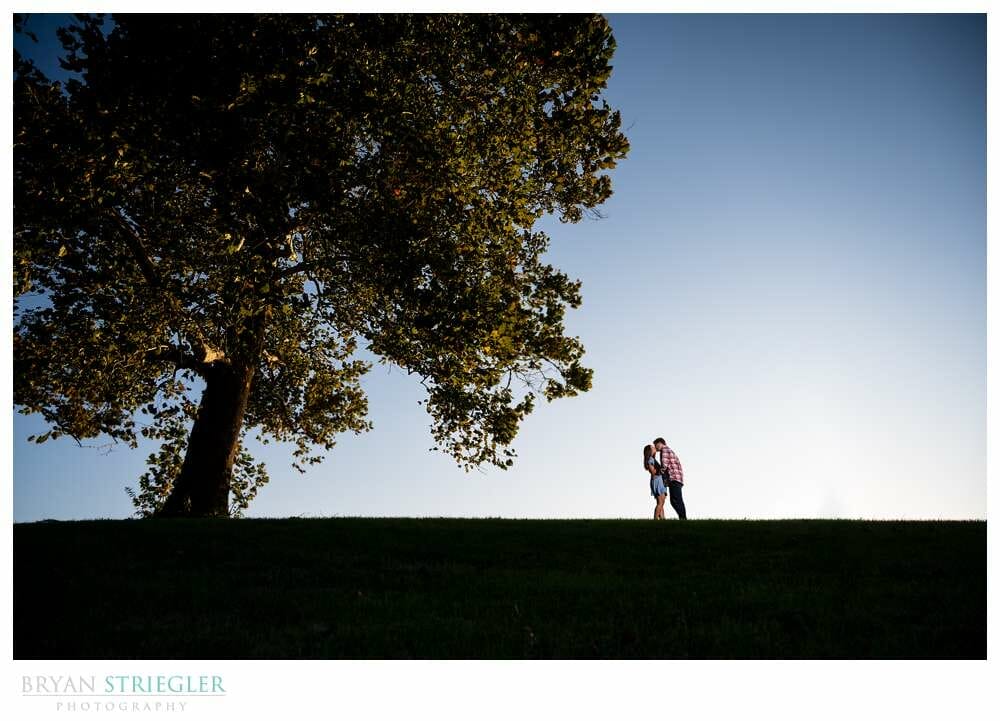 I saw this cool hill across the street, so we started there. The light was really nice, and I knew I wanted to do something with the top of the hill and the tree. I had my trusty assistant Blake (he's actually a friend that just came along on the trip) go up and light them. This turned out to be one of my favorite images, and it was one of the first. We played around with that area for a minute and then moved to another tree lined area.
We then went over to the museum. At the entrance, there were these big stairs, so we messed around on that for a minute and then went to where everyone was.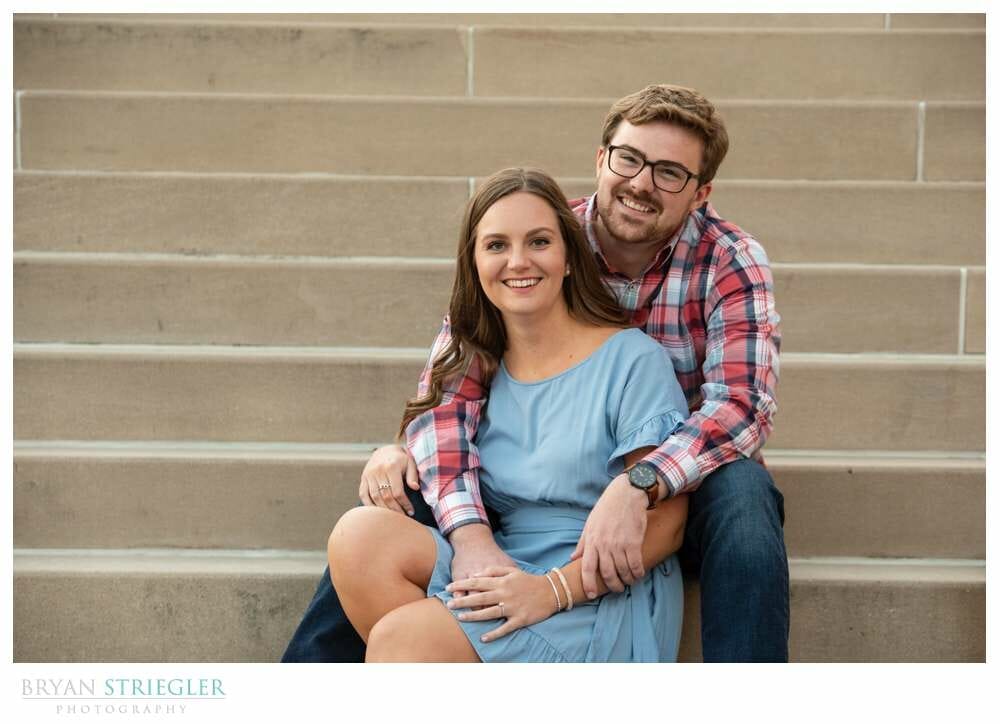 At the top, there is a big open area that looks over the city. This place was packed and everyone was getting photos there. We tried it as well, but the wall was so high that it made things difficult. I decided to get away from the crowd and find something better.
We went around a corner and found some stairs that led to another overlook. Before we went down though, I noticed that we had some nice light coming in. I had Dakota and Zach stop there and then told him to spin her. I set the exposure to create a silhouette, and I'm so happy with them. These might be my favorite from the shoot.
Around the corner we found the other spot. No one was there, and honestly, it was a better spot to get pics of the city. Again, Blake lit them up and we were able to get some really nice shots.
Kansas City was a lot of fun. We ended up visiting the WWI Museum the next day, and we ate at some delicious places. I could easily see myself coming back there several times a year, and hopefully, I'll get to. Dakota and Zach came over to NWA for a secondary shoot, and I'll be sharing that in a few days as well. Be on the lookout for them!