A while back, I made a trip up to Kansas City to do some photos and to just have a good time with my wife and friends. I already shared Dakota and Zach's engagement photos, but I also did another session while I was there. For Dakota and Zach's, were in downtown KC, so I was happy to do something different with Heather and Allen. For them, we did an engagement session at Loose Park.
Engagement Session at Loose Park: Heather & Allen
We've got some nice parks in Fayetteville, but Loose Park blows them all out of the water. This place is massive! It's a mixture of open fields, trails, trees, ponds, and a few buildings. I really don't know how big it is, but I'd say you could walk in either direction for about 10 minutes before reaching the end. I didn't get to learn a ton about the park, but it would seem the park is named after a man named Loose, and he was famous in the area. I recently found out there's a Loose Mansion around as well.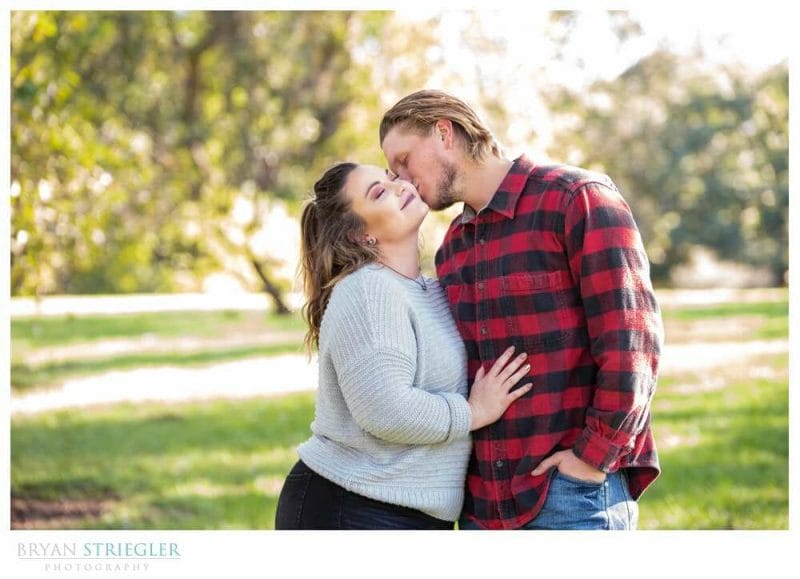 When we started, I really had no idea where to head or what to do. Heather and Allen gave me the rundown of the park and what was around. From there, we just started walking and trying things out. We started with a bench, walked on a trail, used a hill, sat under some trees, and then ended using the doorway of a building. I think the whole session lasted maybe an hour, but we did so much in that time.
Loose Park is amazing, and I wish I lived closer, so I could go there all the time. It's definitely a popular place for photos. In the time we were there, I think I saw 6 other photographers! Right now, I plan on going back to Kansas City in March for several more sessions. I don't think I'll do another engagement session at Loose Park during this trip because there are so many other options in KC. Make sure to check back for those sessions. I'm hoping to do something epic!