It really makes me laugh how I tend to do the same thing year after year. Every year, I get busy and then I forgot to share different engagement sessions and weddings. Every year I say I'll keep caught up. Well, it's happened again, and it's so crazy because David and Stephanie's engagement shoot was so much fun. I actually shared their Tulsa wedding a few weeks ago, and that's when I realized I never posted the engagement session. Whoops! Better late than never!
Engagement session at Prairie Grove Battlefield Park: David and Stephanie
One of the great things about being a wedding photographer is I get to meet so many people. Each wedding has the couple, of course, but then there are also people in the wedding party and guests. I've met some true characters over the years, and this is how I met David and Stephanie. They were both in the wedding party at Breanna and Daniel's wedding, and I noticed them interacting throughout the day. At one point, I saw them off by themselves sitting in a swing. It was too cute of a moment to pass up, so I went over and got a few photos of them.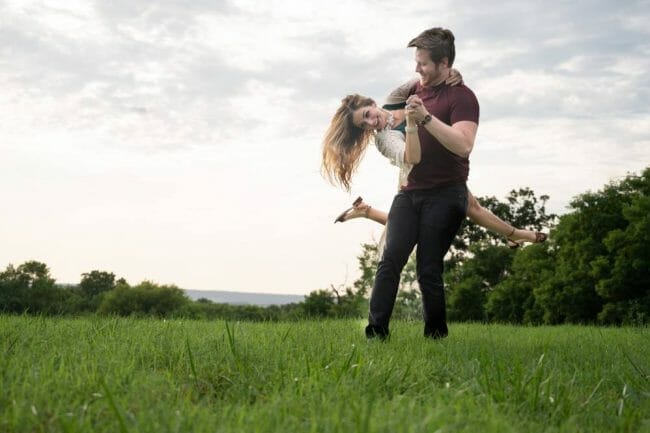 I ended up talking to them more that day and we started talking through Facebook later. They were so much fun that I gave them an engagement session. They came over from Tulsa, and we met up at the Prairie Grove Battlefield Park. 
One thing that really stuck out to me during their engagement shoot was how easily they interacted with each other. For most engagement shoots, I have to give a good amount of direction or people are nervous or whatever. They were amazing together and it was all very natural. 
At one point, we were talking, like I always do, and David suggested I check out a TV show called Paradise PD. I had never heard of it, but I managed to watch a minute or two while they were away changing clothes. It was great, crude, but very funny. Not everyone has the same sense of humor that I have, so I was glad to find David.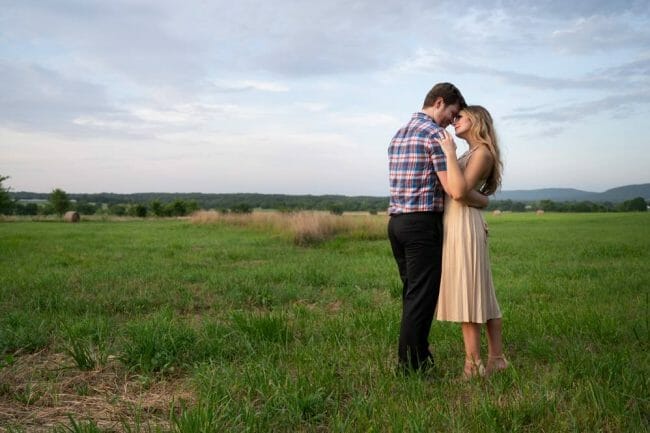 I'm so glad I got a chance to meet these two. It really was by random chance, but it led to this engagement session and then their wedding. It's little things like this that make my job as wedding photographer, so much better. I never know who I am going to meet and what will happen. Thank you so much to David and Stephanie for letting me take your photos and be part of it all.