It's engagement season for sure! Everyone is trying to fit photos in the month of October and November. I've been busy every Saturday and Sunday for the past month or so, but I have had so much fun getting to meet so many different couples. Blayne and Chance bought their engagement ring at the Diamond Center, so they got to do a free engagement session. It's probably the best deal out there, so if you're looking for an engagement ring, go check out the Diamond Center. For now, check out their Fayetteville Square Photos.
Fayetteville Square Photos: Blayne and Chance Engagement
Anyway, Blayne and Chance drove up from Forth Smith, and we met up at the Fayetteville Square. The interesting thing about this type of engagement sessions is that I really don't know the couple, so it's a big surprise. I did my normal questioning and found out that Chance is good at fixing things. I always admire people that have that kind of skill. I can figure out computer technology, but I'm no good when it comes to things like machines. Blayne works at Arcbest, and I initially thought she said Arvest. They sound the same but are very different.
After a little more digging, I found out that Chance isn't the biggest people person, which makes sense since he likes to work with machines. Honestly, I never would have guessed it, though. He did really well in the photos, and he seemed like a natural. Maybe he was just pretending to make Blayne happy. Blayne, on the other hand, has to deal with people all the time. It's amazing how opposites really do attract.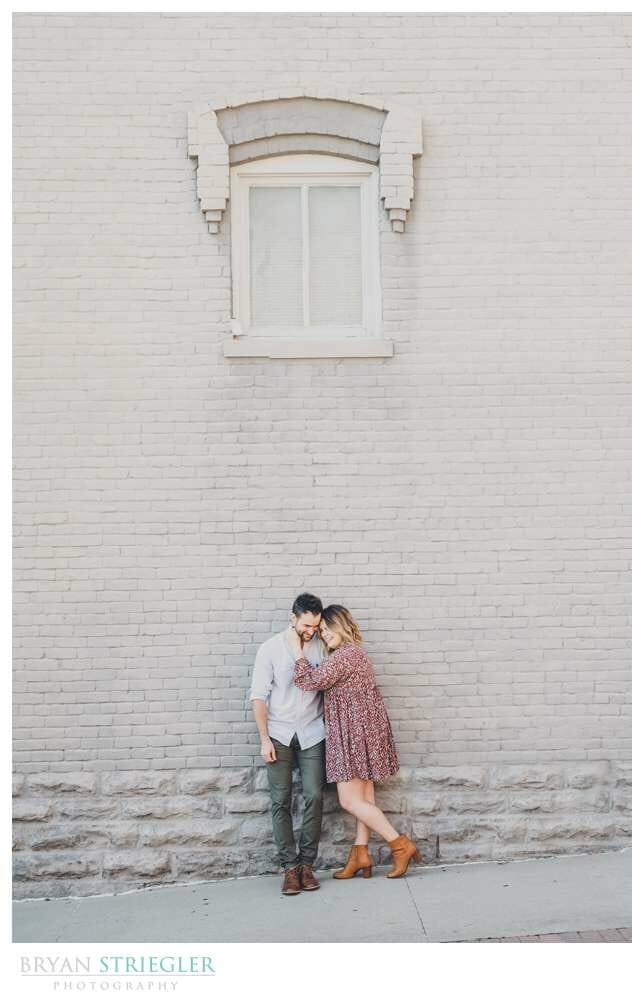 I've used the Fayetteville Square a lot, but that's because it has so many different looks. You've got buildings, different colors of bricks, streets, and then there's even a small wooded area. We did our best to hit as many spots as we could, and I think we did an amazing job in an hour.
Like I said, I've been shooting a ton of engagements lately, so I'll be sharing more in the near future. If you've enjoyed seeing Blayne and Chance's photos, make sure you check back for more.