Picking the Perfect Suit for the Groom and Groomsmen matters
Most guys don't wear suits every day. Most don't like wearing them at all. When it comes to a wedding, the groom and groomsmen will probably be stuck wearing a wedding suit or tux. Picking the right one can be very stressful for guys.
First off, guys want to be comfortable. They will worry that the suit is going to make them feel horrible the entire day from sweating to not being able to move.
Second, guys want to look good. I know we pretend like we don't care most of the time, but if we are in front of a big crowd, we don't want people thinking we look nasty or unkept.
Picking the groom and groomsmen attire is an important decision, so let's look at some of the options.
Classic Suit Style: Traditional, timeless options
When it comes to classic suit style, there are several traditional and timeless options that never go out of fashion. One such option is the single-breasted two-button suit, which is a staple in every man's wardrobe. This type of suit can be worn for any occasion, from formal meetings to weddings and other special events.
Finally, there's the three-piece suit, which consists of a jacket, pants, and vest. This type of outfit radiates classiness and elegance while also being practical enough to wear during the day or night. The combination of these three pieces creates an overall polished look that will make you feel confident wherever you go. All in all, when it comes to classic suits styles – traditional options are very popular among many gentlemen because they are always reliable fashion choices that will never get old-fashioned or outdated.
Modern Suit Style: Bold and stylish alternatives
For modern men who want to stand out from the crowd, there are plenty of bold and stylish suit alternatives to choose from. One such style is the double-breasted suit, which has made a comeback in recent years. This classic style features two rows of buttons on the front and can be worn with or without a waistcoat. It's a great option for those who want to add some sophistication and elegance to their look.
Another popular choice for modern suit styles is the patterned suit. From checks and stripes to floral prints and abstract designs, patterned suits are perfect for those who want to make a statement with their fashion choices. They can be dressed up or down depending on the style of the wedding.
Unique Suit Styles: Stand out with unconventional choices
When it comes to suit styles, there are endless possibilities beyond the classic black or navy options. Another unconventional choice is the velvet suit, perfect for those looking to make a statement at a wedding. The texture of velvet adds an interesting depth to the outfit and can be found in rich jewel tones like burgundy or emerald green.
For those who want to stand out even more, consider trying a a bold color. I don't mean you look like Harry and Lloyd from Dumb and Dumber, but you can still pull off something different than average. Another bold option is the metallic suit, which adds some shine and glamour. From bronze to silver, this style ensures that all eyes will be on you.
If things are more relaxed or the weather is hot, ditch the suit jacket and rock some suspenders. It still looks great and gives the guys a way to entertain themselves.
Overall, choosing an unconventional suit style allows for self-expression and creativity while still maintaining a polished look. Whether it's through color choice or fabric texture, stepping outside of traditional norms can leave a lasting impression on others while also making you feel confident in your individuality.
Matching Your Personality to Your Suit Style: Tips for finding the right fit
When it comes to choosing the right suit style, it's important to consider your personality. Your clothing choices can say a lot about who you are and how you want to be perceived. If you're someone who values tradition and sophistication, a classic suit style may be best suited for you. Think neutral colors like navy or black with traditional lapel styles. This is where I tend to fall. I'd like to be more bold and out there, but I sometimes worry I can't pull it off.
On the other hand, if you have a more modern and trendy personality, opting for a contemporary suit style with unique features such as bold patterns or an unconventional cut may be more fitting. This type of suit can make a statement and show off your individuality.
The tough part is you're picking suits for the wedding party. Some might feel extremely uncomfortable wearing something bold, while others might find traditional boring. It's best to talk to your friends and see how they would feel or if they have strong opinions.
Match the overall Vibe and Theme
It's also important to consider the vibe of the overall wedding. If it's a very formal occasion, then you'll want something more traditional. If it's more relaxed or has a crazy theme, go with something fun and out there. . Overall, finding the right fit is all about balance – expressing your personality while still fitting in appropriately with the style of the wedding.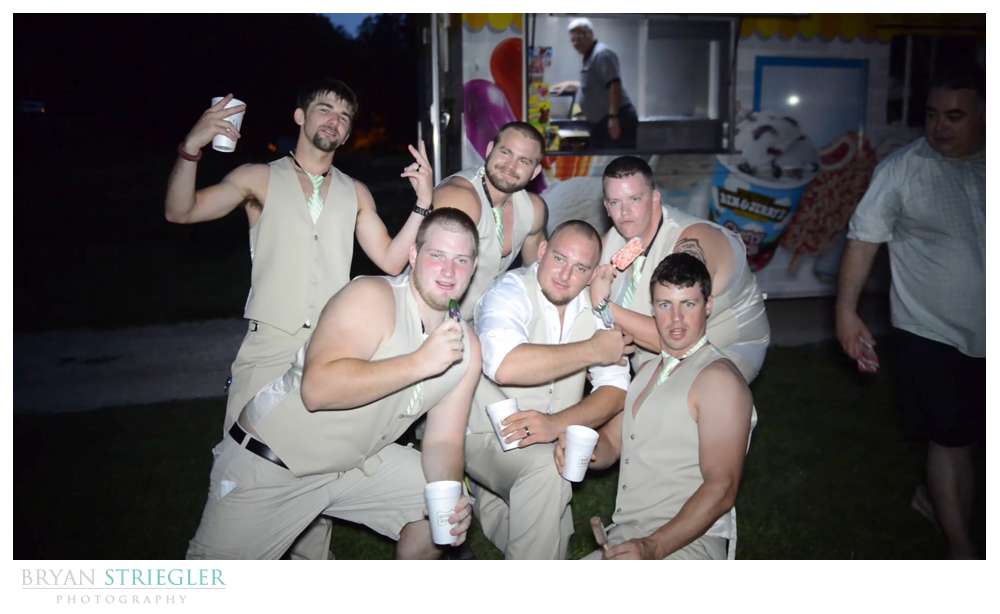 Accessories to Enhance Your Look: Ties, pocket squares, shoes
Accessories are the perfect way to complete a polished and put-together look. Ties, pocket squares, and shoes are some of the most important accessories that can enhance your overall appearance. A tie can easily transform a basic outfit into a dapper one by adding color, texture, or pattern to the ensemble. The style of the tie can also reflect your personality; for example, a skinny tie may give off a more contemporary vibe while a classic silk tie exudes elegance.
Pocket squares add another layer of sophistication to any suit. They come in various fabrics and patterns to match different styles and occasions. A simple white cotton pocket square is versatile enough for formal events while printed silk ones can be worn for more casual affairs. One thing I've found over and over again is that guys don't know how to fold them. Practice and watch some YouTube videos before the big day, so you know what you are doing.
Lastly, shoes are essential to completing any outfit as they not only make you look good but also feel comfortable. Dress shoes such as oxfords or loafers should always compliment the style of your suit but don't forget about comfort and support when selecting them. If possible, get them to everyone early, so they can make sure they can walk around in them without pain.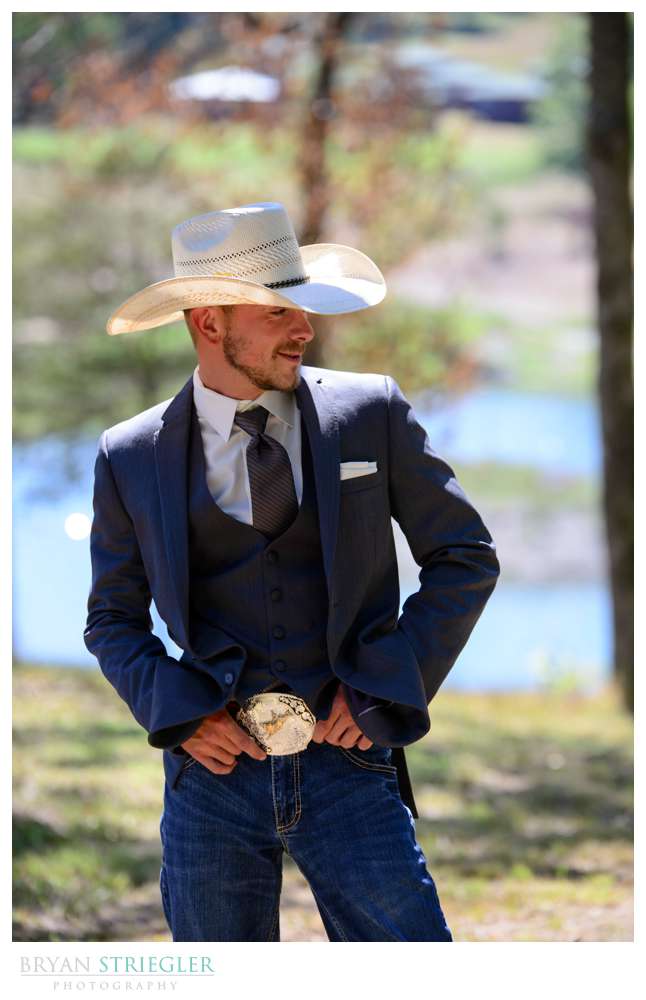 Investing in these accessories will elevate your style game when wearing suits no matter if you prefer classic or contemporary styles. Just remember that each accessory must reflect who you are and how you want others to see you.
Conclusion: Express yourself confidently with your perfect suit
Guys usually don't make a ton of decisions when it comes to planning a wedding. The suits or tuxes are usually one of the few things they figure out. It is so important that you make a good decision. You want everyone to be comfortable, but the suits also need to express your personality and match the rest of the wedding.
Ultimately, finding the perfect suit requires some research and fitting sessions to ensure that it fits well and complements your body type and your friends. However, it's worth the effort because nothing beats the feeling of confidence when wearing a suit that perfectly reflects your personality and style. So go ahead and get out there and find that perfect wedding attire.