I live for laughs! One of my favorite things to do is watch funny TV shows or movies and just really laugh out loud. There's something therapeutic about it. Weddings are joyful events, but there are still plenty of hilarious moments throughout the day. Sometimes it's on purpose and other times things just happen. I've seen some pretty crazy things over the years, so I thought today I'd share some of those funny wedding moments with you. Don't worry, I won't use any names for the really embarrassing ones 😉
Funny Wedding Moments
Crazy Groomsmen
Let's start off with the groomsmen. They tend to be really crazy and funny ones. Sometimes there's alcohol involved and other times that's just their personality or group dynamic. Either way, I always watch the guys to see what craziness will happen.
A New Style
Weddings are a formal occasion, and guys have to wear layers upon layers of clothes. This isn't really the most comfortable situation, and it's even worse in the blazing heat of the summer.
Several years back, I had quite a group of groomsmen. They were having a really good time, and they managed to behave for the ceremony. When the reception hit, it was time to loosen up a bit. By loosening up, I mean take off some clothes. They took off the jackets, ties, and shirts and just wore their vests for the rest of the night.
I thought it was hilarious and a nice new look. I'm not sure how much the bride loved it, though, but she knew what to expect from that crew.
A New Take on Moana
Speeches can be a frightening moment for the bride. The Maid of Honor always does a lovely job, but you never know what to expect from the Best Man or the groomsmen. It can be wonderful or a mess. For Rebecca and Chad's wedding, one groomsman, in particular, was not allowed to do a speech at the wedding, but they let him talk at the rehearsal.
Well, after the Best Man's speech, this groomsman came up to join him. He didn't do a speech. Instead, they sang their own version of You're Welcome from Moana explaining how awesome the groom is. The bride hid her head for a while, but I think deep down she thought it was funny.
Best First Look Ever
Most of the time, it really is the guys' fault. They are just goofy by nature and want to have a good time. Once, though, the bride actually decided to cause some trouble.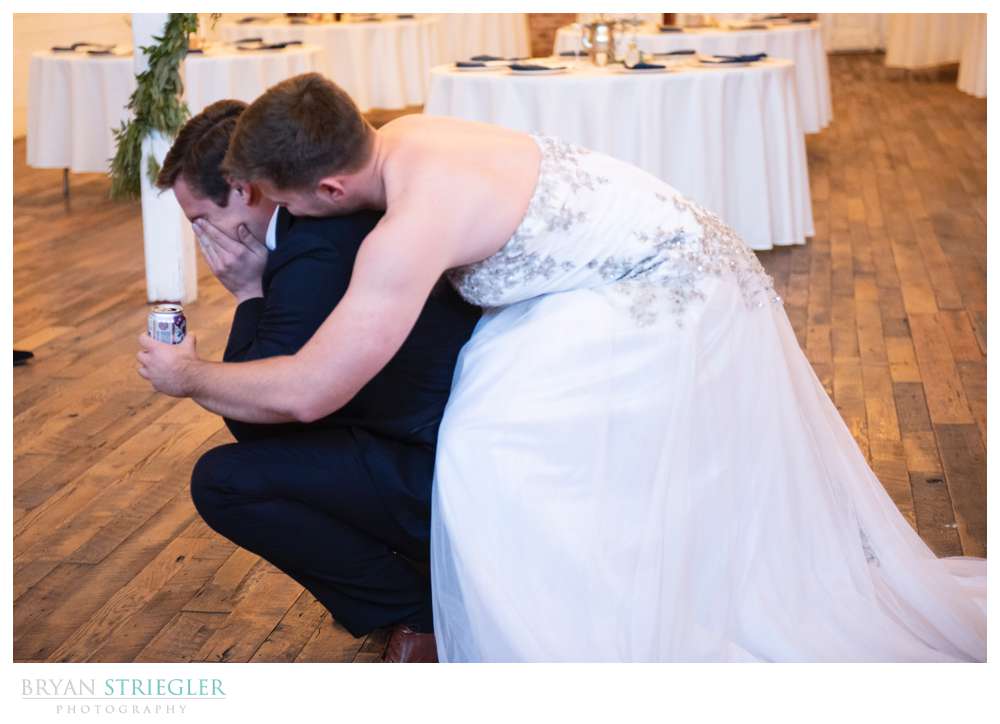 The first look is a really nerve-wracking, emotional moment for the groom. He's about to see his bride for the first time, which can be enough, but he is also expected to react in a certain way. Well, imagine all that build-up, and then you turn around. Instead of your bride, you find a groomsman in a wedding dress, holding a beer. His reaction was the best I've ever seen in a first look.
The Scariest 5 Seconds at a Wedding
There was one joke that I no one was expecting, including myself, that really shocked everyone. So, we were doing this outside wedding and the couple was upon this stage. When the best man went to give him the ring, he tripped on the steps, and we all heard this clink, clink, clink. We all froze.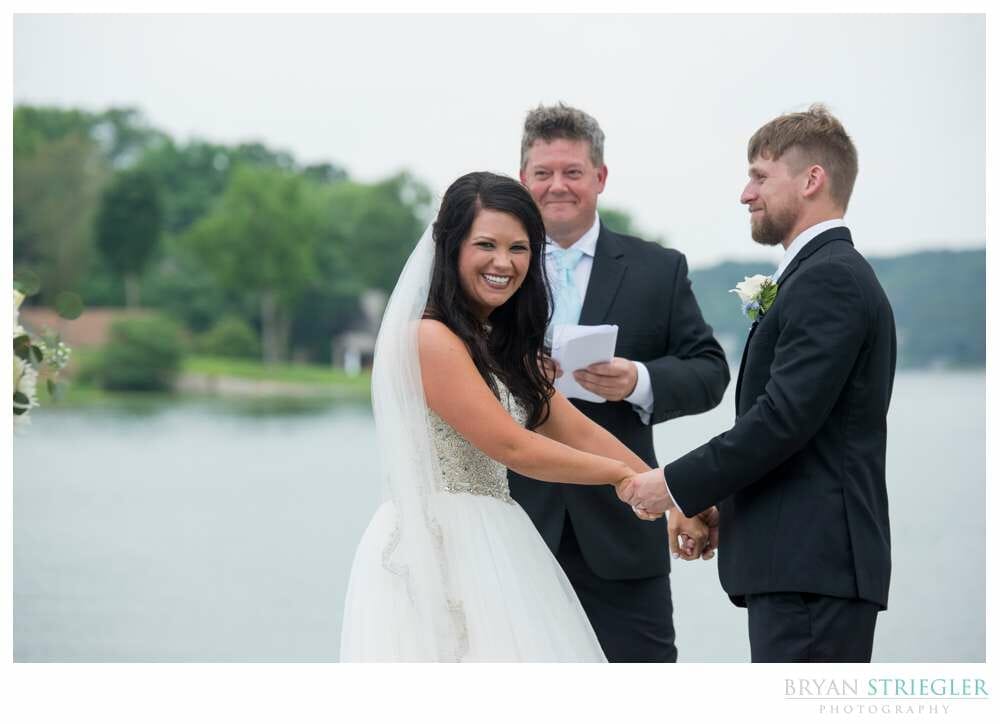 A second later, the best man started laughing and we realized he had dropped a coin and not the actual ring. The bride was still a little upset, but she definitely laughed at this mean little trick.
Other Craziness
Ok, ok, it's not just the groomsmen that do all the silly things. I've had several other chuckles from the guests, the bridesmaids, and the couple themselves.
The Bridesmaids I'll Never Forget
I've met some amazing people over the last 10 years of doing weddings, but last November, I met a pair of bridesmaids that stuck out from the rest. They had such big personalities on them. I have never laughed so hard. It was one thing after another with these two. Some of the stuff I can't mention on here, but I can tell at least one thing they did.
The couple did a grand entrance instead of an exit, and they decided to use these confetti wands. These things shot out so much confetti it looked like it had snowed. All the kids started playing in it, and these two bridesmaids got down on the floor just like the kids. It was wonderful!
8 Seconds Dance
Sometimes I have no idea what to suspect. At one wedding, the groom told me about this special dance him and the best man were going to do from the movie 8 Seconds. I vaguely remembered the movie, but I had no idea what the dance was.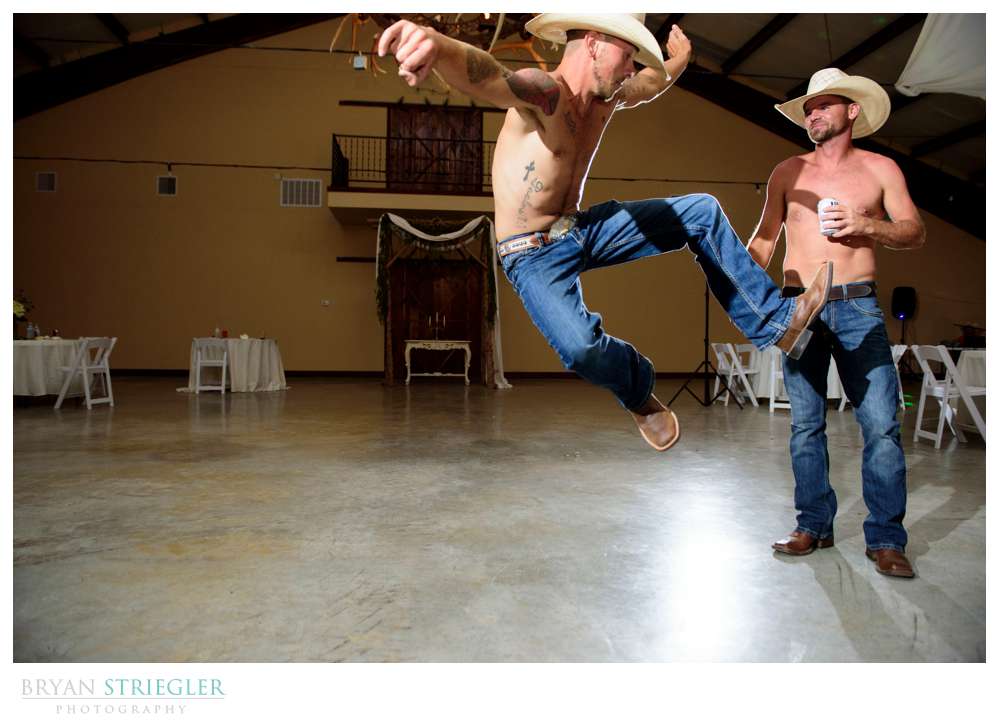 When it came time, they stripped off their shirts, left on their hats, and did this crazy dance that involved kicking. I don't think they did it perfectly, but it was really funny to watch. My favorite part was at the end they started competing on how high they could jump. This made it all worth it!
Barney Makes an Appearance
The reception is where most of the fun happens. The ceremony is the time to be calm and respectful, but people go nuts at the reception. One night, a guest had a fun surprise for everyone.
We were pretty far into the reception at this point. People were dancing and having a good time. It was at this point, that I noticed something going on with a guest. I became interested and followed to see what was happening. The guest had pulled out this inflatable dinosaur costume and was putting it on.
I hurried back to the dance floor and waited. The bride wasn't paying attention and when she turned around, there he was dancing all up in her face. Yes!
Best Job Ever!!!
I doubt many of you can say that you have this kind of excitement at your job. Well, this is my life, and it really is a great job! I get to see so many funny wedding moments and then all of the emotional ones as well. I can't wait for all the future moments. I'm sure there will be several coming up in the next few weeks!