It's engagement photo season! Last week I had three engagement sessions and I'm starting to fill up my schedule with more and more. When we start planning these sessions, one of the main things we talk about is the location because that will impact the photos and the whole session. Some couples will know where they want to go, but I've found that many don't have a clue. I've decided to put together a little guide with great places for engagement photos in Northwest Arkansas to help others out there looking for a good location.
Great Places for Engagement Photos in Northwest Arkansas
Before we jump into the locations, let me say that some of these suggestions will be actual places, but look at the general area and think about other places you know. This list doesn't cover every location. I know I find new places to work every few months, so feel free to take the ideas I give and run with them.
Parks
When we start the location conversation, the first question I always ask is nature or urban. This helps guide me to the types of places we'd want. I have found that parks are some of the best places for nature shots. Parks are made for people so they are going to be well taken care of and have a good amount of space. Usually a park with have a lot of variety of well. There might be fields, forests, and water all in one place.
There are tons of nice parks around Northwest Arkansas. I live in Fayetteville, so I tend to focus on the ones that are here. I've used Wilson Park and Gulley Park quite a bit. There's also Compton Gardens in Bentonville. I'm not sure if it's really a park, but it has a lot of the same features. Prairie Grove Battlefield park is also one of my favorites.
In the future, I'm going to be doing some work at Devil's Den State Park and probably Dogwood Canyon Park in Missouri. I know there are plenty of other great parks out there, so feel free to suggest any.
Creeks
If the parks aren't doing it for you and you want something a little different, you might look for a creek. I love creeks because they usually have spots with water and spots that are dry for the couple. Creeks are also usually surrounded by some kind of nature like fields or trees.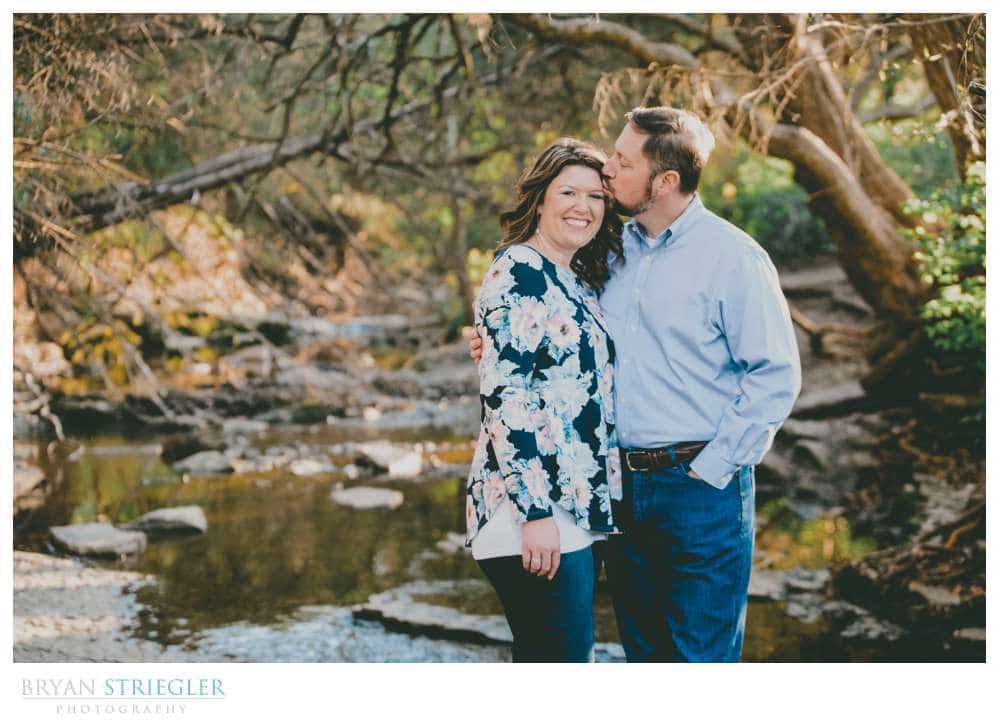 Sometimes creeks will be at parks, but I also have had good luck just finding them as I'm driving. The main thing you need to worry about this is the location of the creek. Is it on private land or is it public? Can you safely get to it?
Downtown
If you're not a fan of nature, there are plenty of urban areas around in Northwest Arkansas. The easiest thing to do is to go to one of the bigger cities (Fayetteville, Springdale, Bentonville, Rogers) and go downtown. These are going to be the more historical sites, so you'll have older buildings, and these areas are usually kept up by the cities.
Each city has it's own areas and are a little different. In Fayetteville, I really love the Square and Dickson Street. Bentonville has a really nice square and downtown Rogers has some really neat roads and buildings.
Venues
Another great option is to use your wedding venue or just another venue. Most wedding venues will let you use their space for free if you are having the wedding there, but if you're using a different site, you might have to pay a small fee. Some places are pretty cheap, like $50 an hour, while others are $200 an hour.
The great thing about using a venue is that, like a park, they are going to be taken care of. Venues are businesses, and they aren't going to let everything look bad.
One good thing about using a venue that's not your wedding venue is that it gives you more variety. On the wedding day you'll be taking tons of photos at your venue, so for the engagements, you might check out another place that has a different look.
Some place special
If none of this works, I suggest you find something special to the two of you. Did he propose somewhere special? Do you two have a place that means the world to you? Do you both share a love for some activity or hobby? All of these would make great locations for engagement photos. I've done shoots at childhood homes, the Little Rock Zoo, and a music venue!
One bonus to using these special places is that it's not going to be something everyone else does. It's very unlikely that a ton of people do an engagement session at a skating rink or an ice cream shoppe. You're location will be special to you and will stick out from all the normal engagement photos.
Conclusion
You want your engagement photos to fit who you are as a couple, and you want to have a good time taking them. Look through some of the suggestions I made and see if any of the places fit. If not, look at the broader categories and find something and make it your own. If you need any more help with coming up with Great Places for Engagement Photos in Northwest Arkansas, feel free to reach out and I'll give you a few more ideas.