My last year of college, I worked at a doggy daycare in Fayetteville. It was one of my favorite jobs. I love dogs, so it was awesome to get to play with all types of dogs and get paid for it. I still love dogs and all types of creatures (reptiles, guinea pigs, ferrets). Currently, I have a 60ish pound Bernese Mountain dog puppy.  I always love talking to my couples about their furry friends, and sometimes they are wanting to incorporate them into the wedding. Here's my thoughts on pets at a wedding.
Having Pets at a Wedding
The first thing to consider is the pet's behavior. Is your dog well behaved or does he or she go nuts? Will you be able to control him or her or will it be more of a pain than it's worth? This doesn't mean you can't have your pet involved in your wedding, but it might limit things. It might limit where the pet can be, what it can do, and how long it's around. For example, most pets need to go home before the reception. A few weeks ago I did have a dog that was at the reception, but that's rare.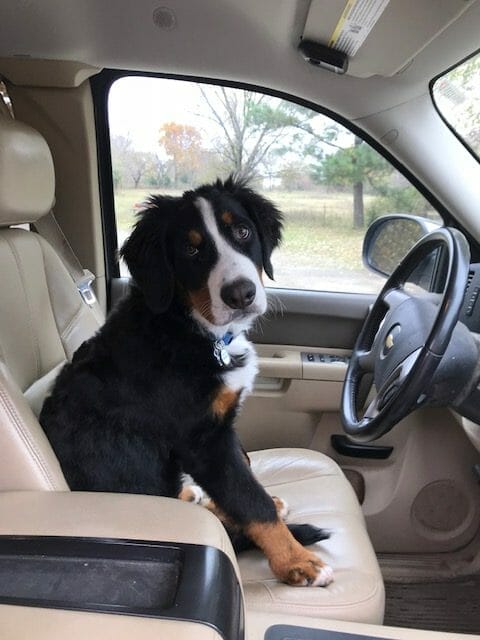 So, what all can you do with pets at a wedding? The most common thing I've seen is the pet being involved in the engagement shoot. Engagement shoots are relatively short, so you don't have to worry about the pet being behaved for a long period of time. It's also not as formal, so if something goes wrong, it's not a big deal. You can also bring a long a helper, and it's not like they are missing something important like on the wedding day.
Besides the engagement session, I've also seen pets help out with the ceremony. The most common is walking down the aisle or bringing the rings. Again, your pet needs to be well behaved to pull this off. You could tie a pillow to them or put something on their collar. I wouldn't actually put the ring on the pet, though. That's kind of scary. I've also seen someone carry the pet down the aisle (if the pet is small enough).
I'm sure there are other things you can do with your pet at your wedding. The pet could dance with everyone at the reception. Maybe the pet could do the exit with you. Be creative and see what you can come up with.
One other thing to look into before you plan all of these fun things. Talk to your venue about their rules. Some are going to be very strict while others won't care. It's better to figure this out way in advance before you get our heart set on something.
I love all types of pets, and it's always fun for me when I get to meet new animals. Did any of you have pets at your wedding? I'd love to hear what you did and how that turned out.