I've said it so many times, but this is such an interconnected world. I find some strange connection at almost every wedding I go to. It might be a guest I know or someone in the wedding party. This was probably the craziest connection I've ever had. Turns out I knew the groom, so this shot, groom smoking a cigar, is extremely special to me.
How I got the Shot- Groom Smoking a Cigar
You might be wondering, how could he possibly not know who the groom was before the wedding? Well, this was a different situation than normal. I was actually not the main photographer; I was second shooting. The main photographer asked me to second shoot a week or two before the wedding, so I knew nothing about the bride or groom. So I get there and we're doing a normal thing, and the groom walks up. It took a minute or so, but then we recognized each other.
Back when I was in college, I helped coach football at Fayetteville High School. William was one of the players there. It had been about 15 years since I saw him last, but he still had that kind and happy personality. This wedding turned from something random to something extremely important.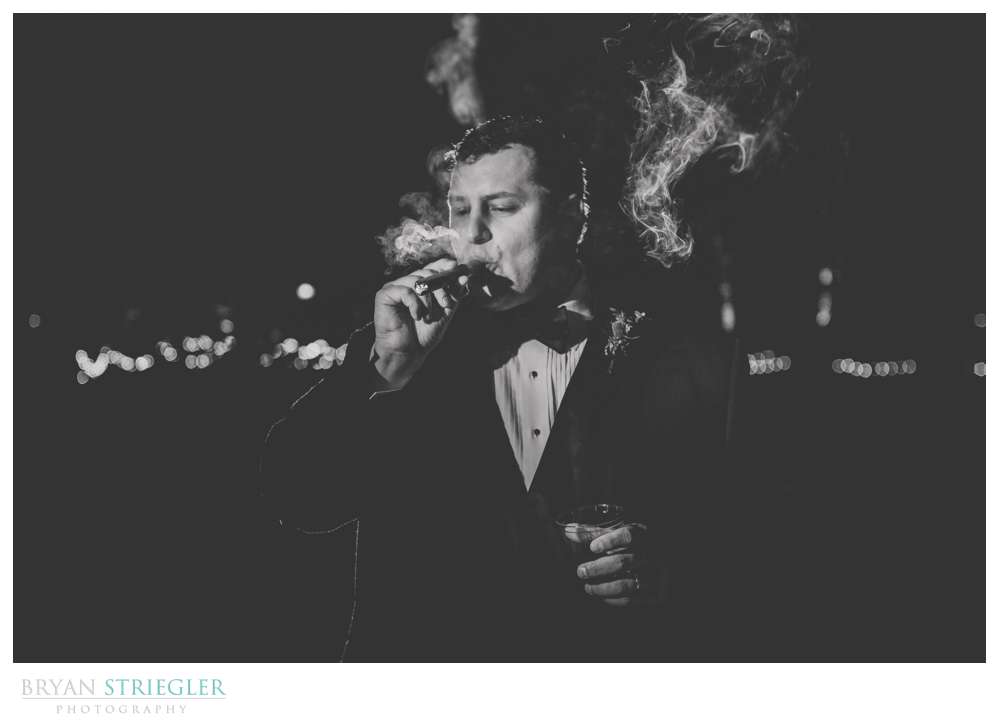 The day went as normal, and I got to talk to William and catch up on things. It was so much fun! During the reception, I saw that William had a box of cigars for the guests. I had always wanted to do a cigar shot, so I this was the perfect opportunity. I talked to him about it, and we waited for it to get dark. When it was time, we couldn't find a cigar! They were all gone! Luckily, we were able to ask around and get one.
The trick to cigar shots is all about the lighting. If you just do it normally, it looks really boring. With the right lighting, you get the smoke and something really dramatic. For this setup, I used two flashes with grids to stop the light from spreading. I tried a few different positions for the lights. I put one behind at 45 degrees and one at the front at 45 degrees. This turned out pretty nice, but I wanted more drama. I moved the lights to the side and behind William. This way, the light hit the side but left some shadows on the front. I really like how it turned out!
I'm so glad I got to be part of this wedding. I can't believe how random it was, but this was a wonderful coincidence. I got to hang out and catch up with someone I hadn't seen in 15 years, and I got to create this amazing photo of a groom smoking a cigar.