With most things, there is some process or order of things that happen. If you plan on being a doctor, first you have to finish high school, then take tests, then get into a college, and so on for several years. You can't really skip a step or do them in a different order. The same goes for planning a wedding. There are things that have to happen first for everything to work out. One of the first steps in planning a wedding is picking a wedding venue. Everything else fits around this, so it's an important decision. To help out, here are some tips on how to choose a wedding venue.
How to Choose a Wedding Venue
Just a quick note before we get into all the tips on how to choose a wedding venue. There are tons of wonderful wedding venues in Northwest Arkansas. I've put together a guide with some info on many of these venues. I still need to update it because a few more have opened, but overall, it can give you a good idea of what's available.
Wedding Venue Availability
Besides picking a wedding venue, picking a date might be the first thing an engaged couple does. Some will go into the wedding search with a date in mind and others won't have a date picked. Either way works, but if you have already picked a date, that can limit your wedding venue choices.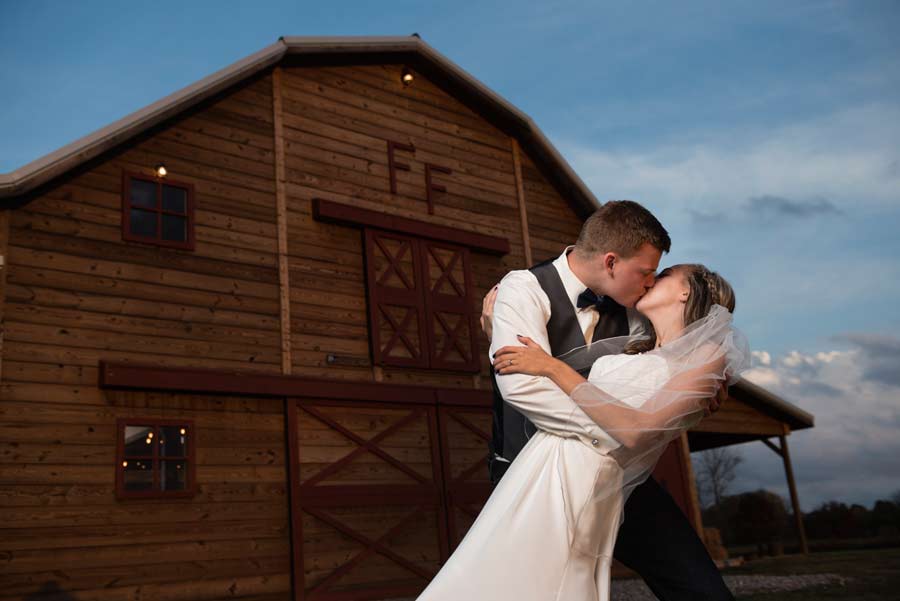 In general, wedding venues will book about a year out, so you really need to check availability as quickly as you can. Some venues will have that kind of information online, but for the most part, it's best to give them a call or email.
If you find that all the venues you love are booked up, there is still a chance. If it's still early in the planning and you can change your wedding date, ask them about a Friday or Sunday wedding. A lot of people are moving toward these days lately. Most likely one of those days will be open, and as a bonus, some venues offer discounts for Fridays and Sundays.
Wedding Venue Price
The next big limiting factor is price. We all have a budget, so price is something you need to consider before getting too set on any venue. Venues, in general, are one of the more expensive things for a wedding, but there is still a wide range. Some venues are $3000 and some are $8000, and then there are plenty in between.
One thing you'll have to consider is how important then wedding venue is to you. If it's the most important thing, you can put more of your budget toward the venue. If it's not that important, you'll want to spend less.
Wedding Venue Size
How many people are you wanting at your wedding? Well, depending on the venue, you might be limited on how many you can invite or how comfortable all of them will be. There are some wedding venues that hold hundreds and some that hold 50. I've been to weddings where it was overcrowded, and it was not fun.
I'd suggest you do a quick estimate and get a number of guests. That way, you can ask the venue how many people it holds. If the number is close, like within 20, you will probably be ok, but if you're over by 50-100, it's just not going to work. You're going to have to pick a different venue or invite less people.
What's Included
This next section is something that has to be considered with the price of a wedding venue. What exactly are you getting? Are there a bunch of things included or are you going to spend another $1000-$3000 on other things? Again, this is something you should ask them.
There is a big difference from venue to venue when it comes to what's included. Some include basically nothing and others include everything you need like The Garden Room. Some of the most common things are tables, linens, and a day of coordinator. All of these have value, so make sure you take it into consideration with the price.
Wedding Venue Style
I'm sure you've already thought about this at this point, but it's something to point out. Each wedding venue has a certain feel or style to it, and you want to make sure it fits who you are and your theme. You wouldn't want something really elegant and fancy in a country barn, and a country girl wouldn't want to be in a ballroom.
This is a pretty easy thing to figure out. You've already been judging the style of wedding venue when you look at it. You'll either think, yes I like that or nope, not for me. It's really that simple.
How will the Venue Affect Your Guests and Vendors
Here's one last important thing to consider. Your venue might fit your style perfectly, have a great price and include a ton of stuff, and have plenty of space, but it still might not be the perfect venue. You have to consider how the venue will affect your guests and vendors. These people are part of your wedding, and you want them to have a wonderful experience and you want the vendors to be able to perform.
I know that's strange to think about, but there are things that can be a problem. One way is the location. Is it really far away from town? How long will the guests have to drive to get there and back? Are there hotels nearby? Is there a space for DJ or a kitchen for the caterers? Is the lighting good for photography? That's just a few things, but any of those can have a big effect on the wedding.
Conclusion
Picking a wedding venue is so important, and I hope I didn't overwhelm you. Hopefully, these tips on how to pick a wedding venue will guide you to the perfect place for your big day. I've also gathered some other helpful articles for brides, so feel free to check those out. Just like most things in life, the more knowledge you have, the better choices you can make, and I want you to have a perfect wedding!