I love music! Often times, I find myself whistling or humming certain tunes when I'm taking photos. I don't know why, but it helps me really get in the groove. Music can have that kind of effect on us. It can make us happy or sad or make us jump and scream with excitement. That means the songs you play at your wedding are super important because it will set the mood for everyone. Picking the right songs can be a bit overwhelming, so here are some tips on how to pick songs for your wedding. 
How to Pick Songs for Your Wedding
List all the Different Moments
There are several times throughout your wedding day where you can play music. A lot of brides choose to play music while they are getting ready. This makes the process go by faster and lets the bride and her friends dance and sing and have a good time before things start.
Next, you have music playing during the ceremony. There will be music playing while guests are getting seated, while people walk down the aisle, possibly during a prayer or candle lighting, and then as everyone exits. That could be like 10 different songs!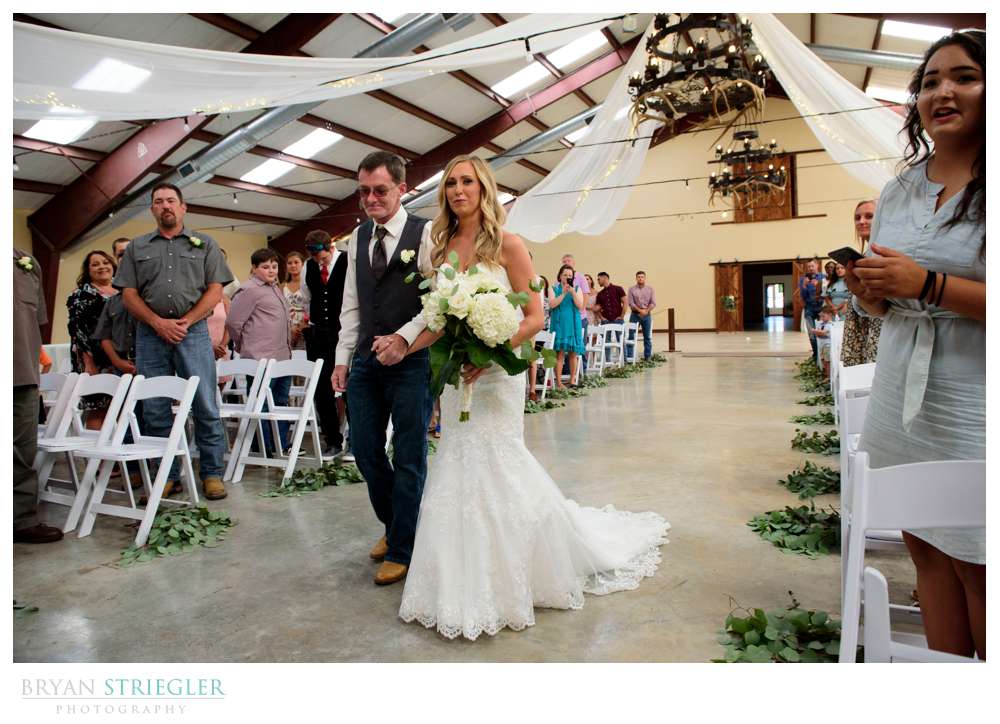 The reception can be the real challenge. Again, you'll have music playing as people just hang out and wait. Then, if you're doing an entrance, you might have a single song or let each group pick a song. That's a lot of fun, but the most important music during the reception is the traditional dances (first dance, father/daughter, mother/son) and the dance music. These songs will either make the reception great or just ok.
Alright, I know I haven't actually told you how to pick songs for your wedding yet, but I think it's important to think of all the different situations first. There were probably a few times I mentioned that you didn't even think about. Now that you know when you need music, you can start finding the right song for each situation.
Rules, rules, rules
Before you get all pumped up and create the most epic list of wedding songs, there's something you need to do first. Ask what you are allowed to do. I know, I know, it's your wedding and you should be able to play whatever music you want. Unfortunately, that's not always how it goes. Some churches and venues only allow certain music. I know one chapel that only wants more traditional and soft songs. If you plan on rocking some AC/DC, it's not happening. Next, talk to your DJ. Legally, there might be some songs he or she can't play with the whole copyright thing.
Make that List
Finally, you can start thinking about songs. The easiest way I know is to just start making a super long list. Right down any songs you love or any songs you know that are great at weddings. If your list isn't long enough, go to Google. You can search for the current hits or do something like "top wedding songs" or "top dance songs." I wouldn't copy every list, but you can scan through the lists and see if you can find any songs you forgot.
Tears or Cheers?
Emotion is key. What kind of emotion are you wanting during each moment? Do you want the father/daughter dance to be sentimental, emotional, or hilarious? When you go through each part of the wedding day, keep that in mind. Then, go through your list of songs and find the one that best fits that emotion.

Ask for Help
Feeling stuck? Ask for help. I'm sure your friends and family will have an opinion. I think it's a really good idea to ask them anyway. Your dad might already have a song in mind for walking down the aisle or your grandmother might freak out if you play Baby Got Back during the reception. It's better to be safe and ask than for Grandma to have a heart attack.
Don't Overwhelm the DJ with Songs
Sometimes brides try to give me lists of every single photo they want on their wedding day. This is often a waste of time (I know to take a photo of you walking down the aisle), but even worse, it often takes away my creativity because I'm simply following a list. This can also happen with a DJ. It's ok to give your DJ specific songs for the big moments, but I wouldn't try to script the entire reception. DJs know how to run a reception and control things. Feel free to give them a few song ideas, but don't overwhelm them with a list of 50 songs.
The right music can dramatically affect you and everyone at the wedding. I've seen this when I'm editing video. Some songs flop and others are perfect. Finding the right songs can be tricky, but follow these tips on how to pick your wedding songs and you should be on your way.