There are so many options out there when it comes to your wedding. Do you want to do your ceremony indoor or outdoor? Do you want a wedding planner? Do you have an open bar? These are all important, but one thing I highly suggest you do in an engagement session.
As a wedding photographer I can tell you that an engagement session makes the wedding day so much easier because we've already worked together and are more comfortable.
Like anything wedding related, you might be confused or worried. Getting in front of camera can definitely be a tough situation. What do you wear? Where should you go? What time should you do the session? How do you pose? Have no fear! Here are several tips on How to Prepare for Your Engagement Photos.
These tips will cover almost all of the things you will need to know about an engagement session, but I also suggest you talk to your photographer. Every photographer does things differently, so it's always good to ask.
How to Prepare for Your Engagement Photos
1. Choose the right outfit
Probably the question I get asked the most often about engagement photos is What should I wear? Whether you're shopping your closet or buying something new, you want to stay away from bright colors and flashy patterns. Go with neutral or jewel tones, muted colors that won't distract from you and your partner.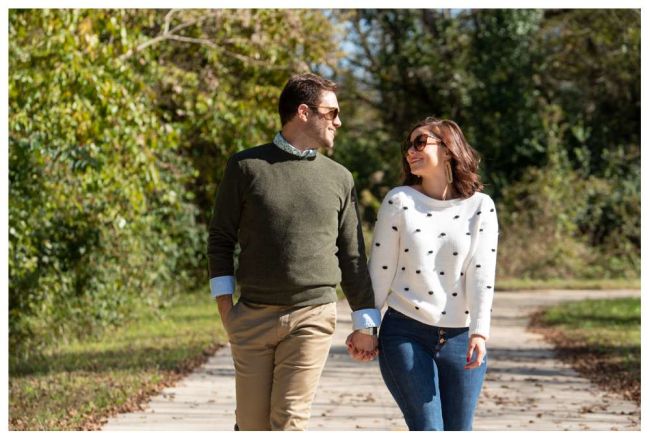 If you want more outfit options, consider dressing in layers. Having a cardigan or jacket you can remove can add variety to your images without the hassle of changing clothes.
Most of my couples go for two to three engagement outfits. One is pretty dressed up and formal and the other is more on the casual side but still nice. You might not get to every outfit, but bring them anyway in case you need them.
Overall, you want to like the way you look. It doesn't matter how cute the dress is if it makes you self conscious Try on all of the outfits beforehand to see how everything fits and see if you will be happy.
Still struggling? Check out my Pinterest board with what others have worn in the past.
2. If Looks Could Kill
Your engagement photos are the perfect excuse to visit a salon and get your hair and makeup done. Why not right? I know I always feel better after getting a haircut, so this can give you an extra burst of confidence and make you feel like a model!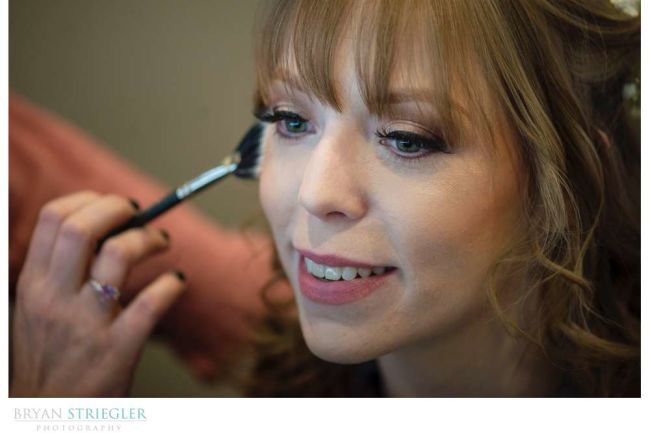 If you've already chosen a hair stylist and makeup artist for your wedding day, your engagement photos are a great trial run to test out your look. Just be sure to let your makeup artist know that you're headed to a photo session, as makeup for photos is often a little different than everyday makeup.
3. Make sure you're comfortable
You definitely should dress up for your photos, but keep the location in mind. If you're going to be walking a lot, be sure to wear comfortable shoes and don't wear anything that's difficult to move in. You don't want to spend your whole session adjusting your outfit. Pick something that feels comfortable and allows for easy movement. And if there are gorgeous but uncomfortable shoes you just have to wear, bring a pair of sneakers along so you have something better to walk in.
Also, consider the temperature. If you are doing photos in extreme heat or cold, that will affect your outfit choice. You don't want to be shivering and you don't want sweat stains showing up.
4. Don't fret about posing
One of the the things I hear that most from my couples is that they are awkward in photos or don't know what to do. That's perfectly normal! If you were a model, you'd be out modeling all the time.
A good photographer will make sure to guide you through all of that. He or she will guide you through poses and expressions, making sure you feel comfortable and natural. The last thing you want are images that look forced and strained.
My favorite thing to do is to make people interact as much as possible. It's really hard to worry about the way you look when you are talking and having fun. The best part is that all the smiles will be real!
5. Let the Ring Bling
An engagement session is all about you and your partner taking the next big step in your relationship, but your ring will still be a major showcase during the engagement session. Be sure to have it cleaned professionally or clean it yourself to make sure it sparkles!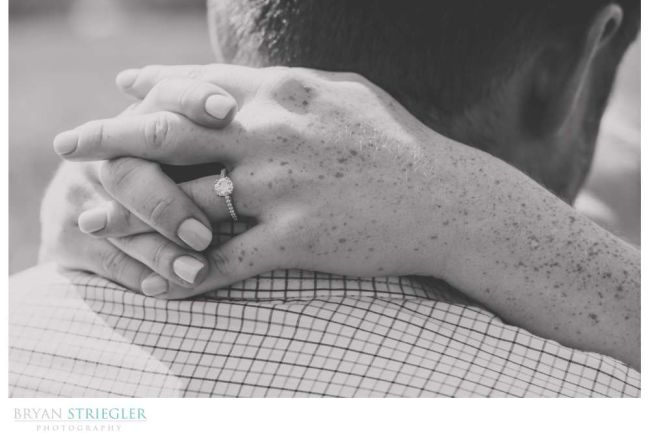 6. Consider adding a furry friend
I have two dogs, and I love all types of pets! Honestly, it makes me smile that much more when couples bring their dogs along.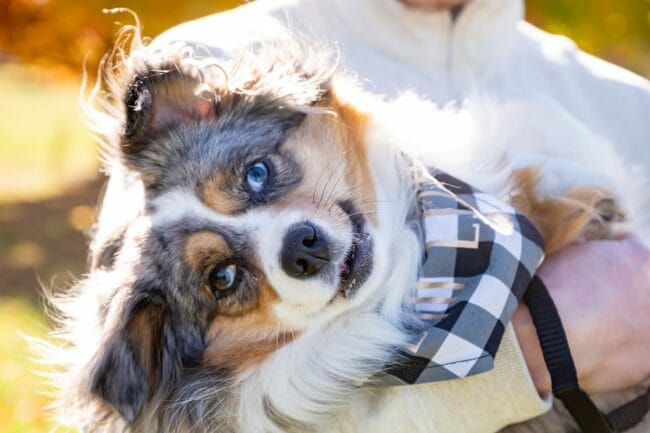 For most couples, their pets are like their children. You wouldn't leave your child out of the photos would you? Didn't think so.
There are some difficulties involved with adding pets to an engagement shoot, so make sure to read this longer post about including your pets.
7. Think about location
The location for your engagement session can be as important as the outfit you choose. You'll want to pick a place that fits your style and gives you lots of options for your photos.
If you have a special place, like your proposal location, where you want to take photos, let me know! I love it when there is a deeper meaning behind locations . But if you aren't sure where to go for photos, here are some of my favorite locations for engagement photos in Northwest Arkansas.
8. Make a day out of it
Your engagement photos are all about the connection you and your partner share, so why not turn your session into a full day of fun? Go out to eat before or after your shoot. Arrive at your location early and take a long stroll together. Spending time together before your session will put you in the right mood for your photos and help the photographer capture what makes the two of you so special as a couple.
After the session is over, don't let the party end. Go out to a movie or something special that you guys like doing together. You will already be dressed up, so you might as well.
9. Trust your photographer
If you're starting to feel especially nervous about your engagement session, remember that you hired a professional, and their job is to make you feel more comfortable and create images that you will love. They do this all the time, so they have the experience and knowledge that you don't. They know how to pose you, how to get the most genuine smiles out of both of you, and how to frame, light, and edit your photos. If you do have questions about something, ask. Often, they will be glad that you brought it up and things will go smoother.
Overall, don't fret so much! You now know how to prepare for your engagement photos, so just relax and enjoy your day!