There are some places that just rock for engagement photos! I've done several different shoots at Tanyard Creek. I did Mike and Jamie's engagements last year and before that Taylor and Donovan. Jordan and Josh's engagement session was just as much fun as the others.
It's always fun to learn more about the couple. Now, I had met up with these two for a meeting, so I knew some things about them, but I definitely got a better feel for them as we did this engagement shoot. Jordan is a teacher, so of course, I was able to connect with her and talk about all the things that teachers go through. Josh deals more with computer related things, but more specifically email. I'm all about the tech world. I love new technology and trying to figure things out, so we had that in common. Even cooler, Josh's dad is a photographer, and Josh has had some experience with Photoshop. He even knew what the clone tool was!
Tanyard Creek was packed with people that day. We saw a ton of people with dogs and children. I think a lot of them went to play in the creek, which makes sense because it was hot! This made things a little challenging in that we had to wait for people and try to keep them out of the background of shots, but overall, it wasn't bad.
The best thing about Tanyard Creek is the diversity of backgrounds. We used an open area right by the parking lot, a few bridges, a creek, this little waterfall area, a giant hill, and a dock. Wow! We did all of that in about two hours. The crazy thing is there were plenty of other spots we could have used as well.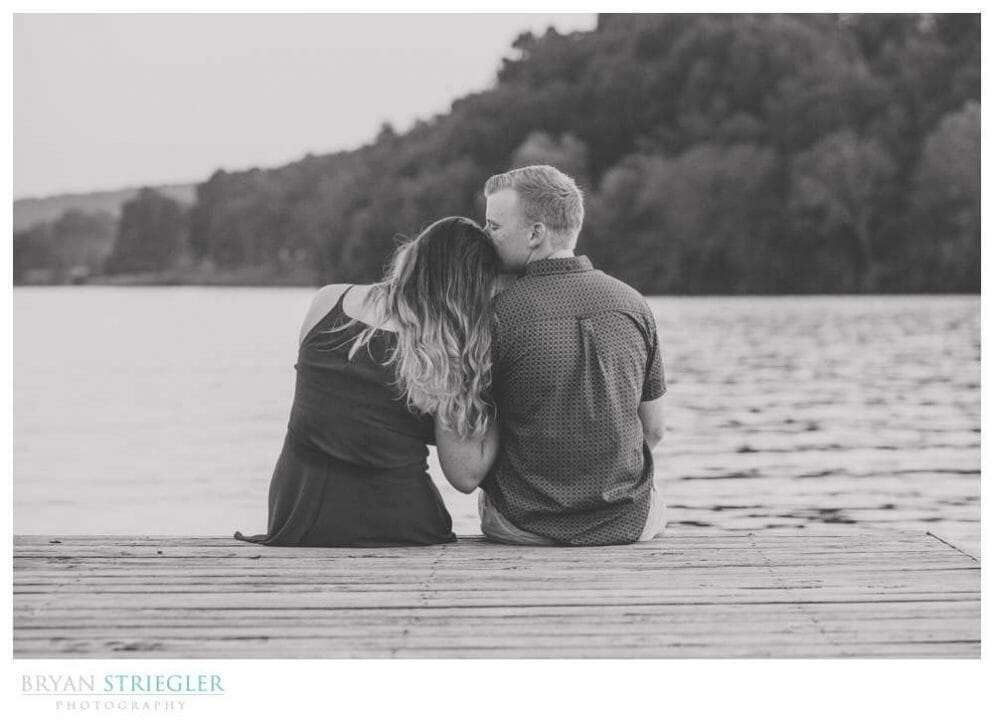 As I've mentioned hundreds of times, I love dogs! If I could, I would have at least 3 of them with me at all times. I was pumped when Jordan and Josh decided to bring theirs along. Dogs can be a bit challenging (check out some tips here). Some are much more controlled than others and some are pure wild! Normally, I have the dog with us either at the beginning or end, but she actually stayed with us the whole time and amazingly, was well behaved. When it was time for her to shine, she looked right at me and didn't squirm or try to run away! Must be the parents and the training 😉
Jordan and Josh's wedding is quickly coming up. It's going to be part of a busy but awesome November. I can't wait to hang out with them more and see these two get married!