Besides the craziness of Covid, the past year and a half has been really exciting for me. I've been photographing weddings in Northwest Arkansas forever, but I've finally started expanding to other areas. I've done engagement sessions in Oklahoma, Kansas City, and St. Louis. Recently, I did my first Kansas City wedding at Grand Street Cafe with Allison and Joseph!
Kansas City wedding at Grand Street Cafe
Fate really is an interesting thing. Allison and Joseph won an engagement session contest I was doing, and if it wasn't for that, I doubt we would have ever met. After doing their engagement session and talking with them, I learned that they actually live right down the road for me! How crazy is that? We live right by each other and we end up in Kansas City for a wedding.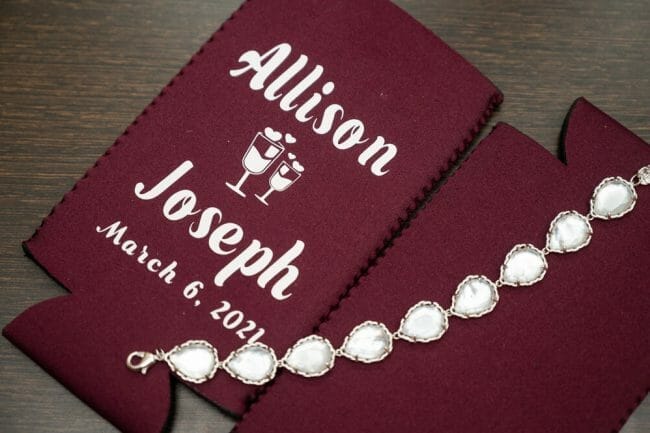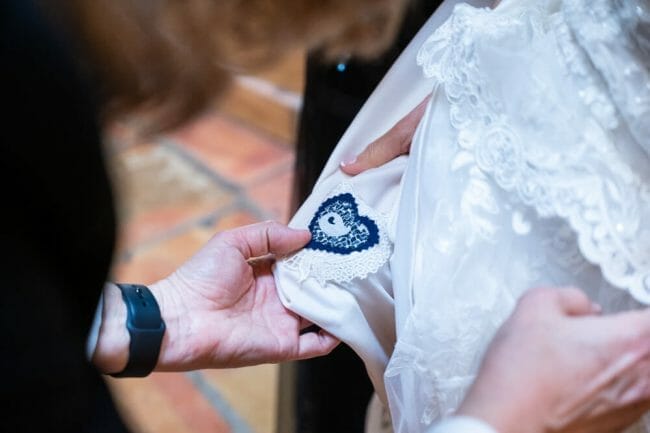 As soon as I walked into Allison's room, I knew it was going to be a fun day. The girls were in a great spirit, and one of them pretty quickly started teasing and giving me a hard time. I gathered all the details while they finished up their makeup and hair. One thing I really thought was special was all the little things Allison incorporated from her family. She had a two photos attached to her bouquet, her grandmother's ring on her finger, and a patch of her dress sewn into the underneath or her dress.
Multiple First Looks
Once everyone was dressed, we started a long list of first looks. In the room, we did a first look with her girls, and they were so excited! Then, we moved down to the lobby where we had a first look with her dad. He managed to hold back the tears, but I could tell he was getting emotional. Next, she did one with her aunt and grandfather. The best part of this was that right after, someone whipped out some small bottles of rum, and they proceeded to take a shot together. Last, Joseph got to see her! His group of guys were in the background heckling him and eventually cheering him on.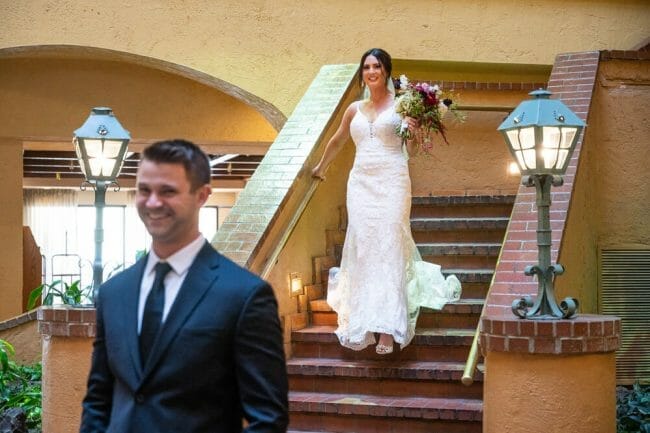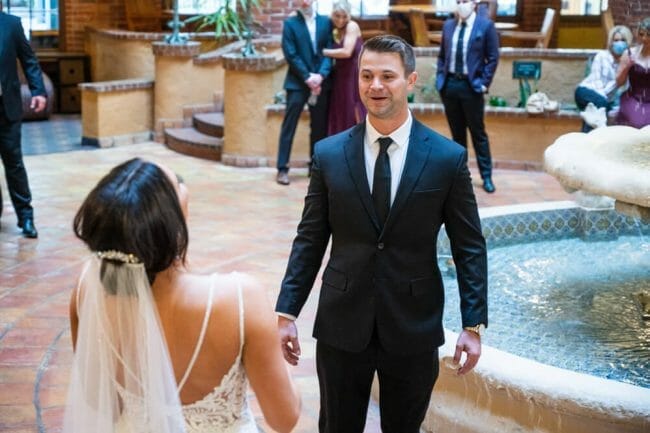 The Kaufmann Center in Kansas City
That's when the fun really began! We hopped on a party bus, and it really was a party. There was dancing and plenty of drinking. I'm pretty sure they polished off a whole bottle of Fireball.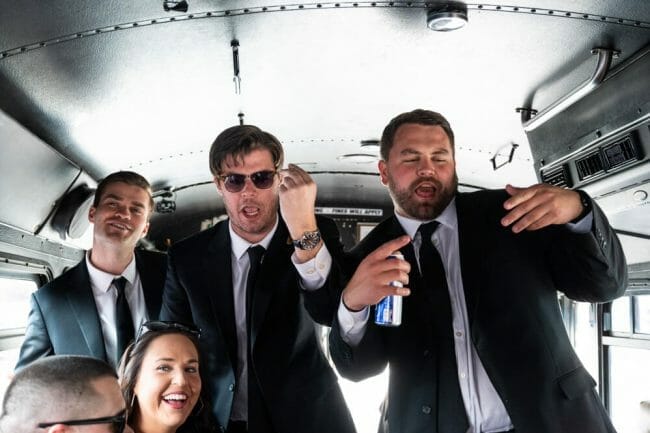 We rode down to the Kaufmann Center where we did all of the group photos. We were only able to be on the outside, but the building was so cool. It had two sections and the angles were really neat. After a few minutes, we actually saw another bride and groom coming there to take photos. The guys were just as interesting as the girls, and I loved getting to be around them. At one point, one of the groomsmen got down like a center and Joseph got underneath to take a snap. So funny!
Grand Street Cafe in Kansas City
Next, it was back on the bus and to the Grand Street Cafe for the rest of the night. The Grand Street Cafe had a big ballroom and to make things easier, the setup was the same for the ceremony and the reception. One side was full of tables for the ceremony and eating, and another big area was open for mingling and later dancing.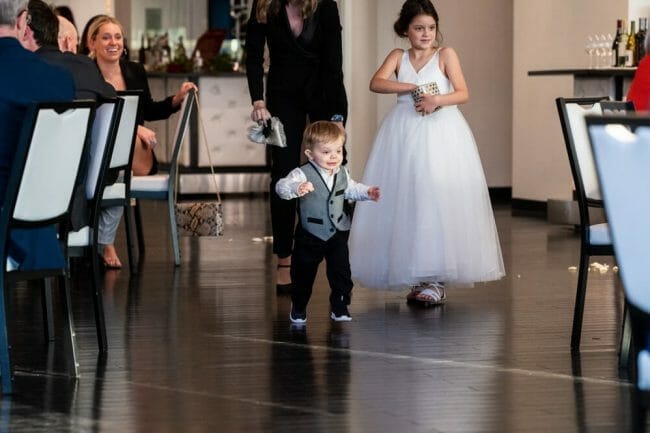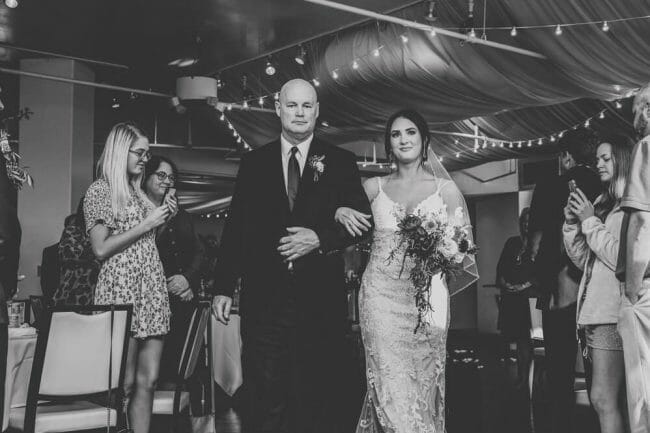 Every wedding ceremony is different, and there's always something different and fun about each one. I had a good laugh when the ring bearer came out. He was maybe 2 or 3, and he just bolted and had the biggest smile on his face. The groomsmen were also making jokes throughout, so I loved watching that.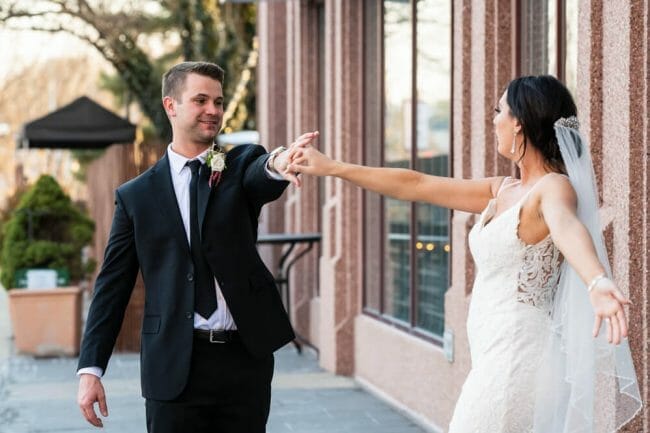 After the ceremony, we went out to get a few shots of the couple. We were in the middle of Kansas City, so there was mainly buildings around us. Still, we found some spots that looked good, and honestly, they would make beautiful photos anywhere.
The reception was exactly what I expected at this point: hilarious speeches, lots of drinking, and a packed dance floor. The atmosphere was so joyful and energetic. Everyone was there having a good time, and I even got some photos of one of the groomsmen dancing with some of the grandmothers! The night ended around 11 out in front of the Grand Street Cafe. The couple ran out and everyone tossed confetti up into the air.
Wedding Coordinator: A Summer's Day KC
Flowers: The Cottage Rose
Transportation: Magic Party Buses
Venue: Grand Street Cafe 
Officiant: Reverend Brent Shelton
Bakery: Rama Sola
Hair by Riane DiMarco
Makeup: Blush and Glow KC 
I knew I would enjoy being in Kansas City, but Allison and Joseph and their crew made the night that much better! I've got another Kansas City coming up July and I can't wait! I'll get to see a new location in Kansas City and make more memories!