I've said it before, but I can't tell you guys how awesome my job is. I get to meet so many fun people, go to different places, and basically hang out with people while they party. Being a wedding photographer has given me so many experiences. Well, last week I had another new and amazing experience. I got to do Little Rock Zoo engagement photos! Me + people + animals! Perfect combination!
Little Rock Zoo Engagement Photos
So let me clarify, this wasn't just an engagement session at the zoo; we were actually in there with the animals!!! You're probably wondering how I was able to get permission to do such a crazy thing. It actually wasn't me at all. My lovely couple, Tiffany and Chaz, are both zookeeper at the Little Rock Zoo! They had the connections, and it is definitely a big part of who they are, so we had to include the zoo in their engagement photos.
Unfortunately, it was raining super hard the entire day I was in Little Rock, so that did limit us some, but we still were able to get a lot of cool shots. We just had to do them inside.
We started off with the elephants, and this might have been one of the more interesting shots. Tiffany made a Save the Date sign, and we were able to get the elephant to hold it up in the background! Surprisingly, it was a lot easier than we expected. We nailed it on the first try, and did it once more just to get a different angle.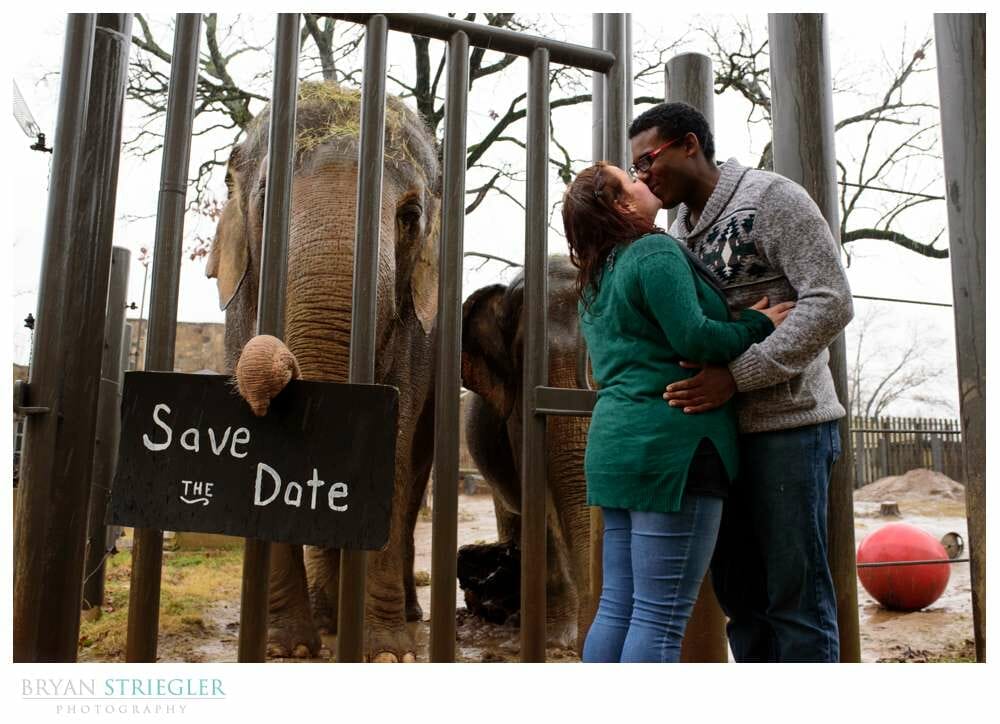 From there, we moved on to the rhinos. I actually got to meet this rhino about 10 years ago, and I was really excited to see him again. He has this crazy lip that's kind of like a hand that he uses to grab food. he was on the other side of a gate, but we still were able to feed him and touch him. For these shots, we had Tiffany and Chaz feed him and even kiss him. We also did some ring shots with the rhino's face and horn. The funniest one, though was of Tiffany kissing the rhino and Chaz looking upset. It wasn't planned at all!
The next stop was the penguins. This might have been my favorite part of these Little Rock Zoo engagement photos! I have never gotten to be this close to penguins, so I was like a little kid. I'm sure I annoyed everyone with my squeals. We brought in the two best behaved ones, and Tiffany and Chaz held one. It was a nice layer of cuteness to add to the photos.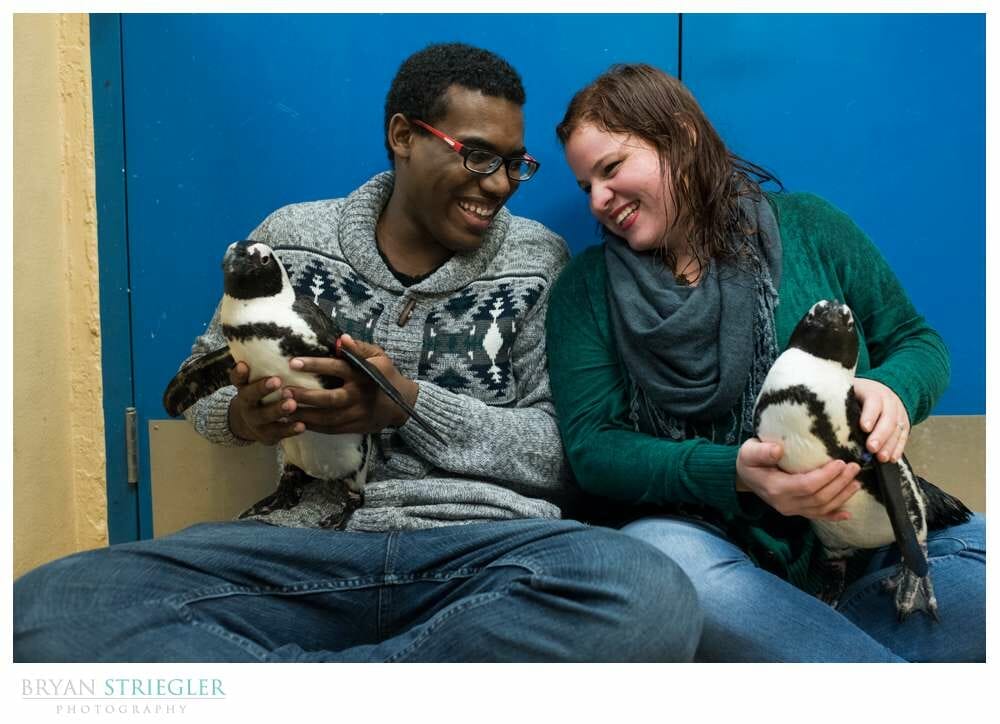 After that, we headed to Chaz's kingdom, the bird room. We actually didn't get any photos of the birds, but we did get some cute photos of just them. The lighting was a little tricky, but it still worked out.
Our last stop was Tiffany's area, the barn yard. This place was full of all types of interesting barn creatures. My favorite was this little, tiny pony. It looked like something out of a little girl's dream. It was just so small and furry. We ended up letting all the goats out, and they swarmed to the couple. I managed to get a few shots where they weren't overwhelmed. Then, with a little help, we went outside and I got a photo of the little pony with the couple in the background.
Tiffany then had an interesting idea. They both got into their zoo uniforms and went out in the rain and pretended to work. They had some tools and were acting like they were doing something. They then did that classic farm pose with the pitchfork. I'm sure there's a name for it. Anyway, it was funny.
This was such an exciting day! The rain couldn't stop me from enjoying these Little Rock Zoo Engagement Photos. I got to hang out with fun people and see some big animals up close. I don't know if I'll ever get a chance to photograph at the zoo again, but I'm sure I'll have more crazy adventures in the future, and I'll make sure to share them with everyone!