Each wedding venue has something unique about it. For some it's the location. Other venues have things like cool cars.  The Mildred B. Cooper chapel wedding venue has an extremely unique and beautiful chapel.
Mildred B. Cooper Chapel Wedding Venue
The Mildred B. Cooper Chapel is beautiful, and that's why it is so popular. It is a glass chapel that was designed by E. Fay Jones who also designed Thorncrown chapel in Eureka Springs. 
The chapel is a tall building with very interesting beams and angles that create intersections and angles. Inside you have the same patterns and lines, but you also have the amazing glass windows. The windows allow for a large amount of natural light and for the guests to see the natural surroundings. There are built in pews and a stage with another large glass window right behind it. All of this creates a sense of calm and beauty.
Mildred B Cooper Memorial Chapel Surroundings
Around the Mildred B Cooper Memorial chapel you have more natural beauty. It is nestled in the woods of Bella Vista. There are trees all around and there are these cools stone paths that wind up to the chapel. You can even get a view of Beaver Lake in certain areas. Some of my favorite shots there didn't even have the chapel in the photo.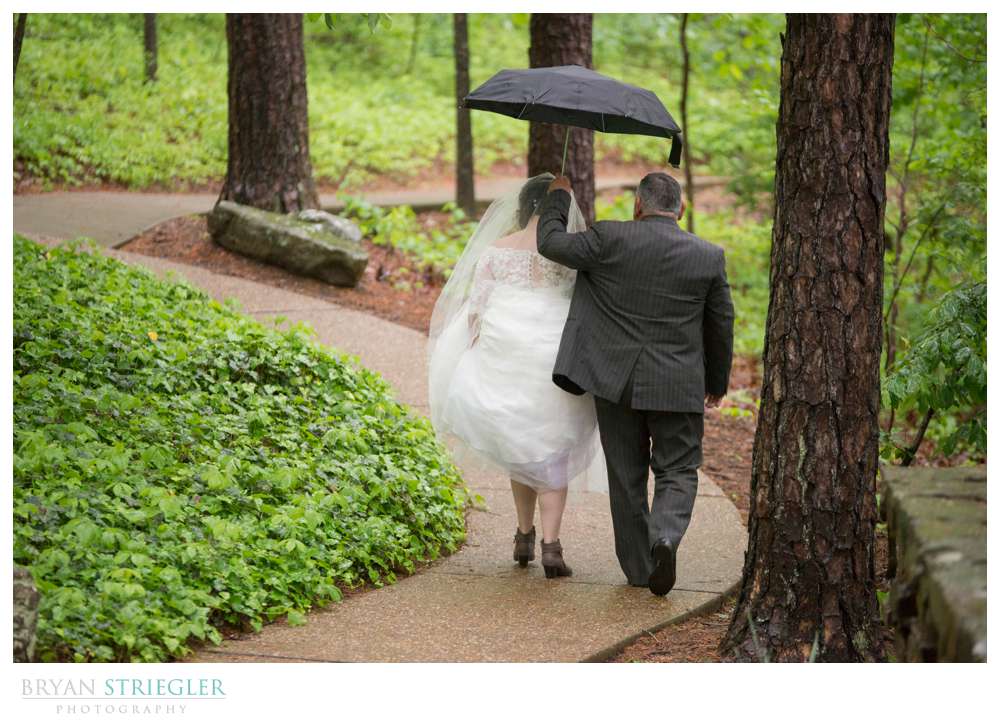 Simple and Beautiful
One of the great things about the Mildred B Cooper Memorial chapel is that is doesn't require a ton of decorations. It is so beautiful by itself it doesn't really need flowers or lighting or anything else. This saves time and effort.
The only real downside to the venue is the space. The chapel takes up the majority of the land, so there isn't a lot of options for portraits. You can get trees or the chapel as a background, but that's about it. There is a building for the bride to change in, but that also, doesn't have much space. It's really more of an office. The biggest downside to the size is that you can't have the reception there; you have to go somewhere else. This might not be a big deal to some, but it is something to consider.
If you're looking for something different and beautiful, the Mildred B. Cooper chapel wedding venue might be perfect. You get the natural beauty of the woods and the amazing architectural design of the chapel.