Engagement sessions are over for the year…I think. It feels like I've been going non-stop for the past 3 months. Most weekends, I 'd have two sessions on Saturday and two sessions on Sunday. I'm not complaining by any means because I love meeting new people, but it does make me tired. Well, it was awesome ending the year with Julia and Logan. We had tried to do this session a few times before, but the weather wasn't cooperating. Finally, we shot their Old Main engagement photos.
Old Main Engagement Photos
This was another session from the Diamond Center, so like the others, I'd never really talked to the couple before, so I knew nothing about them. This is always interesting because I get to find out so much in such a short period of time.
The first thing that was extremely obvious was Logan's height. He's a tall guy. Naturally, I started asking him about sports, and it turns out he did play football. Also, he went to UCF, and that's where my aunt coached a long time ago.
I found out that Julia is from St. Louis, and she has no real intentions of going back there. Her parents (both I believe) were teachers, so we talked a little bit about my experience in the teaching world.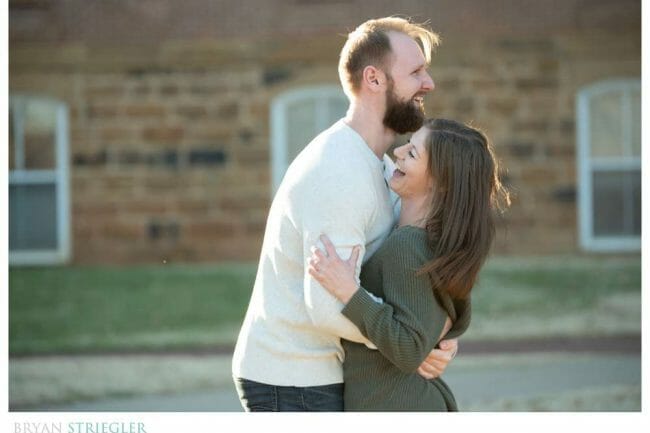 We met up at Old Main at the University of Arkansas. It was crazy busy! I don't know if it was the warm weather or something else, but everyone was out there. I think a big part of it was graduation was coming up. We saw lots of people with hats and gowns. We had to wait a little bit and move around, but in the end, it wasn't a big deal.
It was a fun time with these two. They were up for all types of goofy things. I had Logan pick her up a few times, they swung in a circle, and did lots of laughing. I'd say it was a successful engagement session!
These two plan on going off to Hawaii by themselves to have an intimate wedding. I'm sure that's going to be just beautiful! Well, I'm so glad I got to meet them, and it was a great way to wrap up all the engagement sessions. For now, I'll just be shooting weddings, but around March, things will be picking back up.