It's been over a month now since I traveled to Kansas City for Courtney and Matt's wedding. While I was there, I did several engagement sessions. For Paige and Casey's session, we went to a really cool location, Panthers Place. 
Panther Place in Kansas City
This cool location was all them. I've done sessions in different parts of Kansas City, but I don't know all of the hidden gems. Panthers Place is one of those locations. Its a dive bar that's so hidden I actually had trouble finding it. It's hidden back in a corner and you can't see the sign unless you go back there. 
Panthers Place is kind of hard to describe. So, you enter through what looks like a storage container, and then there are a few different spaces. Near the bar is a large open area with a few tables spread around. Next to that area is a skinner space, almost like an alley. Throughout the whole area, there are plants and all types of random items that make the place really interesting. I saw an old fridge and part of an old truck is in one spot. There's also a set of stairs, but I didn't venture up there to see it. I bet it's a rooftop area with a cool view. 
Besides this cool location, Paige and Casey brought a lot of their personality into the shoot. They got some Boulevard beers that we used in several different shots. In case you didn't know, Boulevard is a Kansas City brewery, so it makes sense. I think my favorite photo with the beer was them clinking glasses with a Boulevard painting in the background. We were joking about how Boulevard should donate beer to their wedding. Wouldn't that be awesome?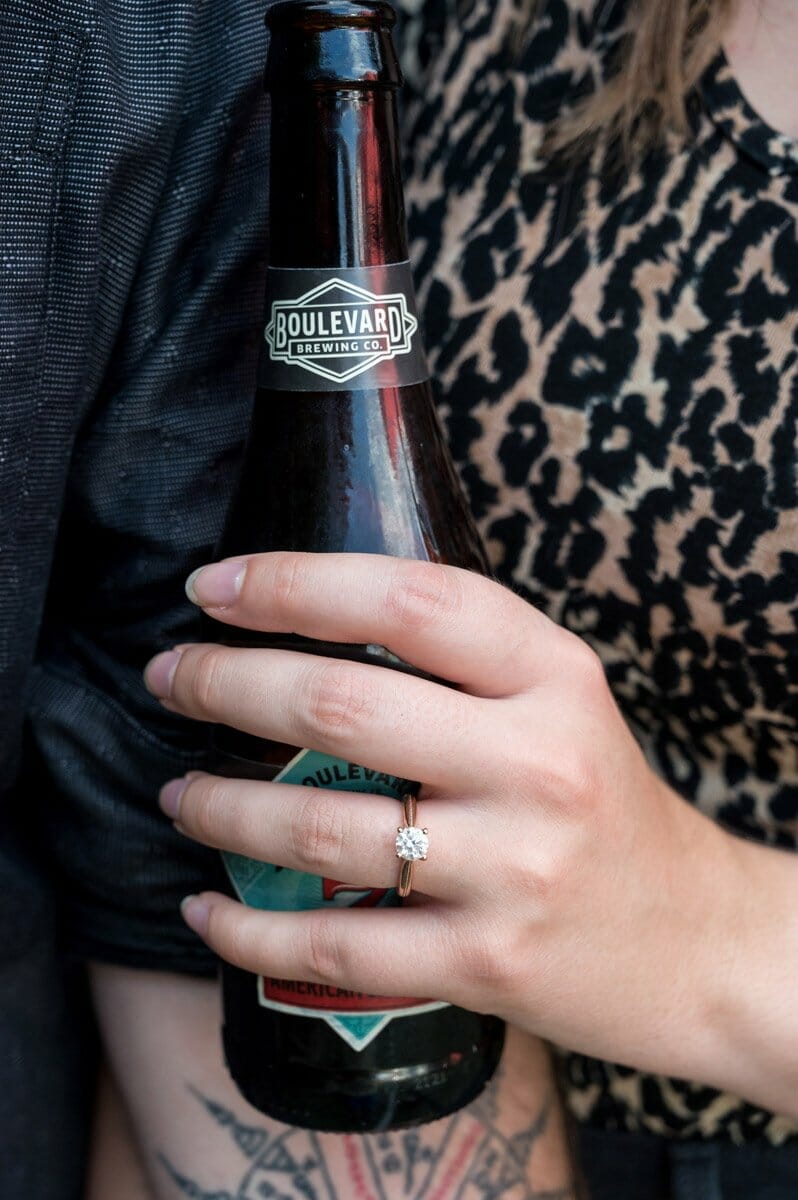 Paige and Casey also are hockey fans, but they happen to support different teams. They brought some jerseys and threw those on. Casey's team (Lightning) won the Stanley Cup this year, so he did a bit of bragging. Paige in turn, gave him a little shove.
Right outside of Panthers Place were a few other cool looks. The wall was this sheet metal, so I told them to look tough or like rockstars. I'd say they nailed it. Then, there was this Airstream or some other form of RV. I had Paige and Casey sit down in front of it. 
There was a lot of activity happening around Panthers Place or we would have stayed longer. Turns out they were opening a restaurant right next door and doing a soft opening that night. After seeing Panthers Place, I imagine the restaurant will be really interesting as well. 
I still have a few other engagement sessions from my trip to Kansas City to share. None of the other locations were as unique as Panthers Place, but we still had a lot of fun, and the couples were great. Make sure to look out for these other engagement sessions.