Today is a special day: my birthday. Now, by itself, that's not really a big deal, but I share my birthday with my son, so it's a pretty cool day. Getting presents for him is really easy (pretty sure he's already picked out his present for next year), but it's a little harder for me. I've got everything I need and the things I do want are way too expensive (a new lens???). I have this same issue with my father. I never know what to get him. I think it's just really difficult to find gifts for guys, especially Personalized Gifts for Guys.
Personalized Gifts for Guys
A few weeks ago I was thinking about gifts to give couples, and I got a really cool email. Joe from Groovy Guy Gifts saw the previous blog and thought his site would be perfect for grooms and groomsmen. He was nice enough to even send me a sample product to check out. Since then, I've had a chance to check out the whole site and to get my hands on one of his groovy products.
Selection
Not all guys are the same, and Groovy Guy Gifts isn't aimed at every single guy out there. There aren't any goofy shirts or novelty items like a beer hat. Groovy Guy Gifts is more for the classy and stylish man. These aren't gifts you'd get and then use once and put away; they are items that could be used on a weekly basis and things your wife would even let you have out for others to see.
So, what exactly does Groovy Guy Gifts carry? Basically, every item has a real use because guys love their tools. They have a variety of alcohol-related gifts like a Decanter set, flasks, shot glasses, and whiskey stones. If you're not into all the drinking, they have other useful items like bags, wallets, shave kits, and an assortment of knives.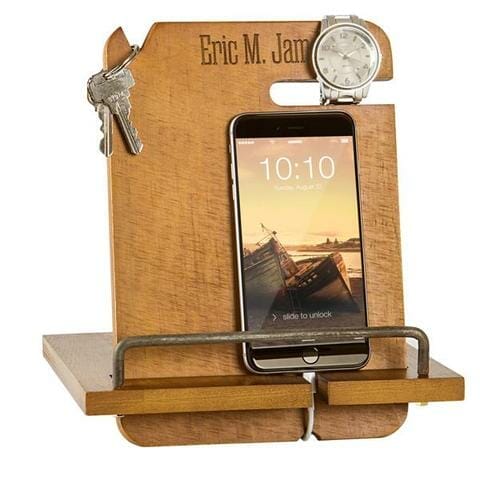 There were so many interesting items, but two really stuck out as unique. First, they have hatchets (Weapon of Warriors and Paul Bunyan's Little Friend)! I honestly don't know how much most guys would use these, but it's definitely something different, and I know I would love taking it out and just chopping down some trees. Second, His Ship Has Come is a docking port for all those items I usually leave thrown around the house and eventually can't find. It's a simple look but it has spots for a phone, watch, keys, and several other small items.
As for me, I received the Set That Bonds, and if you can't tell by the name, it would be a great gift for any man that considers himself as classy as James Bond. In this set, you get cuff links, a tie bar, and a money clip, all held in an elegant wood box. I'll be showing off my set at my next wedding.
This is just a tiny preview of all the things they have at Groovy Guy gifts. I spent a good 30 minutes looking through their inventory, and I kept finding myself saying, "Wow, that'd be nice to have."
Quality
The quality of the gift you give says a lot about who you are and how you feel about the person receiving the gift. Imagine if you got a gift and it fell apart the next day. How would you feel? I know I personally would feel a little sad and disappointed. If you're buying gifts for the people in your wedding, you obviously care about them, so you want to make sure you give them something that will last, so they can remember your big day for a long time.
When I opened up the Set that Bonds, the first thing that stuck out was the wooden box. It looks extremely nice and has a good feel to it. It's not a heavy solid wood, but it's much nicer than other boxes I've received. The lid pulls straight up and pops off, and inside there's a pad for everything to sit on.
All of the items are made of a high-quality metal that feels like I can use them for years and they can take a beating. The metal feels strong, so I don't see the tie clip or money clip getting loose or breaking at the bending point. From what I've seen on the site and my experience with this product, I'd trust the quality of all of their products.
Cost
Weddings are expensive, trust me I know, and getting gifts for 7 groomsmen can be a big cost. With quality does come a higher cost. Don't expect to find any $5 gifts here, but again, you won't be spending a ton either. There are a variety of items on the site, and from what I saw, most gifts range from $35 to $60. That's really not that bad when you think about it. That's like a case or two of beer or taking someone out to eat. I think your groomsmen are worth that.
Personalization
One of the things that I love the most about all the gifts is the personalization. Every item is personalized in some way, which to me, makes is so much better. My items either had my name on it or initials. This is the most common form of personalization that I saw. There are also some pretty interesting things like having your image drawn on a flask, mug, or coffee cup.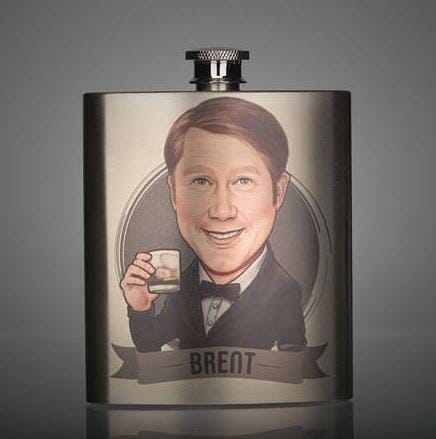 Conclusion
I'm so glad I found out about Groovy Guy Gifts. I believe I've now found a place for not only gifts for myself but also gifts for grooms. Father's Day is coming up soon, so I might see what I kind find for my father as well. I hope this has been helpful for those of you looking for personalized gifts for guys as well. Go check out Groovy Guy Gifts and let me know which item you love!