Thinking about planning a backyard wedding? Great! There are many different ways to do it, and there are also challenges that come with this type of ceremony. In this blog post, I will discuss the best way to plan for a backyard wedding and some common problems you might face along the way.
Backyard Wedding Dreams: Pros and Cons Worth Considering
In 2020, Covid really threw a wrench into the wedding world. People couldn't have big weddings in the normal venues. The answer was backyard weddings.
While this did help people still have weddings during a pandemic, there were a lot of issues that couples had to overcome.
Cons of a Backyard Wedding
-Planning Difficulties
-Limited guest list
-No reception space
-Weather concerns
-Other Concerns
With a normal wedding, couples will book a venue. This makes things easier because they have things already set up for a wedding. With a backyard wedding, the planning will be more difficult because you are starting from nothing. Most likely this will be the very first wedding there, so you won't have any prior experience to know what works and what doesn't. You'll also have to figure out all those things that a venue normally provides. It's doable, but it will require more thought and planning.
One of the challenges that comes with backyard weddings is limited guests. Most houses and backyards aren't meant for 150 people. There might not be enough space or enough facilities like restrooms to handle those numbers. Most likely, you'll want to keep your guest list under 100 people.
A backyard usually works well for a wedding ceremony, but it might not be perfect for the reception. During a wedding ceremony, people are seated and can be close together. For a reception, people will want to be up and moving around, and you'll need tables. This means you will need a much bigger space, and most backyards aren't that big.
Weather can be an issue for any outdoor wedding. Most wedding venues, though, offer an indoor space for the ceremony and reception. Again, depending on your space and guest list, this might not be an option. That means that rain could really ruin your day. If this is the case, make sure to have a backup plan like a tent or indoor space if the weather turns nasty.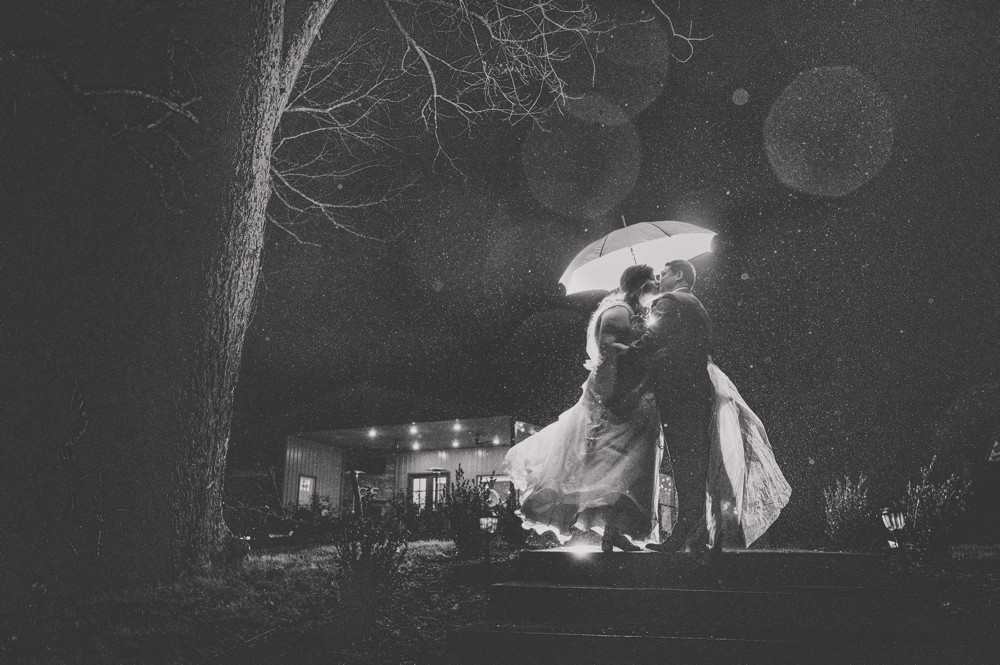 Besides that, there are a few other concerns you might have to deal with. A traditional venue has things made for weddings like a kitchen or a loading area. Most homes don't. This can make things difficult for wedding vendors, so make sure you talk to each one about the situation. You backyard wedding will also affect your neighbors. There will be tons of traffic, so you need to consider parking. Also, weddings to be loud. Are there any noise ordinances? Will you neighbors complain?
Pros of a Backyard Wedding
-Focus on what matters
-Sentimental Location
-Less Expensive
-Create what you want
Backyard weddings can be a great idea for any couple who wants to have an intimate ceremony surrounded by loved ones. It's the perfect place to get married if you don't want your wedding day or reception overshadowed by anything else, like high-priced guests and lavish details. You can focus on what matters, and that's the marriage and family and friends.
When you are planning a backyard wedding, you also get to choose the perfect location. A wedding venue is nice, but it might not have the sentimental value of your grandpa's farm or your childhood home. Getting married in a location like that will bring back old memories and create some wonderful new ones.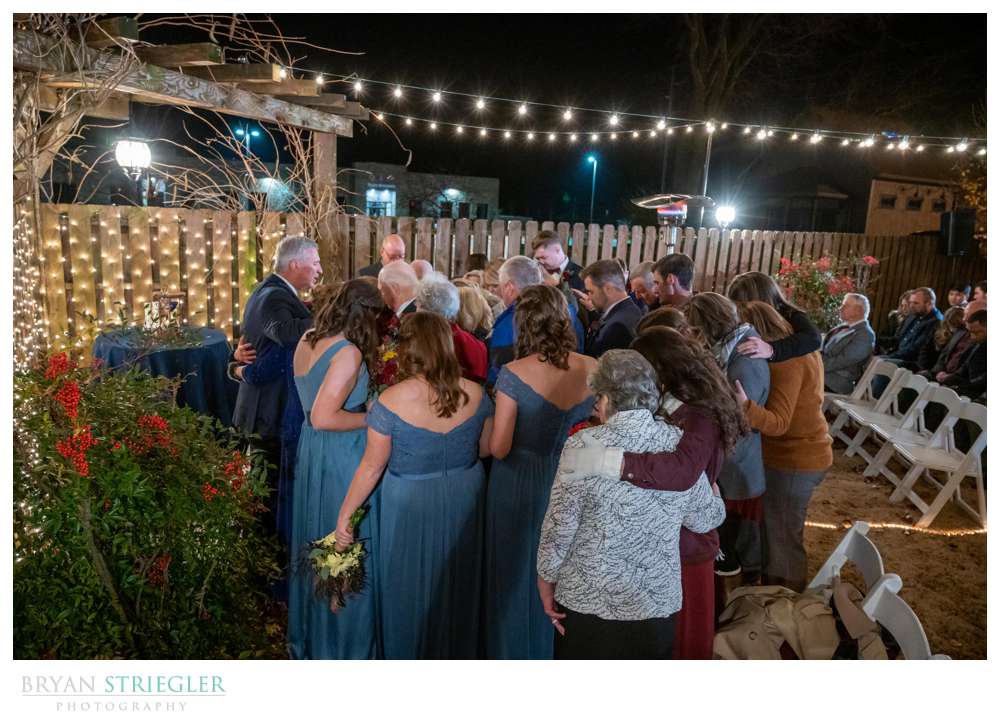 Are backyard weddings cheaper? A backyard wedding is typically more affordable than other types of ceremonies. Just the wedding venue alone might cost $5000. As I mentioned, your guest count is also going to be lower than normal, so you'll spend less on food and beverages. In general, these weddings are more laid back, so you can get away with less details and decorations.
The best thing about this is you have more freedom to create. You won't be limited by venue rules or what's already there. Most backyards are a blank canvas and you can get creative and find all types of inspiration.
Should you still have a Backyard Wedding?
As I mentioned, a backyard wedding was a great way to deal with Covid-19 in 2020. Now that things are opening back up, should you still have a backyard wedding?
There is no perfect answer to this question. It really depends on each situation. Is your area still shut down or is everything back open? Do you want a bigger, more traditional wedding or do you want something smaller? Do you have a bigger budget or are you looking to save money?
I think many will still choose to go smaller with a backyard wedding, but make sure it's right for you before you commit to it.
Get Permission Before You Start
After reading all the pros and cons, if you have decided to go ahead with planning a backyard wedding, there's something you need to do first: get permission.
While it is a backyard, that doesn't mean you can do whatever you want. You might need a permit from the city to park all of the cars on the street. You will also want to see if there are any fire codes for the amount of people you will have together. Don't want the fire chief shutting you down mid wedding. Also, make sure to talk to your church. Will they recognize a wedding that wasn't in the church?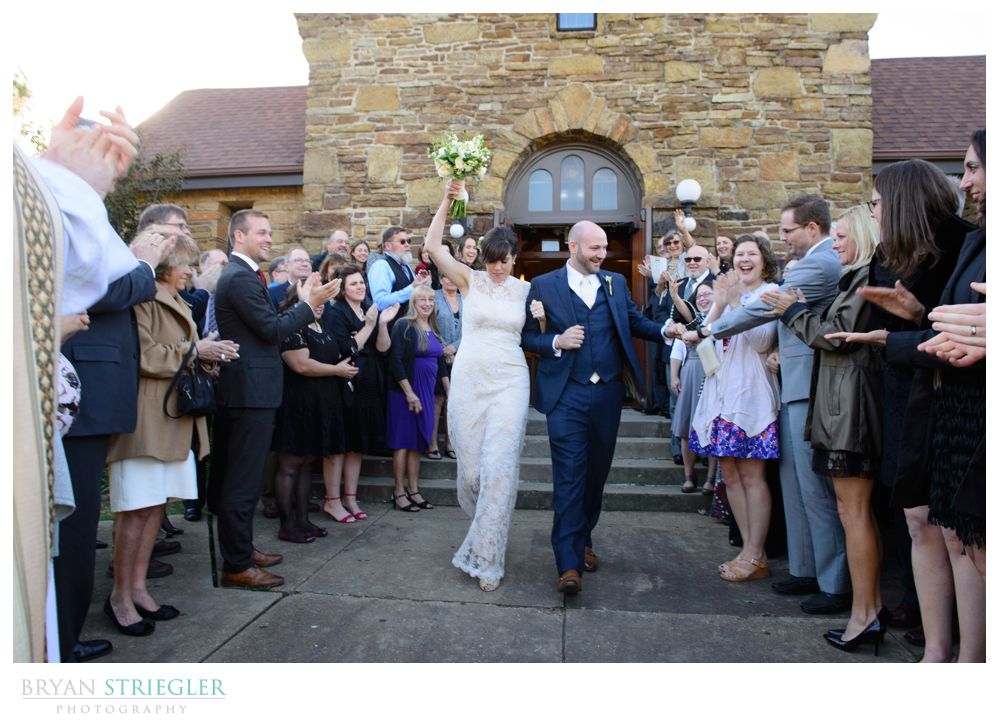 This might sound really sad, but you want to make sure you are protected as well. A guest might trip and fall or some other accident might happen. Would you be financially responsible? Talk to your insurance company to see what is covered or if you need to get some temporary insurance.
Finding the Perfect Location for a Backyard Wedding
There are plenty of options for a backyard wedding. You aren't limited to your actual backyard. Reach out to family and friends and see who is willing and what's available. Hosting a wedding can be a big deal, so make sure you explain everything you are planning before they agree.
Things to Look for in a Location
Just like picking a wedding venue, you will want to really consider your location. At first glance, a spot might look perfect, but here are some things to consider.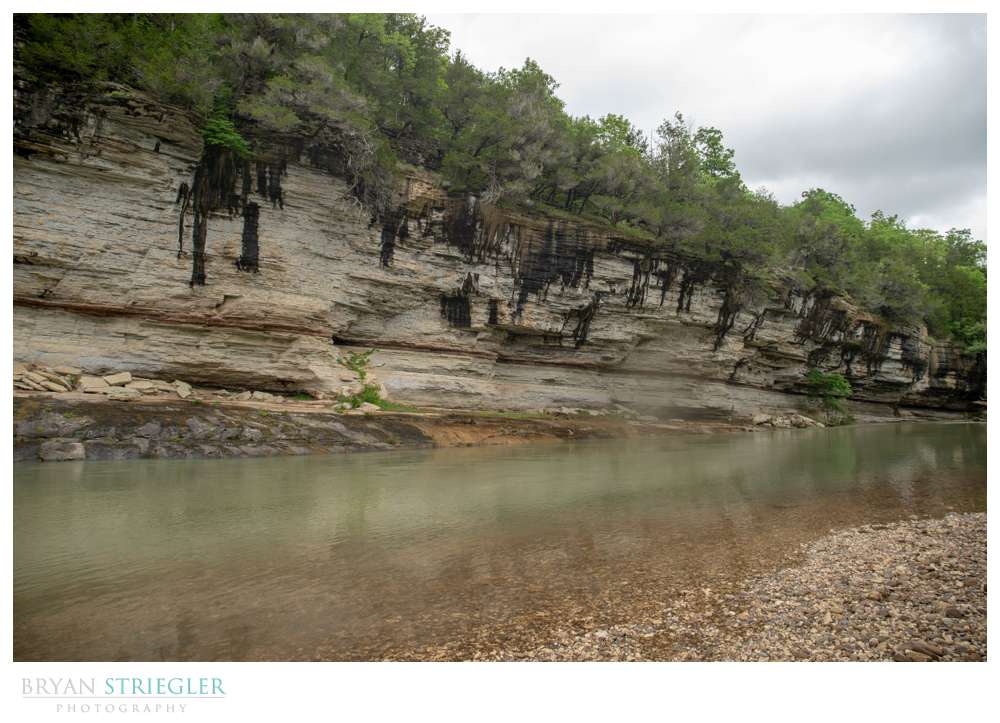 One, what's the space like? Is there enough room for the ceremony and a backyard wedding reception? Do you have a beautiful backdrop for photography? Is the ground flat and clean so you can have a dance floor? Is there shade?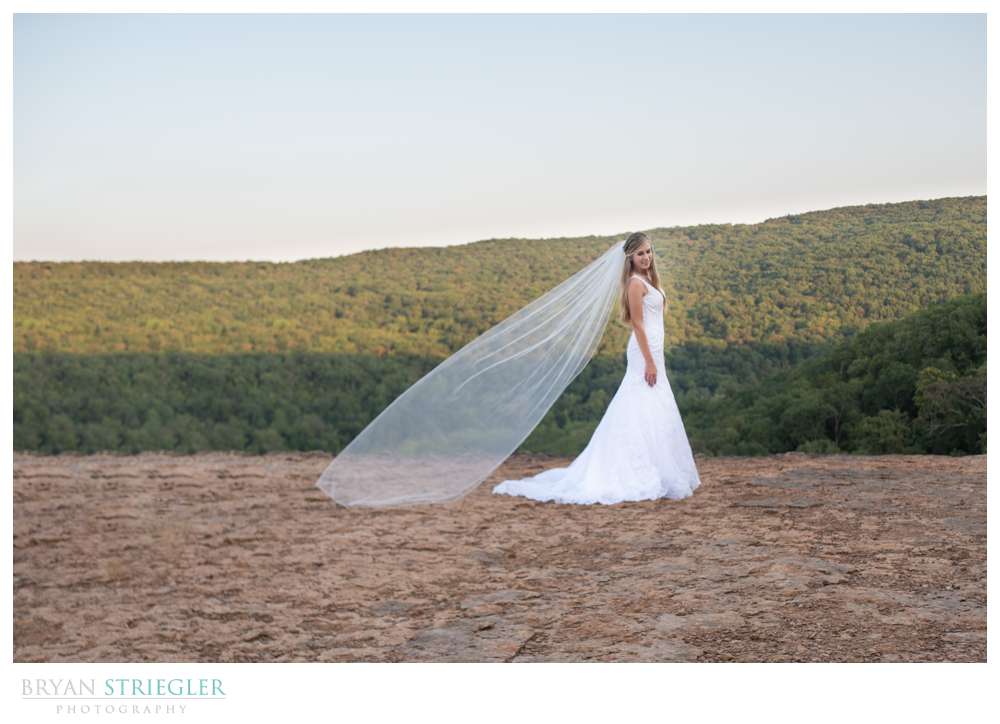 Two, how will the location affect your guests? Will it be easy to find and close to hotels? Are there enough bathrooms? Enough parking?
Consider a Rental
Wedding planning is tough, and trying to turn a normal backyard into a beautiful wedding space might be too much for you. If you can't find a good location for your backyard wedding, look into renting a place for the day.
Lately, air BNBs are popular in almost every big city. This could open up your options so you can make all your wedding ideas come to life.
Other Things to Consider
Below are a few other things you'll need to figure out or consider early in the process. It's best to look at all the angles before you make a final decision. You might find that the majority of your ideas work, but your favorite doesn't. In that case, you might have to make some major changes.
Find Your Main Area
A wedding venue is already put together, so you have little say on how things are organized. A backyard wedding is completely different. Usually, you'll need to decide the main area for all the action.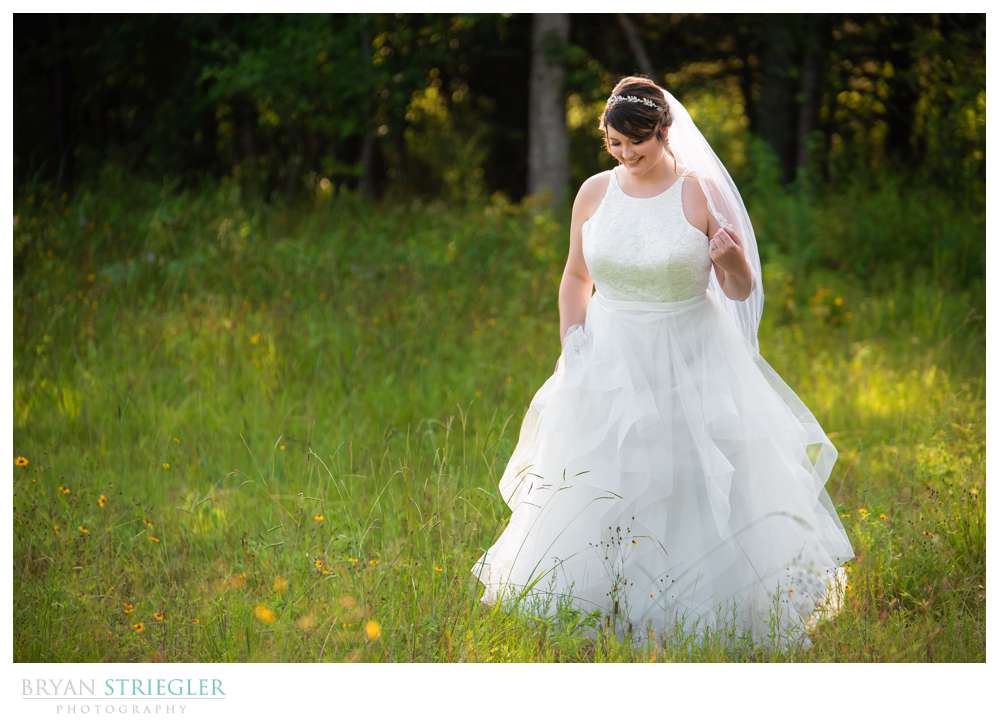 You can pick your favorite spot or there might be an area that naturally works for both the wedding ceremony and wedding reception. For example, I photographed a wedding several years ago, and they had acres and acres of land. They decided to use a giant tree as the focal point because it was a place they spent lots of time.
Have a Rain Plan
Just like any outdoor wedding, you will have to worry about rain. Make sure you have a plan to deal with bad weather. Is there an indoor area where you can move everything? Is there space for big tents? You'll want to consult with your caterer and tent company before the wedding day to make sure it won't be a problem.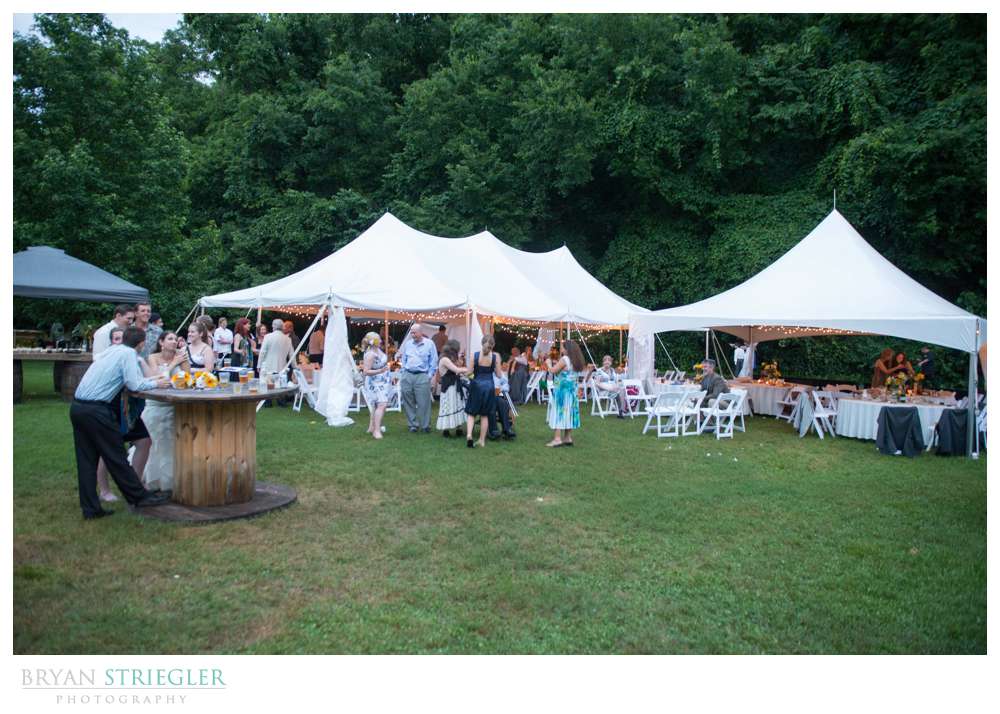 You'll also want to think about your photos if it rains. Most likely you'll have access to a big window. There's a lot that can be done with a big window, but try to find some other options as well like a clean wall or some nice furniture.
Clean Up the Yard
A wedding venue will spend hundreds of dollars every month to keep everything in tip top shape. While you won't need to spend that much money, make sure to clean everything up.
The easiest and most common thing will be the grass. Make sure it is mowed a few days in advance. If possible, rake or remove all the grass clippings, so people won't stain their fancy clothes.
Besides that, trim the bushes or trees to keep things neat and organized. You'll be amazed at how much a difference it makes.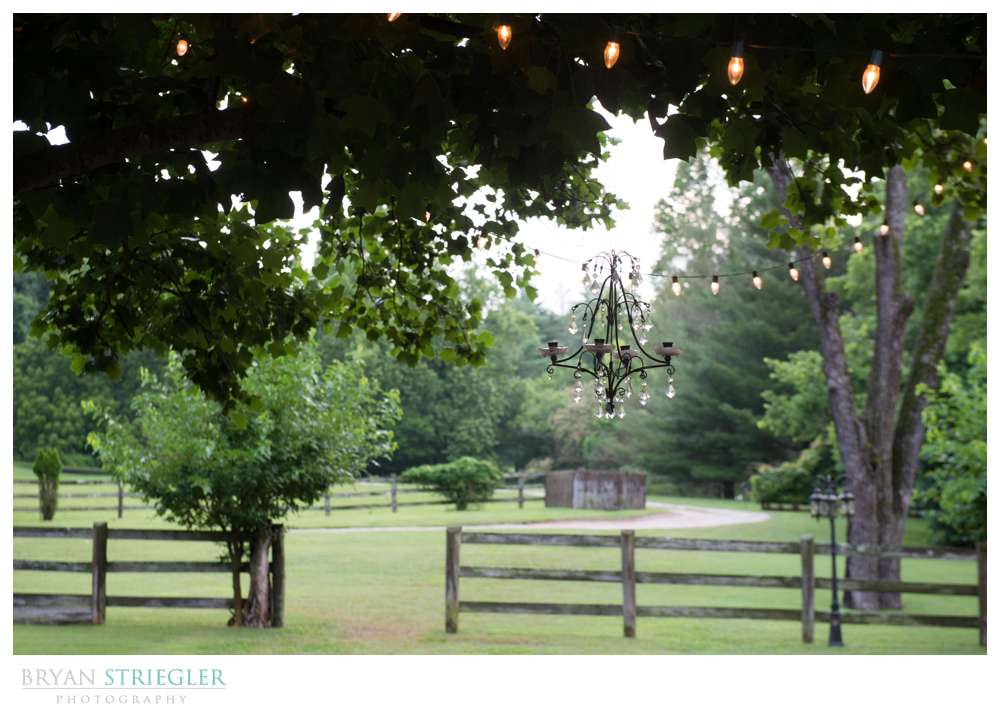 If you're like me, your backyard is filled with all types of things. We have kids and dogs, so there are toys all over the place. Gather anything that could be a distraction and put it away.
Another thing people don't normally think of is pests. Does your backyard have large amount of flies, ticks, or mosquitoes? If so, you'll want to take some steps to keep your guests protected. There are some things you can do in advance, but you might have to wait till the big day to put out candles to keep the pests away.
Have Enough Restrooms
Have you ever thrown a party at your house? Most likely there wasn't more than 25 people in your house. Imagine having over 100! One of the biggest concerns will be the restrooms. Will you have enough for everyone and how will you keep things clean?
Many people think that a few port-a-potties will fix this problem. Unfortunately, it doesn't address the cleanliness issue of having to walk outside and wait in line for 20 minutes before getting back inside, and in general port-a-potties don't work well with wedding attire.
I've seen two options that work well. One, use the available bathrooms in the house. Two should be enough. If possible, pick the bathrooms that are closer to the action, so people won't have to walk all around your house. Put out extra towels, soap, and toilet paper, so people won't be without. The other option is to rent a nicer port-a-potty. There are these trailers that show up, and inside, it's like a real bathroom. This way, you keep your bathrooms clean and people have a nicer restroom.
Electricity to Power Everything
You've got all of these great backyard wedding ideas and you're pumped to get started, but make sure you think about electricity. Most likely you'll need power for several of the things you are considering. You'll need power to run your kitchen and bar, the DJ booth or stage, lights for a tent.
The easiest way is just to get an electrician come out before the wedding day. This way they can figure out what will work best in your backyard space as well as make sure there are enough outlets for everything you want. They will also be able to advise you on whether or not you will throw a breaker. You definitely don't want to be in the middle of your backyard wedding ceremony and have the lights go out!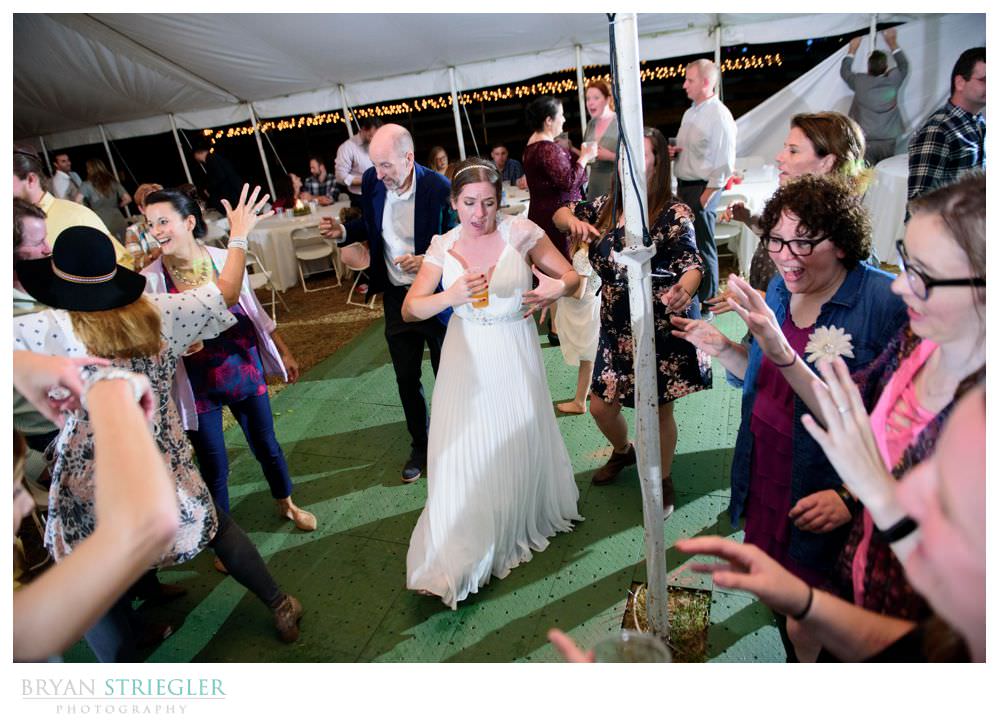 What about if you are doing things out in a field away from outlets? In that case, you'll want to get a portable generator. These things can be pretty loud, so try to move it further away and run extension cords. Again, though, it will have limits. Test it before the big day.
Tell your Guests
When you are sending out your Save the Dates and invitations, make sure to tell your guests it will be a backyard wedding. With that, tell them the theme or dress code, so they can come prepared.
Also, add any other information that they might need like parking directions or the location of the nearest bathroom.
Backyard Wedding Timeline Suggestions
In order to help you plan your wedding day with less stress, I've created a helpful timeline suggestion. This is only one of many ways to make the process easier for yourself and it may not be perfect for everyone; however, this should give you an idea about how to schedule the day.
Take a look at the template and mess around with a few times before setting your ceremony time in stone. You'll want to make sure you have enough time to do everything. For example, if the ceremony starts too early, the ladies will have to wake up at 5 or 6 and start getting ready. On the other hand, if you start too late, you might not have enough light for photos.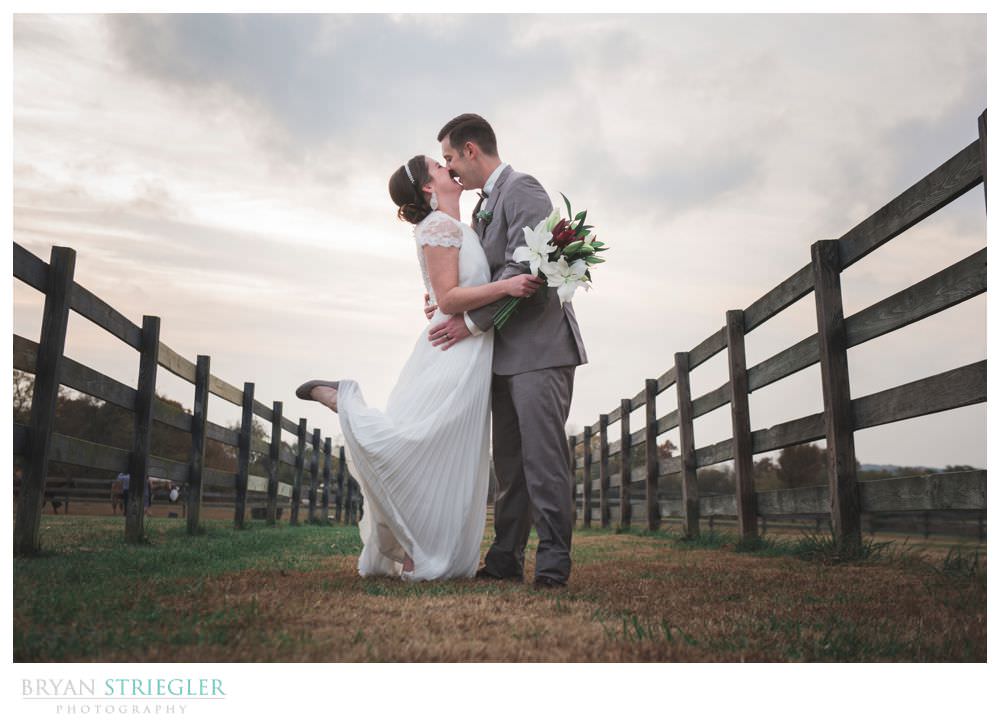 Picking a Wedding Date
Picking a wedding date is extremely important for a backyard wedding. Since you will mainly be outside, you'll want to pick a date that normally has tolerable weather. In general, try to avoid the extremes, hot or cold.
Besides the temperature, the date could also have other effects. Is it more likely to rain? Will you need citronella to keep all the bugs away? Will you be able to buy fireworks?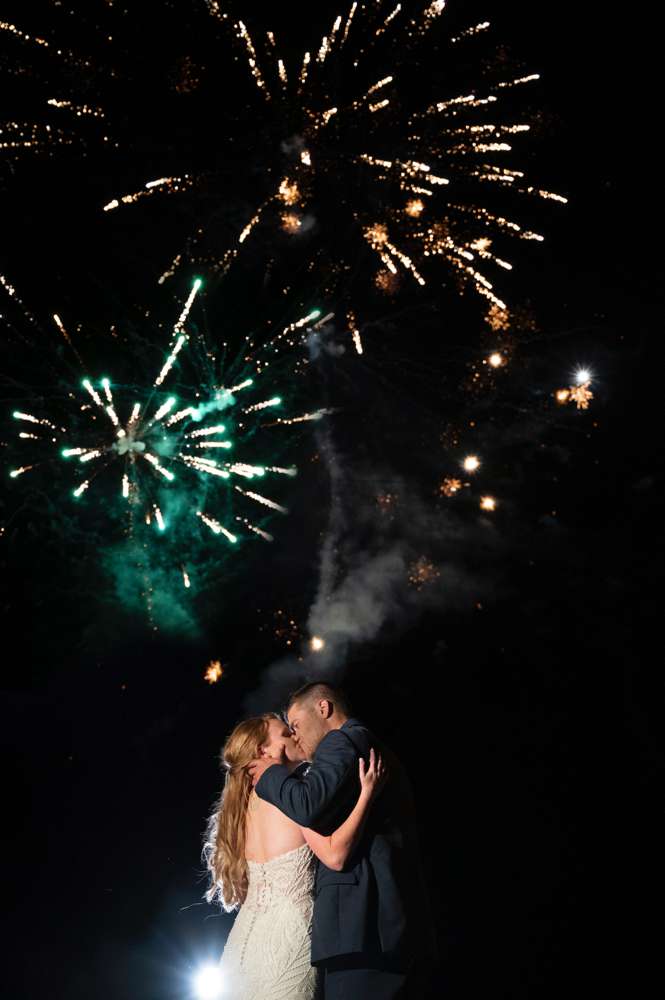 Also make sure to look at all the other things that you should consider when picking your wedding date.
Get Help from a Wedding Planner
You might think that planning a backyard wedding is easier than planning a normal wedding. While there might not be as many people or as much wedding decor, you will be dealing with a lot of things that you don't with a traditional wedding. It might be a good idea to hire a wedding planner.
Besides helping you plan everything beforehand, a wedding planner can be a huge help on the day of. He or she can make sure things are set up and help with the timing of everything. If you're lucky, a wedding planner will help with the clean up at the end of the night as well. Without a planner, you will be left figuring this out on your own.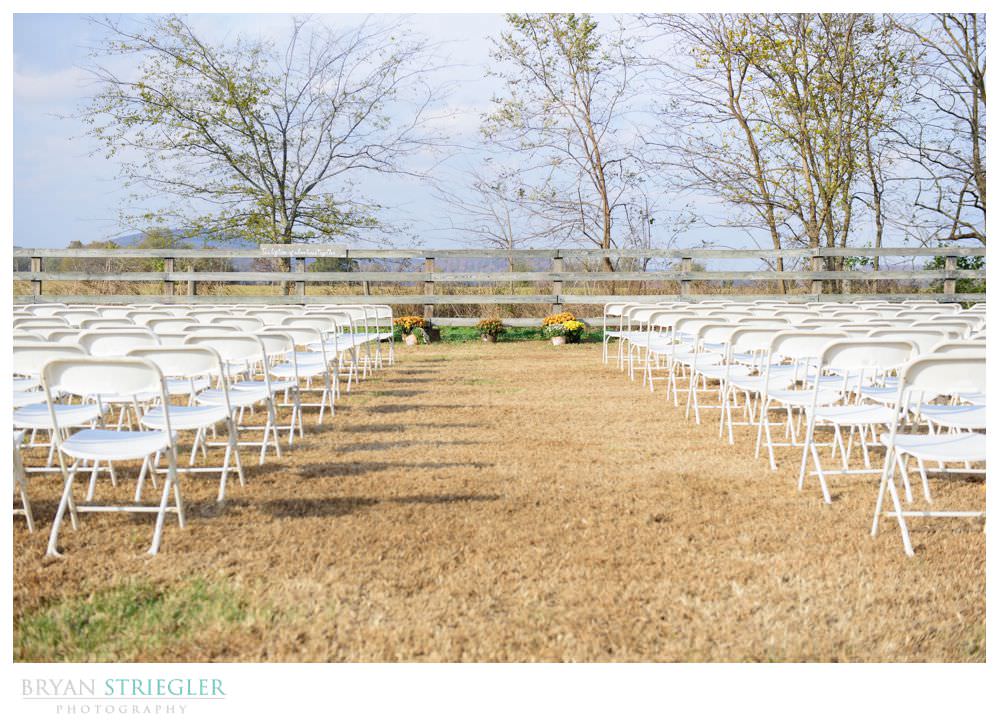 Backyard Wedding Ideas
Now that you've got an idea of what's involved with a backyard wedding and have a perfect location, it's time to have fun! Below are some of my favorite wedding tips and ideas.
Use Banquet Tables
When I think of get togethers in the backyard, I think of everyone sitting together around long tables. You can do the same thing for your wedding.
Use long banquet tables to create that feeling. These smaller weddings are all about family and friends, so having everyone eat together would be perfect.
Illuminate With String Lights
Since most backyard weddings will be outside, you'll need light for the backyard wedding reception. You don't want anything too harsh or overwhelming, so string lights are a great idea.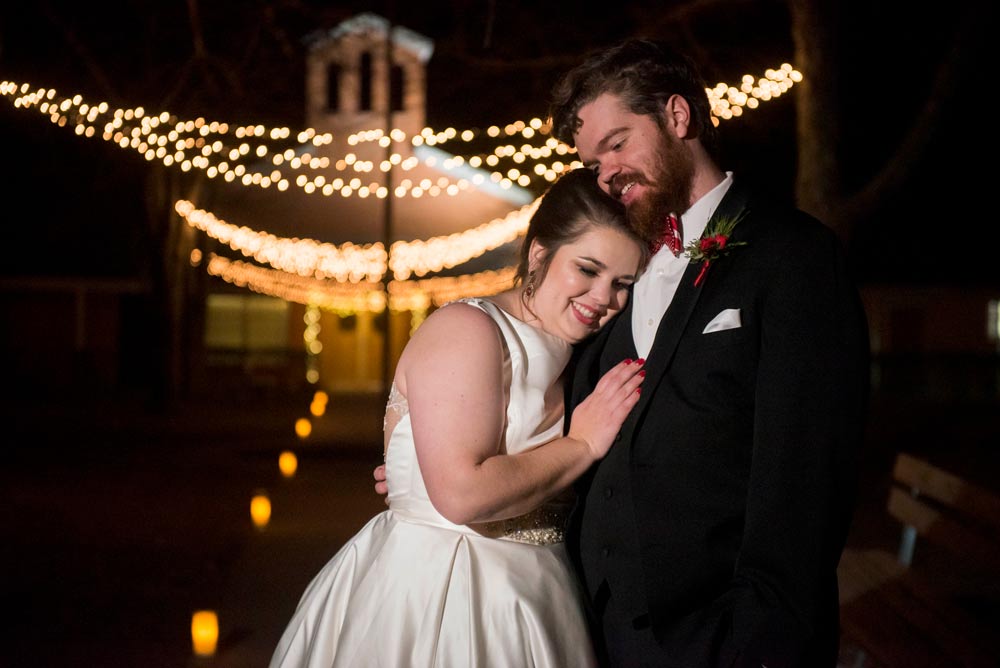 You can string them up on existing structures or easily put a few poles across the yard. The lights will create that warm environment and look really cool in photographs. The best part is they are pretty cheap!
If you still don't have enough light, try adding a few other pieces around the area. You can use lanterns or candles. Again, they add light but it's not too overwhelming and creates that feeling of home.
Transform Your Pool
Some backyards have pools, and that might seem like a real issue. Really, though, it can be hidden relatively easily or made part of the day.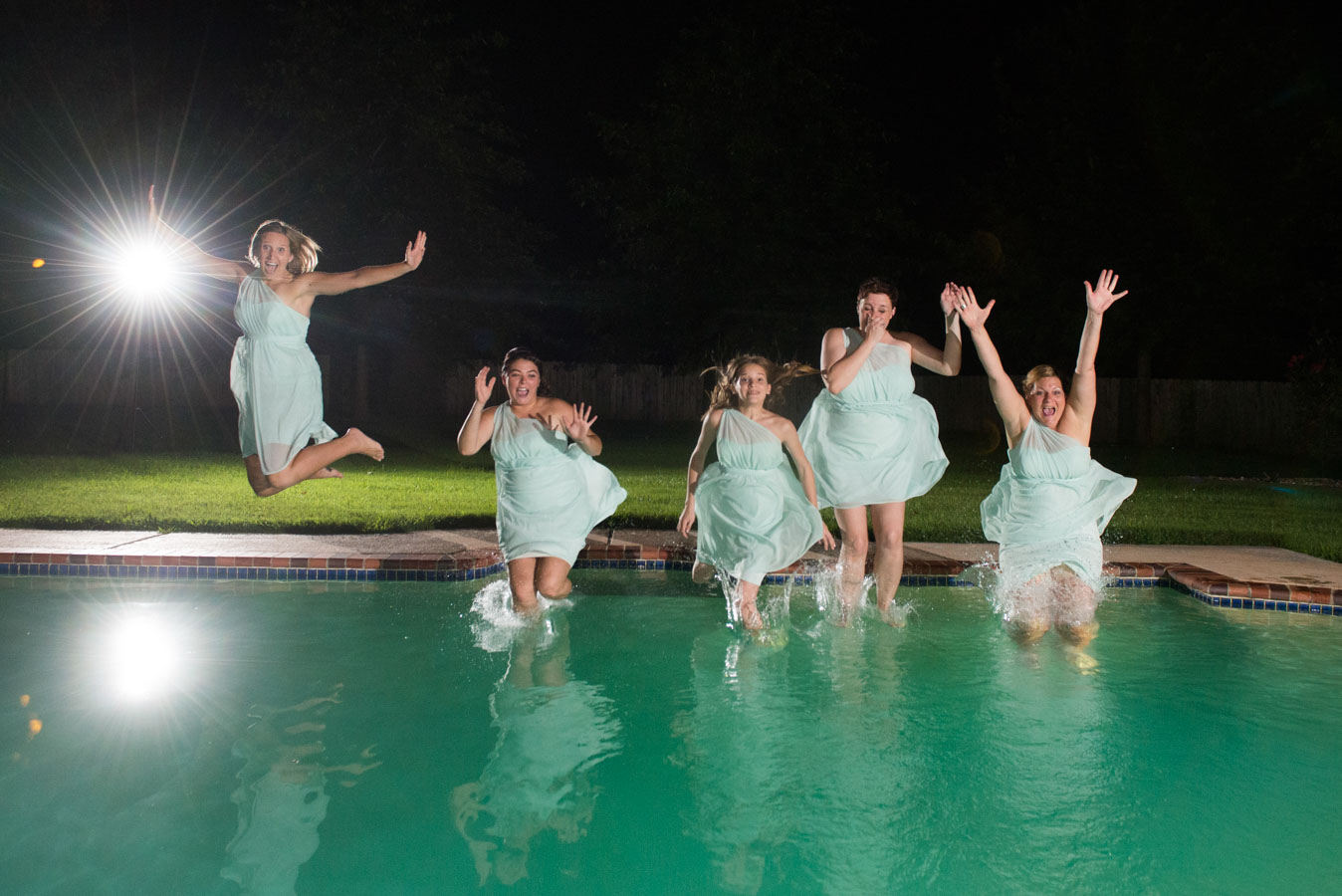 If you are wanting to hide it, you can use a normal pool cover and then hide it more with wedding decor like flowers or you can put a row of chairs in front of it. Other times, the pool might take up a majority of the backyard. Then, you will want to find something sturdy to cover it, so people can walk across it. A rental company might have something or you might have to create something on your own.
Depending on the style of the wedding, you might just leave the pool open and people can enjoy the day from the comfort of the pool.
Include Pets
A lot of couples have pets that are more like children, and they will want to include them in the wedding. The problem is that most wedding venues will not allow that.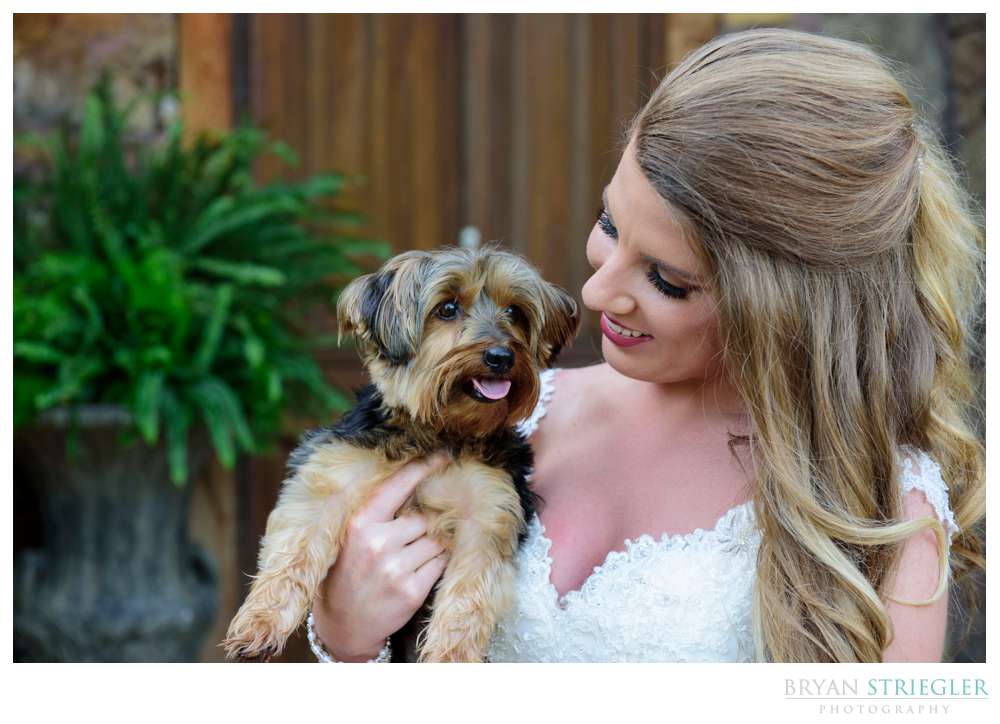 Home weddings provide a number of benefits for animals. One, if you are using your home, they will already be comfortable with the environment. Two, most backyards have fences, so you don't have to worry about them running off.
If you are using someone else's backyard, make sure to ask permission before including your pets in your wedding day.
Throw a Backyard BBQ
One of the great things about planning a backyard wedding is that you can really make it whatever you want. You don't have to treat it like a traditional venue; you can get creative. How about a BBQ?
The great thing about a BBQ is that you can still choose to hire a caterer or a guest can do all the cooking for you. You can serve your favorite grilled meat and make it a potluck. If you want to get really creative, add in some of the side dishes people love at BBQs like potato salad or coleslaw.
Hire a Live Band
Here's a wedding idea that I love! I always love it when a bride and groom choose to have a live band at their wedding, but it can really add to a backyard wedding.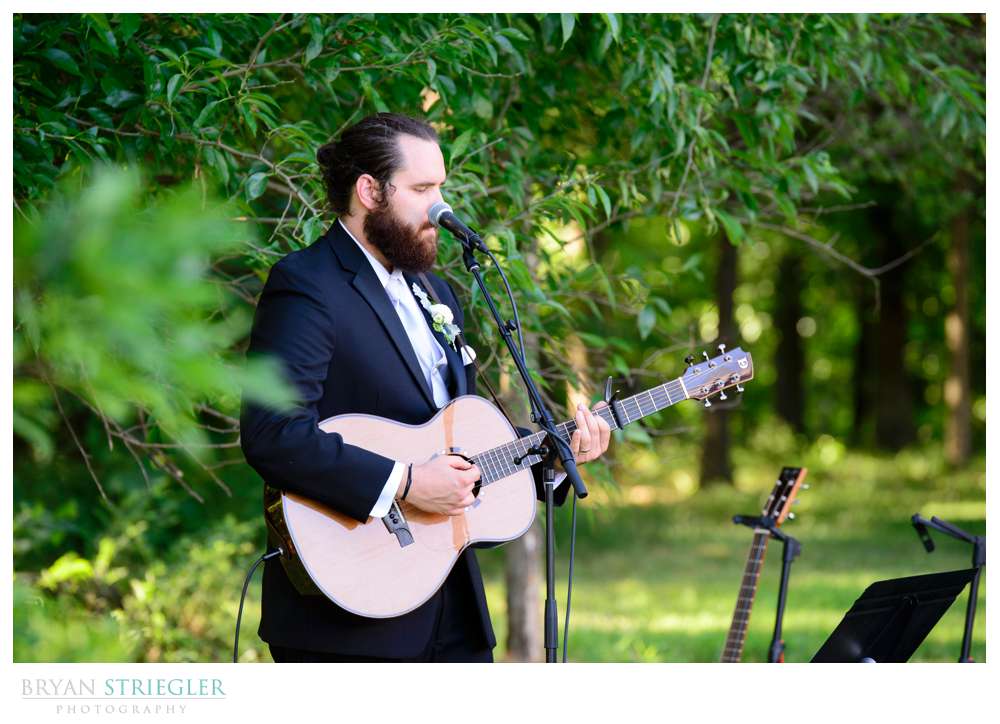 A live band will add real life and energy to your backyard wedding reception, which is something you are going for! There's nothing wrong with a DJ, but it's just a different feel.
Some bands will be more expensive than others because they offer different services or are popular in your area. You can always ask friends and family for referrals too!
You'll want to find a band that specializes in outdoor weddings or at least has experience playing outside. Going with an acoustic set might be better if you don't have power outlets near the area where they perform, but it's better if you can have speakers and the full experience. Be careful with how loud things get. Remember to talk to your neighbors before the wedding day.
Have fun with Games
Most likely you'll need to flip the setup for the backyard from the ceremony to the reception. You'll need something to keep your guests entertained. Drinks are a big help, but also, give them plenty of games to play!
The amount of games and types you choose will depend on the amount of space you have in the backyard. You might have enough room for several or only two. You might be able to fit something huge like a volleyball net or something much smaller.
The most common games are cornhole, giant Jenga or checkers, Bocce ball, or even croquet.
Another great thing to do is to customize all of your games. You can put your wedding date, names, initials, or even your wedding catch phrase. The great thing is that you can keep the games and every time you play, you'll see this and remember your wedding day.
S'mores Station
Do you know what's great year round? S'mores! It doesn't matter if your wedding is in the summer or winter: you need a S'mores station. You can do the traditional way with a bonfire or small fire pit or you can use candles. Just make sure that someone is monitoring the children to make sure no one gets hurt.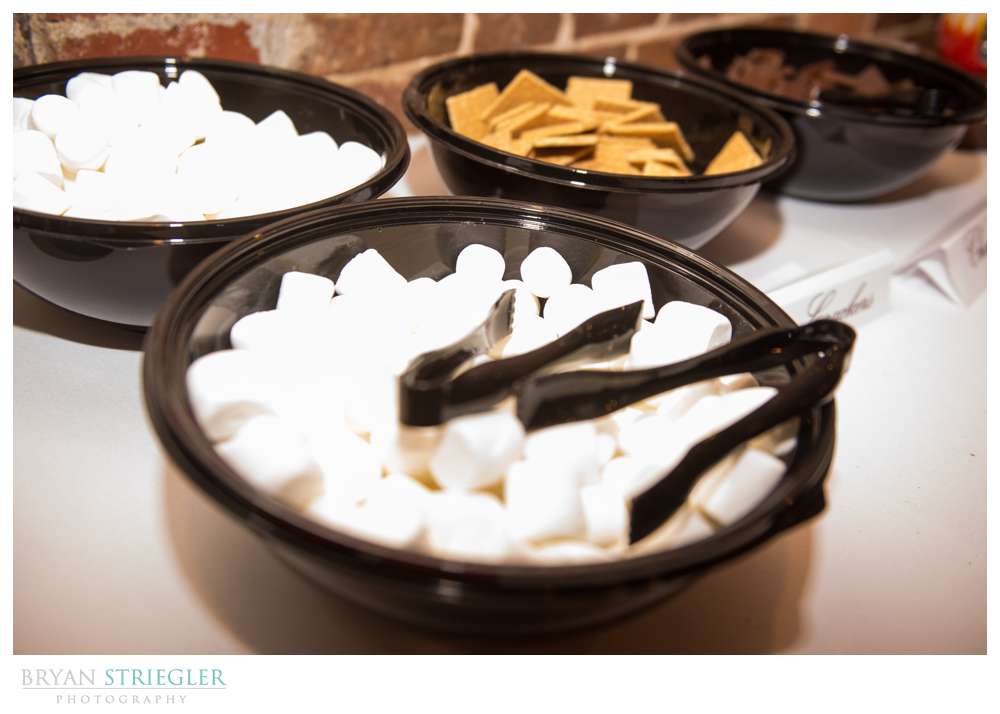 Use Hay for Seating
Renting chairs can be expensive and they might not do so well in a field. If you are going for a rustic wedding, skip the chairs and by the smaller, square hay bales. They are relatively cheap, can be reused afterwards, and you might already have some laying around.
The bales of hay can be used the way they are or you can dress it up by putting a cloth over it or burlap.
Adding Tree Décor
Most likely you will have some form of trees in your backyard setting. A great wedding to add to your wedding decor is to decorate the trees. It can be something as simple as a string of lights or you could use lanterns or go with something unique like photos of the couple.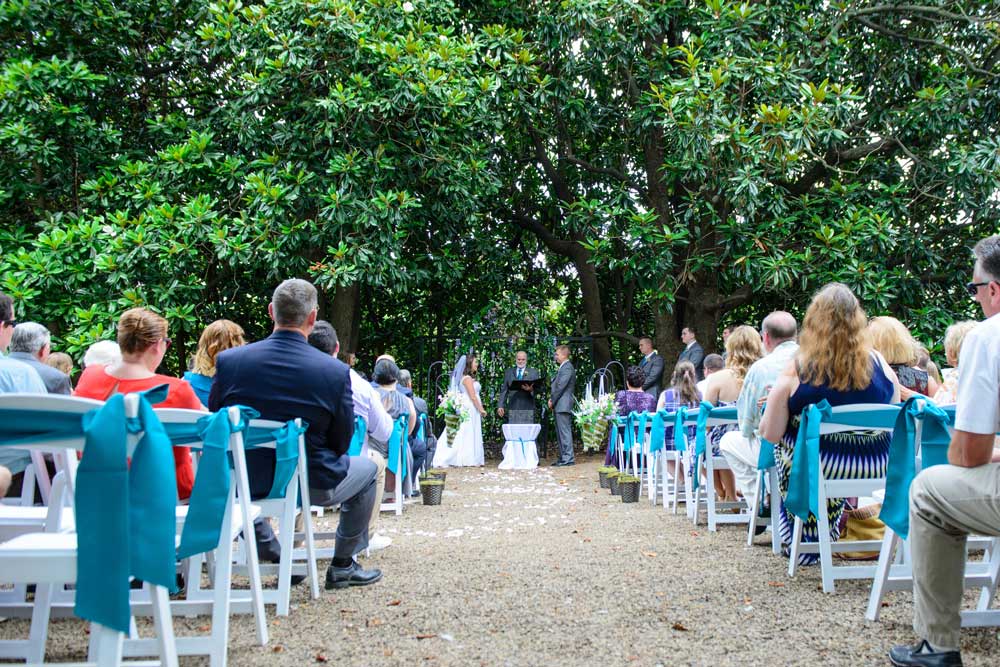 Creating the Perfect Backyard Wedding
The backyard can be a great venue for your wedding, but there are some things to consider. You'll want to make sure that you have the perfect location that can serve all your guests. Don't forget about power outlets and bathrooms. Also, make it special by adding your own special touches like fun games or a live band. Last, make sure you have some help. If you can, get a wedding planner to help with the whole process. If you do all of this, you'll have the perfect backyard wedding.