Planning a wedding abroad sounds like an amazing idea. You and your spouse-to-be can share in the excitement of planning, exploring new cultures, and maybe even meeting some new friends along the way. But when it comes to actually executing that plan, you might be feeling overwhelmed by the details.
This post is here to help! I've compiled a list of tips for how to make sure your international destination wedding goes off without a hitch so that everything is perfect on your big day!
What are the benefits of getting married abroad?
Many choose to get married abroad because of all the benefits. You and your spouse will be able to share in the excitement of planning, exploring new cultures, and maybe even meeting some new friends along the way.
Think about it, almost everyone you know will do a normal wedding. You are different. With a wedding abroad, you will get to see a new place and new culture.
This also means you can pick a beautiful location for your wedding photos that you would never be able to do if you had a normal wedding. You could have a beach wedding or go to France or Italy!
I know many people who get married abroad and they say it was one of the best decisions they have ever made!
How much does it cost to get married abroad?
Another possible benefit of a destination wedding abroad is saving money. In some countries, it is cheaper to get married than it is in your own country. Things like food, hotels, and services might be half the cost of what you would pay at home. In Mexico, you can get married at a beautiful resort for the same price or less than what it would cost to have a small wedding at home.
Many of these resorts will also have wedding packages. They might include a photographer for the wedding day, the wedding destination, and other items for the wedding party like champagne and food. 
On the other hand, there are some locations that might be double the cost. Bigger and popular countries like England, Japan, and Australia are more expensive to get married in.
What about our guests? Do we pay for them? This really will depend on you and your budget situation. Yes, having a wedding abroad might add some extra expenses to your guests like flights and hotel. You can choose to cover some of it or none of it.
Most likely, if you are planning your wedding abroad, you will have a smaller guest list because of that cost. The good news with that is that it will actually save you money.
How do I plan a wedding from afar?
The biggest struggle with planning a wedding abroad is the planning. Planning a wedding in your own location is hard, but how do you do it when you aren't there?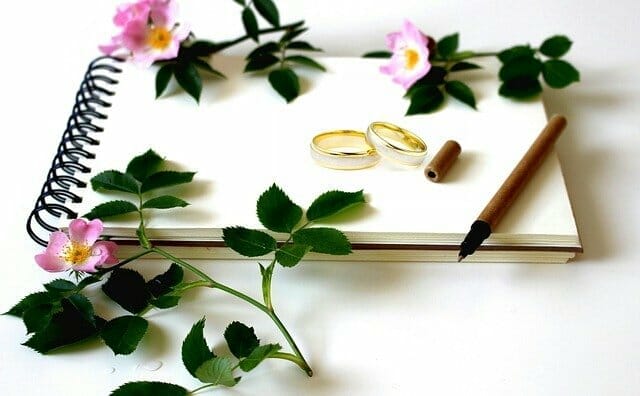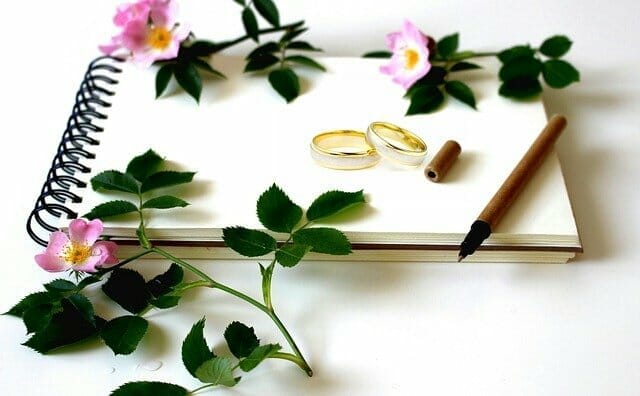 The first step is to set up an online wedding planning binder just like you would if you were planning a wedding anywhere else. It will be there to guide you through the whole process. As you go through the process, make notes and put things in the right place so you stay organized.
Next, do your research. Again, this can be very similar to planning a wedding at home. You can go to Google and do a search or ask for suggestions on Facebook. First, you'll need to figure out the wedding destination. After that, you can start looking at all the wedding vendors in that area.
One big difference is you won't be able to meet these vendors face to face or visit the wedding venue. You can still make it work. Set up Zoom or phone calls or maybe do virtual tour of the wedding venue. This way, you still get to really know the people you are hiring before making the final decision.
Should I hire a wedding planner or DIY my own wedding abroad? 
If all of the process above seems way too overwhelming, hire a wedding planner who can help you simplify things! I suggest a wedding planner for normal weddings, so destination weddings are even more complicated. He or she can take on most of the work for you. Most likely he or she will be local, so he or she will already know and have a relationship with plenty of the wedding vendors, wedding venues, and know how things work in that country.
Hiring a wedding planner can be pricey and take up part of your budget, but if you want to avoid all the headaches and save time, it will definitely be worth it. Wouldn't it be worth it if you could go on with your life knowing that everything was taken care of and just show up for your wedding abroad?
What are some popular destinations for weddings abroad? 
When you are planning your wedding around where you live, you are limited to what's available. The great thing about having a destination wedding is that your options are nearly unlimited!
There are many popular destinations for your wedding abroad. You could go to a European country, like Paris, and have a destination wedding in the heart of one of the most romantic cities. I know I would love to go to Germany for all the history and unique culture.
Another popular option is getting married somewhere hot! Most couples think the Caribbean is a great option. Places like Jamaica, Cuba and Aruba have beautiful views to match their warm weather.
Thailand will always be another very popular place that people go. Thailand is costs very little and has a ton of different options from beaches to mountains.
How to Choose a Wedding Venue for your Destination Wedding
After you've decided on a country or location for your wedding abroad, you still have to figure out the wedding venue. Some places will have it all together in one place like a resort. You can basically show up there and do have it all in one place: a wedding, food and drinks, a hotel, and a wedding!
Another option is to find a local wedding venue. Most popular destinations will have plenty of options for you to choose from. As I mentioned before, you can find most of them through Google or using a planner.
There are some things to consider when looking at venues. Cost is always going to be a big factor. If the venue is really important, you might want to put a large part of your budget toward it.
How much space does the venue have? Most likely you won't have ton of guests, but you don't want them to be crowded. I know I've seen some beach weddings where random people are walking all around. For me, that would really take away from the moment.
Also, make sure to look at the food and drink options. Do you want to match the cultural style of the place and region or do you care more about getting something everyone likes?
Consider the destination country's culture and customs 
While you are looking at all of your options for a wedding destination, make sure you think about the country's culture and customs. Part of the culture will affect how much fun you will have. Is the country known for big parties and festivals? Do you love certain things about their culture?
You must also look at the other side: what does their culture not allow? Some countries might have restrictions on alcohol, how you dress, where you go, and where you can take pictures.
The culture of the country will also affect your wedding dress, and how much it costs to get married there. For example, in many countries outside of America, people wear casual clothes for their weddings- this means that if you want a more glamorous affair with lots of dresses or suits go somewhere else.
Research the legal requirements for getting married in that country 
Just like culture is different from country to country, so is the law. In America, you have to do certain things before getting married. In many other countries, however, you won't need a license or documentation to get married.
If either of your parents were born overseas you might have to go through the process for getting citizenship in that country before being able to marry there.
In other countries, you can't legally get married there. Yes, you can still have your wedding ceremony there and celebration, but it won't be a legal marriage.
You can find most of this information by searching the country's government website. Another option is to talk to your wedding planner if you hired one. Most resorts will also help you take care of all the requirements.
Choose a location that is easy to get to from your home country, but still has plenty of things to do on holiday afterwards 
Part of the struggle of a wedding abroad is actually take the trip and getting to your wedding destination. You'll have to bring your wedding dress, the tux, other wedding items, and all the other things you'd normally bring on a trip. That's not easy!
You might want a location that isn't that far away from home. If you can possibly drive, that will allow you to bring a lot more than you can fit on a plane. Imagine handing off your dress to an airport attendant. Who knows how they will treat it! You also don't want to waste a large chunk of your vacation time being on a plane flying or adjusting to time changes.
While your main focus is the big day, you'll want to make sure you have fun things to do after. Most couples that choose a wedding abroad turn it into a honeymoon as well. If you choose to get married at a resort or beach, you can do the wedding one day and then spend the rest of relaxing and enjoying the stunning view!
Consider the time of year and season
Around where I live, the weather is so different throughout the year. It can get up to 100 degrees or we can have snow. This is something you need to think about while planning your wedding abroad.
Weddings abroad will be highly affected by the time of year and season. If you are wanting a winter wonderland, you can't expect to have a tropical destination wedding. If you are wanting lots of color and beautiful foliage, you probably don't want to aim for the winter months.
If you are considering having an outdoor ceremony, it is important that the weather be agreeable for this as well. You don't want your guests freezing in their seats or sweating through their clothing during your big day!
Make sure you have enough time off work before and after your wedding day 
Like we mentioned above, you want this to like a honeymoon. That means you'll want to plan for a least a week off from work or more. Plan for two of those days to be on your flight and then another day for the wedding.
That leaves you with 4 days or more to enjoy the local sights, explore the culture and taste new food. Depending on where you choose, you could visit a nearby island, do an excursion, check out all the night life. Others will want to spend the time sitting by the pool or beach and relaxing.
Planning the Perfect Wedding Abroad
If you're looking for a destination wedding, consider some of these popular destinations for weddings abroad. All have the potential to offer an unforgettable experience that is all your own! Whether you are considering getting married abroad or just want to know more about other people's experiences with it, we hope that our advice has helped and we wish you luck on your journey towards happily ever after – wherever life takes you!!