Planning a wedding in 3 months can seem like an impossible task, but with the right planning it is not only possible, but also really fun and get almost everything you want! This blog post will outline all of the steps that you should take when planning your wedding in just three short months.
Can a wedding be planned in 3 months?
I've been photographing weddings for close to 12 years now, and traditionally, people will give themselves over a year to plan a wedding. Lately, it seems like couples are planning a wedding in a much shorter time. The shortest for me so far is one week, and it was great! If they can do it in 1 week you can do it in 3 months.
Why would someone plan a wedding in three months?
There are plenty of reasons why someone is getting married in a short time span like 3 months. I've heard of weddings happening a week before the groom leaves for his deployment, weddings when someone is too excited to wait, or people who are planning their destination wedding with limited time. Others are procrastinators and wait to the last minute to start planning.
It doesn't matter what the reason is once you've made up your mind to get married on short notice, you need to buckle down and get started.
Basic Steps for Planning Your Big Day
Below are the general steps we will go through to plan your wedding in 3 months. I'll go into more detail about each one and the timeframe for them after.
1. Find a venue/Pick a Date
2. Hire a Wedding Planner or not
3. Book vendors like photographers, videographers, DJs/bands
4. Choose a color scheme and theme for your wedding day 
5. Decide on your wedding dress
6. Start planning the guest list and wedding party
7. Figure out what food you want to serve at the reception
8. Order wedding invitations 
9. Honeymoon
10. Decide on your suits, bridesmaids dresses, or wedding attire
11. Marriage License
12. Book vendors like florists, baker, makeup artist/hair, and caterers 
13. Plan decorations
14. Find someone to officiate the ceremony if needed
Before we jump into all the details, I want to say that this order and timeline isn't set in stone. Some things you might already have figured out and some things can happen before others. Feel free to follow the plan exactly how it is laid out or switch things to make sure you have enough time.
Breakdown of the Wedding Planning Timeline
After seeing that list, I'm sure you are a little overwhelmed of all the things you have to get done. That's ok! You can do this. The key is to break everything down into small steps like we did and make a plan of when to do each thing.
One week you will focus on a few items. The next week you will do a few more, and the last two weeks you will handle the rest. Don't look at the big picture. Focus on what you need to do each week and each day.
Week 1 -3 Wedding Planning
Week 1: Pick a date and venue, hire a wedding planner
Week 2: Hire photographer
Week 3: Book videographers, DJs/bands,
Week 4-6 Wedding Planning
Week 4: Color scheme/theme, Wedding Dress,
Week 5: Guest List and Wedding Party, food
Week 6: Order Invitations
Week 7-9 Wedding Planning
Week 7: Plan honeymoon, marriage license
Week 8: Book florists, baker, and caterers 
Week 9: makeup artist/hair
Week 10-12 Wedding Planning
Week 10: Decorations, Officiant
Week 11-12: Finalize and finish any other unexpected issues
Find a venue/Pick a Date
The very first thing you will need to do is find a wedding venue and pick a wedding date. If you haven't already picked a wedding date, I would suggest you start first with the venue.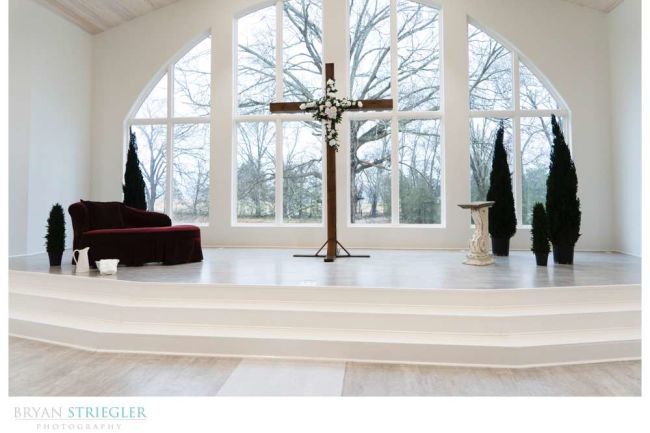 With it being such a last minute wedding, most wedding venues will have all Saturdays booked. If there is a particular venue you really like, you can probably get it, but you will have to choose a Friday, Sunday, or possibly other weekday.
This is going to be the same issue for booking most wedding vendors. Saturdays are usually booked out 6-14 months in advance. Choosing a non-Saturday is going to make it easier to book all the other wedding vendors.
The only real downside to this is it might make things difficult on your guests. The last minute invite will be tough enough on lots of your guests, but make it a weekday means they also have to get off work.
When you start looking at venues, try to make it as quick as possible. Find some that you like and are in your price range. Then, skip all the phone calls and emails and go directly to visiting the venue. Once you are there, you should get a good feel for the place. I'd still follow some of these tips for picking a wedding venue, but the decision has to be made faster.
Should you Hire a Wedding Planner?
Planning a wedding is tough for people when they have over a year to do it, so figuring out all the details in three months would be so much harder. I would highly suggest hiring a wedding planner. If you are unsure, here's some questions to ask about needing a wedding planner.
A wedding planner will be able to do the majority of the work for you like help hire wedding vendors, figure out travel arrangements, create a wedding day timeline, or how to decorate the ceremony and reception.
Yes, you could do all of that on your own, but that's their job. It's something they do all the time, so it will be much faster and easier with their help.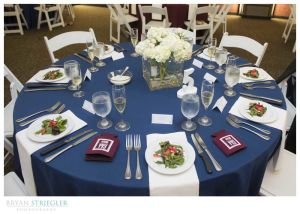 The only time I would recommend not hiring a wedding planner is if you are doing something super small or a court house wedding. For those types of weddings, there is very little planning or preparation.
A wedding planner is another thing, if you decide to hire one, that you want to get done that first week. You need them on the job as soon as possible.
Book vendors like photographers, videographers, DJs/bands
Just like with a normal wedding, photographers, videographers, and the DJ need to be booked early. Some of them can only handle one event at a time, so once they are booked, they are no longer an option.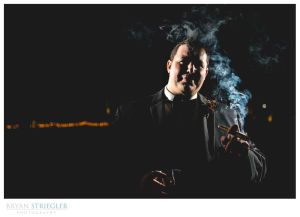 Almost everyone hires a photographer, even if the head count is low and you aren't planning anything grand. A photographer will help you remember your big day.
You might be limited on your options, but here are some questions to ask before you hire a wedding photographer.
Whether you get a videographer and DJ will depend on your budget and what you are wanting. I really think videographers are important, but if it's a really short day, there might not be enough footage to make a good wedding video. The same goes for a DJ. If there isn't time for dancing, you might not need to hire one.
Aim to hire all of these in the three weeks if possible, so if you are having trouble finding a photographer or videographer, you will want more time to find one.
Pick a Color Scheme or Theme
Even if you want your wedding to be low key, you will still have to make some decisions about the overall appear of the wedding. The color scheme will affect things like your dress, your invitations, your cake, your decorations, and possibly what your guests wear.
Your coordinator can help you with this decision if he or she has an overall visions for the wedding. If not, you can look on Pinterest for inspiration or real weddings on Google.
I love the idea of a themed wedding. They are fun, interesting, and unique. It can be something big or small. If this sounds like something you'd be interested in, check out these unique wedding theme ideas.
No matter what you decide to do with your color or theme, don't let it be too overwhelming. Remember you are trying to put together a wedding in three months. You won't have time to hunt down a bunch of crazy details or wait for an order to come in.
Decide on your wedding dress
Finding your dress might be a bit difficult. Many bridal shops require appointments and that could mean weeks of waiting. You might need to be more creative in your search.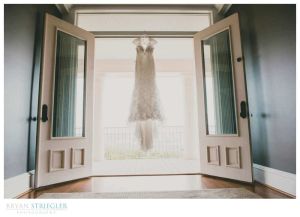 Start with the bridal shops that are local to you and see what they have available for try-on appointments. If this isn't an option, find a number of dresses online or go into stores like Macy's which usually allow customers to shop their sale racks without trying on before purchasing.
Most dresses also need alterations, which again, takes time. Most likely, you will want to find a dress that fits as is or get it as soon as possible.
Guest List and Wedding Party
When you are planning a wedding in 3 months, you don't have a lot of time to think about your guest list and wedding party. If you want a full run down how to make your guest list, check this post out.
Start by making a brief list of your closest friends and family. Then, have a family member go over it to see if you are forgetting anyone. Don't worry about getting every single person you know. The key is to get this list made quickly, so you can send out the invites.
The same goes for a wedding party. You might not be able to have everyone in your wedding party. Some might already have commitments. Many couples choose to skip having groomsmen and bridesmaids in these situations.
For the wedding planning timeline, try to get your guest list done and talk to the potential wedding party by the 5th week or earlier.
Pick Your Food and Catering
Now that you have an idea of how many guests will be at your wedding, you can pick your caterer and the type of food. First, pick your food. What type of cuisine are you thinking for dinner? Asian, Mexican, American/Traditional – there's no right answer here! Will you do a sit down meal or buffet?
One thing to still keep in mind is that your food choices will need to meet the requirements of your guests. What would most people like? Is there anything you should avoid?
Do you want your caterer to do the rehearsal dinner or do you want to do it yourself or use a local restaurant?
Order and Send Out Wedding Invitations
With the short wedding planning timeline, you will most likely tell the important people about the wedding through calls and messages, but it's still nice to send out official wedding invitations if possible.
Before you order, find out how long it will take to print them and get your order in your hands. Some companies can do it in 3 days and others take over 2 weeks.
Book Your Honeymoon
In some cases, when you plan a wedding quickly, you are planning on eloping or doing a destination wedding. If that's the case, you are already going on your honeymoon.
For other people, you will need to plan your honeymoon. A lot of the times, you won't be able to have it directly after the wedding. These trips usually have to be booked in advance.
One option is to take a small trip right after the wedding, and then plan a honeymoon in the future. It could be a few months later or it could line up with your 6 month or 1 year anniversary.
Order Suits and Bridesmaid
If you choose to have a wedding party, they will need suits and dresses.
Normally, you would make sure to order these items well in advance so that you can ensure they are available when you need them and they fit.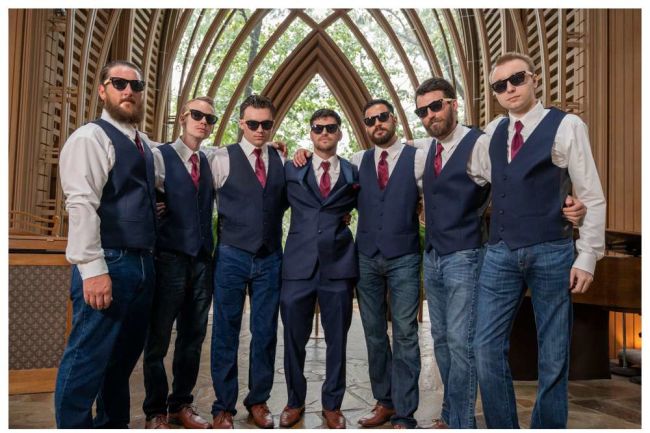 If you are concerned about suits and dresses coming in on time and fitting, you might go with something more casual. See if you can order outfits from a local store, so you would have it right then and know they fit.
Get the Marriage License
Another important thing you need to take care of is the marriage license. This is an important document and you need to make sure it is taken care of in a timely manner.
Check with your state government to learn about the process. Some require they be turned in by a certain date, need signatures of different people, and the time it takes to receive it will vary.
Book florists, baker, makeup artist/hair, and caterers 
There are some vendors that can handle multiple weddings in a single day, so you don't have to be in as big of a rush. These last vendors will need about a week's notice, but they still should be good.
Now, if you have someone in mind and really want them for your wedding, like a baker, then ask them much earlier in the process. The longer you wait, the more likely they will be busy.
At this point, you should have a good idea and vision for your day, so it will be easier to explain what you want to all of them.
Plan and Buy Decorations
Most likely if you are planning a wedding in 3 months, you will need to be pretty simple with your decorations. Still, you want everything to look beautiful. The planning might have started earlier if you have a wedding coordinator, but you can still come up with some ideas in the last two weeks.
At this point, you'll need to get all of your decorations together. Aim for things that you can find locally, so there is no chance of it not showing up.
It's also important to plan when you will set all of this up. Will you have the day before or will you have to do it in the morning? Who will be in charge of bringing everything and setting up? If you have a coordinator, he or she can take care of most of this.
Pick an Officiant
You are almost done with all the wedding planning! The final thing you need to do is find someone to officiate the wedding. If you already have someone in mind, ask them much earlier in the process.
If not, you can find someone of Google. There are plenty of professional officiants out there that can be ready in a few days or even the day of.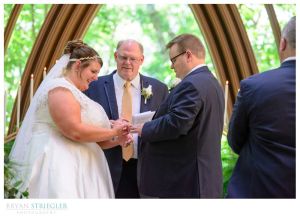 Make sure, though, that the officiant is licensed to officiate weddings in your your state. You can also request a specific religion or type of ceremony. For planning purposes, make sure to ask how long it will last, and don't be afraid to ask for something shorter.
If you are worried the officiant won't know you very well and it won't be personal, write your own vows. That way you can say exactly what you want and your guest will enjoy it that much more.
Things you might not have time for
With such a short time to plan a wedding, you are going to miss out on some things. For most, they are fine with that, and these things would be an extra distraction, but here are some things you might not have time to do.
-engagement photos

-engagement party
–

wedding website

-save the dates

-seating chart
-rehearsal dinner
Ways to Save Money While Wedding Planning
One good thing about planning a wedding in 3 months is you can save money! Many vendors offer specials packages in case of weddings with short notice. When a wedding is a few weeks away, it's unlikely anyone else will want to book that day. It's better to book a wedding and get paid than sit around.
Another trick is to have your rehearsal dinner at the venue you are having your wedding so that way you can save money on rentals or tables for it! The venue might also let you do it for free or give you a special deal.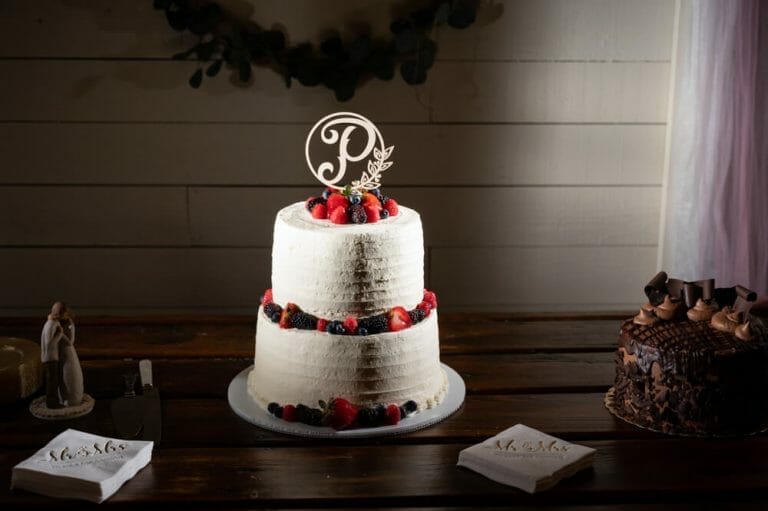 One of the best ways to save money is to do a non-Saturday wedding. Saturdays are the popular days and easiest to book. At times, I've had 4 couples fighting over the same date. If you choose a Friday, Sunday, or weekday, there will be little competition. Again, most vendors would be willing to give a discount to get the job.
Strategies for Planning a Wedding in 3 Months
Planning a wedding in 3 months might sound impossible, but it can be done. You just need to create a plan for all the things you need to do and schedule out each task ahead of time so that you know what needs your attention on any given week. Once you have this wedding checklist set up, then it's as simple as knocking out some tasks every week until they are finished – which will feel much less daunting than trying to tackle everything at once. Focus on the cake one day, then a list of your family members another. Keep going and you'll get it done! Do you think you could plan a wedding in 3 months?