I love doing bridal sessions, but there is one major issue. I have to wait till after the wedding to show any of them off, and I don't like waiting! My kids are the same way. I'll be baking cookies and they will keep asking me over and over again if they are ready. Holden will even sit there and stare at the timer, waiting for it to go off. Anyway, my waiting is over! Remmy and Jonathan's wedding was a blast, and now I can show off her beautiful bridal portraits at the Brick Ballroom.
Remmy's Bridal Portraits at the Brick Ballroom
Remmy had an idea for her bridal portraits. She wanted to do something in a big open room with bricks and windows. There were a few places I already knew of, but I wanted something perfect. I threw out a message in our Facebook group, and Heather, the owner of the Brick Ballroom, was kind enough to volunteer her venue. I had never been there before, but I'm so glad we got to work there.
The Brick Ballroom is located in downtown Siloam Springs, and it has an interesting history. The building used to be a Chevy dealership way back in the day, but recently, it was just used for storage. Heather has another store on the same street, and eventually, she purchased the building and renovated it into the beautiful place it is today.
The Brick Ballroom has some really cool features. It is a very open layout. You walk in and there's one large area in front of you, and then to the right is another large area. This is great because you can have the wedding in one area and have the reception set up in the other area. Then, when it is time for the reception, you have the other space for people to wander around in. Besides that, there's an upstairs area overlooking one area and a bridal suite. All around the building, you have giant windows, brick walls, and lights strung around the ceiling. It's a very beautiful and unique building.
I really had fun working with Remmy. She brought several people along, so it was easy to move from one place to the next and we had plenty of things to talk about. We spent the majority of the time inside the building. We moved from one section to the next, used a stairway, and did a lot of work in front of the amazing windows.
For the last part of Remmy's Bridal Portraits at the Brick Ballroom, we went outside. That's another great thing about the location. You have all of these old buildings around and a park right next door. It was hot outside, so we only used one outside location. We went to an alley across the street. There was green ivy all on the wall and another set of metal stairs.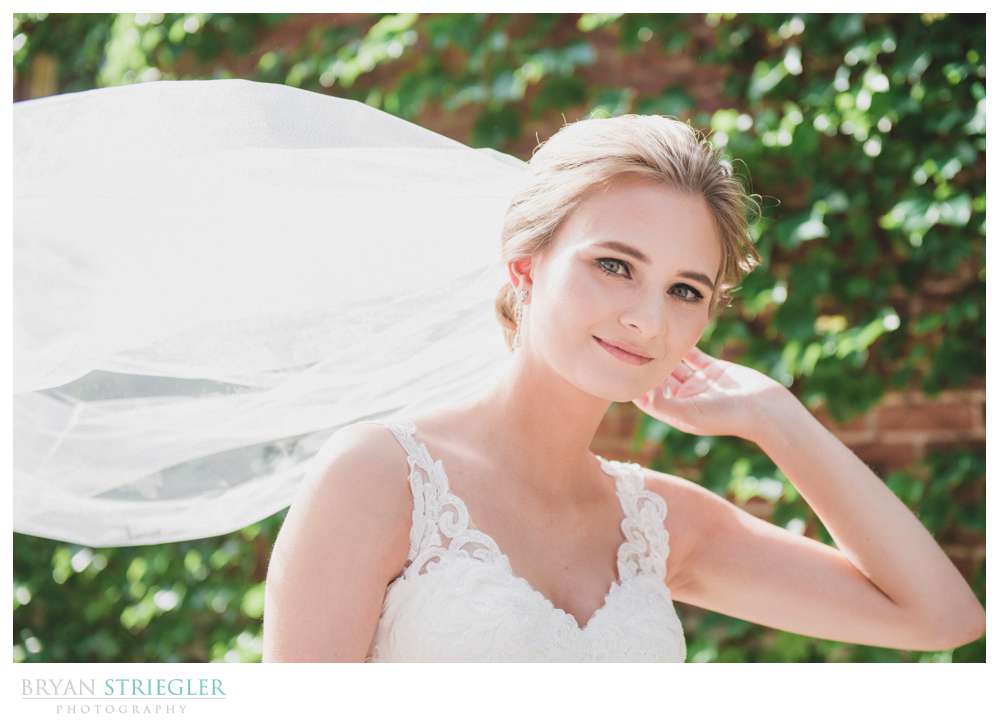 Remmy's Bridal Portraits at the Brick Ballroom were a lot of fun, we got some beautiful photos, and I got to check out an amazing new venue. Hopefully, I'll get to photograph a wedding there in the near future. Also, I'll be posting Remmy's wedding photos soon, so that's exciting.