The wedding world is full of surprises and St. Catherine's at Bell Gable wedding venue is one of those surprises. It is a hidden gem of a wedding venue that's about 5 minutes from where I grew up in Fayetteville AR, but I had no idea it was there. It's kind of like something out of a book. You are just traveling down a normal road, and then all of a sudden there's this magical place.
St. Catherine's at Bell Gable Wedding Venue
St. Catherine's at Bell Gable wedding venue really is that awesome. It has several nice features that can accompany almost any bride. It's most known for its stone chapel. It's not very large (holds about 30 people), but what it lacks in size it makes up in beauty.
It's great for smaller or elopement weddings, but many people choose to have the wedding in front of the chapel, and this allows for a much larger crowd.
Besides that, there are several other nice features. There is a large barn that can be used for a reception site or possibly even the ceremony. It's got a good amount of room on the outside and inside there is a first and second floor. Another plus to this is they have some farm animals right near the barn! I've seen a donkey and some miniature horses that you or your guests can go and pet.
Out in front of the stone chapel there is a creek and a small area that can be used for first looks or cutting the cake or just hanging out. They also have a swing that is fun for the kids or can be used in your photos.
Up the hill you have a bridal suite. It's a smaller building, but you can easily get changed there with your bridal party. Behind it is a forest area with a waterwheel that is really cool. I've done a few first looks there and some portraits of the bride.
Location of St. Catherine's
St. Catherine's is located on the west side of Fayetteville AR off Mount Comfort Rd. You can't see it from the road, but once you turn, you'll see a metal gate and a wood bridge.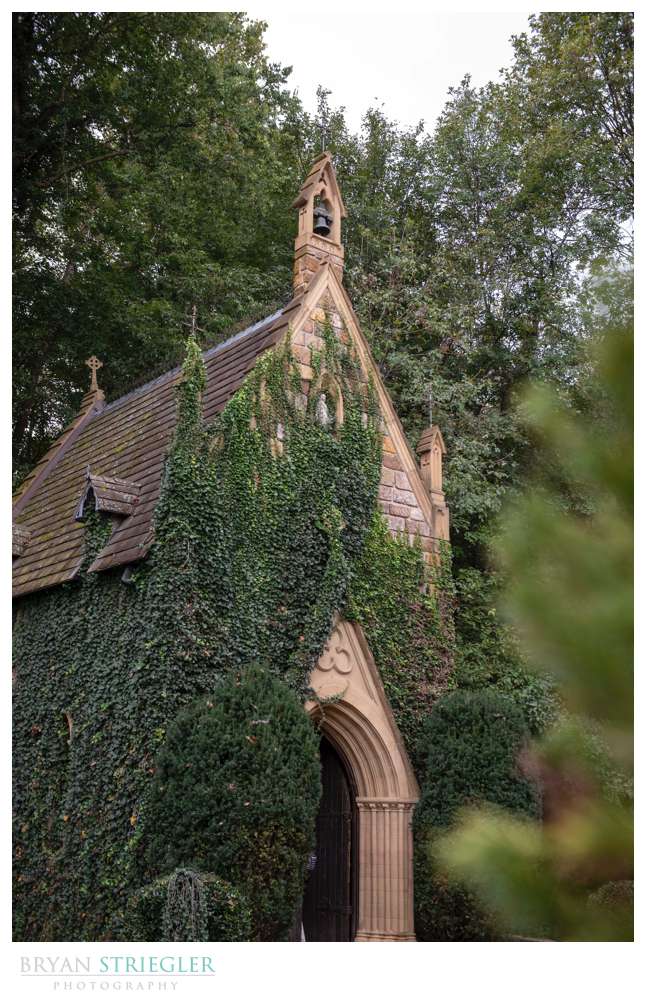 Once you cross the bridge, you will come out into a wide opening the it's like its own world. To the left is the barn. Straight up the hill is the bridal suite, and to the right is the stone chapel.
Availability at St. Catherine's
St. Catherine's  is a very popular wedding venue in Fayetteville. Most weekends they will have two or three weddings on the grounds. Each one usually lasts an hour or two.
If you are interested in having your wedding there on a Saturday, I would suggest you reach out as soon as possible. Elopement or weekday weddings are easier to book. I've heard of people planning a wedding there within a month or two.
I believe they have open houses on Sunday, so you can come and visit. Check first to make sure they don't have a wedding.
Other Bonuses at Bell Gable
One of the biggest bonuses they provide on your special day is the staff. They have a group of teachers that help organize and run things at the stone chapel. If you know teachers, you know that means things are run smoothly and are well thought out. They also can provide you with a preacher if you need one.
Another thing I love is that brides and grooms can rent an old fashioned car. It's usually used to drive the bride down from the bridal suite, but you can also use it for pictures later.
Cost
St. Catherine's is an affordable option considering some wedding venues in Arkansas charge over $7000. Depending on the size and amount of time, you might spend $300 to $1400. I think that's quite a deal for all that's available on the grounds, the helpful staff, and the beautiful stone chapel.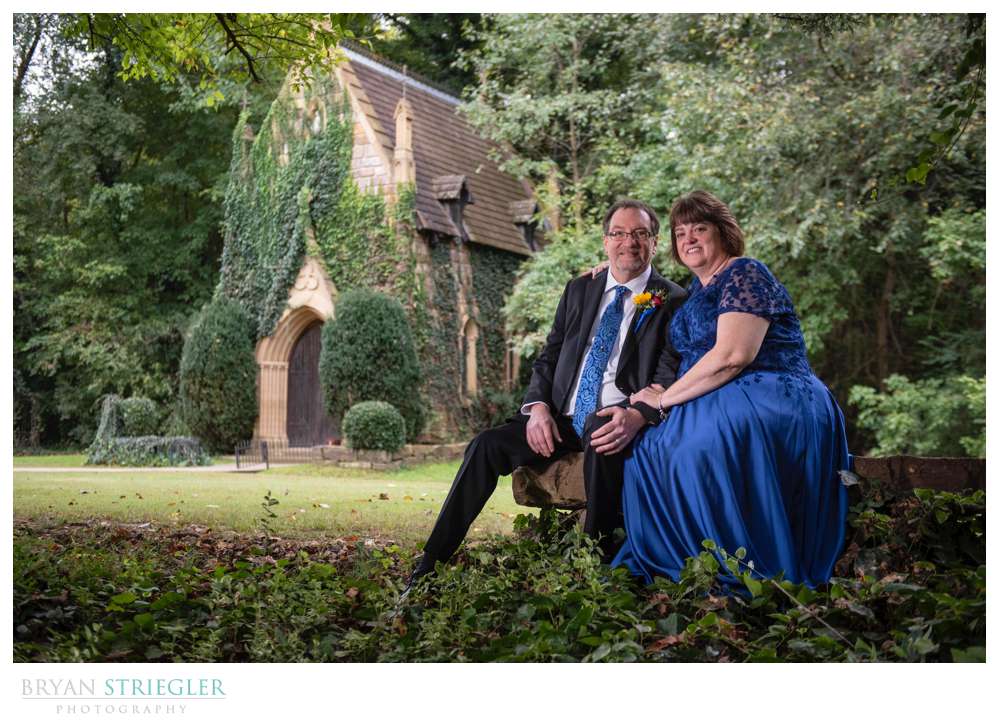 Weddings at St. Catherine's at Bell Gable Wedding Venue
I've been shooting weddings at St. Catherine's for several years now, and I always feel lucky when I get to photograph there. It's such a beautiful venue and the people working there are extremely nice.
Here are a few of my favorite weddings at St. Catherine's and the stone chapel.
This post isn't necessarily a review of Bell Gable, more of the features, but I would like to say that it is a lovely venue in Arkansas, and if you are looking for a place to get married, you should check it out. You won't be disappointed