The wedding food trends for 2023 are shaping up to be both creative and innovative. Couples are looking for modern dishes that will provide a memorable experience for their guests. Popular trends include personalized menus, regional cuisine, interactive food stations, and artisanal desserts. Personalized menus allow you to create a unique dining experience with signature dishes that express their individual personalities and tastes. Regional cuisine is another popular trend as it allows the bride and groom to highlight the flavors of their hometown or destination weddings. Interactive food stations provide an engaging experience for guests by allowing them to make their own creations with various ingredients and toppings. Lastly, artisanal desserts are becoming increasingly popular due to their beautiful presentation and unique flavors. No matter what type of cuisine you choose, 2023 wedding food trends promise to bring something special to your big day!

Overview of current wedding food trends
Wedding food trends have evolved over the years to include a variety of creative and unique dishes, taking into account the dietary preferences of all guests. For example, many couples are now incorporating plant-based dishes into their menus. Additionally, farm-to-table and locally sourced ingredients are becoming popular, as many couples strive to create a unique culinary experience for their guests. Similarly, food stations featuring interactive items such as sushi bars and taco stands are gaining in popularity as they provide guests with an exciting way to customize their meal. Finally, small bites and desserts served in edible vessels such as cones or mini cups are also becoming increasingly popular for weddings. By incorporating these current trends into their wedding menu, you can provide their guests with an unforgettable dining experience that is sure to be remembered long after the big day!


Preview of predicted 2023 wedding food trends
2023 is sure to bring some exciting wedding food trends! Couples are sure to want something unique and delicious for their big day, and luckily there are many options. Plant-based meals will continue to be popular, with more guests looking for healthier alternatives to traditional foods. Locally sourced ingredients will take center stage as people look for ways to reduce their carbon footprint. Additionally, smaller plates that allow guests to sample multiple flavors from around the world will be popular. Desserts like doughnuts with unique toppings and funfetti cakes will also be on the menu! Whatever trends come out of 2023, one thing is certain: you will have plenty of delicious options for their special day.


Traditional Wedding Food Trends
Traditional wedding food trends are evolving to reflect the changing tastes of the bride and groom. Couples are opting for creative menus that reflect their own personal style. For example, more couples are choosing to serve a variety of small plates instead of the traditional three-course meal. This allows them to offer a greater variety of foods while still keeping things affordable. They may also choose to serve locally sourced or sustainable ingredients, highlighting their commitment to sustainability and health. Additionally, more couples are choosing buffets or food stations rather than plated dinners in order to encourage guests to mingle and interact during the reception. Traditional fare such as prime rib, mashed potatoes, and vegetables is still popular, but couples are also incorporating international flavors into their menus. There's no doubt that traditional wedding food trends are changing with the times – and we think it's wonderful!

 
A. Traditional Wedding Appetizers 
Traditional wedding appetizers are a great way to start off any wedding celebration. They can add a touch of elegance and sophistication to the event while still keeping things light and fun. Popular traditional appetizers include chicken or beef satay, vegetable spring rolls, and mini quiches. These dishes offer something for every guest, allowing them to sample a variety of flavors without feeling overwhelmed. Other options such as shrimp cocktail, caprese salad skewers, and gourmet cheeses also make for excellent traditional wedding appetizers. Whether you choose one type of dish or mix it up with a few different options, these traditional wedding appetizers are sure to be enjoyed by everyone in attendance!


B. Traditional Wedding Main Courses
Traditional wedding main courses are often the centerpiece of a wedding reception. These dishes can range from simple comfort food to elaborate gourmet fare. Popular traditional favorites include roast beef, chicken, pork or lamb with gravy, potatoes and vegetables. Seafood dishes such as salmon with dill sauce or grilled shrimp platters are also popular choices. Vegetarian options like stuffed portobello mushrooms or quinoa-stuffed eggplant often make an appearance at a traditional wedding meal. Sides such as roasted root vegetables, mashed potatoes and steamed green beans can round out the main course nicely. Wedding guests will be sure to appreciate the thought put into preparing a delicious and traditional main course for their special day!


C. Traditional Wedding Desserts 
Traditional wedding desserts are a perfect way to add something special to your special day. From old-fashioned cakes and pies to delicate French pastries, traditional wedding desserts can bring the classic elegance of a bygone era to your celebration. Many couples opt for sweet treats like cupcakes, cake pops, or even doughnuts that bring a modern twist to the traditional fare. Regardless of what you choose, traditional wedding desserts are sure to be a crowd pleaser and set the tone for an unforgettable celebration. Whether you go with classic recipes like banana cream pie or choose something new and exciting like chocolate mousse cake, be sure to keep your guests in mind when selecting a dessert that will leave them with lasting memories of your special day.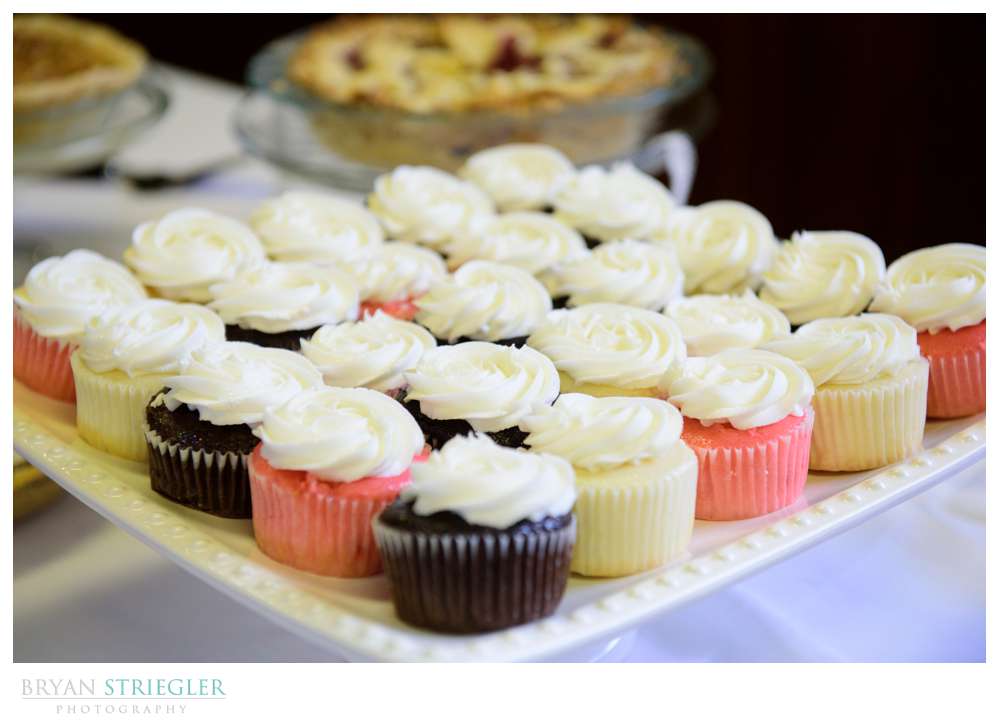 D. Traditional Wedding Drinks 
Traditional wedding drinks can be a great way to add a classic and timeless touch to your wedding reception. There are many traditional drinks that have been around for centuries, such as champagne, punch, and even beer. Champagne is a traditional favorite among couples getting married because of its bubbly taste and elegant feel. Punch is also a popular choice for receptions as it can be made in large batches and includes a variety of flavors. Beer is also a good option as it can be enjoyed by both the bride and groom's sides of the family. Additionally, any alcohol-free drinks such as lemonade or iced tea can also be served at weddings if desired. With so many options available, you can easily find the perfect traditional drink to make your special day one to remember!


2023 Wedding Food Trends
2023 is sure to bring an exciting array of new wedding food trends! Couples are becoming more creative with their catering choices and are looking for unique flavors and dishes to wow their guests. For example, many couples are opting for fusion cuisine, combining different types of food from various cultures. Plant-based options have become increasingly popular, as well as sustainable ingredients that support local businesses. Organic produce is also in high demand and couples are seeking out organic producers to ensure quality and freshness. Another trend we're seeing is the use of locally sourced ingredients that reflect the area they're celebrating in, such as locally caught seafood or regional produce. Lastly, presentation has become a top priority—from inventive platters to edible centerpieces, newlyweds want their wedding food to look just as beautiful as it tastes!

 
A. 2023 Wedding Food Trends: Health-Conscious Foods 
2023 Wedding Food Trends are focusing on health-conscious foods. Couples are now looking for healthier options to serve their guests that not only taste great but are also good for them. Plant-based entrees, vegan dishes, and gluten-free options are becoming increasingly popular. Freshly sourced ingredients like locally grown produce, grass-fed proteins and sustainably raised seafood are often requested by couples looking to create a wholesome and healthful menu. For desserts, couples are turning to lighter options such as sorbets and fruit tarts rather than traditional cakes or cookies. Many couples are also providing their guests with drinks like kombucha and infused waters in lieu of soda or sugary juices. As 2023 approaches, many couples will continue to embrace these healthier food trends while still making sure their wedding is a memorable food experience for all.


B. 2023 Wedding Food Trends: Local and Sustainable Ingredients 
As we look to the future, sustainable and local ingredients are becoming increasingly popular for weddings in 2023. Couples are looking for ways to reduce their carbon footprint while still providing delicious and memorable meals for their guests. This can mean utilizing organic, locally-sourced fruits, vegetables, and meats that have been farmed or raised sustainably. Seasonal produce is also a popular choice since it requires less energy to transport and yields more flavor. Many chefs are even turning to plant-based proteins as an alternative to traditional meat dishes. All of these options help couples create a unique and eco-friendly experience while also delighting their guests with flavorful food.


C. 2023 Wedding Food Trends: Fusion Cuisine and Unique Dishes 
2023 is sure to be the year of unique and memorable wedding food trends. Fusion cuisine is a popular trend that combines two or more culinary styles, cultures, and ingredients into one delicious dish. Couples can choose to have a variety of dishes that are inspired by different cuisines from around the world, such as Mexican-Indian fusion tacos or Italian-Japanese sushi rolls. Unique dishes also make for a unforgettable meal. From edible flower confetti cakes to custom crafted charcuterie boards, there's no limit to the creative ideas couples can come up with for their special day. By experimenting with these eclectic flavors and textures, couples will be able to create an unforgettable dining experience for their guests.


D. 2023 Wedding Food Trends: Customizable Menu Options 
2023 is sure to bring some exciting wedding food trends. One trend that stands out is the customizable menu options. This allows couples to tailor their wedding menu to their specific tastes and dietary requirements. There are a variety of options, from vegan and vegetarian dishes to exotic fusion cuisine. This trend also allows for guests to choose their own meals, allowing them to enjoy something they truly love. Customizable menus also give room for creativity and experimentation, allowing couples to create unique dishes that reflect their personalities. With customizable menu options becoming more popular in 2023 weddings, couples have the freedom to personalize every aspect of their special day.


E. 2023 Wedding Food Trends: Experiential Food Stations and Bars   
2023 wedding food trends are all about creating an unforgettable experience for your guests. Experiential food stations and bars are becoming a popular way to add a unique touch to any wedding reception. From custom taco bars to macaroni and cheese stations, having interactive food experiences will not only be an entertaining addition to your wedding but also offer a variety of options for everyone attending. A few other ideas include interactive sushi bars, fondue pots, or even build-your-own ice cream sundae stands. Whatever you decide on, these unique food station ideas will certainly make your special day one your guests won't forget!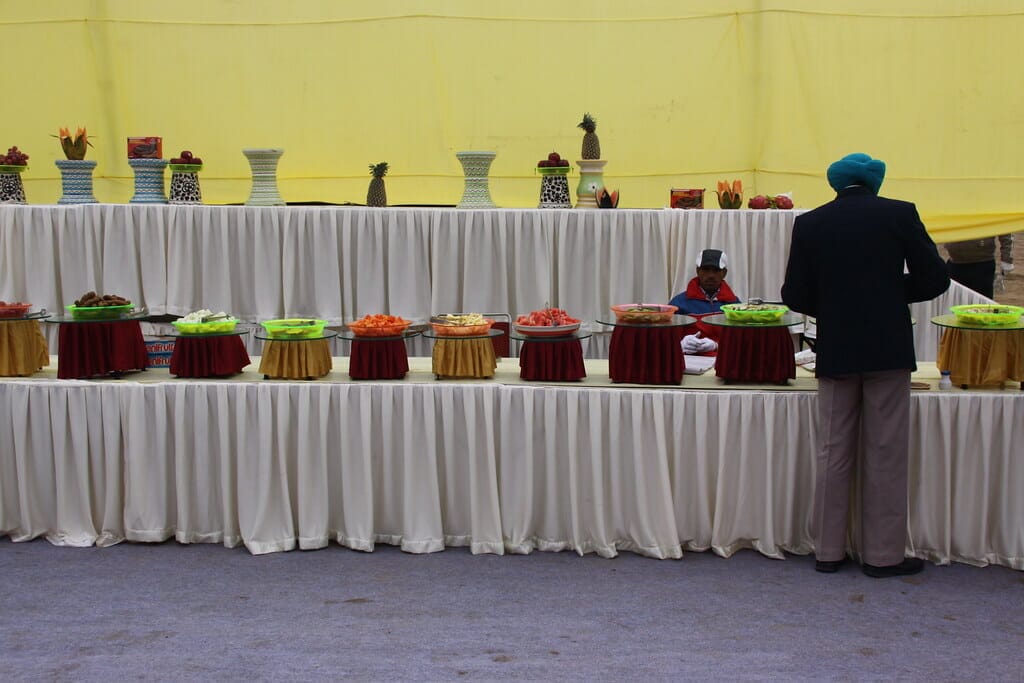 IV 2023 Wedding Food Trends: Conclusion 
2023 will be a year for plenty of wedding trends and food is sure to be varied and delicious, as couples look for creative solutions to make their special day memorable. From sustainable ingredients to vegan-friendly options, couples can choose from a range of options that will satisfy any palate. Desserts such as macarons, cupcakes, and doughnuts are sure to be popular, as well as charcuterie boards and creative hors d'oeuvres. With these unique trends in mind, couples can make sure their guests have an enjoyable time while they celebrate the start of a new life together.