If you are planning a wedding, the first thing on your mind might be "What should I wear?" or "What should my bridesmaids be wearing?" But another important question that many couples forget to ask themselves is: What kind of pictures do we want? If you are thinking about posing for a few pictures in front of an old-fashioned barn with some cows in the background, think again. There's nothing wrong with romantic wedding photos, but you can find more creative picture ideas than that! In this blog post, we will talk about 11 fun photo ideas to get your creativity flowing before your big day.
A Warning about lists of Wedding Photos
Before we jump into the fun wedding pictures, I do have a few warnings about these ideas.
First, I wouldn't try to do everything on this list. I've found that when you are simply following a list of photos, you lose a lot of the natural and real moments of the shoot. People aren't being real; they are just following a list. I would aim for 3 or 4 types of shots with your wedding photographer and then move on to a more normal pose.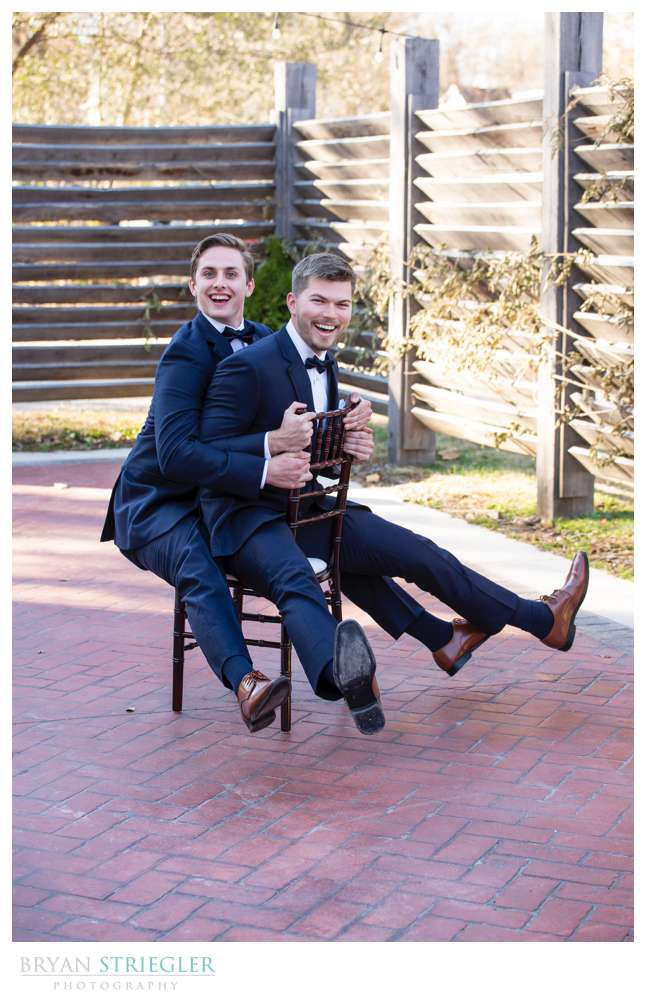 Second, know your wedding party and your guests. Do they like to have fun? Are they going to be excited or dread doing some of these ideas? You want everyone to have a good time, and that means keeping them comfortable. If you know someone will hate all of these fun wedding photo ideas, limit the number or don't involve them.
This goes for the bride and groom or couple as well. If your partner is a bit more timid or shy, don't for them into doing a silly shot.
11 Fun Wedding Photo Ideas
People spend so much time looking for wedding ideas on Pinterest and blogs, but couple rarely look for fun wedding photo ideas. In my mind, a fun wedding starts with the photos. If the bridesmaids, groomsmen, and bride and groom aren't having fun in the wedding pictures, that will affect the entire wedding day.
Don't let that happen! Hire a professional wedding photographer, look at some of these ideas below, and create some really hilarious and memorable images.
1. Your Furry Friend
Not all photographers love animals, but I always get excited when a couple wants to have their pets there for the big day. The most common is dogs, but I've even had the girls get photos with a llama.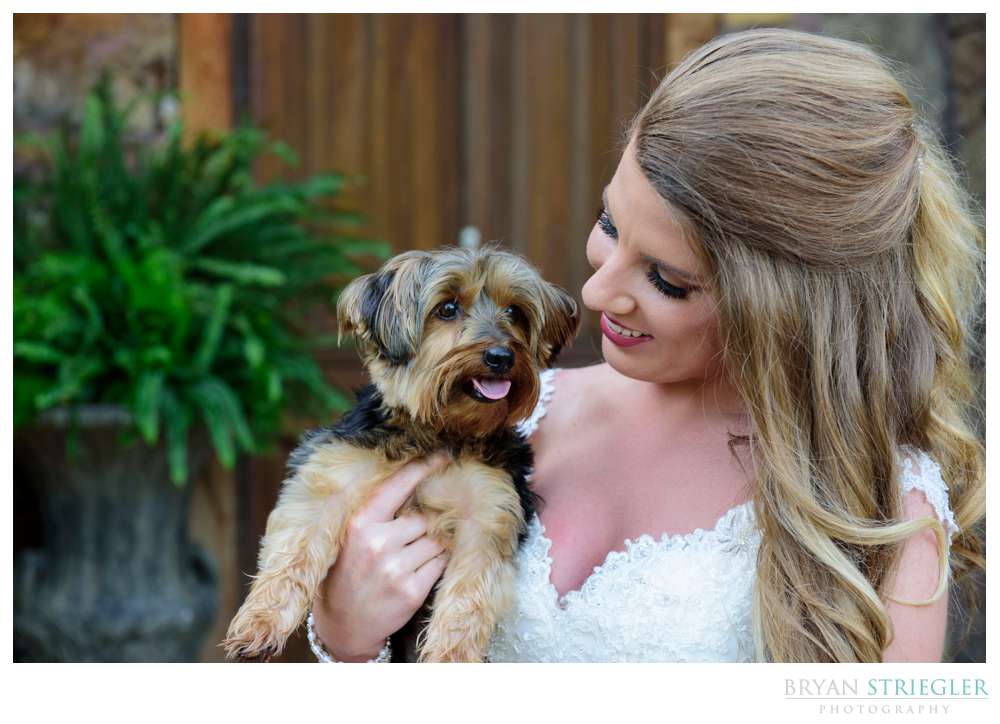 If you are going this route, talk with the venue and photographer first to make sure there are no objections. Then, have a plan for getting the pet to the wedding venue and back home. Most likely you don't want him or her running around during the wedding reception.
2. Race to the Couple
"Sometimes photos can look a little forced and even cheesy if you're not truly having fun! When it comes to photos with your bridal party this is a super fun photo that normally gets everyone laughing! If the bridal party is a group that loves to get loose and doesn't mind a short sprint, this idea is sure to be a hit! Place the bride and groom in front of the group a good distance and have them facing each other or kissing. Tell the bridal party to run up to the happy couple and smother them with hugs! This is also a great idea to do with just the groomsmen!"
–Colorado Wedding Photographer, Kari Joy Photography
3.
Get Moving
I've found that one of the easiest ways to get people to relax in wedding photography is to have them do some sort of movement. It's really hard for someone to be moving and thinking about the camera at the same time.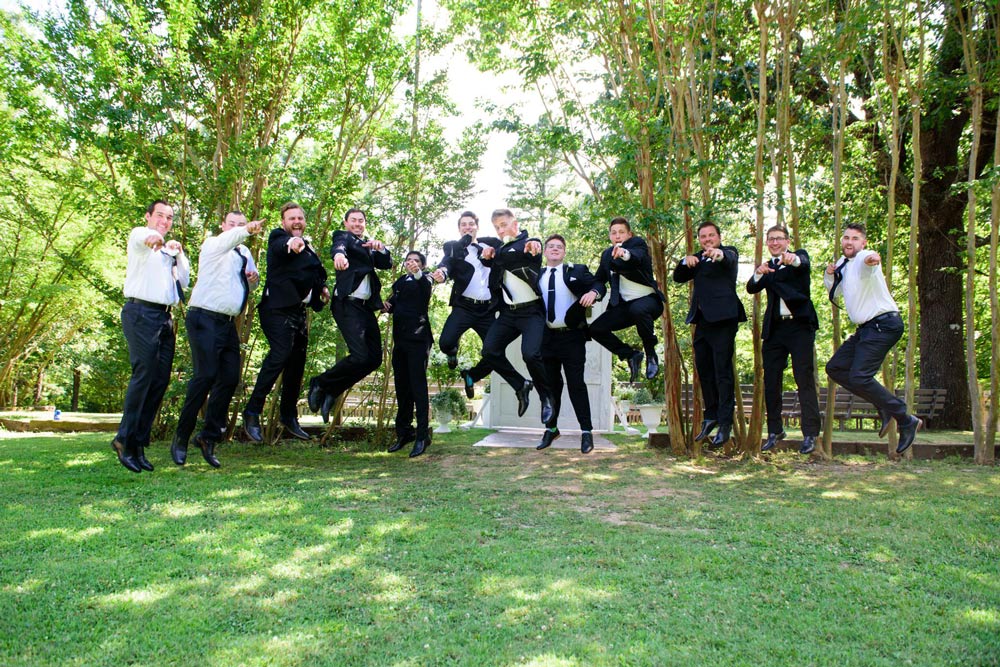 What you decide will be limited a bit by the area and the couple, but you can do walking, skipping, jumping, spinning, or dancing most of the time. It might sound a little silly to do these things, but I've gotten some amazing photos full of joy just by having someone move!
Roman, a Wedding Photographer in Vancouver agrees. "There are so many different ideas for fun pictures but my most favorite is actually a dancing one if my clients feel like it! Somewhere at the beginning of a photoshoot I ask them to show me some of their best dancing moves. I am always ready for this moment as sometimes it takes just a few shots to capture the best pictures of that day."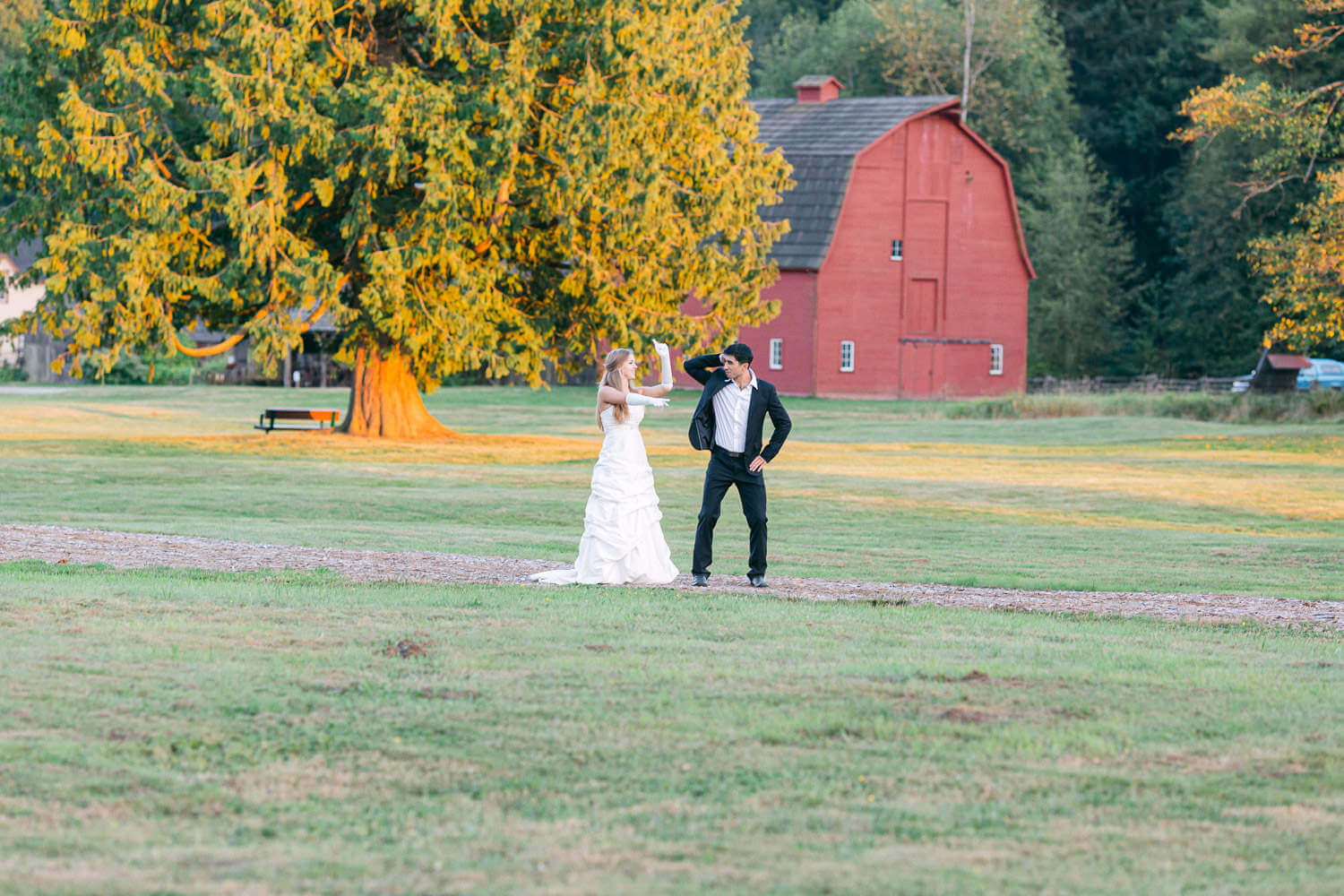 4. Dramatic Night Photos
Every wedding photographer takes photos in natural light, and there's nothing wrong with that. One thing I really love doing is creating something interesting and fun at night. Many of these photos become the groom and bride's favorite photo and mine as well.
There are plenty of things you can do. The most common involves sparklers. Stephanie Bailey Photography, a Charlotte Wedding Photographer likes to have the couple "hold sparklers and dance and write the word "love" with their sparklers in the sky. [She] thinks this would be so fun and different to do before the exit even happens to give the couple more time in front of the camera and to have a little bit more fun before they run through the rest of the sparklers."
I've done something similar before as well. You can have groomsmen run around the couple with them or I've had the entire wedding party spell out "LOVE" while the couple held a kiss.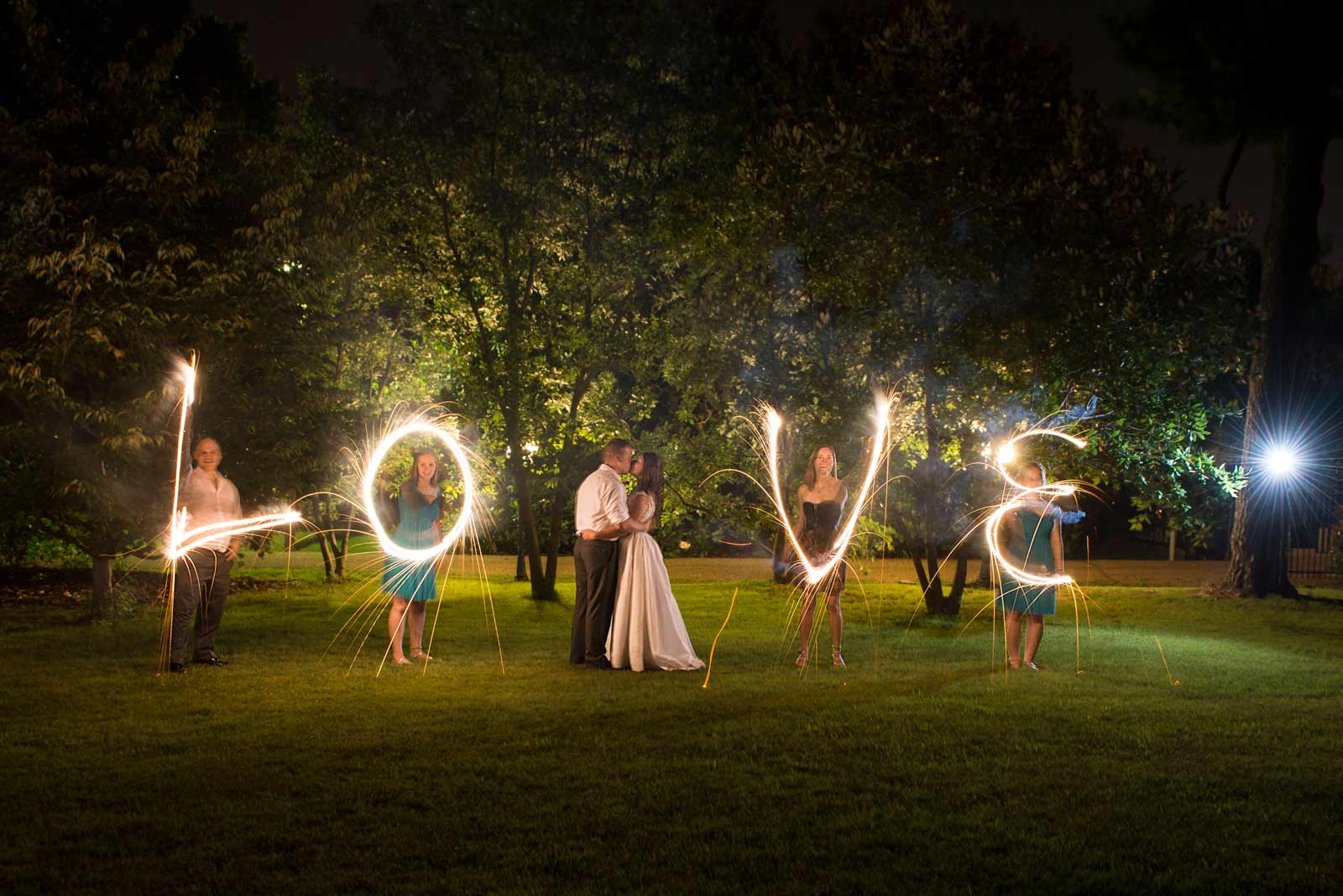 Other times I've done something creative with a confetti canon or popping champagne. It's tough to time the shot, but I love to capture their reactions and surprise.
In other occasions, we've run out in the rain with an umbrella. That's really a way to create memories that you will have forever!
5. Bring out Your Hobbies and Personalities
Your wedding photos should show off your big day, but more importantly, it needs to show who you really are. A great way to do that is to incorporate your hobbies into a shot or two.
Many times I try to have the bride and groom show off these hobbies during the engagement shoot, but the wedding works just as well. You could fence during your first dance, take photos with your favorite book, have a Nerf gun battle, or play video games with the groomsmen.
6. Capture the Famous Landmarks
Almost every city has some famous spot. In Fayetteville, it would probably be the Razorback football stadium or Old Main Lawn. Bigger cities might have several different locations, and it could be fun to travel to each one. For some, you could even have the wedding ceremony there.
One great thing about that is people will instantly connect with the photo since they've probably been there as well. When someone flips through your album and sees the St. Louis Arch, I promise they will stop and take a second look.
7. Play Dress Up
Okie, I admit that sounds really childish, but remember how much fun you had as a kid? Think about how much fun it would be to wear something related to a TV show, movie, or character you love.
I've seen several different ways of doing this, and it always makes me smile. I've seen all different types of socks. The most recent was Hey Arnold. One time, a groom and the groomsmen all wore different superhero shirts. Maybe you're a big Star Wars fan. You could wear Storm Trooper helmets or Chewbacca mask.
The best part of this is you can make it as big as you want. You can show it off only during the getting ready process, your grand entrance, or you can wear it all day long!
8. Get Creative with Props
I love props! We use them all the time in our photo booth, and people love to grab one and strike a pose. You can do the same thing with your own wedding photos.
There are plenty of common props you could use like a chalk board for a sign, funny hats, and those cardboard mustaches. They are easy to find and usually cheap.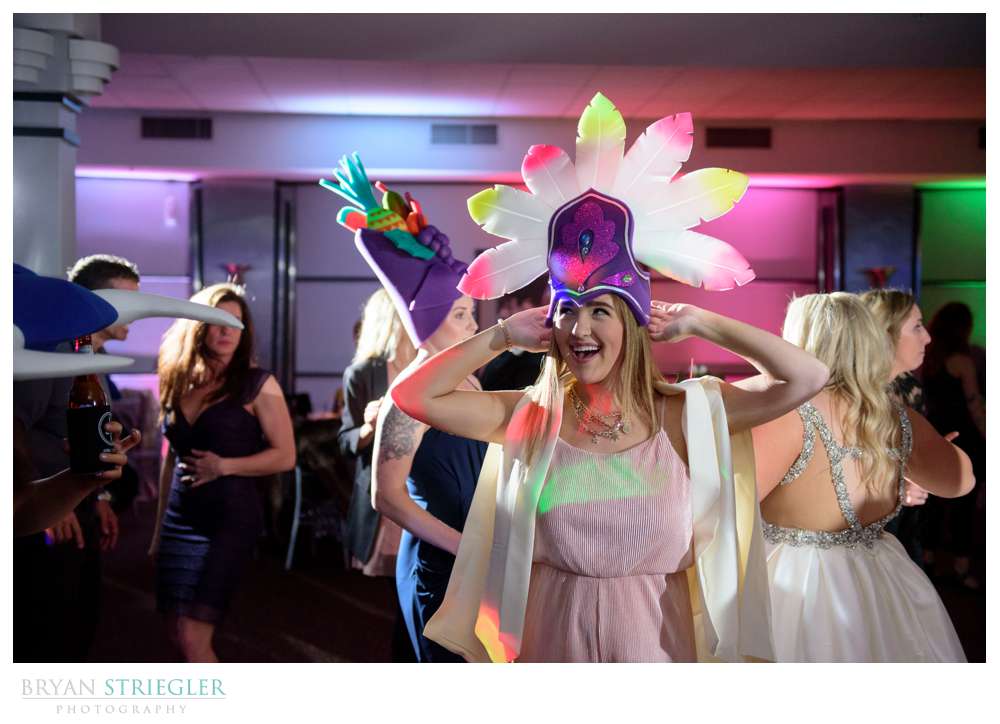 You could also do something different for your portraits. Think about what makes you and your partner laugh, and then bring it to the wedding day! It could be light sabers, mullets wigs, or a dinosaur costume!
Think props will make your wedding reception lots of fun? Check out these other fun things to do at the reception. 
9. Inside Jokes
I don't know if there is anything better for a fun wedding picture than inside jokes! The great thing about inside jokes is that your group will know and get it, and it might be a big part of who you are, but no one else will know.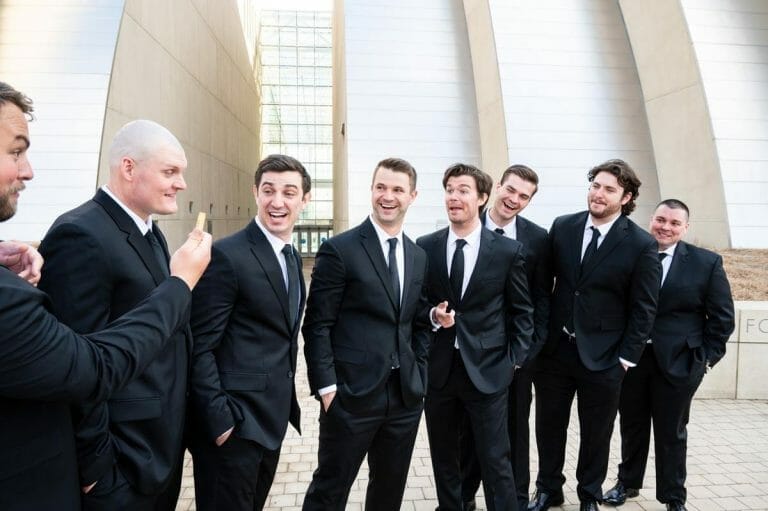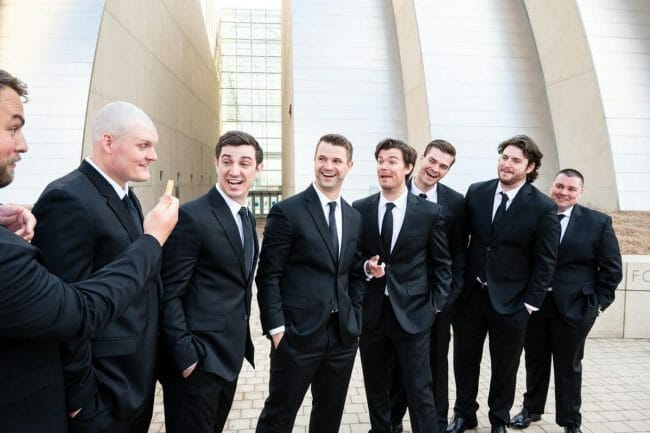 It could be something like a catch phrase, a hand shake, or even as simple as a look. One wedding the guys kept talking about chapstick. I still don't get it.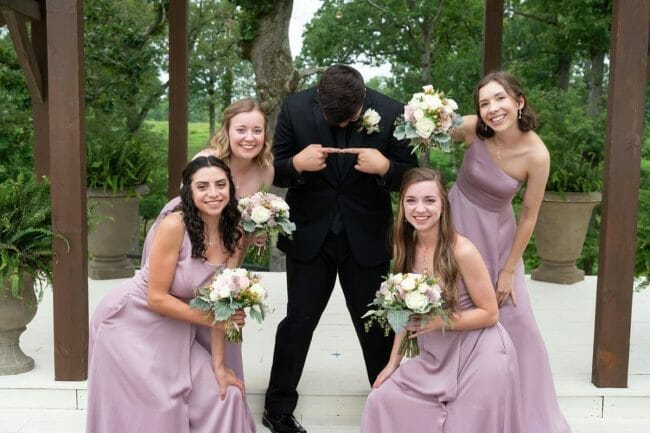 No matter what it is, it will make people laugh and loosen up and when you look back at your wedding pictures, you'll still remember the inside joke.
10. Get to Lifting
Lifting isn't just for the gym! If you want a really funny moment, pick someone up! It could be giving the groom a piggy back ride or all the guys picking up the bride! Make sure to watch out for the wedding dress, though!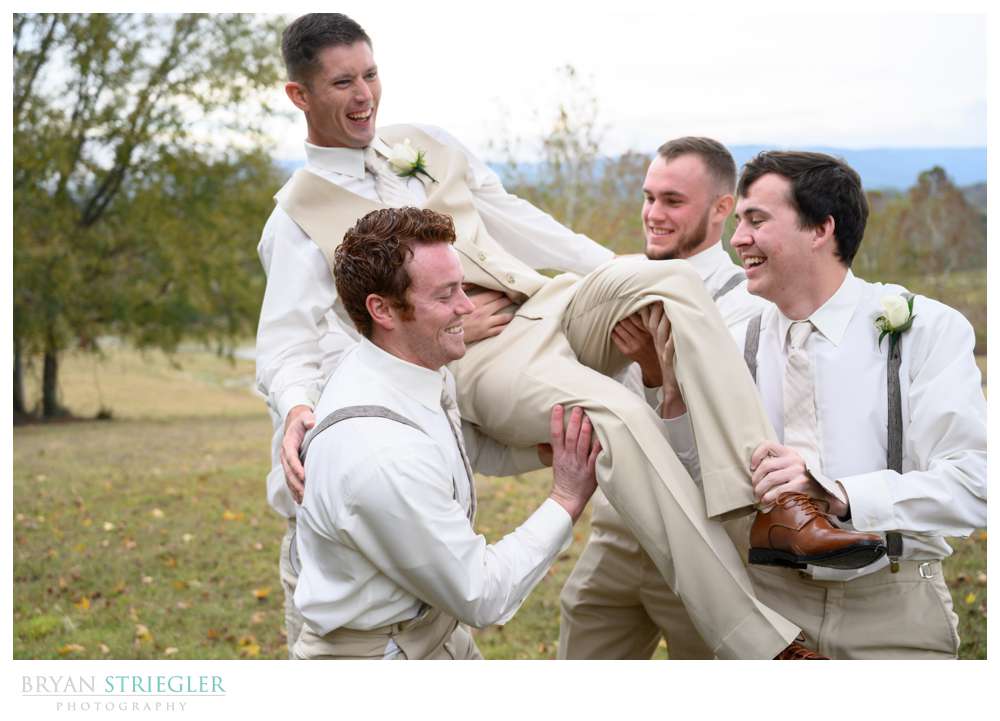 The best part of these photos is the reaction. For some, it's the moment of fear right before the person gets picked up. For others, it's the faces of the people doing the lifting.
I photographed a fun wedding a week ago and the smallest groomsman picked up the 200 plus pound groom. The shots of his face straining were so funny!
11. Bouquet Wreath
"It's quick, fun, and contributes to a sense of camaraderie among your wedding party. Something I love to do when photographing the wedding party is have everyone holding flowers create a wreath of bouquets around the brides' head. Even when there aren't a ton of people with bouquets, it's still a fun shot. It gives everyone something to do and really get involved, it's super fun, and it's a unique bridal portrait!" 
-Alex Medvick, Boulder Wedding Photographer
It's always fun to do something with the bridal party. They are the couples closest family and friends, so it's important to make them have fun and feel involved. Here are a few other things you can do with the bridal party. 
A Funny Wedding Picture
You've seen the pictures of your friends and family from their weddings. Some are posed, some have people smiling for real emotions, but there is one thing that almost all wedding photos share in common—they're not funny! There's a reason behind this. Wedding day nerves can make it difficult to be relaxed enough to laugh and joke around with everyone at the event. But we found these 11 hilarious wedding picture ideas can help with that and don't you want a fun wedding? What's your favorite? Let us know by leaving a comment below!