Celebrating a Wedding in the Snow
Are you planning a winter wedding? Then you may be looking for tips and advice on how to make your special day successful despite the snow. A snowy nuptial celebration can create an extra special atmosphere, but it's important to prepare well in advance to ensure that everything runs smoothly. From selecting the right attire to choosing the perfect venue and making sure your guests are comfortable, here are some essential tips for thriving in a snowy wedding.
Pre-Planning: Research & Prepare
Having a winter wedding can be a beautiful and romantic experience for couples. If you're planning to have your special day take place during the coldest months of the year, it's important to do your research and pre-planning in advance.
Venue Selection
The first step is finding a venue that will be able to accommodate both you and your guests during inclement weather. Look for options with plenty of space indoors, such as ballrooms or large banquet halls. It may also be beneficial to find out what kind of accommodations they provide in case of bad weather, such as heated tents or temporary flooring.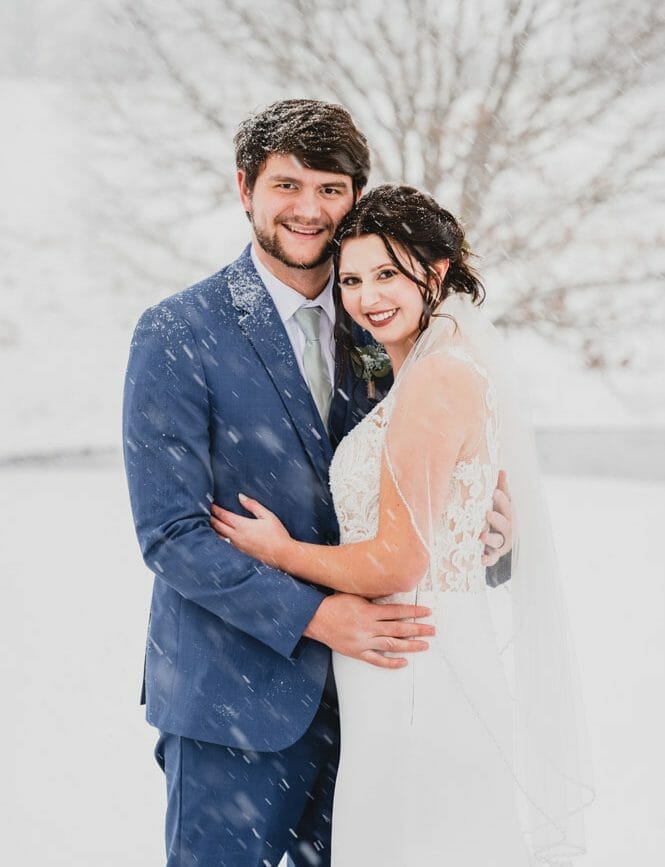 It's also important to find out the location of the venue. Is it out in the middle of nowhere? Are there major roads leading to it or will you be driving backroads? How near are hotels for guests to stay at the end of the night?
How do you have an outdoor wedding ceremony when it's cold?
Sometimes the weather sneaks up on us. If you love the outdoors at your venue or there isn't an indoor option, you can still have your wedding ceremony in the cold.
First, consider the location. Choose a spot that is sheltered from the wind and provides some protection from the weather. You may also opt to rent heaters or get creative with blankets and throws for guests to keep warm. Second, provide ways for your guests to keep warm. This might be hand warmers, blankets, or even coats. Last, make the wedding ceremony short. Your friends and family love you, but they don't want to sit out and freeze for 30 minutes.
Dressing for the Occasion: Stay Warm!
When it comes to attending a big event, such as a wedding, the last thing you want to worry about is being cold! Cold weather can make any occasion difficult to enjoy, but thankfully there are plenty of tips and tricks for staying warm during snow-filled nuptial celebrations. For example, dressing appropriately for the occasion is essential: layering clothes and wearing waterproof materials will help keep you cozy even in frigid temperatures.
There are plenty of options out there that still look good and will keep you warm. In general, the guys have it easier in cold weather because they are already wearing multiple layers. Ladies, though, are usually wearing dresses. You can still have dresses, but add other layers to keep them warm. You can do coats, scarves, shawls, or maybe even leggings if the dresses are long enough.
Wedding Photos: Capturing Special Moments
Couples celebrating their nuptials in a snow-filled environment are sure to have many special moments that make for lifelong memories. And what better way to preserve these moments than by capturing beautiful wedding photos? It's important to consider the following tips when trying to thrive in a snowy nuptial celebration and achieve stunning photography results.
First, work with your photographer and plan ahead to ensure the best possible outcome. Ask how the photographer will combat lightening issues due to low visibility or glare from the snow, as this can be a problem during winter weddings. Are there certain locations that look great and don't require being in the snow for a long period of time? I know that when I've done snow photos no one wanted to trek through it. We found places that were close to walkways or inside, so we could jump back to the non-snow area quickly. Secondly, think about investing in protective gear for both you, your wedding party, and your photographer; snow boots, shawls, blankets, hats and gloves will help protect against cold temperatures and slippery conditions.
Food & Beverages: Considerations for Cold Weather
When planning a wedding celebration during cold weather, food and beverages should be carefully considered. Knowing the kind of food and drinks to serve can make or break any winter wedding event. For a successful snowy fete, couples should take several important aspects into account. Firstly, they must be aware of locations; if it's too cold outside, guests won't want to linger in the chill for too long. This means plan a location for cocktail hour or even before the ceremony where people can stay out of the cold.  Second, it's essential that couples provide enough comfort foods and warm drinks to keep guests feeling satisfied throughout the day. Hot chocolate is the most well known choice, but you could also go for tea or cider or maybe even a warm cocktail. With these considerations in mind, couples can ensure their wintry wedding is an unforgettable one!
Transportation: How to Arrive and Leave Safely
When planning a winter wedding, transportation can be an essential part of ensuring the event is safe and successful. It's important to consider the arrival and departure of guests, as well as the bride and groom. Here are some tips for making sure everyone arrives and leaves safely during a snowy nuptial celebration:
First, make sure that any transportation services you use are reliable, in case roads or weather conditions become hazardous. It would be wise to hire a professional driver who knows how to handle icy roads and other challenges associated with winter travel. If possible, rent out vehicles that have four-wheel drive capabilities so your guests don't have to worry about sliding on slick surfaces.
Also make sure you check the forecast ahead of time so you know what kind of weather will be expected on the day of your wedding. Pass that info along to the guests.
If possible, try to deal with the roads before guests start arriving. This could be applying salt or hiring someone with a snowplow to clear the roads.
It's just as important to think about your guests leaving. It's possible for the weather conditions to get worse during your wedding day. If things start to get bad, you might consider ending the night early, so people can leave safely.
Embrace the Beauty of a Snowy Nuptial
Planning for a snowy wedding doesn't have to be a stressful experience. With the right preparation, you can make sure your snow-filled day is everything that you dreamed of and more! Take the time to consider all possible factors, plan for contingencies, and make any necessary accommodations ahead of time. Equally important is to choose an experienced photographer who can capture the beauty of your winter wonderland on camera!