Think back to when you were younger. Was there a birthday or Christmas present that just totally surprised you and rocked your world? I don't recall exactly how old I was, but one Christmas, my brother and I walked outside to find two BB guns that looked like real machine guns. We went nuts! I think in general, people like surprises, and I've seen some great surprises at weddings. I know that might scare the control freaks out there, but I think surprises make weddings more interesting. Here are my Top 10 Wedding Surprise Ideas.
Top 10 Wedding Surprise Ideas
A few things to mention about this list before we begin. One, they aren't really ranked because I thought that would be too difficult. They are just in the order I remembered them. Two, many of these I have experienced first hand, but some of them I have only heard about or seen a photo. Three, I'm all for surprises and fun, but don't hold me responsible for what people decide to do. There are some crazy groomsmen out there, and I don't want them saying I gave them permission.
Surprise Wedding Outfits
Weddings are known for all the wonderful, stylish outfits. Brides will dream about their dresses from their childhood. Guys will be dressed up in suits. In most cases, it's not a casual day.
One of my favorite types of wedding surprises is when someone wears something out of the ordinary and then pops out for the surprise. So far, I've seen this done three different times.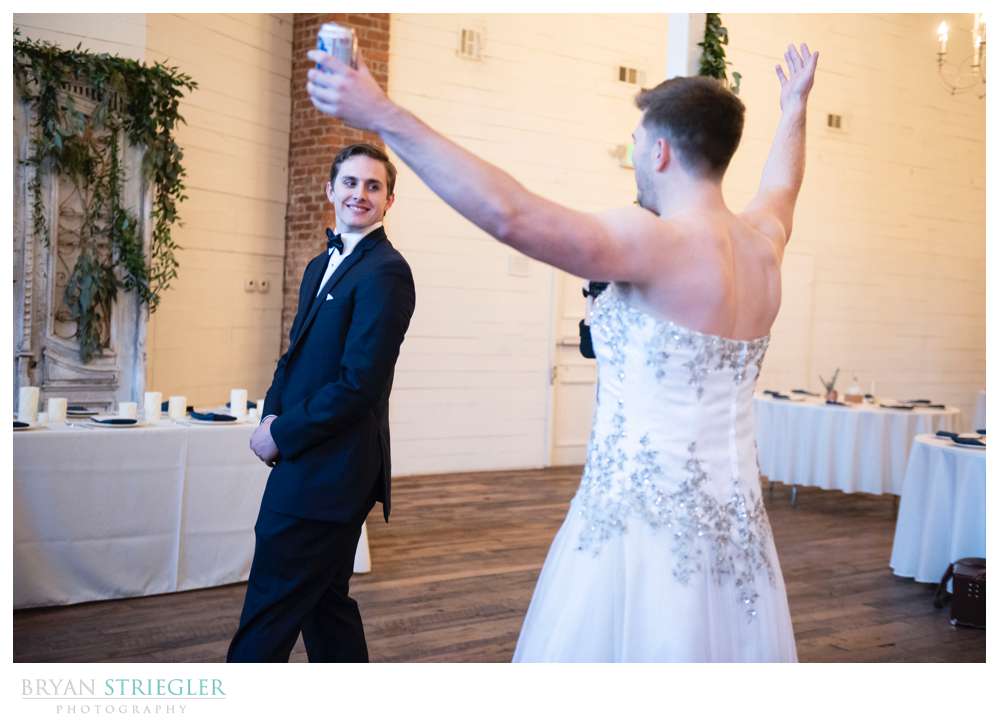 One time, we were setting the groom up for the first look. It was a very emotional moment. To his surprise, he turned around to find a groomsman in a dress. It was hilarious and one of my top funny wedding moments.
Another time, we were late into the reception. The booze was flowing and everyone was having a good time. A guest snuck off and came back out to the dance floor in a dinosaur costume! I'm not sure if dinosaurs had any special connection to the bride and groom, but either way, it was funny.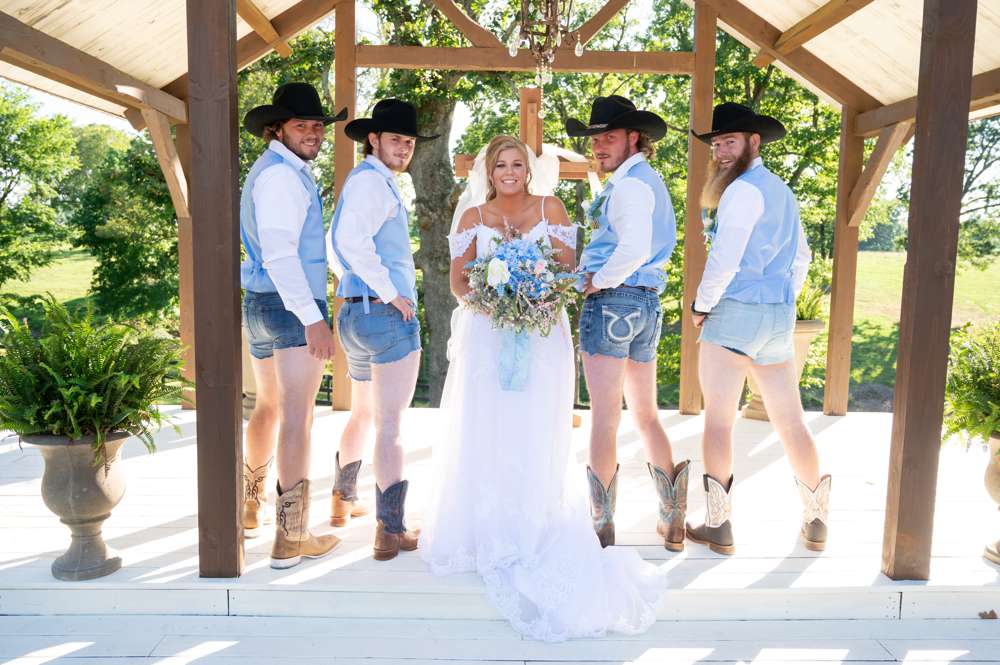 The last one happened just a few weeks ago. I was outside doing photos with the bride and bridesmaids. I had the bride facing away so I could get photos of the back of her dress. When she turned around, she saw the groomsmen all coming out wearing super short shorts. Her reaction was golden!
Surprise Groom's Cake
I love cake. I really do. I think most guys tend to enjoy eating cake, but the groom's cake is also a chance to do something really creative in fun. Most of the time, the bride and groom decide on the groom's cake together. Occasionally, the bride will want it to be a complete surprise.
I really like it when couples decide to do it this way. The groom still gets an awesome cake, but it's a chance to make it a big deal. It's more of a big reveal.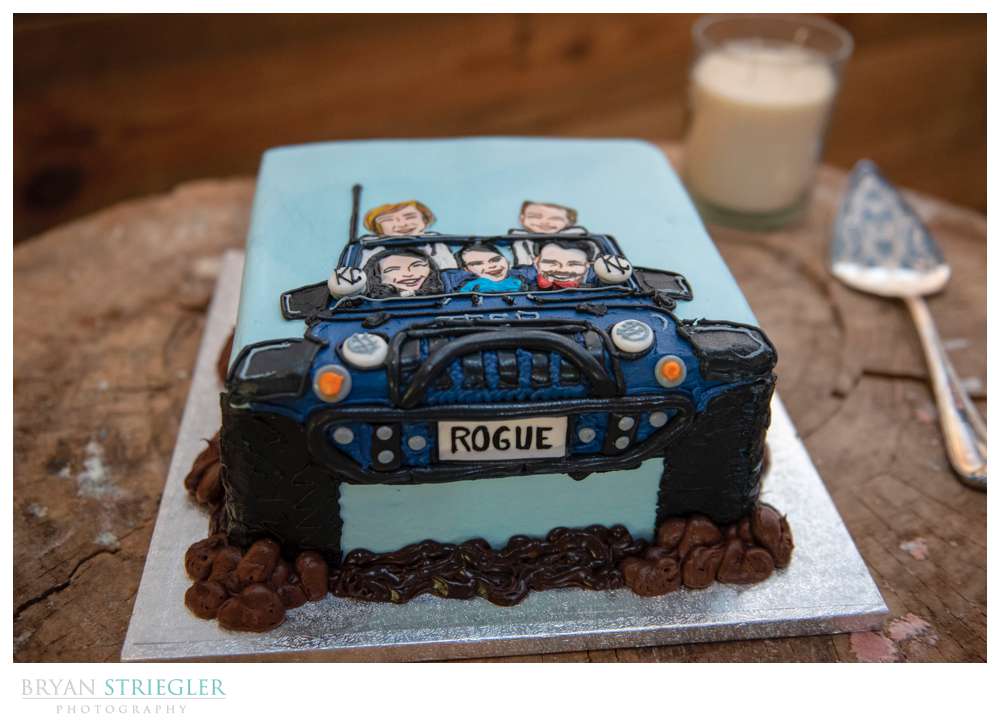 As far as the content of the cake goes, it can be anything that fits the groom. I've seen a lot of sports-related cakes, but I've also seen TV shows and other hobbies like golf.
Special Band at the Wedding
Another great thing about wedding receptions is the music! For the most part it's a DJ, but once or twice a year, I see a live band. Live bands have a different energy and experience and can really make a wedding reception lively for family and friends.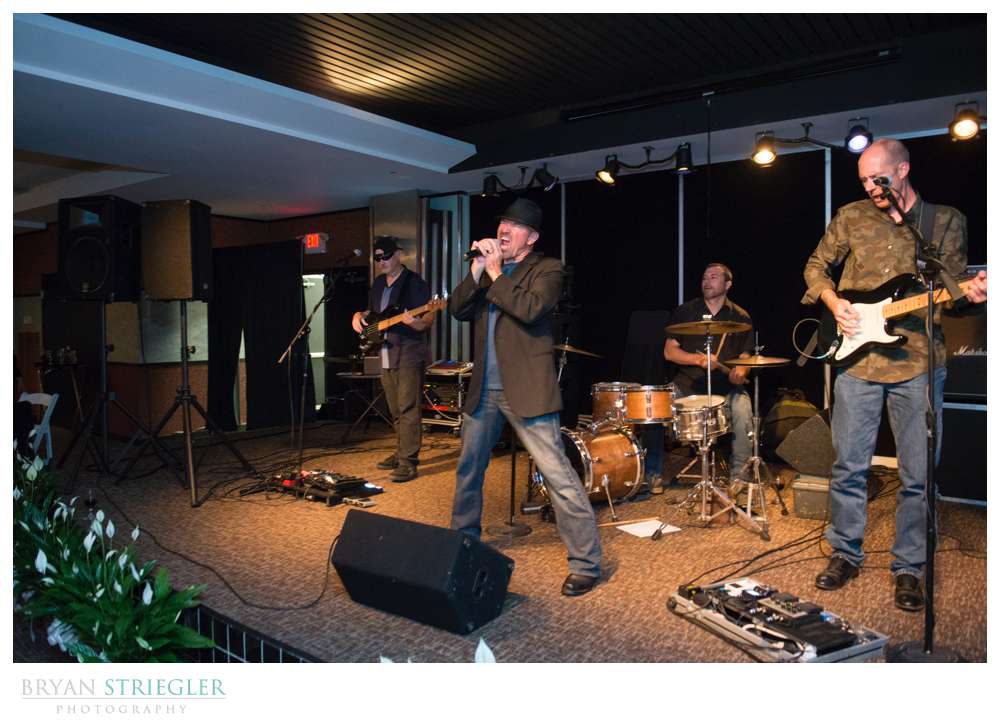 I don't remember where I saw this, somewhere on the internet, but Maroon 5 showed up at a wedding as a surprise. I'm not saying it has to be that big of a band, but imagine how awesome it would be to do a grand entrance and be surprised by a live band.
I have no idea how much it would cost to pull this off. If you're going for a well-known band, it would be a ton, but I bet you could find a local band for $1000.
Special Musical Performance
If you really want to do something special for your future husband or wife, how about you put together a special musical performance for the wedding reception? It would take some effort to learn and practice and putting it together in secret might be tough, but it would be so worth it.
I've seen this happen three times now, and the reaction was great. In one situation, the groom actually learned how to play the guitar in secret. Then, on the wedding day, his brother and friends started playing, and he walked out there and played with them.
At another wedding, the groom wrote and recorded a song. When they started their first dance, it started playing. I thought that was amazing that he went to so much effort.
Last year, the couple had already hired a live band to play the reception. After a song or two, the groom grabbed a guitar and joined in. Even after his strap broke, he kept playing, and the bride loved it.
Ring Problems
Warning! This one might get you in trouble. Only do this if you know the bride has a sense of humor!
So, I've seen this a few times now, and it always gets an interesting reaction. The general idea is that when it's time to give the ring to the officiant, something happens.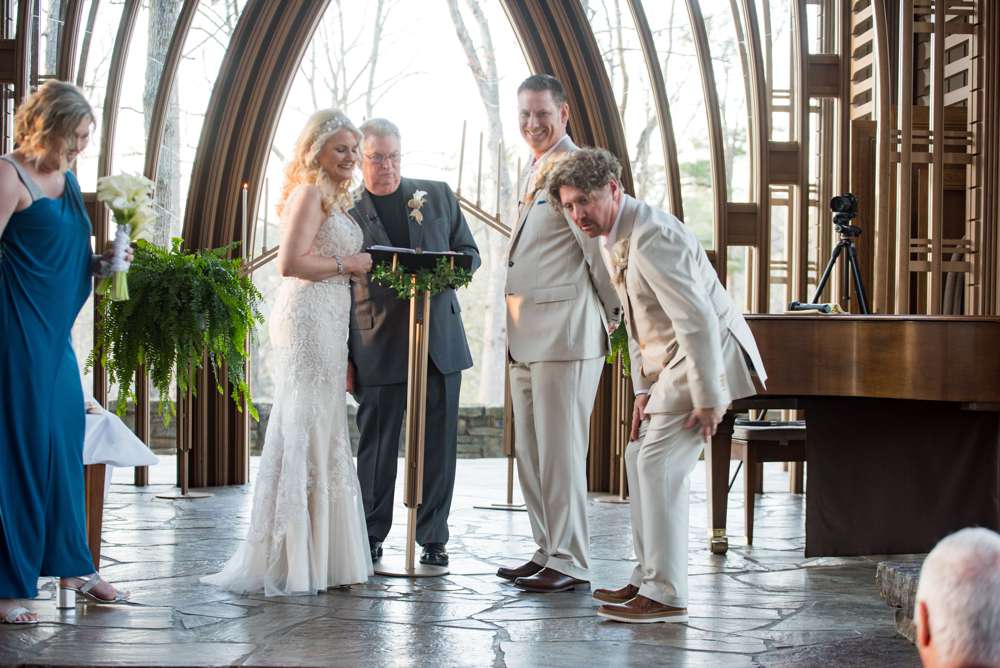 The first way of doing this is the safer (not getting throat punched way). The best man simply pretends to not be able to find the ring for a few seconds. From there, he can find it or it can magically appear with another groomsman.
The second way of doing this mimics an accident. The first time was a complete surprise, even to me. Let's just say I was shocked. When it's time to hand off the ring, the best man trips or drops it. The trick is to use a penny or some form of metal so you hear that bouncing noise on the ground. After everyone freaks out, you show the real ring.
Losing the ring is one of the biggest fears for the big day, so while this can get some laughs, it can also cause some other emotions. 
Surprise Wedding Appearance
One of the really sad things about weddings these days is that many people are missing weddings. Either they can't travel or are afraid to be around people. That means they are missing out on your big moments and you are missing seeing them! Wouldn't it be a great surprise is you got to see someone that you weren't expecting?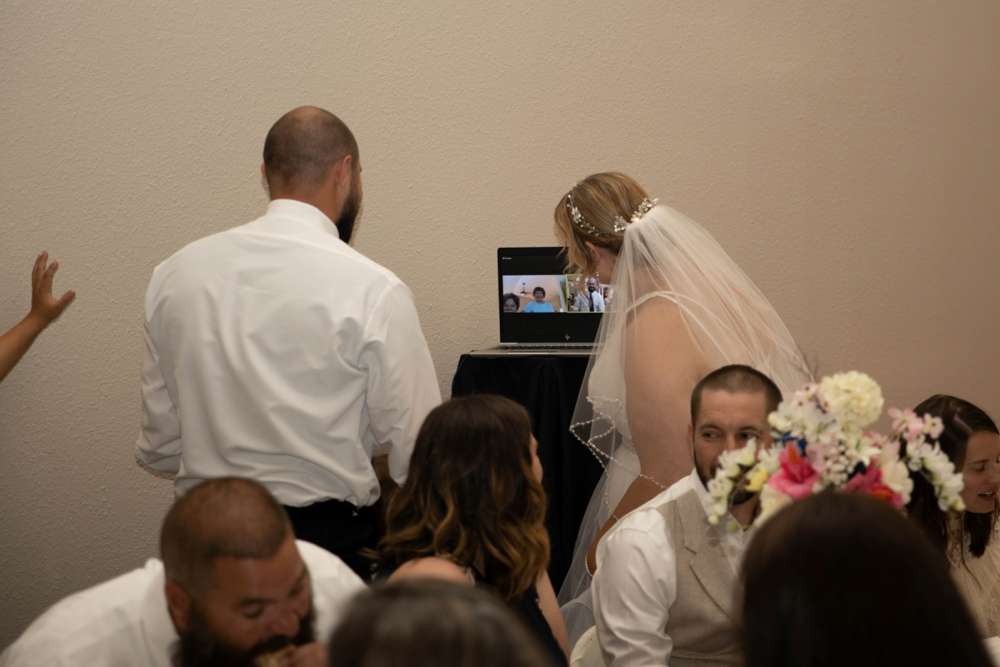 This reminds me of one of the greatest moments of TV history. On The Office, it was Dwight's wedding, and Michael showed up at the last moment to be his best man. I think that would be a great surprise or someone showing up during a first look. I've also seen a prerecorded video that was played during the reception. No matter how you do it, having someone show up at the wedding as a surprise would be a great moment.
Surprise Wedding Exit
The wedding exit is an exciting way to end the wedding. These days, though, it seems like everyone is doing a sparkler exit. There is nothing wrong with that, but I think doing some kind of surprise wedding exit would be even better.
This could be done in a number of ways. One, the exit could really be a surprise. Put someone creative in charge of it, and don't tell the couple what it is. That way, when they exit, it really will be a surprise. If you are struggling with ideas, check out the post I wrote about the different types of wedding exits.
Another way to make the exit a surprise is to throw in something unexpected to the normal exit. One wedding, the crowd also had silly string and blasted them with that. I could also see having a surprise exit vehicle waiting for them, something like a classic car. Besides that, you could add anything. Maybe everyone is wearing masks or costumes. Get creative with it.
Surprise Gift
Gifts are a blessing at all times, but it's really nice when they come as a surprise. Weddings are the perfect time to surprise the people you love with something special. You can give gifts to each other, the wedding party, parents, or all the guests. I wrote a much more in-depth article about giving gifts at weddings, so check it out.
Surprise First Look
First looks have become the norm in weddings. I'd say that around 75% of my couples do some form of a first look. It could be with the fiance, the bridesmaids, or the parents.
These are some emotional moments, but they are also staged, so it gives the people time to prepare. Here's an alternative to this type of first look.  Imagine what kind of reaction you would get if the first look was a surprise. Imagine the groom going about his day and then, blam, there she is.
If you plan on doing a surprise first look, it will need to be planned. Decide who you are going to surprise first. Then, come up with a plan. Where will the person be? How will you get the bride into place without being seen? Where does the photographer need to be to get the reaction?
A surprise first look might require more planning and work, but I think the results will be worth it: a super real, emotional moment.
Surprise Wedding Ceremony
I think this is the wedding surprise idea to surpass all wedding surprises. Weddings require so much work and planning, but how crazy would it be to get a group of friends and family together and turn it into a surprise wedding? Planning a surprise wedding seems like it would be a lot easier. Everyone thinks they are there for a retirement party or a big dinner or maybe even a wedding shower or engagement party, and then, surprise!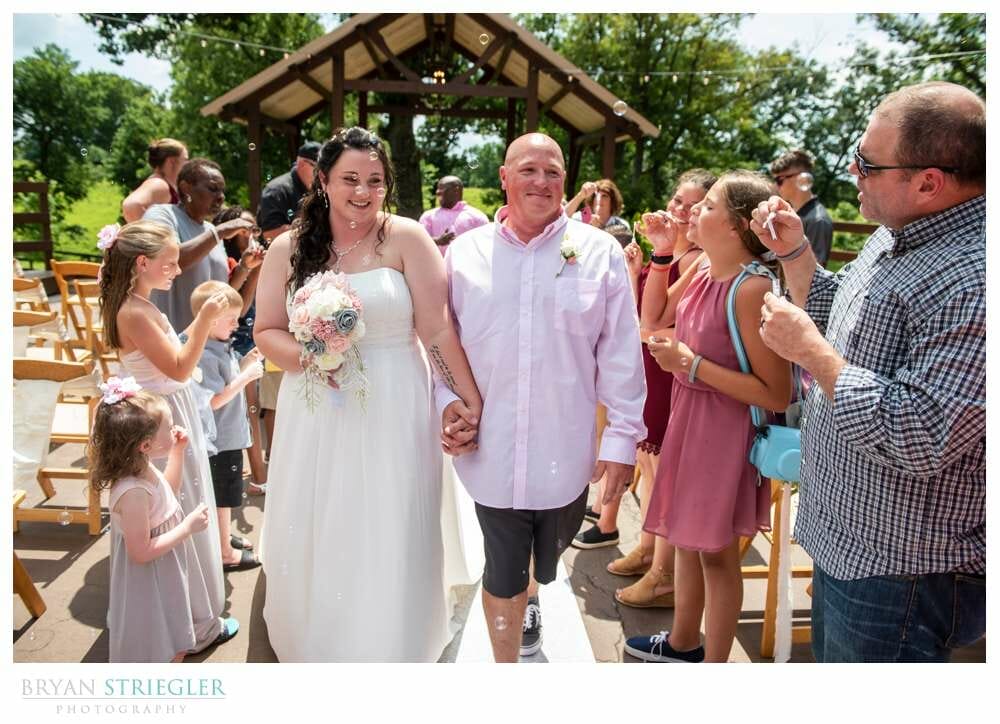 There would be a few things to think about before doing this. First, you probably won't have the number of family and friends that you would have at a normal wedding. It's just hard to find a reason to get all those different people there at the same time. Second, it might be tough keeping it a secret. You can definitely limit the number of people that know, but I think to plan it, you're going to need some help. Last, is there anything people might need for a wedding? When people go to a wedding, they know what to expect, but if they think they are going to something else, they might not be prepared. For example, will people be wearing the right shoes for dancing? These are just some things you'll have to think about.
Final Warning about Wedding Surprises
I love surprises and I hope you do, too! Feel free to take any of these Top 10 Wedding Surprise Ideas and use it at your wedding. If you aren't one of the people getting married, really think about the couple before you plan something. There are some couples that would love certain surprises and other couples that would completely freak out. Remember, these wedding surprises are meant to enhance the wedding, not cause havoc.
If you have any other ideas or have seen some other form of wedding surprise, I'd love to hear about it. I'm always looking for fun new things.