Guest books are a wonderful way to remember all the people that were part of your wedding day. Some are just signatures and others allow people to leave some words of wisdom. Traditionally, there are lined books used for this, but there are so many other unique wedding guest book ideas. Go for something fun!
Personalized Picture Album
A personalized picture album is a unique and memorable way to capture your guests' well wishes on your wedding day. Instead of a traditional guest book, ask guests to take polaroid photos of themselves and write a message on the back. These photos can then be added to the album along with other special memories from the day, such as candid shots of the bride and groom or pictures of the venue.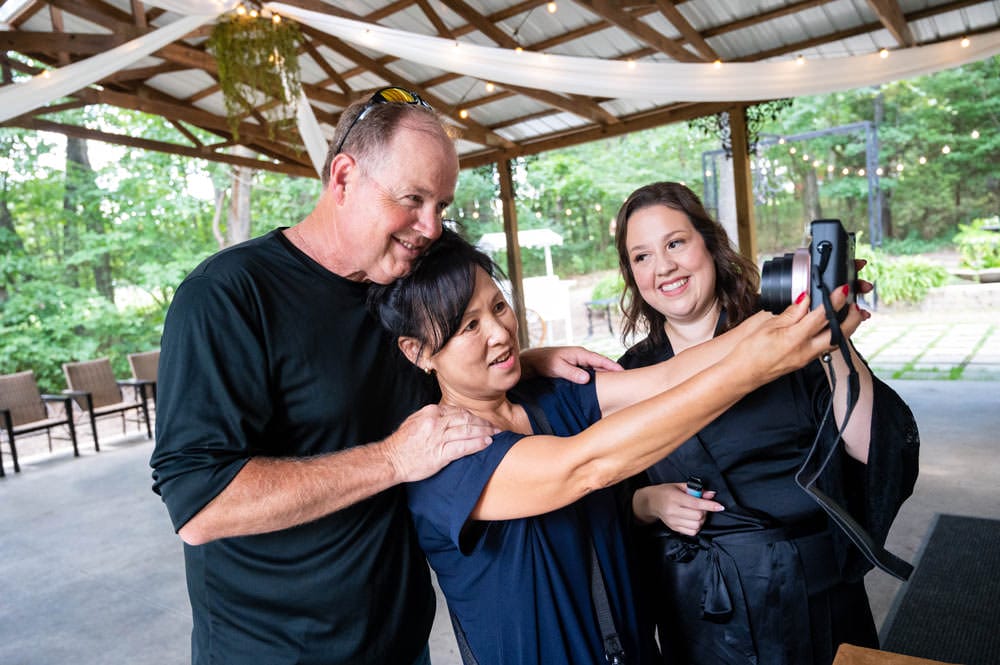 To make the album even more meaningful, consider customizing it with your names and wedding date or adding special touches like ribbon or lace. This personalization will not only make it more visually appealing but also create a lasting memory that you can cherish for years to come. Plus, having an interactive guest book alternative like this will keep guests engaged throughout the reception and provide entertainment for all ages.
Guest Quotes on Canvas
Guest quotes on canvas are a popular and creative way to capture memories from your wedding day. This unique guest book idea allows guests to write their favorite quotes or messages on a canvas that can be displayed in your home as a beautiful reminder of your special day. You can choose the canvas size, color, and design to match your wedding theme, making it a personalized keepsake that you will treasure for years to come.
One of the great things about this guest book alternative is that it can be customized to fit any style or budget. You can purchase pre-made canvases with designs such as hearts, flowers, or even thumbprints in the shape of a tree. Alternatively, you could create your own custom design using paint pens or markers and have guests sign their names around it. The possibilities are truly endless when it comes to guest quotes on canvas.
Custom Puzzle Pieces
Custom puzzle pieces are a creative alternative to traditional wedding guest books. Guests can sign their names or leave messages on individual puzzle pieces, creating a unique and personalized keepsake for the newlyweds. These pieces can be made from wood, cardboard, or even foam board and come in various shapes and sizes.
One popular option for custom puzzle pieces is heart-shaped wooden puzzles. These can be engraved with the couple's names and wedding date, making them both functional and sentimental. Another unique idea is to create a puzzle using a photo of the couple that will be divided into smaller pieces for guests to sign. Once assembled, this becomes a beautiful reminder of the special day.
Using custom puzzle pieces as a guest book adds an interactive element to weddings that encourages guests to connect with one another while also providing lasting memories for the happy couple. With endless design possibilities, these unique guest book ideas are sure to make any wedding stand out from the rest.
Plantable Paper Artwork
Plantable paper artwork is a unique and eco-friendly way to incorporate nature into your wedding day. These pieces of art are made from recycled paper pulp and embedded with wildflower seeds that can be planted after the event. Plantable paper artwork is not just a guest book, but also doubles as a favor for guests to take home and grow their own flowers.
One idea for incorporating plantable paper artwork into your wedding day is by having guests write their well wishes on each piece of paper. After the wedding, these papers can be buried in soil or planted directly in a garden bed, where they will eventually sprout into beautiful wildflowers. This creates a lasting memory for both you and your guests that will continue to bloom long after the big day.
In addition to being an eco-friendly option, plantable paper artwork also adds a unique touch to your wedding aesthetic. The organic texture of the handmade paper combined with the vibrant colors of the wildflowers make for a stunning display. Whether it's used as a guest book or simply as decorative accents throughout your reception space, plantable paper artwork is sure to leave a lasting impression on your guests while also giving back to the environment.
Fingerprint Tree Guestbook
The fingerprint tree guestbook is a creative and interactive way to capture memories from your wedding day. This unique style of guestbook involves using an ink pad and having guests press their fingerprints onto the branches of a pre-drawn tree. The end result is a beautiful, personalized piece of art that can be framed and displayed in your home as a reminder of your special day.
Not only does the fingerprint tree guestbook allow guests to leave their mark on your wedding day, but it also creates a fun activity for them to participate in during the reception. It's also perfect for couples who want to incorporate some nature-inspired elements into their wedding decor. Whether you opt for a simple black-and-white design or something more colorful, this guest book alternative is sure to impress.
Globe or Map Guestbook
A globe or map guestbook is a perfect way to incorporate your love of travel into your special day. Instead of a traditional guest book, have guests sign a globe or write their well wishes on a map. This is not only unique but also allows you to display your travels and adventures in your home as decor.
Not sure where to find a globe or map for guests to sign? Try searching online for vintage globes or maps at thrift stores, antique shops, or even online marketplaces like Etsy. You can also create your own DIY version by printing out a large map or using an inflatable globe for guests to sign.
Conclusion: Lasting Memories
In conclusion, a unique wedding guest book is a great way to create lasting memories of the special day. It allows guests to leave personal messages and well wishes for the newlyweds that they can look back on for years to come. Instead of a traditional guest book, couples can opt for more creative options such as a photo booth scrapbook, where guests can take pictures and attach them with their messages.