Weddings are full of exciting and key moments. You've got things like getting into the dress, the first dance, the garter toss, and the kiss. All of these moments are extremely important, but I want to talk about a moment that can usually be better: walking down the aisle. 
Wednesday Wedding Tips- walking down the aisle
For many, this is one of the most emotional moments of the day. In most weddings, the majority of the people haven't seen the bride yet. People are wondering what her dress looks like and how she did her hair or is she wearing a veil. For those that aren't doing a first look, this is also the first time the groom gets to see the bride. That long walk can be such a build up for him, and he might even shed a few tears. Then, of course, her father is walking her down. He's giving her away, so who knows what he's thinking during that walk.
As you can see, this is a very important moment and a lot of things are going on. Unfortunately, this moment isn't always perfect, so I thought I'd share a few tips to help make this moment the best it can be.
Wait a Few Moments Before Starting
The bride always wants a photo of the groom's reaction. Did he cry? Smile? I often shoot by myself, so this can put me in a tricking position. How do I get photos of his reaction and her walking? To fix this, I often tell the bride to pause after the doors have opened. That lets me take a few shots of him and then swing around to get her walking. I also think it gives her a moment to compose herself before starting the walk.
Go Slow Down the Aisle
All churches and venues are different. I've been in some where the aisle is 150 ft long and others where I have literally two seconds before the bride is past me. In both situations, I suggest that the bride goes slow.
Going slow helps in several ways. First, I can get lots of photos. More is usually better. It also allows the guests to really see the bride as she walks down the aisle. If she's sprinting, most people will barely get a glimpse of her. Last, going slow lets everyone really enjoy the moment. The groom gets to watch you slowly coming and really gets to think about it. The bride gets to enjoy that moment with her father. Slow is better.
Look Up and Smile
That long walk can be really nerve wracking for brides. Everyone is watching. What are they thinking? What if I trip? Then, there are all the emotions we mentioned. Often, I get plenty of photos of the bride, but she might not look her best.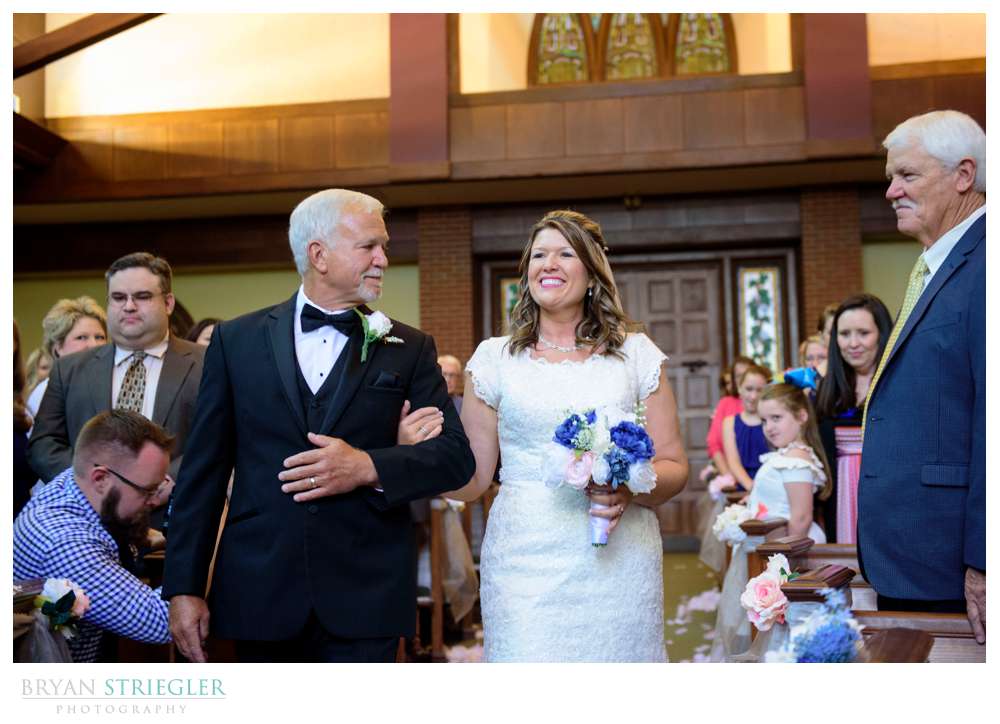 Two things while walking down the aisle, look up and smile. Don't stare at the ground. Either look at your father, the guests, or your future husband. This lets me really see the bride and her eyes. Next, smile. It's ok to be emotional, but try to throw out a smile for at least part of the walk.
No Phones
None of this really matters if I can't get a shot or someone ruins it with their arm and a cell phone. I've already shared my feelings about cell phones and unplugged weddings, but I thought I needed to repeat it. If possible, try to get your guests to not whip out their phones. They need to be present and enjoy the moment, not trying to capture some really bad photo.
Conclusion
Walking down the aisle is such an important part of the wedding. It's where things get real for the bride and groom, and a wonderful moment for everyone. Please look at some of these tips and try to use a few of them. I want everyone to have beautiful moments, and this is one you don't want to mess up.